Acuity Scheduling Review – Is It The Best Scheduling Software?
Acuity Scheduling software is a cloud-based software solution for appointment scheduling that allows business owners to manage their appointments online with ease. The software caters to midsize and small businesses as well as individual professionals.
Your clients' ability to easily book appointments with your employees or you at their leisure is a great tool for all parties involved. It means your customers get to feel in control of their schedules, while your employees are less likely to be stood up. With Acuity Scheduling intuitive user interface and strong tool, it is a worthwhile software that any appointment-based businesses should consider.
Acuity Scheduling allows you to automate appointment booking by providing a real-time view of your customers' available time. The software has the capability of automatically syncing of calendar according to users' time zone and can also regularly alert and remind users of their appointment schedules.
The software features scheduling features including embeddable calendars, customized intake forms, third party application calendar synchronizing and the ability to schedule for workshops.
Acuity Scheduling software is ideal for service-based businesses such as consulting, coaching, training center, tutoring center, fitness studios, photography and video production companies, health and dental clinic and salons and spa centers.
With this software, you get a free basic module and a monthly subscription module. It provides APIs and integrates nicely with third-party applications including MailChimp, WordPress, QuickBooks, Google Analytics and FreshBooks.
Acuity Scheduling Pricing
Acuity Scheduling is a subsidiary of the famous and highly customizable web design platform called Squarespace. So it offers 4 distinct service tiers, with each having its own set of features and price. Each paid tier has a seven days trial period. Here are the tiers:
Freebie: If you are a solo business owner, Acuity Freebies could be the right package for you. If you are especially a stylist or an in-house therapist, etc., this tier offers you the basic level of features such as client self-scheduling and unlimited appointments and services. It is free.
Emerging Entrepreneur: This tier could be right for you if your business needs only a single calendar for one person at one location. It costs $15/month and offers advanced features offered by higher tiers only. It also offers automatic time zone conversion for clients and the ability to display a custom logo, text editing to fit your business style and the ability to change the software to fit your company's color palette.
Growing Business: If your business needs more mouth-watering features and support for up to 6 calendars split between staff and locations, Growing Business is ideal for you. You can get this tier for $25/month. This tier offers everything that the two previous tiers offer, alongside other features such as text message reminders and the ability to sell memberships. subscriptions and gift certificates.
Powerhouse Player: If your company needs a little extra, you can get this for $50/month. This tier gives access to every feature of Acuity. Powerhouse Player also gives you 36 calendars that you can split between your staff and location and this tier also provides you with everything that Acuity has to offer.
With Acuity Scheduling, you can also choose Enterprise service level which gives you more than 36 calendars, but you will have to discuss your business needs with the Acuity sales department to get details on pricing and feature.
Not only does Acuity offers monthly rates but also yearly rates that give you slight cost savings. Also, you will get a free month of service if you choose an annual account. Choosing annual rates make Acuity believe that you are sticking with them, hence the discount and free month of service.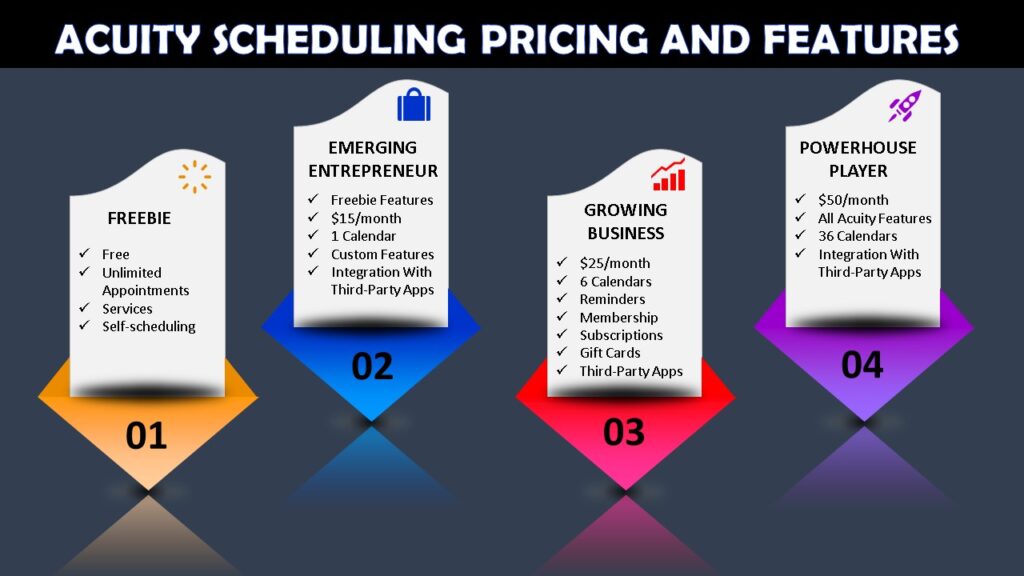 Acuity Scheduling Features
Not long ago, Acuity Scheduling was acquired by Squarespace, which means you should expect the same design and usability level that the users of the Squarespace enjoy.
The interface is very easy to use as it allows you to control the smallest details of your business's booking practices.
Just like several other booking solutions out there, Acuity lets your clients or customers self-book appointments. The paid plans allow you to embed a scheduler into your business's site so that your customers don't have to go to a separate website to book their next appointment.
Customers can also easily cancel and reschedule appointments. Your workers can set real-time availability so that clients know who is open for appointments.
All Acuity paid plans offer access to advanced features, alongside the embedded scheduler and ability to sync appointments with Google Calendar, iCloud, Office 365, Exchange and Outlook. If your company needs to hold online classes or meetings with customers, you can integrate Acuity with Zoom, Join.me and GoToMeeting.
Acuity Scheduling software can also integrate with Xero, FreshBooks and QuickBooks for accounting and invoicing and with Constant Contact, Aweber, Mailchimp and other software for customer communications and email marketing.
Since some paid plans allow you to sell gift certificates, subscriptions, appointment packages and other items, you can easily accept online deposits and payments through Tripe, Square or PayPal on Acuity.
The software can save customer credit card information in a secure vault to make charging customers easier and faster for the next bookings. You can also allow customers to tip your employees with the advanced features package.
Acuity Scheduling also has companion iOS and Android apps that allow managers and employees to view and manage their appointments at any time, anywhere.
Not only is Acuity compatible with some of the best software for business and easy to use, but works smoothly. While the company's site has extensive knowledgebase to help you get started, troubleshoot issues and find answers to your questions, it takes a hands-on approach in the form of scheduled "parties" to train users on varying skill levels on using the software.
Acuity Scheduling Limitations
We all know that Acuity is one of the best if not the best booking software, but it also has its own drawbacks. The most glaring problem with Acuity is its lack of chat or phone options for customer service. Nowadays, hardly will you find a company that gives you no option to reach out for help if you need it as fast as possible.
Email is the only way you can get in touch with Acuity, and in fact, it is only through a form submission on the website. The company says it checks its email regularly on weekdays from 7:00 am to 8:oo pm EST, but it can take time for the company to respond and some emails can even get lost. This is why a chat or phone communication with customer service is important.
While Acuity Scheduling is easy to use, some functions required us to check the knowledgebase to figure out how to use them. That may not be a big issue, but it stood out because the software ran smoothly for the most part.
Verdict
With Acuity Scheduling powerful set of features, easily customizable platform and reasonable prices, it is a great tool for every business looking to make it easier for their client to book appointments ahead of time.
The fact that it also integrates nicely with powerful third-party apps makes it one of the best if not the best on the market. You might want to check out Genbook Scheduling if you need customized features
You can get Acuity Scheduling at the official website.