CCleaner Review: Should You Install It On Your PC?
Pros
Can have a noticeable impact on the speed of a system
Allows you to manage which program to launch when the PC boots
Real-time system monitoring
Privacy-protecting features
Built-in secure deletion tool
Clean and easy to use interface
Free up disk space
Cons
All functions are already built-in Windows tools
License limitations
Some features are a separate download
Performance improvement not as huge as the competition's in some aspects
CCleaner is one of the best software 2020 and cleaners that can boost the performance of heavily used PCs. The software boasts of lots of system-enhancing features such as the real-time system monitoring and registry repairer alongside extra features such as drive-wiping tools and privacy protection.
In this CCleaner review, we will show you everything this software can do for you, why you should install it and why you should not install it. After showing you these, we will leave you to choose to install or not install it.
Ccleaner removes redundant and unnecessary files, fixes errors and optimizes software to speed up your computer and also protect your privacy. Using CCleaner is as simple as selecting the drive to scan it and it will show you how much space you can save. Select what to fix or remove and leave the rest to the software.
This software also boasts of a registry cleaner which removes unused entries and correct errors that could make your PC performance poor, plus a secure file shredder for erasing confidential information.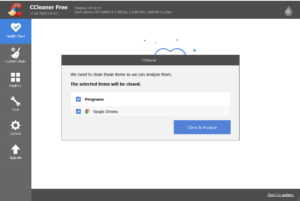 CCleaner Review – User Experience
CCleaner clean and well-designed interface makes it easy to use, plus it clearly defines each feature so that you don't need any tutorial to use it. If you can click, you can use this software. The latest CCleaner boasts of incredible features that make it easier to remove website trackers, junk files and browsing history in quick fashion.
Even if you are not techie, you can use this software without any hassle. It makes you understand why certain files are being cleaned. When you scan your computer with it, it shows you junk files to clean and at the push of the button, it will clean them and your computer performance will get better.
CCleaner Review – CCleaner Features
The software offers a registry cleaner that can help you remove unused registry entries, progIDs, file extensions, icons, application paths, help files, fonts, shared DLLs, uninstallers, ClassIDs, ActiveX controls and invalid shortcuts. This feature is helpful, especially if you are having a problem installing a new version of a program you have previously installed on your PC.
It also offers a browser cleaner that eliminates temporary internet files, cookies, form history, download history and history, plus index.dat files from your PC's Internet Explorer. This is a perfect way to remove tracking cookies from your PC.
CCleaner also boasts of Windows cleaner that cleans the Recycle Bin, log files, error reporting, DNS cache, temporary files, recent documents, jump lists, memory dumps and clipboard. However, you have to use this carefully because it can be a nightmare restoring accidentally deleted files.
RELATED: Windows 10 Activator Key – How To Activate Windows 10 Pro Without Product Key
It also provides you with a third-party cleaner, which deals with non-system apps such as Windows Media Player, Nero, Microsoft Office, Adobe Acrobat, Google Toolbar, WinRaR and eMule.
The software explains each element clearly and you can deselect anything you don't want to remove so you don't remove anything you might need later accidentally. For example, CCleaner can delete passwords and usernames saved by your browser, but only if you tell it to.
All these features are likely to have an impact on your system speed but the number of apps that start at the same time as Windows affects the speed of your system. So you might just want to reduce the number of apps that start at the same time as your Windows.
CCleaner Review – Prices And Licenses
Piriform CCleaner offers three plans. The first one being the free version, which is the least feature-packed option. With it, you get basic PC cleaning and privacy protection tool that allows you to delete, passwords, cookies and other browser-related files.
The second plan is a Professional plan that builds on the free plan. It comes at $24.95 and offers you more thorough computer cleaning, automatic history cleaning, automatic software updates and real-time system monitoring.
The third plan is Professional Plus, which comes at $39.95. this plan offers you three standalone apps for hard drive defragmentation, PC spec viewing and file recovery. So if you accidentally delete a file you might need in the future, you can recover it.
Unfortunately, CCleaner Professional Pro only offers three licenses for your 40 bucks. The limitation to license is a great issue here because a household can have more than 3 computers. It means if you have more than 3 PCs, you have to buy more licenses.
CCleaner Review – Why You Need CCleaner?
It simply gets the job done. You will enjoy a great performance if you choose the Professional plan or Professional Pro. But you can also enjoy the free version too, just understand that you will not get all the features that come with paid plans.
The software is actually a great cleaner that can really improve your system's performance in terms of speed.
RELATED: 23 Best Graphic Design Software – Graphic Design For Print
Why You May Not Need CCleaner?
If you have time to get the job done manually, Windows tools already offer you almost all the tools that CCleaner is offering you. Let's look at some of the things you can do on your own without the need of CCleaner:
Erase Browser Cookies And History
Most people now use one browser on their PC and you can clear history and cookies on your browser without any hassle. For instance, if you use Google Chrome, you can clear the history and cookies by following these steps:
Click the Menu and click Settings
Scroll all the way to the bottom and click Advanced
Select Cookies
Enable Keep local data only until you quit your browser
Select Add next to Clear on exit
Type [*.]com and click Add
The setting will immediately clean local data and cookies related to your browsing once you exit the browser. If you want to prevent ads, you can go to the Content settings and choose Block on sites that show intrusive or misleading ads (recommended).
You can do the same in the setting of other browsers.
Registry Cleaner
If it is dangerous for you to edit your registry yourself, why allow a third-party app to do it for you. If it mistakenly deletes important registry files, it could damage your Windows OS.
Disable Unneeded Startup Programs
You can easily do this by following these steps:
Click on the Start menu or just type startup tasks in the Windows search bar
Click on the Startup Apps under System Settings
From here, you can enable or disable programs you want or don't want to start when your computer boots up.
Cleaning Up Junk Files
You can set your computer to automatically clean junks by following these steps:
Click the Start menu and type Click on Settings
Click on System and then Storage in the left navigation pane
Turn on the Storage Sense feature
This setting will always clean your Recycle Bin and Temporary Files. You can change how this feature behaves by clicking on the Change how we free up space automatically link.
CCleaner Probably Send s Your Usage Data To Its Server
By default, when you install CCleaner, it is configured to send anonymous usage data to CCleaner. No specific data is specified but the app will regularly connect with the internet and send data to its servers.
CCleaner May Be Hacked
In 2017, hackers hacked and injected malware into the CCleaner app but the company quickly fixed it. It means the same thing may occur in the future, but we believe the company has securely taken care of such an issue.
CCleaner Download
If you are ready to boost your system speed, you can download CCleaner here.
Conclusion
With this CCleaner review, you already know what you want. You can allow this software to run automatically if you pay for any of the two paid plans but you have to click on Check for updates periodically if you use the free version.
CCleaner clears your system of unnecessary files and can deliver a noticeable boost in performance. It can breathe new life into heavily used machines.