23 Best Graphic Design Software – Graphic Design For Print
When it comes to your brand or business, a stunning design that speaks to your audience is essential. Whether you need graphic software to help your brand or business, you are going to need the best graphic design software.
Whether you're an experienced digital artist or an amateur designer, using the right tools can brighten your talent potential. A great and well-built graphic design software not only offers flexibility and intuitive control that even beginners can easily understand but that is also vastly superior for the experienced user.
To know the best graphic design software that suits you most, you need to get hands-on with the tool and experiment.  Each software comes with its own features, performance, ease of use, availability and cost. Some of the paid graphic design software offers free trial to users to allow them to experience the product.
You don't need to research the best graphic design software anymore because we've done that for you. The tools on this list are tried and tested and a sure to help you create stunning designs that will speak directly to your customers or clients.
If you want to take your portfolio website to the next level, the best graphic design software on this list can help you. If you are ready to express yourself in a stunning way and create irresistible digital art without hassle, let's get to the best graphic design software.
The Best Graphic Design Software Made For Print And Printing
The best way forward is designing for print and you need a dedicated vector-based graphic design program for it. Ideally, you will want software that caters specifically to designing in vector graphics, and that also features color editing options that'll work in HSB and CMYK on top of the common RGB.
While there are dedicated logo designer programs out there, a design team will often need to be able to do more than just logo design. Here is the best graphic design software dedicated to graphic design: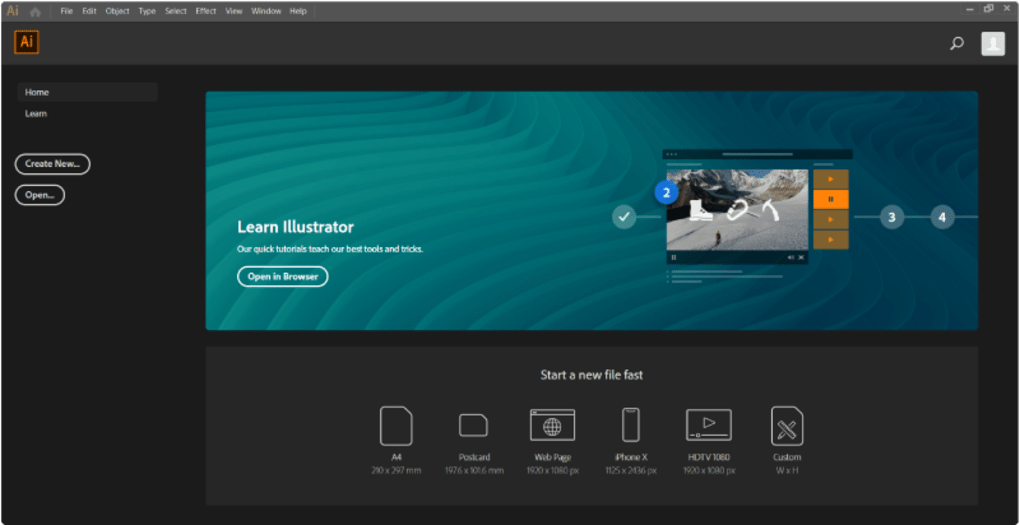 1. Adobe Illustrator CC
Adobe Illustrator is Photoshop's vector version, so the two share lots of common functions and tools to help designers who use them.
However, if you want to design graphics that can be rescaled from a postage stamp size to giant billboard size, Illustrator is the right tool.
If you are dedicated to graphic design, Adobe Illustration comes handy. In the past, you can buy Illustrator outrightly, but Adobe now only offer Illustrator on the CC (Creative Cloud) suite, and it is not cheap.
Illustrator's pricing begins at $20/month for a yearly subscription, while you have to pay $31 each month on a rolling basis. The product is available for Windows and Mac, and it provides you with a powerful feature set with regular updates. If you use it occasionally, the cost might put you off.
Why Choose Adobe Illustrator CC?
Powerful tool
Industry-standard vector graphic software
Consistent UI with Photoshop
Works on Windows and Mac
Scale artworks to any size while maintaining quality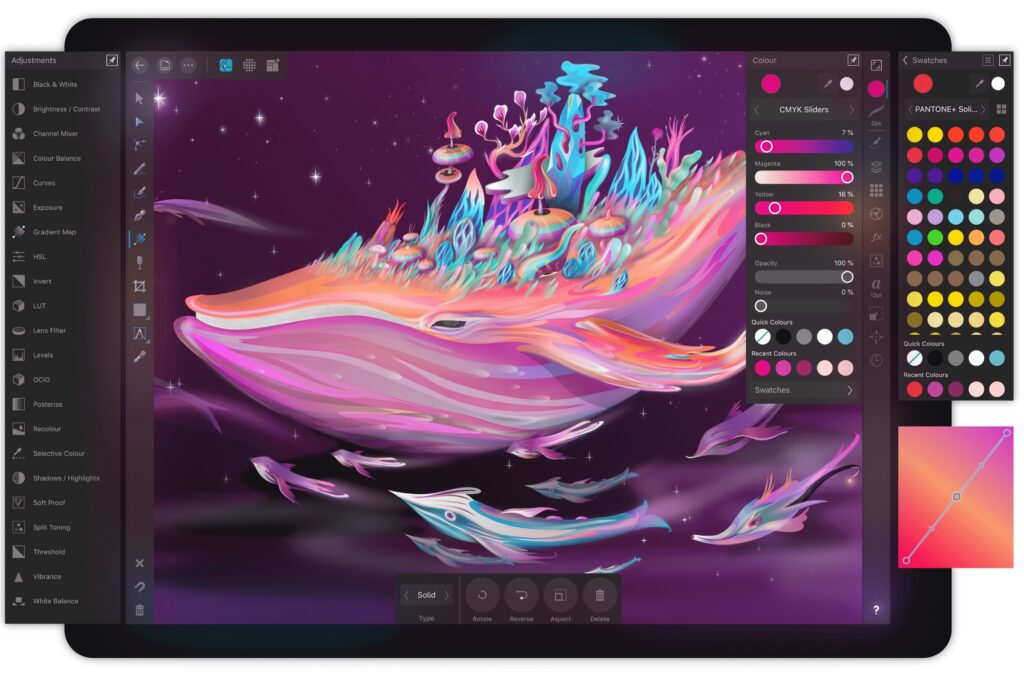 2. Affinity Designer
This software is built to create professional artwork for screen or print. It is a replacement for DrawPlus X8. Affinity Designer was built from the ground up over five years of a development project by Serif and it is specifically built for professional designers.
This software can handle a wide scope of design tasks including typography, concept art, branding, Web and repeating patterns, as might be needed on the wallpaper, ceramic, or soft furnishings.
For a team of designers working towards a common goal, inherent cloud functionality makes this product a great option. You can get all the functionality for $49.99 per seat on Apple Mac or Windows PC.
Why Choose Affinity Designer?
Available for Window PC and Mac
Collaboration as standard
Inexpensive
The best alternative to expensive Illustrator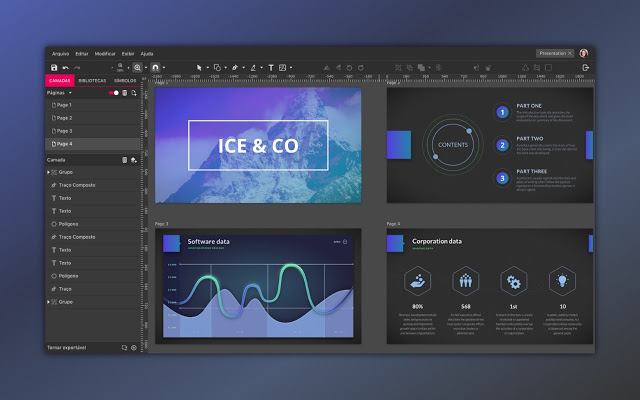 3. Gravit Designer
Gravit Designer is a free cross-platform vector editor. Because of the complexity of vector illustrations, most vector software is installed locally, but Gravit Designer can also be used online.
On Windows PC, Chrome OS, Linux and Apple Mac, there's an installable release that can be used on the computer hardware. Locally installed Gravit Designer works perfectly but based on experience, the online version can get a bit slow with complex designs.
With a limited free version available, you have no excuse for not trying it out. There are many impressive examples of designs that designers have created with this tool that proved the product can be effective at some jobs.
Gravit Designer Pro allows for increase resolution up to 300dpi, unlimited online storage, increased print options to CMYK and HSB on top of RGB. You can also work offline with this software, use advanced export options and version history – all at a reasonable $65 per year.
Why Choose Gravit Designer?
Free
Easy to learn
Cross-platform and online
Clean and intuitive UI
Runs on any browser, device and OS
Feature-rich vector graphic design application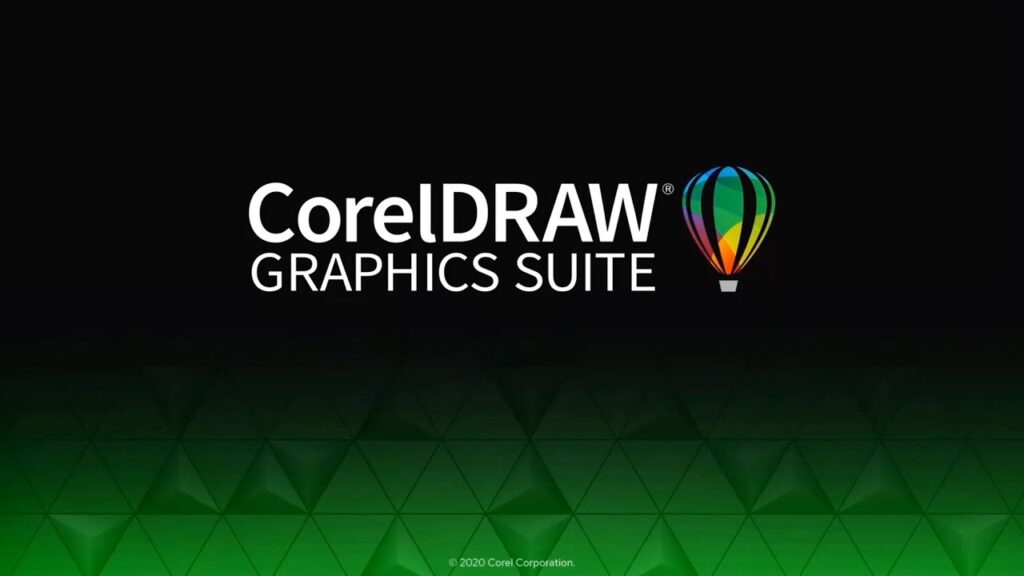 4. CorelDraw Graphics Suite
We can call CorelDraw the father of vector design applications. This software is a software bundle rather than a single application.
The package includes CorelDraw, Photo-Paint for manipulation of photos, Power TRACE to convert a bitmap image into vectors, AfterShot to handle RAW files and FontManager for organizing the text styles.
CorelDRAW is not just a vector-drawing package but also provides a desktop publishing feature that allows you to design projects with a multi-page layout. With it, you can edit vector effects and handle web graphics. Also, it has a simplified template menu and the ability to easily search through images as thumbnails.
It works both on Mac and Windows. If you are looking for software that packs everything you need for graphic design, the CorelDRAW graphic suite is great.
Why Choose CorelDRAW Graphic Suite?
Available for Mac and Windows
Massively featured
Easy to learn and use
Publish directly into WordPress websites
Support over 100 file formats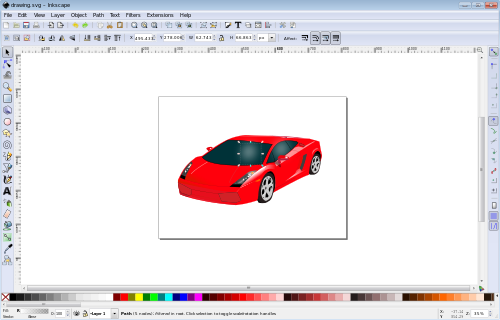 5. Inkscape
Inkscape is free software with lots of great features. Many business people don't like to go near-free software, but Inkscape is software that worth a try before you subscribe to any paid software.
It is a vector design software that provides broad file support, extensive text manipulation and Bezier and Spiro curve types. The software also comes with an extension model that allows for new features to be installed easily.
As a GPL licensed app, you can use it on Apple Mac versions, Linux and Windows, as well as download the source code and compile it for the version of Linux you use.
Why Use Inkscape?
Free
Available for Mac, Linux and Windows
Compatible with a wide range of file formats
Everything you need for vector imagery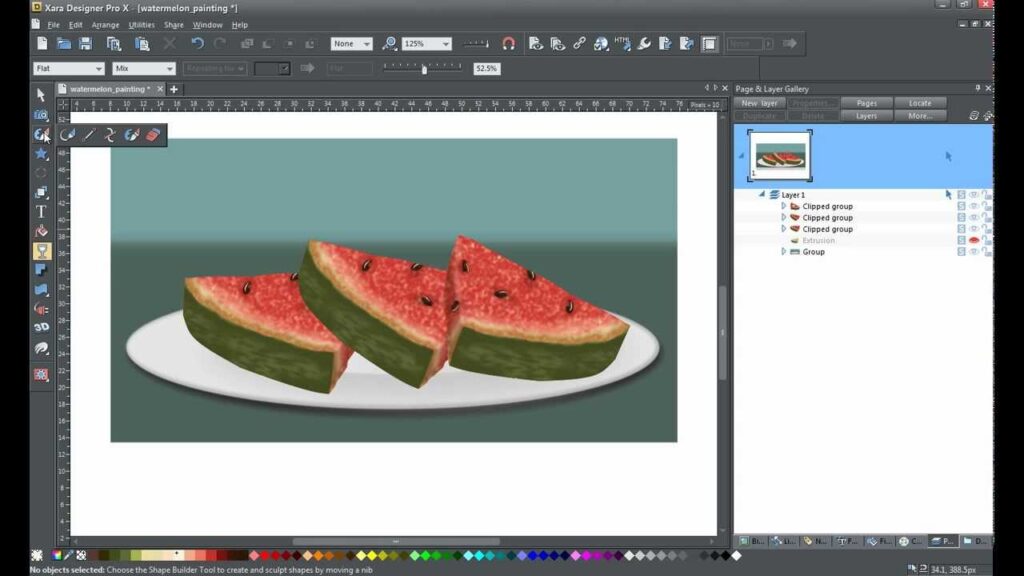 6. Xara Designer Pro X
The latest version of Xara Designer Pro X offers a comprehensive design tool that can work with vectors and bitmaps. It means it can handle desktop publishing (DP), photo manipulation, illustration and graphic design in a single tool.
If you want to mock up something rapidly, a license provides you with access to more than a million archive photos and illustrations to use, along with many template layouts and thousands of design elements.
This program costs $299 for a license, but you can get a discount on this offer. Also, there is a cut-down version called Xara Photo & Graphic Designer, which is available for $99.94 and also frequently discounted. You can also find Pro X cheaper on Steam.
Why Choose Xara Designer Pro?
Extensive template
Affordable
Fast and flexible
The high-performance vector rendering engine
Integrated program for illustration, page layout, web design, image editing, etc.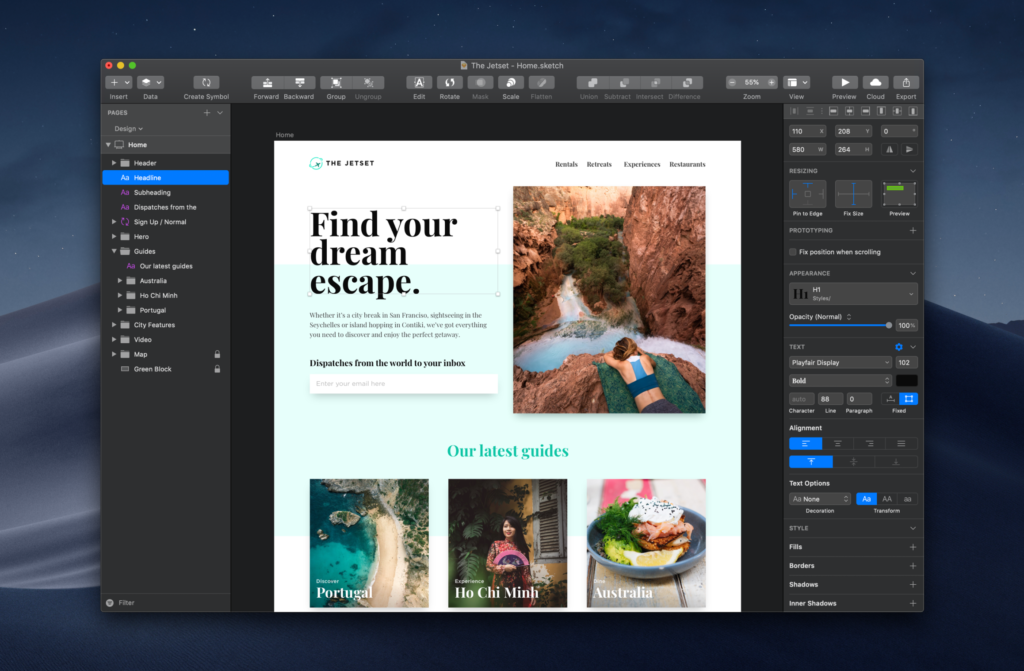 7. Sketch
Sketch creator built a tool that addresses a relatively narrow requirement. The software is focused on on-screen design, specifically making interface elements and icons for websites and applications. The program is exclusively available for Apple Mac and designers that work on iPad, macOS and iPhone applications will find it useful.
Although Sketch can be used more generally, its strength lies in creating slick user interfaces. The software is available for $99/year for only one user license. But the license for multiple devices is also available at $89/year per device for 2 devices and $59/year per device for 50+ devices.
Why Choose Sketch?
Regular updates
Easy to learn
Other Best Graphic Design Software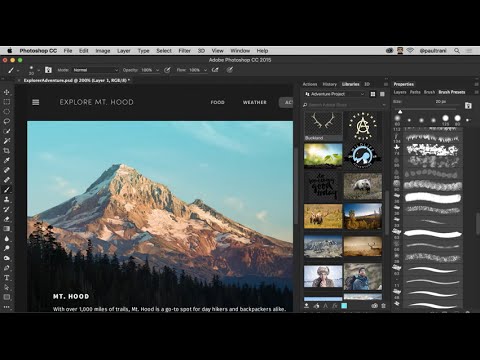 1. Adobe Photoshop CC
Adobe Photoshop is not a new tool. It is a software targeted at professional artists, photographers and graphic designers. It allows users to design, posters, websites, banners and mobile apps using easy-to-use tools and already built-in templates.
Using Adobe Photoshop CC software can help you create and enhance 3D artworks, paintings and illustrations. You can also create unique patterns and effects, alongside brushes with this tool. It also offers brush smoke smoothing, access to Lightroom photos, brush management, luminance masking control and paint symmetry, among other quality features.
In the past, you can buy Adobe Photoshop outrightly, but now it is based on a monthly or yearly subscription. You can get the software in a variety of pricing plan, beginning from $29.90 per month
Why Choose Adobe Photoshop CC?
Professional tools for basic photo enhancements and total image transformation
Intuitive tools and easy to use templates
Paint, design, draw with thousands of pens, brushes, markers and pencils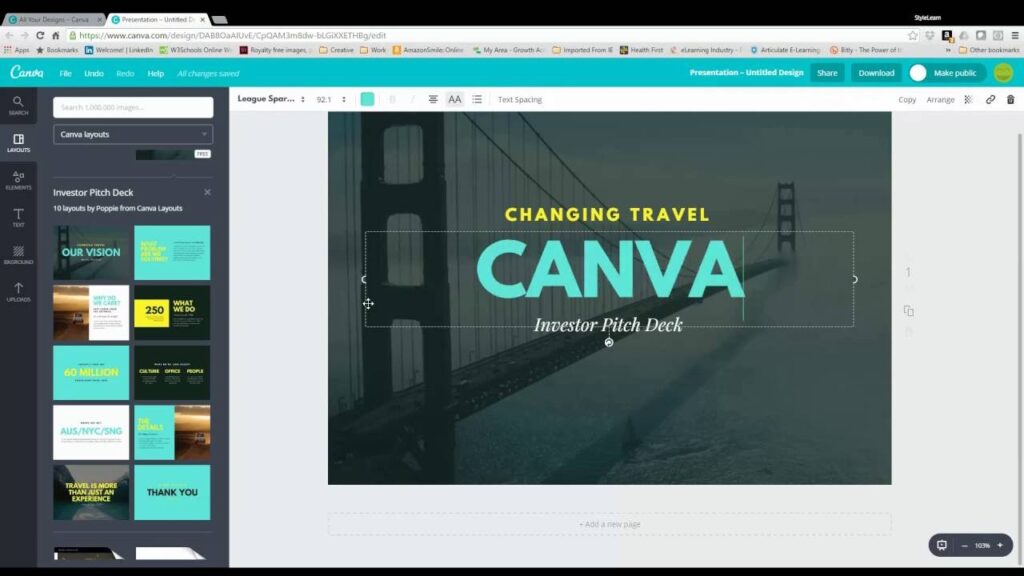 2. Canva
Canva is a cloud-based platform that allows you to create professional graphic designs without any hassles. It provides you with an intuitive and robust drag-and-drop editor and access to more than a million images, fonts and graphics to make any type of content quickly.
It is so easy to use such that beginners can use it and it is so powerful that professionals looking to produce marketing materials, invitations, flyers, corporate brochures, book covers, visual charts, presentations and much more use it without any hassles.
The platform allows you to configure documents and templates as well as edit your design easily. Since it is online, it allows collaboration by allowing other people on your team to edit, apply changes to design and comment on your project.
With Canva, you can also publish your design easily or download and print your designs. This software is free for teams with up to 10 members and comes with access to over 8,000 templates and 1GB storage. You can also upload your own photos and use them in Canva.
The software offers a low-cost plan for and a quote-based enterprise plan that unlocks more features, advanced tools and unlimited storage.
Why choose Canva?
Designed for project collaboration and sharing
Both beginners and professionals can use it
All important tools for basic image editing and enhancement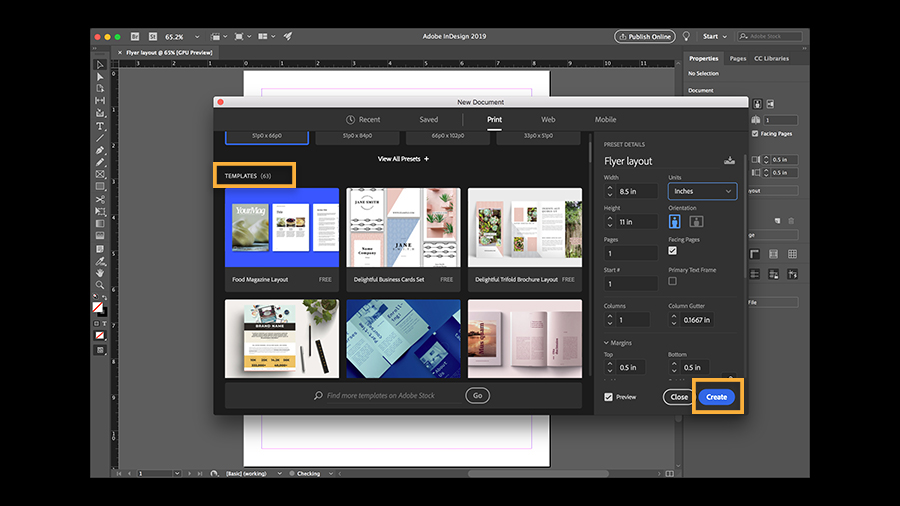 3. Adobe InDesign
Adobe InDesign is page design and layout solution used mainly in the creation, preflighting and publication of documents for digital media and print.it is a desktop publishing tool used to design brochures, flyers, posters, magazines, annual reports and stationery, among other projects.
With Adobe InDesign, you can create eBooks, digital magazines and interactive PDFs. It can also help you collaborate with editors and writers and allows you to come up with and design any documents faster. The tool can share text, shapes, graphics and colors because it gives users access to its Creative Cloud Libraries.
More features it offers include object height and width, fonts, endnotes, paragraph borders and PDF accessibility. You can get Adobe InDesign CC as a part of Adobe Creative Cloud or as a single application. Pricing plans start at $29.99 per month.
Why choose Adobe InDesign CC?
Professional layout and typesetting tools
Applicable for digital, print and web media projects
Premiere page layout and design solution
Perfect for team collaboration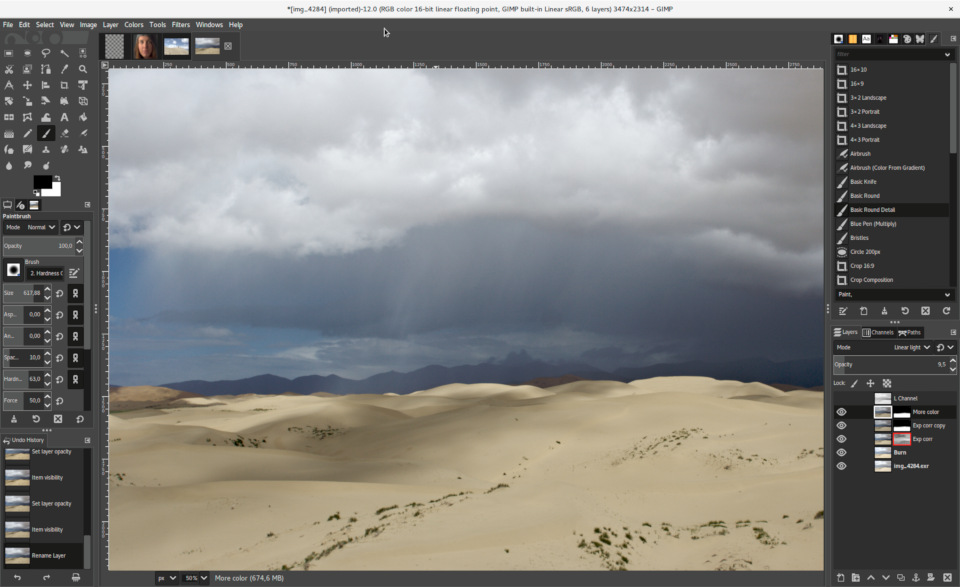 4. GIMP
GIMP is one of the open source software examples used for image editing. It has lots of features that compete with the features in the most popular software in its category. This feature-laden program can easily fine-tune images and create remarkable work of art from photographs.
This software is known for features such as noise reduction, customizable brushes, color adjustment tools and image enhancement tools. It also features tools that greatly benefit advanced users such as layer masks, an animation package and Bezier curves.
GIMP supports pre-installed and downloadable plugins. Beginners can use it with ease because its interface is simple and requires no training at all. GIMP also supports third-party plugin.
Why Choose GIMP?
Easy to use
Powerful image manipulation and editing tool
Free
Wide customization and extensibility through integration with many programming languages
Professional, high-quality color management features
5. Autodesk SketchBook
Autodesk sketchbook is a great sketching app for creative professionals, artists and designers. It provides you with easy to use, yet powerful drawing and painting tools for creating stunning illustrations, visual designs and artworks on desktop and tablets.
This software comes with an intuitive interface and a rich toolset including customizable brushes, advanced layers, color library, gradient fills, stroke stabilizers, layers, perspective guides and blending modes, among many others. All these tools and capabilities are created to provide you with natural drawing and painting experience, whether you are using a stylus or touch input.
Autodesk SketchBook offers you a powerful engine that gives you precision and speed for creating masterpieces for size up to 100 megapixels canvas. The software support lots of image formats including JPG, TIFF, BMP, PNG and PSD. It comes in three editions that are all optimized for the platform and device you will be using -Windows 10, desktop and mobile.
Autodesk SketchBook is free to use for individuals, but an enterprise license is offered at $85 per year for multiple users.
RELATED: Microsoft Office 2019 Professional: How To Activate Microsoft Office For Free
Why Choose Autodesk SketchBook?
Free for individual users
Built for precision and speed
Scan and import line images with transparent background and fill them with colors and in
Creative sketching tools that stimulate the traditional drawing feel.
6. Pixlr
Pixlr is a web-based image editing software that you can run on any operating system and browser. So it provides you with all essential photo editing tools for basic and professional-level enhancements, multi-image format templates, and more than two million effects, overlays and filters.
While Pixlr provides you lots of tools for sophisticated editing, it also offers you tools for quick image tweaks and fixes without sacrificing professional quality. All its quality features make it a handy tool for a swift touch-up. It also provides you with native mobile apps for editing on the go.
The software is made up of 4 applications including Pixlr X, Pixlr Express and Pixlr Editor, which are web apps, an online photo editing platform and Pixlr Pro. The first 3 are free but the last one is subscription-based and it is affordable.
The lightweight software app consumes little memory on a mobile device. Its popularity is incomparable because it has over 500million users who have edited more than 10 billion images.
Why Choose Pixlr?
A comprehensive set of editing tools
A free online image editor that is accessible anywhere, any time
Edit photo right within your Dropbox
Doesn't consume too much space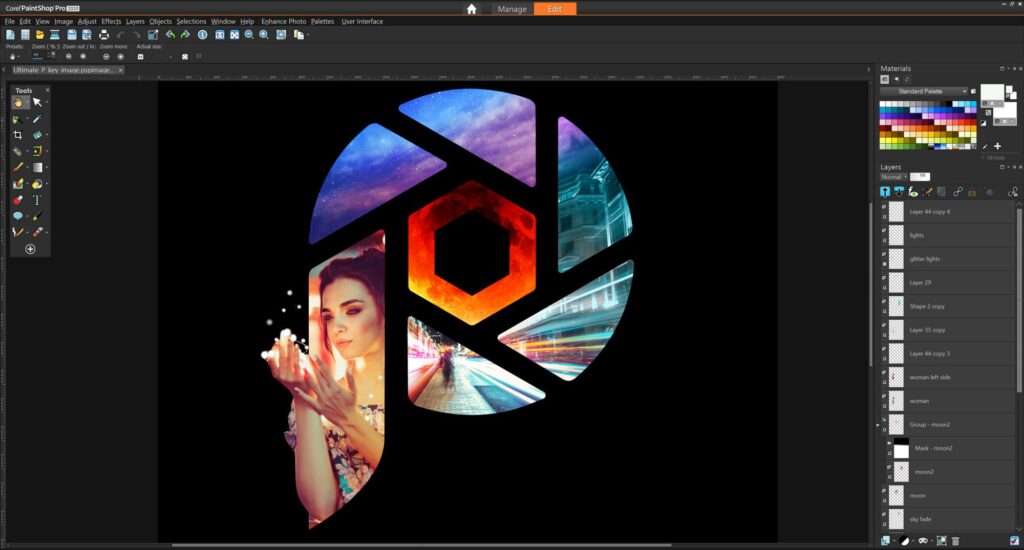 7. Corel PaintShop Pro
Corel PaintShop Pro is and image editing software that is easy to use. The software comes with lots of features including image drawing, correction and editing, among several others. It offers high-grade tools that allow you to create graphic designs, edit images easily and improve your photos using restore, retouch, effects and quick fixes features.
This software is cheap and comes with many user-requested improvements. It is a creative tool with an intuitive interface and faster performance that enhances productivity. PaintShop Pro features and tools are highly customizable, allowing you to create your own editing environment.
Not only can you edit photos in this software, but also manage photos using a built-in organizer and view EXIF data and geotags. You can also carry out face searches and image ratings in this software. It is available in two enterprise pricing plans beginning at $63.99.
Why Choose Corel PaintShop Pro
Offers five core creative applications
Extensive toolset for drawing, painting, sketching and image editing
The picture to painting presets make use of AI to transform images into artworks.
Not expensive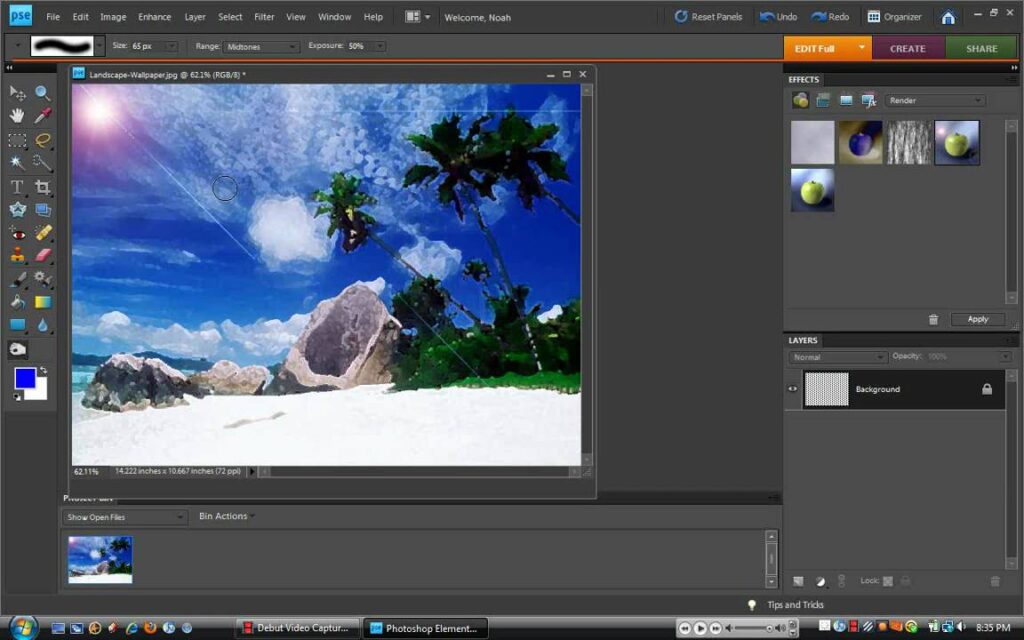 8. Photoshop Element
Photoshop Element provides you a platform for creating, organizing, editing and sharing photos. It's intended for those in the photography business and professional photographers who work on and need to manage a huge collection of images.
This software is one of the best graphic design software that provides you with intelligent editing that applies AI for quick photo enhancement and precise tweak. Its automation capability in organizing and managing your photo is exceptional.
Photoshop Elements can automatically categorize your photo by title, date, subject for easy tracking and searching. Even if you have thousands of images, this software can auto-curate them and suggest photos based on smart tags and embedded details or attributes.
The software is offered at $99.99 for a full license.
Why Choose Photoshop Elements?
Step-by-step guides and intelligent editing capabilities
Auto-generated slideshows and collages
Automatically organize files by subject, date, people, etc.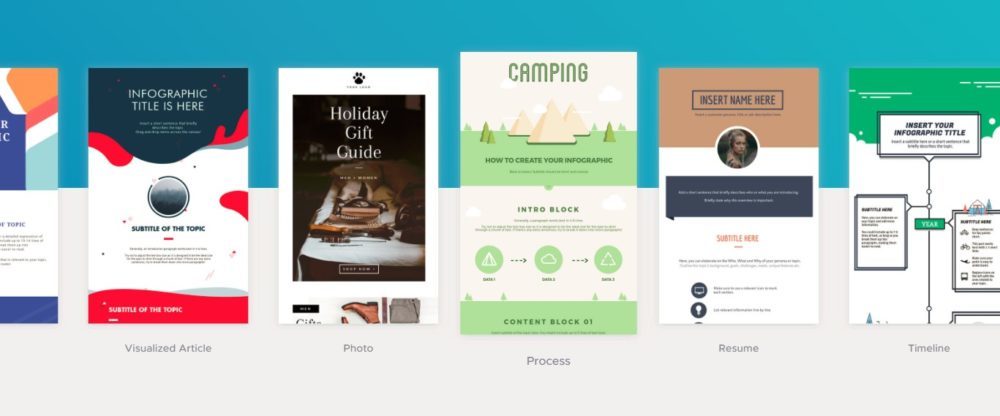 9. Piktochart
Cloud-based graphic design software that is built to help you when it comes to professional-looking infographics and presentations, Piktochart allows you to tell your stories with impact and quickly produce content.
Whether it is a slide presentation, printable posters, reports, or infographics, Piktochart makes the process easier with a drag-and-drop editor. You can easily choose from a selection of 600 pre-built-in templates, tweak colors and fonts, add interactive elements like images and charts, and print or share it online.
You can create stories and visual messages for educational, marketing or corporate use in minutes. This software is equipped with HTML publishing capability and design flexibility that lets you come up with web publisher-ready presentations and designs.
The software is available in different plans including individual, educational institutions, teams and non-profit organizations. Price plans begin at $12.50 per month.
Why Choose Piktochart?
Simple and easy to use infographic maker
Customize projects with branding and multimedia elements
Comes with a huge library of templates and themes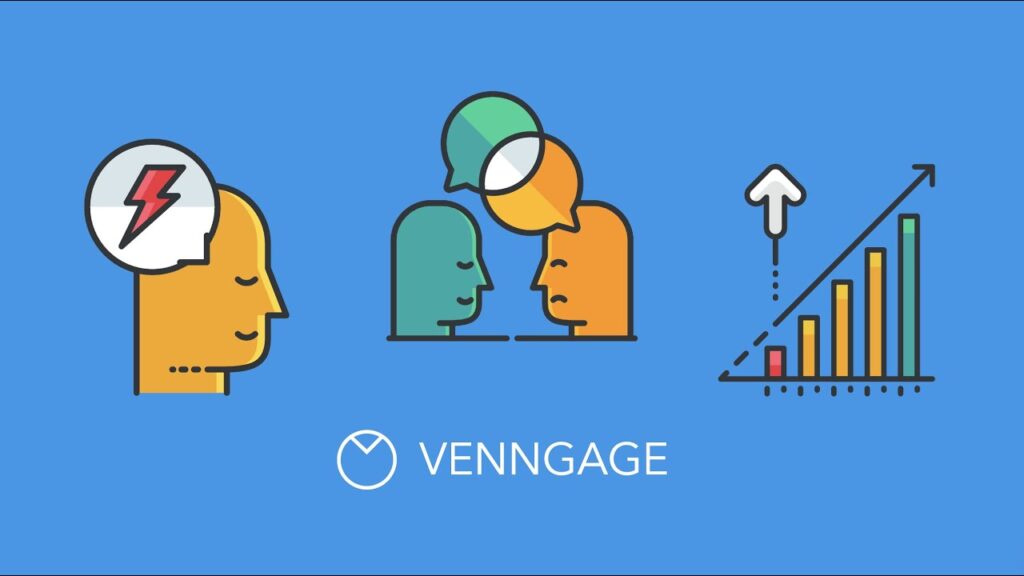 10. Venngage
Venngage is one of the best graphic design software built to help you create infographics, relay your stories and present your data. You only need three steps to do this – select a template, add visuals and personalize your design.
It removes the expense and complication in making professionally-designed templates since it is a drag-and-drop software. The software offers free form canvas, customizable templates and quick addition of multimedia design elements needed for projects.
With Venngage, you can create appealing infographics, graphs and charts, and also put in your branding-like theme and logo, as well as publishing your content on your website, social media or blog.
More than 21,000 businesses have used this tool for producing posters, presentations, promotional and marketing materials, social media visuals, infographics and reports. Not only is it useful for design artists working for clients but also a great internal message and communication tool for corporate and educational organizations.
Students can use Venngage for free, but there are also paid plans for individuals and businesses, starting at $19 per month.
Why Choose Venngage?
Designed for communicators and marketers
Short, simple process to create infographics
Create infographics and other visual materials for any purpose or need
Free for students and cheap subscription for individuals and businesses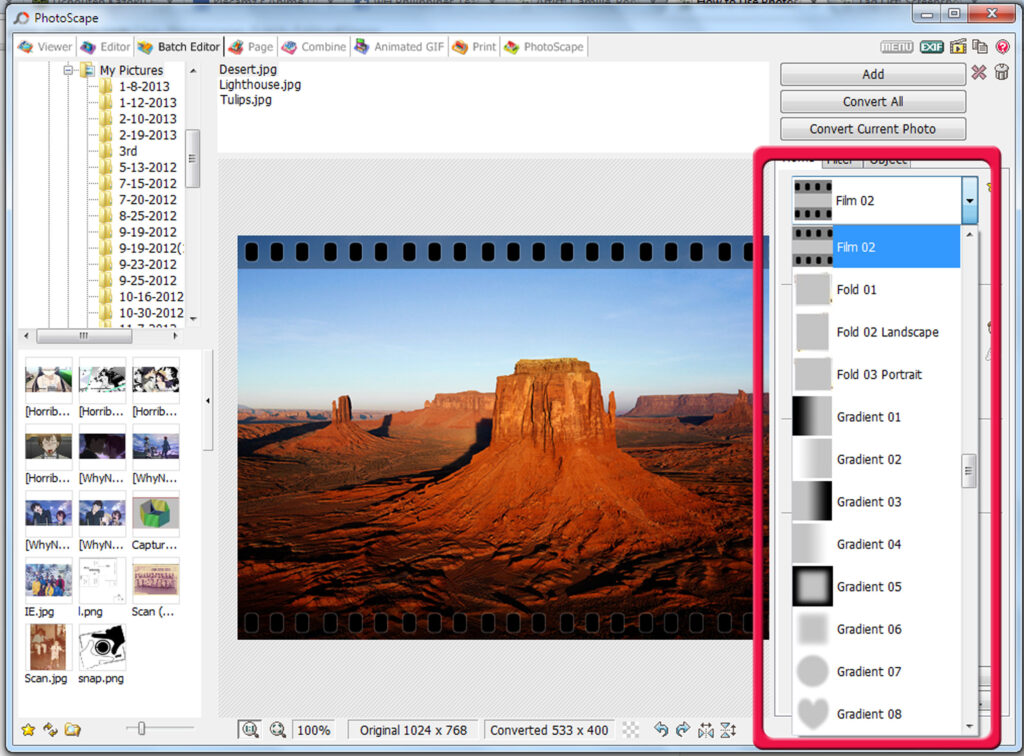 11. PhotoScape
PhotoScape provides you with lots of design and editing functions in one place. It is a photo viewer, page merger, photo editor, animated GIF maker, batch editor, color picker, screen capture tool, photo splitter, photo file renamer, RAW converter and much more. All these functionalities and tools are offered in a lightweight, responsive software that is completely free.
You can just download it from the official website and install it on your computer. Although this software offers lots of helpful tools, its core feature lies in image editing and design module loaded with many features for adjusting the color, gamma, size, backlight, resolution, brightness and much more.
PotoScape has design, drawing and text tools such as filters, effect brush, paintbrush and clone stamp, among others.it works on Windows, Linux and Mac. The software is offered in many languages and comes with separate but also free edition – PhotoScapeX – for Windows 10 PC.
You have no excuse for not trying it out because it is completely free.
Why Choose PotoScape?
Free, easy to use and fun
Available in more than 30 languages
Integrated graphic design and editing solution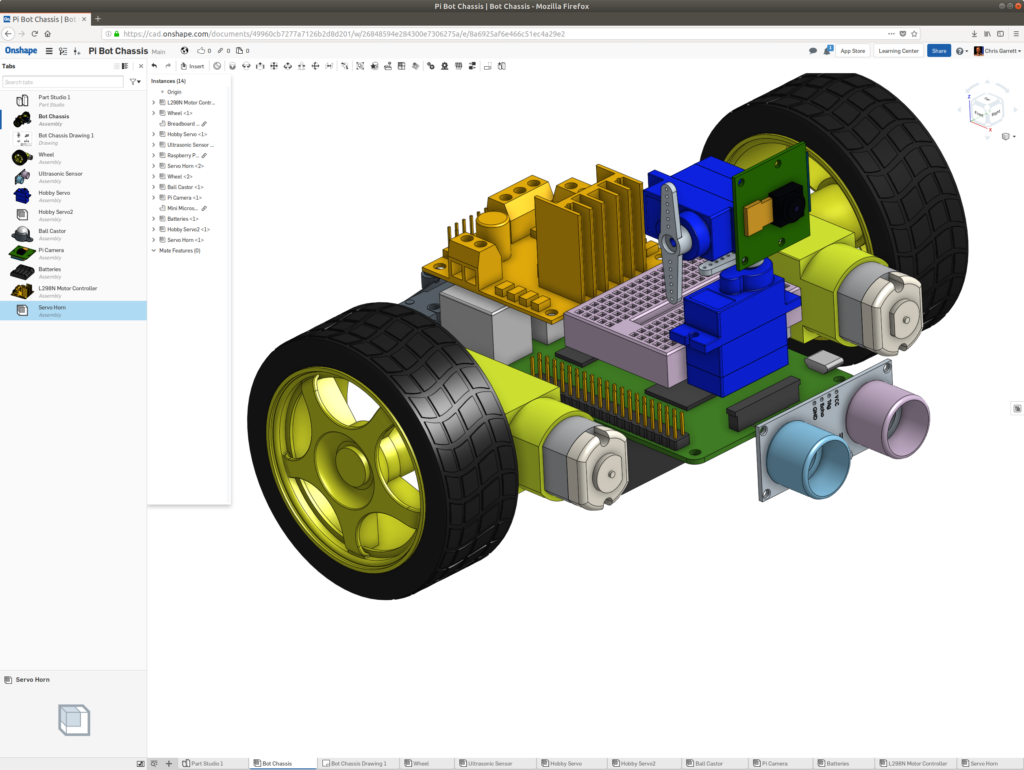 12. Onshape
Onshape is one of the best graphic design software that is cloud-based. The platform is built for 3D CAD, real-time collaboration and data management. It is intended for use by engineers, manufacturers and designers. This software can be accessed on the web browser and on any device.
Onshape comes with version tools and instant access to a single master CAD that removes the need to duplicate or copy files. More of its features include part or component modeling, drawing, import/export, assembly modeling and data management.
The software offers cutting-edge comprehensive associative 2D drawings and parametric 3D modeling. It also allows top-down design alongside multi-part modeling and in-context editing. The software also provides a secure and centralized online database that gives team members a chance to see design changes made by another team member.
For educational use, this software is free. If you are using it for a commercial purpose, it offers a standard plan, professional plan and enterprise plan that begins at $1,000 per use per year.
Why Choose Onshape?
Works on web and mobile
High-end CAD system used by fortune 500 companies
Complete control and security over your cloud workspace
Free for educational use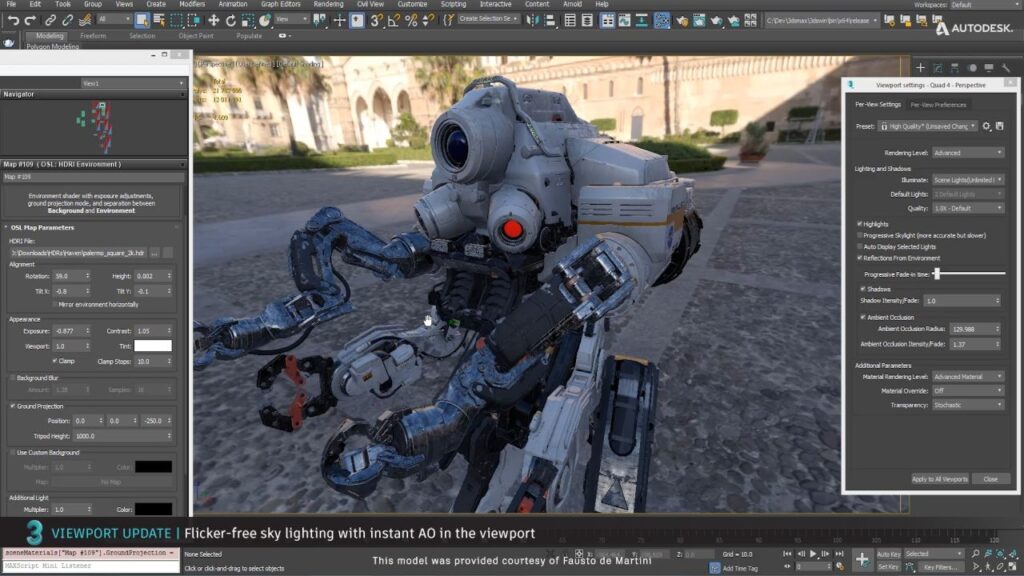 13. Autodesk 3ds Max
Autodesk 3ds Max is an animation, 3D modeling and rendering tool created for use in games and design visualization. This software is a part of Autodesk's collection of tools created for product design and manufacturing.
The software is one of the best graphic design software and it is popular among film and TV visual effects professionals and artists, alongside game designers and virtual reality games developers. It can be used for infrastructure and building design, product development, construction and planning in the manufacturing sector.
With this software, you can create massively designed game characters, world and building environments. You can also animate characters and create scenes, with 3D rendering capability that includes simulation of real-life camera settings in this software.
Autodesk 3ds Max is available in different plans starting at $185 per month.
Why Choose Autodesk 3ds Max?
Modern UI and customizable workspaces
Works with other animation and rendering engines such as Unity and Unreal
Top-of-the-line 3D modeling, rendering and animation tools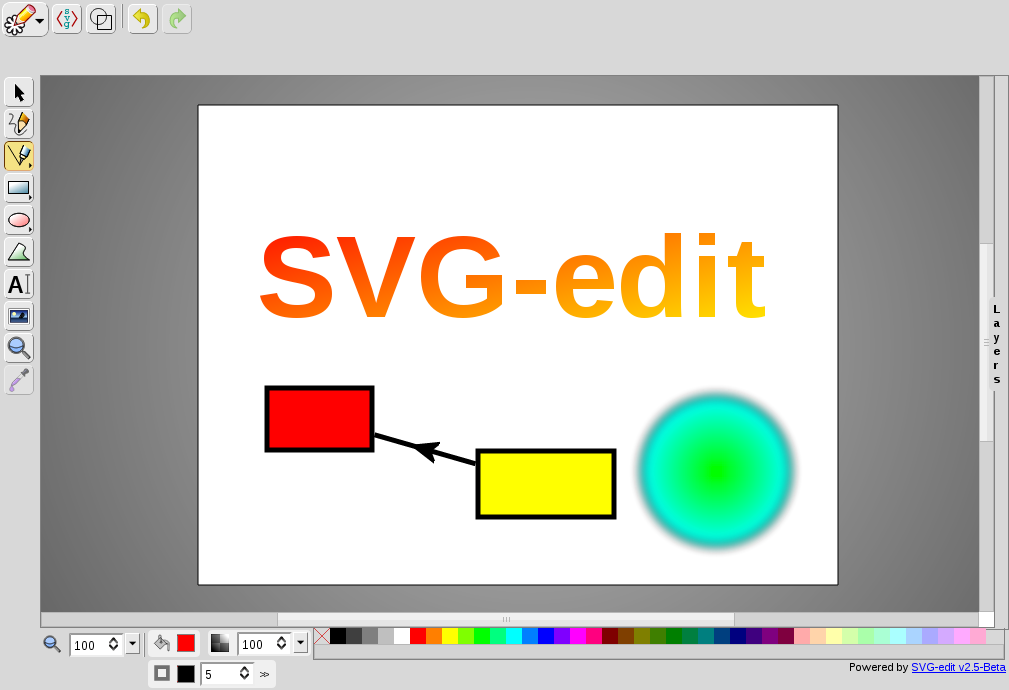 14. SVG-edit
SVG-edit is one of the open source software examples and best graphic design software that is web-based SVG drawing editor and built on CSS3, JavaScript and HTML5. The software utilizes SVG, CSS, GIF, TIFF, JS and HTML5, and runs on all browsers without the need for any server-side processing.
The software is designed as a browser add-on for Firefox and Chrome, and as a standalone widget for Opera. The tool comes in two components – SVG-editor.js and svgcanvas.js – which work together and deliver desired results. However, the later is designed for use outside the software, allowing developers to create their custom interfaces.
This software can modify SVG files and also support conversion to other file formats including JPG, WPM, BMP and PNG. You also get to enjoy freestyle drawing, raster images, layers, stylized text, converting to path, polylines, lines and wireframe modes.
Why Choose SVG-edit?
Fast, JavaScript-powered SVG drawing editor
Runs as an add-on for browsers
Store SVG files and editing preferences locally on your computer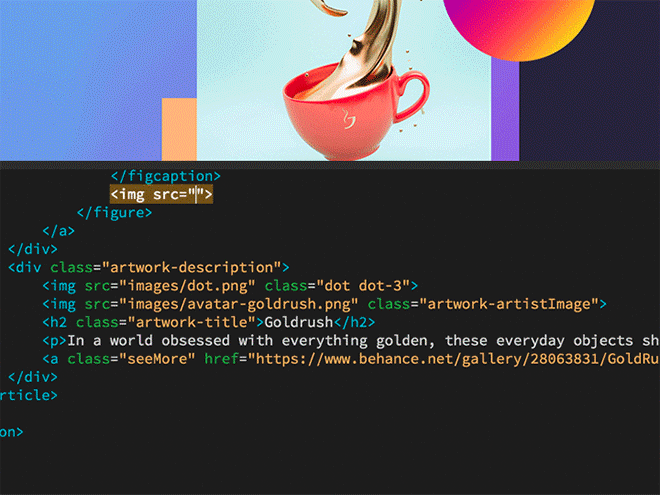 15. Adobe Dreamweaver
Adobe Dreamweaver is a website and mobile content visual development software that allows you to create, publish and manage content, websites and web apps from a single dashboard. The software comes with a wide array of features that can be used to make websites that can be viewed from any browser using any device.
Using Adobe Dreamweaver, site designer can immediately and easily introduce their products to the web because the app comes with customizable templates. The software also helps coders to make quick edits and updates.
When you are creating web apps and websites with this software, you need to only code it once and the software will do the rest for you. Your site will show across different screen sizes, based on the device being used. The tool is updated continuously and it is available for both individual and enterprise starting at $19.99 per month.
Why Choose Adobe Dreamweaver CC?
Supports multi-monitor for Windows
Customizable templates to help get your site up and running quickly
Simplified and intelligent coding engine for easy creation and management of dynamic websites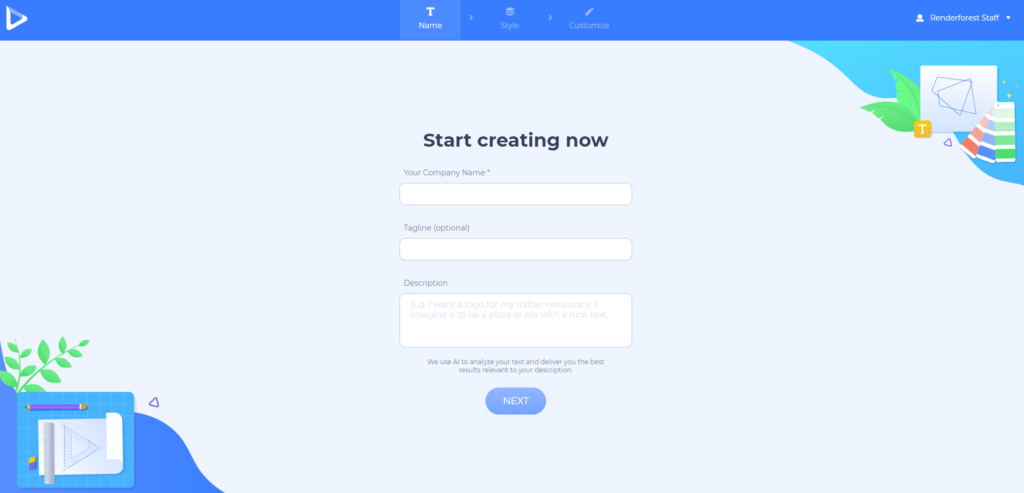 16. Renderforest Logo Maker
Renderforest Logo Maker is a great option for individuals and businesses that are after a hassle-free means of creating quality logos directly from the browser. This software simply requires you to specify your ideal logo and Renderforest will use its algorithm to closely match your descriptions.
When you specify what you want, you will be provided with multiple suggested logos with your perusal, and colors, text and font style that you can customize on this user-friendly logo editor. When you are done customizing, you can download your logo.
There is a completely free to use option on this software but if you are looking for more flexibility in customization, you may opt for paid options.
Why Choose Renderforest Logo Maker?
The free version offers free customization and download logo in PNG format
Interactive logo.
User-friendly logo creation
Conclusion
Whether you are a professional graphic designer or a beginner looking for the best graphic design software, there is always one graphic design software for you. The software you choose depends on your need or priority that is why we have taken our time to choose only the best for you. Go ahead and design that engaging graphic!