Canva Review – The Best Graphics Software For Unskilled Users
Canva is one of the best graphic design software for both skilled and unskilled users. It is aiming to be a one-stop platform for everything graphic design. In this Canva review, you will learn everything you need to know about Canva. It is probably the most popular online graphic design tool, with more than 30 million users and a valuation of $6 billion.
The app comes with impressive number of features and you can use it for many graphic purposes. Whether you are looking to add text and stickers to your photo or completely revamp the theme of a brochure, Canva is a great tool to do so. Read our full Canva review including Canva pricing and verdict.
Canva Review – What is Canva?
Canva is completely a design software for anyone who is not an experience designer. Some people see it as just an image design software, but it is much more than that. from PDFs to printables to flyers to invoices to websites to infographics, you can design everything with Canva.
Depending on your experience, you can start with templates or from scratch. It has a web version and apps for mobile phones and desktops.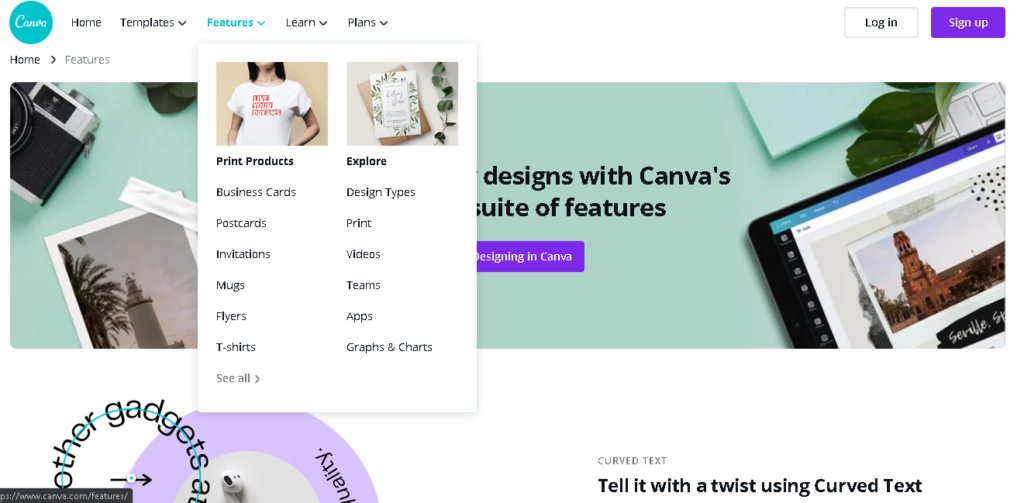 Canva Review – Canva Features
Here are some of the numerous Canva features:
1. Photo Effects That Improve Photos
If you are looking to enhance your photos, Canva provides you with cool effects. You can add effects to both the photos you upload and the ones Canva provides. When you select a photo, effects will show at the top of the editor.
These effects will allow you to crop photos, flip them, add filters, and adjust blur, brightness, saturation, contrast, etc. you can also add effects such as Liquify, Background Remover and Duotone. You can access most effects with free plan, but you need to subscribe to be able to use effects such as Background Remover.
2. Access to Templates, Images and Videos
Canva is providing you an access to over 75 million photos and videos and over 420,000 templates if you subscribe to its Pro Plan, but you can still get a fraction of those with the free plan.
To use these templates, click the Template tab when you are on the Editor and Canva will find templates based on the design type you have chosen. You can search the templates by language or color or scroll through.
To find photos, click on the Photo tab and choose images on a similar way to the filters. You can also upload photos from your computer by using Upload tab. You can also photos in the More tab. You can also access photos and videos directly from Flickr, Facebook, Pexels, Pixabay, Instagram, Google Drive, Dropbox, YouTube and more websites.
You can add videos via Video tab.
3. Font Library
Canva offer a font library under Text and you can choose from dozens of fonts ranging from simple fonts to sophisticated ones, with individual fonts and font pairs. By searching a font, Canva will find individual font and fonts that pair perfectly with it. You can select a pair and add your text.
If you subscribe to a Pro plan, you can upload your choice fonts, provided you have a license to use the font.
4. Access to Shapes, Icons and Stickers
With Canva, you have access to icons, charts, stickers, shapes, gradients, grids and more via Element tab. You can add them to your photos and adjust size, transparency and color.
5. Drag-and-Drop Editor
The drag-and-drop editor feature makes it easy to work with videos, photos, elements, fonts and templates. When you choose what you want to create, you will be presented with all the relevant items. You can add them by simply dragging and dropping. Within a few minutes, you should be able to create engaging visuals.
6. Animate Images
Canva allows you to apply animation effects by just clicking on Animate. When you click on animate, it shows all the effects you can use. Those that are free include Rise, Pan, Fade, Breathe and Block. Paid animations are also available. You can play around with these animation effects to create beautiful graphic for your business.
7. Create More Than Images
Some people think Canva is only about image creation, but you can create a lot of things including planners, invitations, blog banners, menus, newsletters, business cards, websites, workbooks, flyers, certificates and more.
8. Publish Directly to Social Media or Schedule
Just like many online photo editors, Canva allows you to share your image to some top social networks. A convenient feature recently added to Canva is scheduling your posts to social media such as Twitter, Facebook, Facebook groups, LinkedIn pages, Tumblr, Pinterest and Slack.
9. Brand Kit
The Brand Kit is s storage for your brand asset, including logos, brand colors and fonts. The importance o this is that you can access your assets easily while designing. It saves you a lot of time and helps you to maintain consistency across all your designs.
You can only get the Brand Kit if you subscribe to the Pro plan or Enterprise plan. You can create one Brand Kit with a Pro account but you need to upgrade to the Enterprise account to create more brands. This feature is better suited for agencies that design for corporations that house several brands or multiple clients.
10. Content Planner
Another recently introduced feature is the content planner. With content planner, you can view all the images you've scheduled. If you find gaps in the calendar, click the "+" sign to add a design you created earlier or create a new one immediately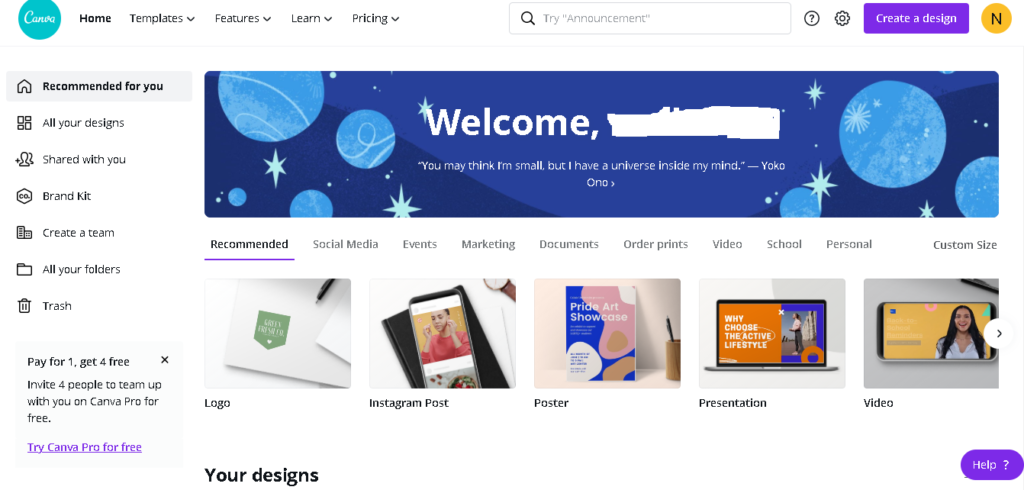 Canva Review – Interface
Canva is most appealing feature is its ease of use and the fact that everything is perfectly laid out and organized. You just need to tell the software what you want to design and you will be met with thousands of layout options and templates. One of the strengths of this tool is the number of templates you can work with, which run into thousands even for free users.
Once you have a blank page or a template in front of you, you can get elements together without any hassle. You can choose to change the entire theme of a design – background images, fonts, colors – with a few clicks. So it won't take you long to begin personalizing the basic template so that it fits with your brand image or anything you are designing.
Canva layouts are a little more restrictive than top-tier professional tools. Though you can take complete control of where everything is designed, there is not quite the same level of depth when it comes to pixel-by-pixel tweaking. However, Canva does an excellent job of keeping everything simple for beginners while also packing in lots of features needed by more ambitious designers.
You are greeted with helpful guides as you move elements around the page. These guides help you to keep everything aligned and remain consistent. Whatever you are looking to do, whether it is embedding a video, or dropping in a new background, Canva makes the process intuitive and stress-free.
The same approach is evident in mobile apps too, but it is not quite as easy to manage and adapt designs on a smartphone. However, the Android and iOS apps are user-friendly as the main web portal. The quality of the work you get on your mobile will amaze you.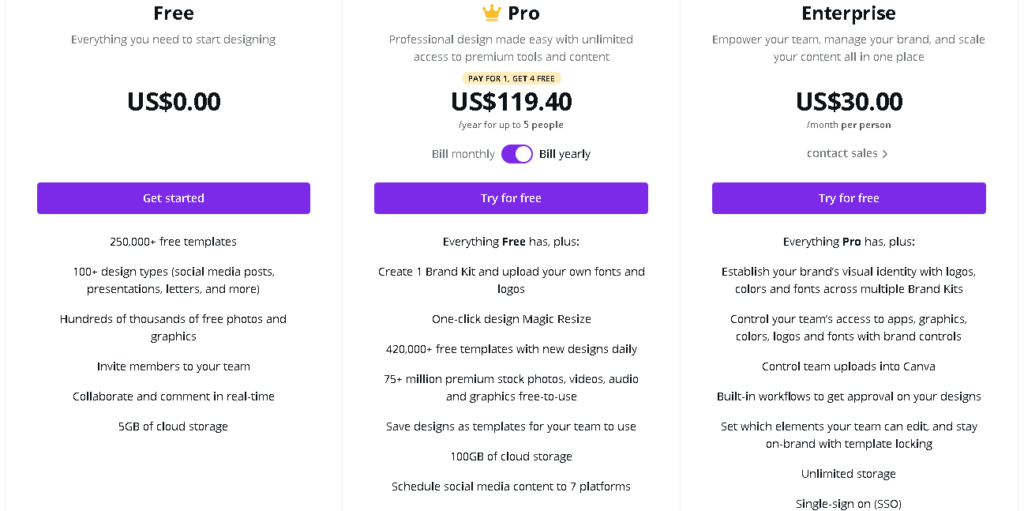 Canva Review (Canva Pricing)
When it comes to Canva pricing, everything is simple. You can use Canva completely free of charge, which is a great way to test things out to know if the software is right or not for you. With a free account, you get access to about 8,000 templates, editing tools, photos, most of the key layout and over 100 different types of design projects.
If you are comfortable with the software, you might need to check Canva pricing to see how you can upgrade. If you have the budget for a subscription for the Pro plan, $12.95/month (or $9.95 a month if you pay a year at a time) will give you about 50x as many templates, alongside access to millions of stock images, and tools such as automatic background remover.
Upgrading to Enterprise plan will cost $30/month, billed annually will get you features useful for teams, so your entire team can get access to the platform and create designs.
Who is Canva Best Suited For? (Canva Review)
Canva is perfect for small business owners, marketers and online entrepreneurs who want to quickly design things without any hassle.
Designing with software such as Photoshop is good but you need time to learn the software. With Canva, you can start designing immediately without having to go through any learning curve.
In fact, if you a tool like Photoshop, you might have to invest in a better and more expensive computer because Photoshop is heavy-duty software.
Also, Photoshop is not the best software for designing multi-page documents for print and digital as you will need a tool such as InDesign which will cost extra time and money.
However, Canva can do all that with just drag-and-drop. It is also free and easier to use. In fact, if you are choosing a paid version, you can go for a plan with $12.95/month.
RELATED: 23 Best Graphic Design Software – Graphic Design For Print
Canva Review – How to Use Canva?
Now that you are familiar with Canva pricing and features, lets' get started with creating things in Canva.
Choose a Visual Type
Select an option on the dashboard to choose a visual type, or use the menu, arrow, or search bar to find templates. You can set your desired custom dimensions for a unique layout.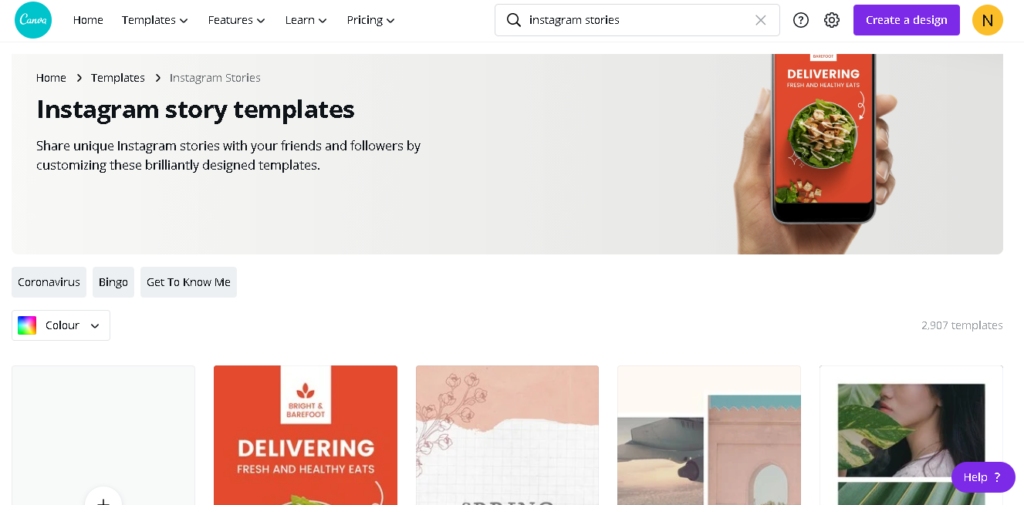 I clicked on Instagram Story, as we are creating an Instagram image.
Choose a Template and Modify it Accordingly
Canva opens the editor in another tab with templates to your left.
Click on the template you like and then drag and drop on the editor at the right side of the templates.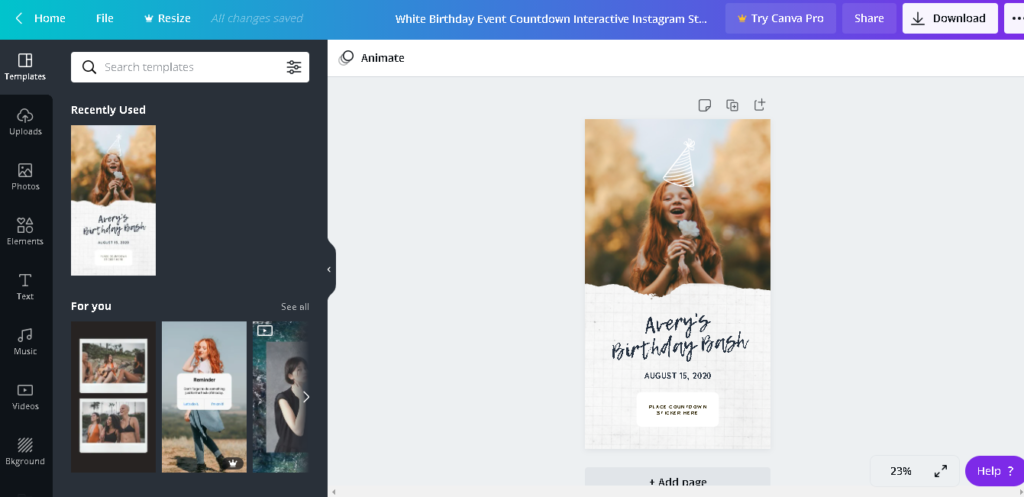 Edit as you like. After selecting a template, you can modify it by adding brand color and whatever you want to add.
check below for mine.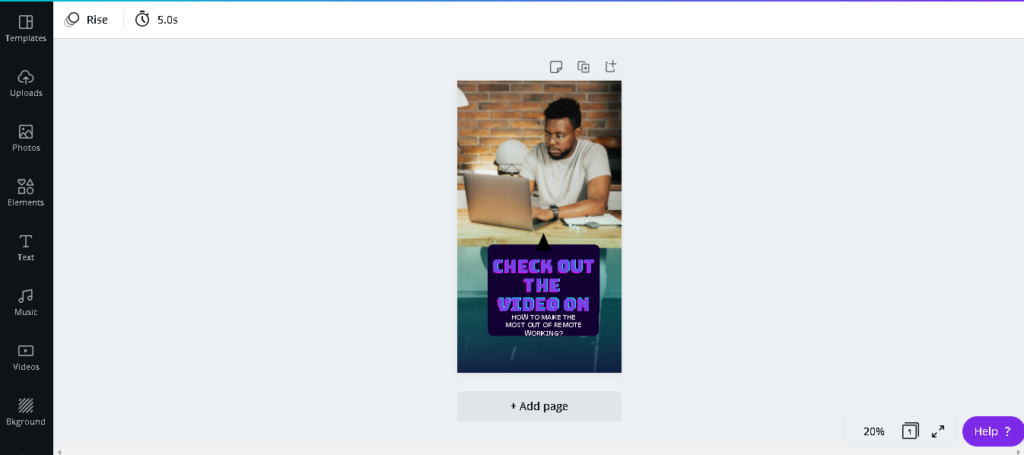 That is how to create an image in Canva. You can also create an image from scratch by starting with a blank page.
Canva Pros (Canva Review)
Huge number of graphics and templates
Intuitive interface that is easy to navigate
Integrated with stock photo image bank
Freemium subscription model
Can create any kind of visual project
Very easy to use for both beginners and professionals
Canva Cons (Canva Review)
The best features require a subscription
Doesn't work offline
Advanced users will want more options
Limited functionality
RELATED: Business Software – The Best Software For Company Management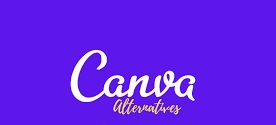 16 Canva Alternatives (Canva Review)
While you have read our Canva review you might still need a Canva alternative. If you are looking for Canva alternatives for your designs, here are 16 Canva alternatives:
Easil
Stencil
Crello
Picmonkey
Adobe Spark
Snappa
Pablo
Visme
Design Wizard
Pixelied
Pixlr
RelayThat
Tyle
Piktochart
Venngage
Fotor
1. Easil
Easil is drag-and-drop design software that allows you to create visual content so good it looks like a pro designed it. Here are a few features that make it one of the best Canva alternatives:
Great and high-quality , professional, editable templates
Brand Kit
Brand locking that lets you create templates for your team and lock it so that they won't mess with it
Ability to control team member access to assets
Unique editing tools features text effects tools, color palette generator, tables, transparent PNG, etc
Templates are all-inclusive
Advanced design tools
folders and favorites
GIF maker
EasilStock
Print
Great customer support
2. Stencil
Stencil is ridiculously easy to use image creation for small businesses, bloggers and social media marketers. It is one of the best Canva alternatives. Here are some of the features that make Stencil thick:
Over 650 template designs
Stock photos
Large range of custom social media sizes
Huge library of graphics and icons
Massive quote library
2,300 Google web fonts
share image to social platforms
3. Crello
Crello is also one of the best Canva alternatives as it looks similar to Canva. Here are the great features of Crello:
Over 20,000 templates and 240 fonts
Plenty of choice design size and format
Massive image library
Top design tools
Photo editor
animation maker
4. Picmonkey
Picmonkey is much more than just a photo editing tool, which is why it is one of the best Canva alternatives. Here are a few features that make it one of the best:
Basic and advanced photo editing tools
Photo effects and filters
Add text to photos
Touch up effects
Graphics
Collage maker
Templates
5. Adobe Spark
Adobe Spark lets you create stunning graphics for all occasions. Here are a few features that make it one of the best Canva alternatives:
Apply themes
Template designs
Easy text resize
Animation effects
Brand features
6. Snappa
This software claims to make design snappy, not clunky. Here are some of its features:
Graphic editor
Visual asset library
Hundreds of pre-made templates
Resize tool
Own photo upload
Import custom fonts
Save and organize into folders
Team collaboration
Share images to social media
7. Pablo
This is probably the simplest of these Canva alternatives, but it creates content easily and quickly. It is not available for mobilesHere are a few features:
Built-in analytics
Multiple image sizes
Buffer extension
Sharing straight to social media
Inspirational quotes
8. Visme
Visme Is one of Canva's alternatives when it comes to graphic software. This tool goes beyond anything you'd expect from a regular graphic tool. Visme is a drag-and-drop editor with a clean interface. It is easy to use, intuitive and loaded with great features.
Visme lets you create attractive and professional presentations, social media graphics, infographics and much more. If you are looking for a Canva alternative that makes the difference, this all-in-one design tool cuts it. Here are features of Visme that make it one of the best Canva alternatives:
Advanced data visualization tools – Has more than 40 charts and graphs, easy to use table maker, customizable flowcharts, customizable data widgets and interactive map builder. Create any type of chart with data manually or import via a spreadsheet.
A large variety of professionally designed templates
Photo editing tools
Infinitely vertical infographics
Animation and interactivity – Animated videos and GIFs
Collaborative features for teams
Analytics features for large businesses and teams
Download and share options – Download in high-quality JPG, PDF, GIF and HML5 formats
Anyone can use it
It is free but has premium plans
9. Design Wizard
Design Wizard is another software that cuts it when it comes to Canva alternatives. It is an easy to use software when it comes to creating static graphics or short videos. This tool provides you with templates for most social media assets and some document and presentation style projects.
You can choose between a video editor or a static graphic editor when you get inside the editor. So it has two completely different editing tools. In Design Wizard, the design features are reminiscent of Adobe tools with terminologies such as "artboards" and "layers."
The only thing missing in this tool is design elements to add to static and video projects. No data visualization tools, illustrations or icons. But in the video editor, there is a handy timeline for editing
Here is a few features of Design Wizard:
Has free and paid features
Easy to use for both beginners and professionals
Good for those who design simple visual assets
Create short videos and static graphics in a few minutes
10. Pixelied
Pixelied is like Canva, but with lots of ready-made icons and templates, millions of stock images and a suit of photo-editing capabilities such as removing background in just one click.
With Pixelied, you can make the designer in you go wild. It provides you with a tool to create powerful product mockups for your brand. With its workspace feature, you can switch between workspaces, each with its own separate designs, assets and team members.
Some of the Pixelied features include:
Great templates
stock photos
Icons
Image background remover
Free but has a pro version
Export or share your work easily
11. Pixlr
Unlike most of the Canva alternatives, Pixlr dazzles with its photo editing capabilities. With this tool, editing photo becomes easier, faster and smarter – the reason it is also a great alternative to Adobe Photoshop.
If you have ever tried to remove unwanted objects from your photo or blur an ugly background with exact pixel precision but have been frustrated, this tool can make life easier for you. With this software, you can remove backgrounds with just one click. The tool also lets you add accents or texture, such as glitter, dust flecks and light streaks to your photos.
Here are features that make Pixlr thick:
Free
Also a great alternative to Photoshop
Remove backgrounds of photos in one click
Perfect for beginners and professionals
Top photo-editing capabilities
12. RelayThat
RelayThat is a great tool for creating your own branded visuals for social media, ads and landing pages when you don't have a lot of time to use advanced graphic design software.
Just upload your brand assets and this tool will suggest various design formats and sizes for different platforms. If you can't find the template you like in Canva, there are more templates on RelayThat. This tool is just great.
The more colors and images you add to its library choose from, the more custom image templates RelayThat will suggest for you. This software offers thousands of royalty-free images you can use and it allows you to upload your brand's images. It also includes image SEO capability to help your image rank in search engines.
Here are some of RelatThat's features:
Thousands of royalty-free images
stock photos
Upload brand images and colors for a suggestion
Image SEO capabilities
Text styling and great colors that help your images convert
Creates images for ads, social media and websites
13. Tyle
We all love Canva for its capability to create engaging social media images, but it lacks features for creating social media videos. If you want to bridge the gap that Canva left and start creating engaging videos for social media, Tyle is a great choice.
Tyle smart image and video editor allows you to quickly create high-quality content and daily social posts. Just select a template and place your media and messaging. From there, you can easily and quickly edit each layer to customize your video to your taste. In fact, you don't have to take your own photos or shoot your own video to create a share-worthy video for social media.
With Tyle's over three million free stock photos and video clips, you only need to focus on your messaging and leave the visuals to Tyle.
Here are the features that make Tyle great:
Video clips and photos
Create videos for social media in a few clicks
Easy to use for beginners and professionals
saves time
Free and paid features
14. Piktochart
Piktochart is another great Canva alternative. It is specialty is helping you create your own graphics, infographics and charts with its library of data visualization templates.
While Piktochart offers you a chance to create your own charts, it also lets you create your own social media images and presentation slides. You will not see all of Canva's features on Piktochart, but it provides you with more visualization templates and capabilities.
With this tool's free plan, you get limited access to different templates. If you plan to do a lot of chart and infographics, you might want to upgrade to the paid tier.
Some of the features that make Piktochart great include:
Visualizations
Appealing presentation slides
Unlimited charts
Free and pro subscriptions
15. Venngage
Venngage offers a wide array of different templates. Between social media images, postcards and cards, and presentations and reports, this one of the Canva alternatives tools is an excellent option for anyone with a wide variety of visual design needs.
This tool is similar to Piktochart as it uses data visualization and infographic content creation. So users will find limited templates in other content formats with lots of infographic templates to choose from.
Here are a few features of Venngage:
Free
Perfect for everyone looking to create content that has to do with charts and infographics
Easy to use
Design and save your image all in one place
16. Fotor
Fotor provides you with an advanced photo editing tool to quickly and easily edit images and create web designs. If you have any issues using Fotot, you can check tutorials on their website to learn and grow with the tool.
You can use Fotor starting from Basic subscription with limited editing capabilities and advanced design features.
Here are the features that make Fotor great:
Edit and retouch images
Build your web and social image off of a template
Easy to use
Canva FAQ (Canva Review)
Canva is an excellent design tool. We answer a few questions about Canva:
What Can I Use Instead Of Canva?
If you are looking for something other than Canva can do, You can look at the Canva alternatives and make your choice. Especially if you are looking for:
Better data visualization elements
More robust graphic design features
More customizable illustrations and icons
Granular animated setting
And much more
You can check out the Canva alternatives and choose the right one for your designs.
Is There A Free Version Of Canva?
Yes, Canva has a free version that you can use for as long as you like. The only problem is that you will not have access to many of the visual design elements gallery that Pro users have access to. Thankfully, the Canva Pro version is not too costly, so you can subscribe to it if you need more than basic designs.
Which Is Better, Canva Or Picmonkey?
It depends on what you need. Picmonkey is one of the best Canva alternatives you can find on the market, but they are not exactly the same. For instance, if you want to edit your photo to a greater length, you are better of with Picmonkey.
However, Canva lets you send your designs to be printed right inside the platform. So it depends on what you need to be done and how you want to get it done.
Do Professionals Use Canva?
Of course, the professionals use Canva. From business owners to creative entrepreneurs and professional bloggers, Canva is being used by professionals every day. In fact, companies use Canva in many cases.
Using Canva as a team is great because it is easy to partner with your team on projects. But Canva doesn't cut it when it comes to professional pitch desks and data-heavy proposals.
Is Canva Better Than Photoshop?
That is 100% no. Canva is not better than Photoshop but is easier to learn than photoshop. While you can create excellent graphics with Canva, Photoshop will always remain the tool of choice for photo retouchers and professional designers.
Do Graphic Designers Use Canva?
Of course, some professional designers use Canva to design basic social media content for their clients. Most of the professional designers who use Canva are social media content creators and professional assistants for small businesses and bloggers.
How Much Does Canva Pro Cost?
Canva Pro tier costs $9.95 per month, billed yearly. With Canva Pro, you get access to everything that Canva has to offer. Definitelly better than free tier by far.
Is Adobe Spark Better Than Canva?
In terms of features, Adobe Spark is not better than Canva. Adobe Spark is just a simple version of Photoshop which needs more features. Adobe Spark only edges Canva in curve text.
Is There A Desktop Version Of Canva?
Of course, Canva has a desktop version for Windows and Mac. In fact, it also offers a mobile version. Unfortunately, for Canva desktop to work, you have to be online, which defeats the purpose of it having a desktop version.
Canva Review – Verdict
Canva is a very impressive graphic design software available on the web and iOS and Android. You can use it to create a whole lot of different types of designs and post directly to social media.
This Canva review showed you can start using Canva today. The Canva pricing is also good and you can choose any premium plan you want if you like the software.
Better still, you can look into Canva alternatives if you don't like Canva. Check Canva out here.