When it comes to getting the best internet experience, you need the best browser. You have probably been using one browser all these years but you will be amazed at the impact a new browser can have on your internet experience.
Privacy and speed are the two biggest features that anyone needs to consider when choosing a browser. While some demand more of your system resources, others are relatively lightweight. Some browsers also provide you with full suits of security tools that protect your identity online, while others allow ads and cookies to run freely.
Choosing the best browser is not the easiest job, but we believe that Firefox is the best browser that offers the best internet experience. Of course, it is not without flaws, but Mozilla developer has committed to supporting users' privacy and developing tools that stop third parties from tracking your internet activities.
The latest Chromium-based Edge is close to Firefox. Though it supports the same browser extensions as Google Chrome, it doesn't consume much of your RAM, allowing for better and faster performance.
Of course, Edge and Firefox are not the only options when it comes to the best browsers, so you might want to look beyond big names. Read on to discover the best browser for you.
RELATED: Business Software – The Best Software For Company Management
The Best Browsers
Mozilla Firefox
Microsoft Edge
Google Chrome
Opera
Vivaldi
Brave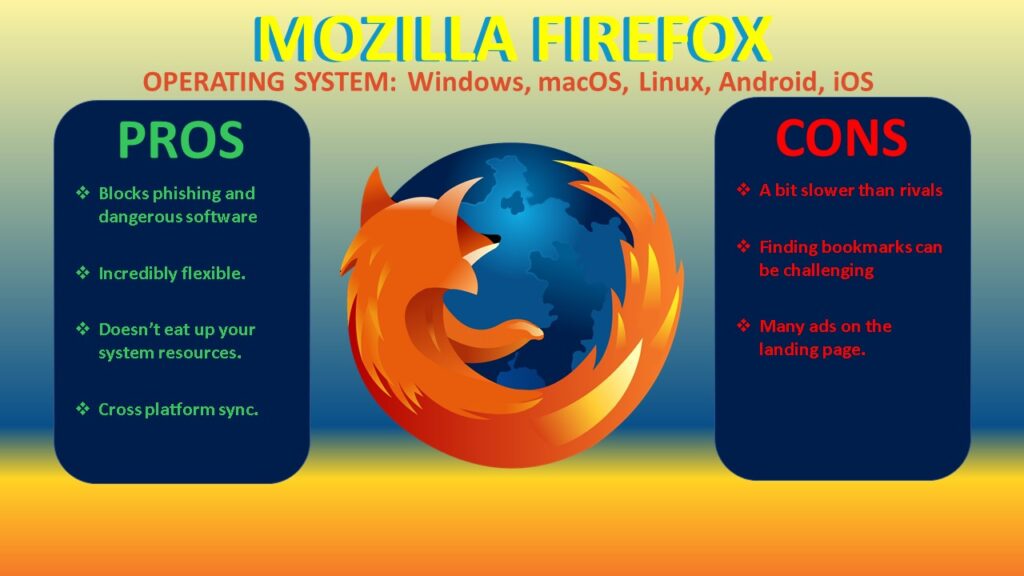 1. Mozilla Firefox
Operating system: iOS, Android, Windows, macOS,Linux
+ Good privacy protection
+ Incredibly flexible
+ Cross-platform sync
– A bit slower than rivals
Mozilla Firefox is one of the best open-source software developed by the nonprofit Mozilla Foundation. It is a SoftwareExample favorite browser because it offers a lot more than the other browsers.
Firefox version 72 is particularly great as it can alert you if your email address is included in a known data breach. It also blocks annoying allow-notifications popups you used to see when browsing on other browsers. The browser also blocks "fingerprinting" browser tracking, while also brings picture in picture video mode to the Mac version.
Firefox also offers endless customization in terms of appearance, range of extension and plugins. In fact, this browser is solid on fairly modest hardware.
Although Mozilla Firefox is our favorite browser, we are worried about its future because it is open-source software. You will remember that 2019 was not a great year for the browser because of the major add-on crises it had. The lack of an in-house quality assurance team was also a major issue in 2019.
Most of the software's QA is outsources and the QA leads were reportedly let go in 2020. If you also love Firefox like us, you might want to support it financially because the software is struggling for income. Help secure its future.
2. Microsoft Edge
Operating system: iOS, Android, Linux (on the way), Windows, macOS
+ Clear privacy policy
+ Lightening fast
+ Can save sites as apps
– Windows pushing it to become the default browser
If you are an older reader, you'll remember Microsoft as the villains of the Browser Wars that brought about Chrome and Firefox. Now, Microsoft has become an angel as its Edge browser has been redeveloped with Chromium at its heart. It is the Windows' default browser and also has versions for Mac, Android and iOS.
This new version of Edge is powered by Chromium, making it faster than the predecessor. It also has some enjoyable features such as Read loud, an Opera style start page, the ability to cast media such as inline video to Chromecast devices and a great selection of add-ons including password managers, ad-blocker, etc.
Edge also allows you to download website pages as apps, which will run as a stand-alone application without you needing to launch the browser. It means you can save a web page as an app and read it offline later. The feature is very useful for Google docs or Twitter.
With this browser, you get a lot of customization options. It provides you fine-grained control over what a certain website can do, including pop-ups, ad blocking and media autoplay.
Edge looks just like Google Chrome but it's way better than Chrome – it is faster and offers superb customizable options.
3. Google Chrome
Operating system: iOS, Android, Windows, macOS
+ Cross-platform
+ Very expandable
+ Speedy performance
– Can be resource-hungry
Google Chrome is one of the best browsers. It is the world's favorite browser. The browser is imitated by the Edge browser but Edge is way faster and lighter. The big minus with Chrome is its hefty resource demands. If you have a PC with low-powered hardware and limited Ram, it can slow your system.
Chrome 79 is a very brilliant browser with a nice library of add-ons, sync and cross-platform support. It has great autofill features and excellent tools for web developers. If your email is being compromised, Chrome can warn you and can help you block a lot of dangerous mixed content like images and scripts on otherwise secure connections.
The browser also enables the WebXR API for VR and AR. You also get to enjoy dark mode in Chrome. The biggest minus with Chrome is privacy protection. Google uses it to monitor your activities, likewise other websites. So Firefox is better in that aspect and Edge is better in the aspect of speed.
RELATED: Software 2020 – The Best Free Software Of 2020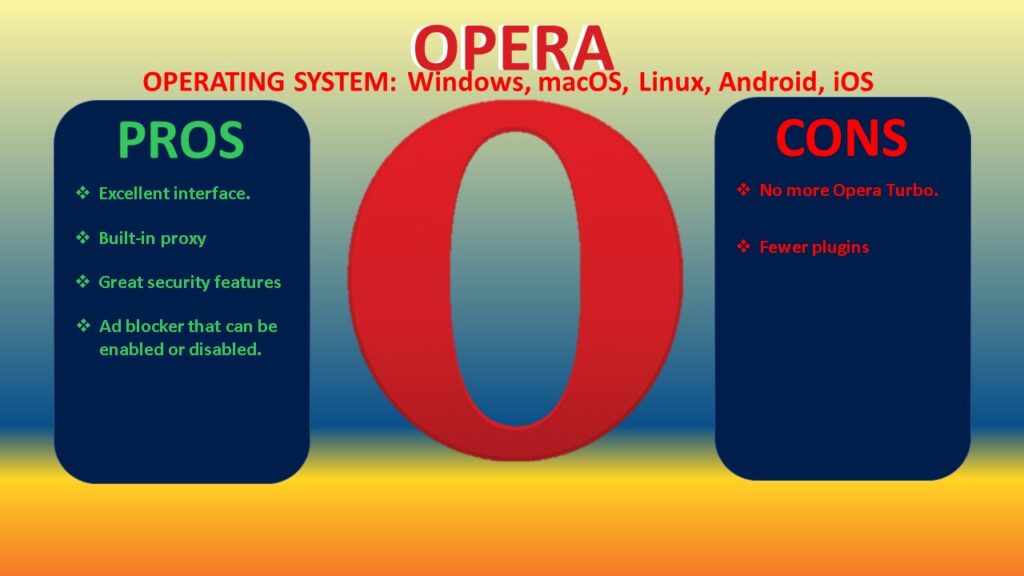 4. Opera
Operating system: iOS, Android, Windows, Linux, macOS
+ Excellent interface
+ Built-in proxy
+ Great security features
– No more Opera Turbo
Opera is one of the best browsers which sets out its stall from the moment you first run it. You can easily turn on its ad blocker, turn on its Crypto Wallet for cryptocurrency, use its built-in VPN, turn on its dark or white mode and enable in-browser messaging from its sidebar.
If you are a gamer, there is an Opera version (Opera GX) specifically developed for gamers. You might what to check it out because it also features Twitch integration and Razer Chroma support.
Opera is also a Chromium-based browser, making its performance great. You can also use add-ons in the Chrome library. With Opera, you can share content on your phone to Opera on your PC. You can also personalize news on your Opera and clip your favorite websites to the homepage of the browser.
Opera is loaded with lots of useful features, unfortunately, our favorite Opera Turbo which compresses Internet data is gone. The Opera Turbo compresses data such as images to allow things to load faster when the internet connection is slow.
Opera Turbo is now only available on the mobile version. But don't worry, you still have battery saving mode, so you don't need to worry about your laptop battery dying when the internet connection is slow.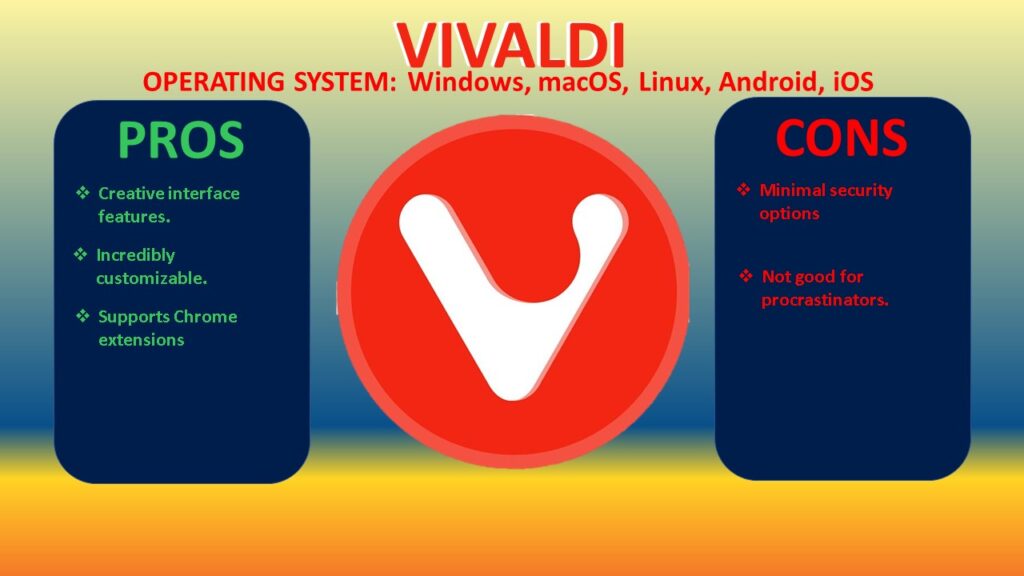 5. Vivaldi
Operating system: Linux, macOS, Windows, Android (beta)
+ Creative interface features
+ Incredibly customizable
+ Supports Chrome extensions
– Not good for procrastinators
Vivaldi is one of the best browsers and it is the brainchild of a former Opera developer. It does things differently as Opera does. Vivaldi is all about customization as you can tweak almost everything from the user interface look to the way navigation works.
It is also Chromium-based, meaning you can use Chrome add-ons on it too. You can stick toolbars where you like and pin sites to the sidebar and adjust the page color schemes and fonts as you wish. You can also customize the way search works and give search engine nicknames. There is so much customization to do here.
With Vivaldi, you can view your history in graph form to see how much time you spend on each website. If you like to fiddle with interfaces instead of getting things done, this browser is a potential productivity nightmare. But it is a great browser for power users who know what they want and how they want it to work.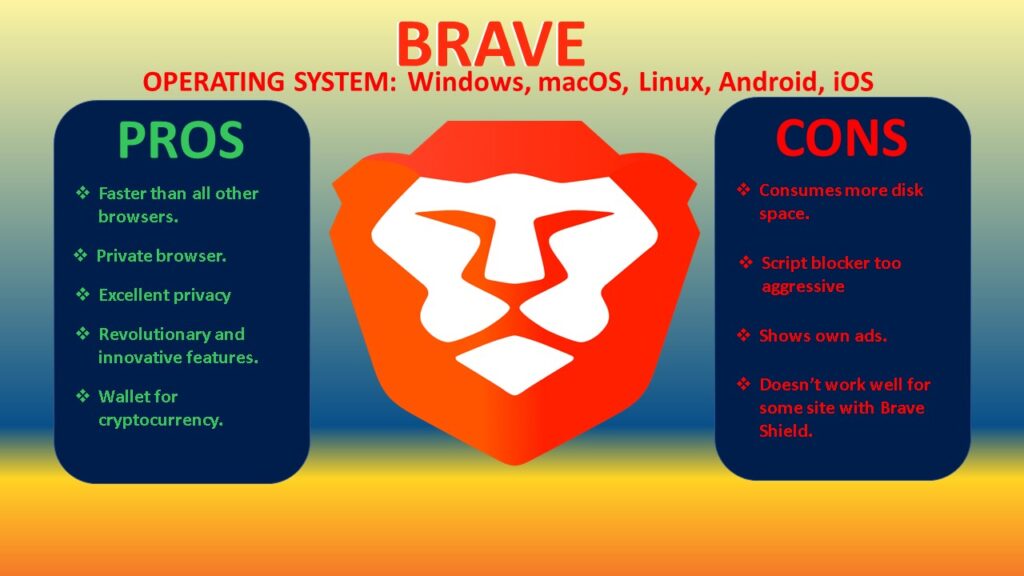 6. Brave
Operating system: Windows, macOs, Linux, Android, iOS
+ faster than all other browsers
+ Private browser
– Block ads
Brave is one of the most unusual browsers but arguably the fastest browser. The browser's business model is strange because it automatically blocks all ads from all web pages by default. That's probably why it is the fastest browser.
It is a private browser, so no user tracking. If you are not the type that likes seeing ads, this is the right browser for you.