7 Best RIP Software – Easy To Use
Ever wonder why the best RIP software is important in printmaking? Well, you need to first understand what RIP is, what it does and what value it can add to your printing workflow.
If you are a print-maker, you are already aware of how the best RIP software can make your printing more efficient and easier. but some print-maker still want to know whether RIP software can make their color brighter or improve the quality of their image.
In this article, you will learn what is RIP, what it does, the benefits it brings to the table, a list of some of the best RIP software and of course, why you need a RIP.
What Is RIP?
RIP means, Raster Image Processor. RIP software is similar to the print driver that comes with your printer, but with much more controls and other cool features. RIP is created to handle many files, file size and file types without limiting your print capabilities.
When you have the best RIP software at your disposal, it will process your files faster, more consistently and efficiently, resulting in less waiting and faster print times. If you have ever tried to run a large image with over 300MB size, you know how cumbersome and time-consuming it is for the standard print driver to process it.
With dedicated software designed to process large files, your tasks become much easier and let you work on other projects while your image is processing. Not just that, you will also be able to process and print multiple files simultaneously.
A RIP program will also store all your processed data (all the files you have printed), making reprints easier and faster. Most of the best RIP software on the market include ICC profiling capabilities, so you don't need additional software to create your own ICC profile (but you will still need a spectrophotometer).
READ ALSO: 10 Best Streaming Software For Low End PC
The Best RIP Software / What Is The Best Rip Software For Printing?
If you are looking for the best RIP software to take your printing to the next level, here is the list of the best:
Onyxgfx
ColorBurst
ImagePrint
EFI
Wasatch
Caldera
Ergosoft
1. Onyxgfx
Onyxgfx is a RIP software that provides you with all the tools you need to achieve high-quality, predictable print output. With it, you can manage multiple devices in a production environment while also automating tasks that reduce errors and create an amazing overall experience.
With advanced compression algorithms, an excellent threading pipeline that helps computer hardware to improve printer performance, new rendering technology and print isolation technology, this is the best RIP software for all print-maker.
The software also offers color automation, color consistency and color accuracy. You can try this software because it makes your life easier as a printmaker.
2. ColorBurst
ColorBurst is RIP software that delivers high-end color, Pantone matching and accurate proofing. With ColorBurst, you don't need to waste ink and paper due to mismatched or forgotten menu selection. This software allows you to build print environments so there is only one selection needed at print time. It lets you marge all your printing parameters into only one click.
ColorBurst provides you with features like:
Full PostScript and Raster file support
Blank point compensation
Pantone color matching
Input ICC profile
Output ICC profile
Job manager
Print from application
Hot folder
One of the important features of this software is the Saved Environment feature. When you create a new environment, you need to first set your printer settings and it will retain it and recall the next time you load that environment. This is great because the driver changes settings often and makes you make mistakes more. With this software, you can rest assured that settings will remain as you keep them forever.
You can download this software and see it for yourself.
3. ColorByte ImagePrint
If you are looking for a gorgeous printing ImagePrint is one of the best RIP software that can get the job done without any hassle. It is a feature-rich, comprehensive application that uses propriety technology to deliver highly accurate color and B&W prints. If you have a calibrated display, ImagePrint delivers a WYSIWYG print.
Usually, your printer comes with a driver that is not perfect, but ImagePrint will replace your printer's driver, bypass your OS and directly drive your printer. The software creates a trouble-free, streamlined printing workflow environment.
RELATED: How to Install Epson Event Manager Software Et 3760
If you are ready to eliminate time-consuming conflicts due to mismatches between your printer's control and the driver, you need this software. Without wasting time, ImagePrint sends data to your printer and frees up your PC by using a fraction of your PC's processing power.
ImagePrint covers about 92 paper manufacturers including Epson, Red River, Hahnemuhle, Canon and Canson to create thousands of profiles. You can check it out and give it a trial
4. EFI
EFI is a program designed to help organizations in the printing industry handle operations related to data collection and gorgeous printing. It is a RIP software that is trusted by lots of printing businesses as it delivers exactly what it claims to do. The software moves jobs through production quickly with exceptional RIP speed.
With its great features, you can print your work with ease and eliminate errors that printer drivers usually make. The software comes with a lot of features including:
Unify print job management
Digital print server
Command workstation
Workflow suite
Color and Imaging
Integration
and much more
You can try the software for free and if you like it, you can subscribe to their paid plans.
5. Wasatch
Wasatch is a special RIP software that specializes in imaging solutions. It is a sophisticated program with a simple setup, powerful print controls and intuitive workflow. The software saves you money and time because it makes your work error-free and produces excellent quality colors.
From digital label printing, screen printing, direct to garment printing and dye sublimation, this software makes life easier for printmakers. The software also provides special options such as variable data printing and automation, which lets you scale up and specialize your production further.
6. Caldera
Caldera is a leading RIP software with a class. It has created a market-leading suite of production-oriented print and print-and-cut workflow tools that deliver accurate color management and easy-to-use imaging and processing solutions for large and grand-format devices.
The reason why a lot of companies choose Caldera is that it offers sophisticated color management features and full scalability that puts you in complete control of your printing. The software provides you with benefits such as:
Powerful RIP and workflow solution for wide-format printing
Control multiple devices from a single RIP
Intuitive to use with drag-and-drop functionality
Advanced pattern repetition feature for texting, tilling and step & repeat.
Print and cut control
ICC color calibration and spot color matching for consistent reproduction across your fleet
It is powered by Adobe's APPE 5.0 print engine
With this software, your printing can be error-free.
RELATED: 12 Best Free Video Editing Software Reddit That Are Easy To Use
7. ErgoSoft
ErgoSoft is a RIP software that combines intuitive image editing and print output tool with extensive color management and enhanced workflow features. It is a new tool that helps you print faster and more efficiently without any error.
The software offers simplified image editing and print output tools as well as optimized color production and advanced workflow options for a superior print experience. Here is what ErgoSoft brings to the table:
Streamline your production by taking on multiple print jobs with minimum waste and maximum results
New control center
Customizable job windows
More shortcut keys
faster production of target colors
Intuitive user interface with easy-to-access functions to maximize print workflow.
This software is one of the best and you should give it a try.
The Best RIP Software Workflow
As already mentioned, RIP software will let you process and print multiple files simultaneously. These capabilities will greatly improve your printing production and efficiency. With the software, you can be printing a job, processing another one and preparing more jobs to come later at the same time.
With RIP, you get control over handling your files such as color profiling to a wide array of media types, color correction, rotating, multiple copies, scaling, nesting and much more. Most of the RIP software on the market will process your entire file and send it to the printer, meaning consistent output with no lagging.
Aside from the great workflow that you get from the best RIP software, here are more benefits:
Nesting/layout that lets you cut back on waste
Multiple printers mean you can run multiple printers from the same PC and maximize production
Color management
and much more.
Do I Need A RIP?
If you are still unsure if you need RIP, here are a few questions that will help you determine if it is right for you:
Do you…
Create your ICC profiles?
Have 2 or more printers?
Have more than one operator running your printer(s)?
Need to increase your print productivity?
Need to reprint images you have run in the past, but need the color to match?
Need to print copies of the same image or multiple images?
Need to maximize your media usage and cut back on waste?
If your answer is "YES" to any of the questions, you may need to consider one of the best RIP software.
If you have two or more printers or operators running your printers, you need one. There are many printing technologies that can run large format prints.
In addition, you can use different types of printheads and print nozzles to print. Completely digital printing is the best option when you want to print on a large scale with a high resolution. However, you might not have a large number of digital printing machines.
The best option is to use a hybrid printing solution. It is a system that uses two or more technologies to run large format prints. The print system should be able to output print jobs to two or more devices at the same time, and the devices should be able to print to two or more print devices at the same time.
Easily Manage Multiple Printers With The Best RIP Software
As technology continues to evolve at a rapid pace, so does printing technology. There are now many options for printing, from inkjet printers to laser printers to multifunctional printers that can do everything. One of the most popular options these days is the RIP software.
Using the software, you can easily run multiple printers. Every printer is fed into the software, which then prints the same document on each of the printers. Depending on the software, you might be able to have a separate color or size for each printer. This can also be done on a single printer.
If you have multiple printers and need to print something, you'll need to install and use RIP software. This software is the best way to print when you have multiple printers.
Essentially, it allows you to select which printer you want to use to print and run multiple printers at the same time. It is important to note that you will need to make sure that the software is compatible with your printer before you use it. You can also take advantage of the software's "print to any file" feature. This will allow you to print in any format.
Best Software To Rip DVD For Plex
Plex is not just a powerful media server. It's also a great tool for managing your entire movie, TV show and other video collection. But since Plex can't read DVD format discs as well as other "disc image" formats, you'll need the best software to rip DVD for plex to Digital formats supported by Plex first.
Some software is needed when you are planning to rip DVD for Plex, so you can choose the best software to rip DVD for plex from the list below.
How do you rip a DVD to Plex? To stream and play your DVDs on Plex media server, you need to convert DVD to digital formats supported by Plex media server. The best software to meet this requirement is dedicatedly designed to rip DVDs for Plex and it provides some pleasant bonus features, too. here is the best software to rip dvd for plex.
3 Best Software To Rip DVD For Plex
1. DVDFab DVD Ripper
The DVD Ripper program is one of the best software to rip DVD for plex that allows you to rip DVDs in an efficient way. It is famous for its rich features, high ripping speed, and advanced GPU acceleration technologies. You can rip a DVD movie with this program in less than 5 minutes. This program is specifically designed to rip every DVD.
Features
It can convert different video files to MKV format and provide you with lossless sound quality and video streaming
It can rip DVDs to mp4 for mobile devices
It comes with a built-in editor
Lets you add numerous DVD rip tasks to the queue, which helps you save time
Pros
A great deal of speed
up to 600 audio and video formats
The best solution for RIP DVDs for plex
Cons
Its use may be challenging for new users
2. MakeMKV
Ripping DVDs for Plex is extremely simple with MakeMKV. It's known to be the fastest DVD ripper around but bear in mind that the size of your ripped movie will be the same as an original one.
MakeMKV is the fastest tool to convert movies from Blu-rays and DVDs into MKV files with no quality loss. The output files can be played with many software and hardware video players. All the processing is done on your computer. MakeMKV works in Windows and Mac OS.
Features
It reads both Blu-ray and DVD discs secured with the latest versions of BD+ and AACS
It saves all audio tracks and videos
Offers preservation of chapters and meta-information such as audio type, language and more
Pros
Rips DVDs with copy protection
Comes with cross-platform compatibility
Blazing ripping speed
Offers Blu-ray disc ripper
Always maintain a good standard
Cons
Keeps the video size large
MKV is the only export format
no preset profiles
can't alter the video and audio codecs
3. Handbrake
HandBrake is a video transcoder software application. It is available for macOS X, Linux and Windows. The program was formerly known as Vidernity, but as of December 2006 it has been renamed HandBrake. In addition to converting single video files into formats such as DivX and MPEG, the program allows users to add subtitles. HandBrake supports batch scan and queue encoding.
Handbrake is a good DVD ripper for Plex. It rips DVDs to preset Android, iPhone, iPad, Apple TV, iPod and Windows 8. With the extensive set of custom settings available With it, you can modify codecs, effects, chapter markers, filters and more. However, if you don't install libdvdcss, you won't be able to rip copy-protected content.
Features
It quickly converts any video format to MKV or MP4
It restores the old and low-quality videos
It can be used to crop and resize videos
It erases combing artifacts produced by interlacing and telecine
It mixes discrete surround sound into stereo or matrix surround
Users can pass through audio without transferring particular audio types
Pros
Multi-platform compatible
No malware threat
Free to use
You can customize the video and audio settings easily
Supports a wide range of input formats
Cons
Can't combine DVD videos
Limited output formats (only WebM, MP4 and MKV)
Rips only one title at a time
You need to install an additional decoder to deal with encrypted DVDs
Best Rip Software For DTF
DTF printing needs special print RIP software to trick the printer into printing with white ink. Most DTF printers work perfectly with older RIP software like Acrorip 9. It's the best value option for everyone. Newer printers like XP-15000 require newer print RIPs such as EKrip Studio. It may be more expensive but it does support more DTF printers than Acrorip.
The main difference between Acrorip and EKrip is that Acrorip 9 uses a USB Key which must be plugged into the computer at all times for the software to work. Without a USB Key dongle, Acrorip won't work even though you have installed it.
It can also get hit by lightning and burn out rendering your USB key dongle useless. EKrip is much more secure than Acrorip in that there is no need for a USB key dongle to run it – simply install it on your computer and then open up the software for DTF printing.
RELATED: How To Use The Epson SureColor P400 Software And Driver
DTF RIP Software Download Free
RIP software is necessary for all UV, DTF, DGT and Toner Transfer printers because they are modified to print with specific inks. Here is the DTF RIP software download free: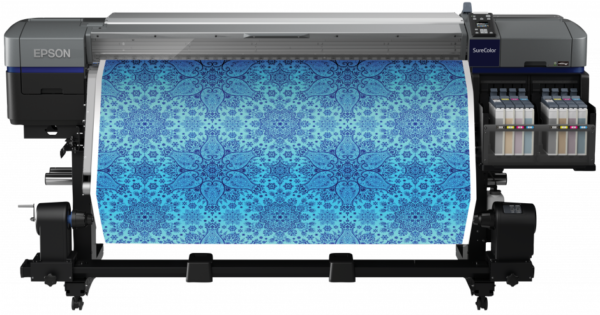 RIP Software For Epson
RIP software is a popular software used in the graphic arts industry that enables users to edit, print, and convert images.
RIP software has been around since the 1980s and has been widely used by graphic designers and the printing industry and in other fields such as architecture and interior design. Thankfully, Epson has now developed the most advanced RIP software that makes printing effortless.
The main reason behind this shift in use is that RIP software can now be easily integrated with CAD programs like AutoCAD and Inventor. This allows users to create 3D models from their designs without having to worry about creating a separate file for each layer of the model. Since there are no longer any limitations on what you can do with a 3D model.
Recently, Epson announced Edge Print RIP software built for F-Series textile printers. It is bundled with new printers so you can get the best result there is quickly, delivering top performance with Adobe PS core engine in order to process Post Script data for different file formats.
The RIP software for Epson runs on Windows, needing just a simple setup. It needs no dongle, as it lets users manage up to four printers with an effortless set up to provide easier file management, screening, step & repeat, color control and nesting.
Other RIP software for Epson include:
Best RIP Software For Screen Printing
RIP software is an essential tool for screen printing. It allows you to work with different printable materials and achieve the desired results.
The best RIP software for screen printing are those that come with a wide variety of features, such as the ability to save your designs, a large number of templates, and compatibility with different operating systems.
Here is the best RIP software for screen printing:
FilmMaker for making film positives
PowerRIP Software
ColorMate RIP for film positives
AccuRIP Black Pearl RIP Software
PrintFab RIP software
Best RIP Software For Large Format Printing
The best RIP software for large format printing is software that takes digital files from a computer and converts them into instructions for an imagesetter, plate maker or other devices that prints on film or paper.
The RIP examines each pixel in the image file and determines how much ink should be applied to create the desired effect. A RIP is typically used when printing images on large format printers such as posters, banners, billboards or trade show displays.
Some of these large-format printers use plates rather than inkjet printheads to apply color to paper or film sheets. This means that they require specialized RIPs with extra features like vector cutters and vector fonts.
In the past, if you wanted to print something in large format, you would have to take it to a print shop and have them do it for you.
Nowadays, there are many online tools that allow you to make your own large-format prints at home. These tools are also known as "rip software."
The best rip software for large format printing is called PosterJet Pro. This tool has a simple interface and is easy to use for beginners. It also offers high-quality output with a lot of customization options.
Here is the best rip software for large format printing:
Best DVD Ripper For Mac Free
DVD ripping is the process of copying the content from a DVD, streaming media or CD to a computer in digital format. It can be done by using an external DVD drive or by using the software. The best DVD ripper for Mac free is Handbrake.
Handbrake is open-source and cross-platform software that can rip encrypted DVDs as well. It supports all kinds of media formats (MP4, MKV, AVI, FLV) and it has no watermarking or encoding limitations.
Other best DVD ripper for Mac free are:
The following are not free but come with a free trial. If after trying them you like them, you can purchase a license:
DVDFab DVD Ripper – Free version available
Ashampoo Burning Studio 22 – Trial available
AnyMP4 DVD Ripper – Free trial available
Leawo DVD Ripper – Trial available
VideoSolo BD-DVD Ripper – Trial available
WinX DVD Ripper Platinum – Trial available
Best Software To Rip Blu Ray
There are many software to rip blu ray out there but some of them are not powerful enough and some of them are too expensive. So, it is really hard for people to find the best software to rip blu ray.
Here I am going to introduce you to free yet the best software to rip blu ray.
1. Handbrake
Handbrake is one of the free yet the best software to rip blu ray. It is open-source software that offers tons of output options. This software also works with DVDs and you can quickly set it to the format you like.
Unfortunately, it cannot handle encryption, which means it will not work with most commercial Blu-ray discs. However, it can still help you compress or change the format of videos or show you the movies you have ripped with another app. If the blue ray is not encrypted, Handbrake will rip it.
2. MakeMKV
Unlike Handbrake, MakeMKV can handle encryption effortlessly and it provides you with exceptional quality output. This software also preserves metadata when ripping and offers a fully functional free trial.
The downside with MakeMKV is that its output is only in MKV and the file can be very large. It is also slow when ripping but since it can handle encryption, you should be able to wait. However, the software needs to be in beta to rip encoded blu rays.
It means you need to obtain a beta key to b able to unlock the ability to rip encoded discs. You can just google the MakeMKV beta key. Also, you can compress the large file produced by MakeMKV using a Handbrake.
3. DVDFab Blu-Ray Ripper
DVDFab is another great blu ray ripper. This software is a good option if you are looking for a premium blu ray ripper. However, it is not cheap especially if you want to use more features. Though it is not cheap, it offers value for money and is better than free software by far.
In fact, you can get the Enlarge AI of the software if you are ripping standard blu rays to upscale to 4K video.
4. EaseFab LossLessCopy
EaseFab LossLessCopy is an excellent blu ray ripper that can read and convert encrypted discs. It is fast but offers a minimal free trial. This software can be really expensive but does the job it says it does. You can pay for a yearly subscription or lifetime license. If you are into ripping, getting a lifetime license is the best.
It handles all kinds of encrypted blu rays and the speed at which it does it is amazing. Unfortunately, it is expensive and the interface can be cumbersome.
5. AnyMP4 Blu-ray Ripper
AnyMP4 is a fast ripping and encoding software with over 500 formats to choose from. The software has a limited free version and the premium version can be expensive but it does what it says it does. In fact, the software offers additional tools such as a GIF maker and video compressor.
The software can rip and convert standard blu rays and UKD 4K blu rays without losing the original video quality. If you want to retain the 4K resolution, you can use the lossless format such as MKV.
Verdict On The Best RIP Software
RIP software makes tasks easier, error-free and more efficient. If you want to scale your printing, you need one of the best RIP software. In the printing industry today, RIP software has come to stay and lots of your competition already started using RIP programs. This may be the right time for you to consider one too.
RELATED: How To Use The Epson SureColor P400 Software And Driver