10 Best Streaming Software For Low End PC
Not all PCs are created equal. Some are slow while some are fast. If you are looking for the best streaming software for low end PC, look no further because we've got some of the best software selected for you.
Video streaming and live broadcast are getting popular by the day and as they continue to evolve, people are trying to not only enjoy it but also turn this fun hobby into a job. If you are looking to pursue this type of career, you will need excellent software to make your streaming seamless.
As a beginner, you probably don't have the budget for high-end streaming equipment, but that shouldn't stop you from pursuing a career in Twitch. If you have a low-end PC but still want to enjoy streaming without any issues, you are going to need the best streaming software for low end PC.
There are many streamers using a wide range of streaming software and you can choose from free to premium to paid subscriptions. When choosing the best streaming software for low end PC, you will have to decide the features you need and how much you are willing to invest (in terms of money and time).
ALSO READ: 12 Best Free Video Editing Software Reddit That Are Easy To Use
What Is The Minimum Requirement For Streaming?
Before you choose streaming software, you have to make sure that your computer meets at least the minimum system requirements for streaming. If you are streaming Twitch, Twitch recommends at least an Intel Core i5-4670 or AMD equivalent, and 8GB of RAM.
You also need a reliable internet connection, with a minimum upload speed of 3mbps to deliver a 1080p stream at 30fps, with substantially higher minimum requirements for 1440p+ streaming at 60fps.
How To Compare Streaming Software Features
With many streaming software on the market, the best way to compare them is to look at their features. There are also free streaming software but they may not have the advanced features of paid-for software such as virtual sets, stream overlay and multi-streams.
Free software also has no centralized support teams, meaning troubleshooting for technical problems will require additional effort and time. But thankfully, free streaming software like OBS has a wealth of community guides and active forum support.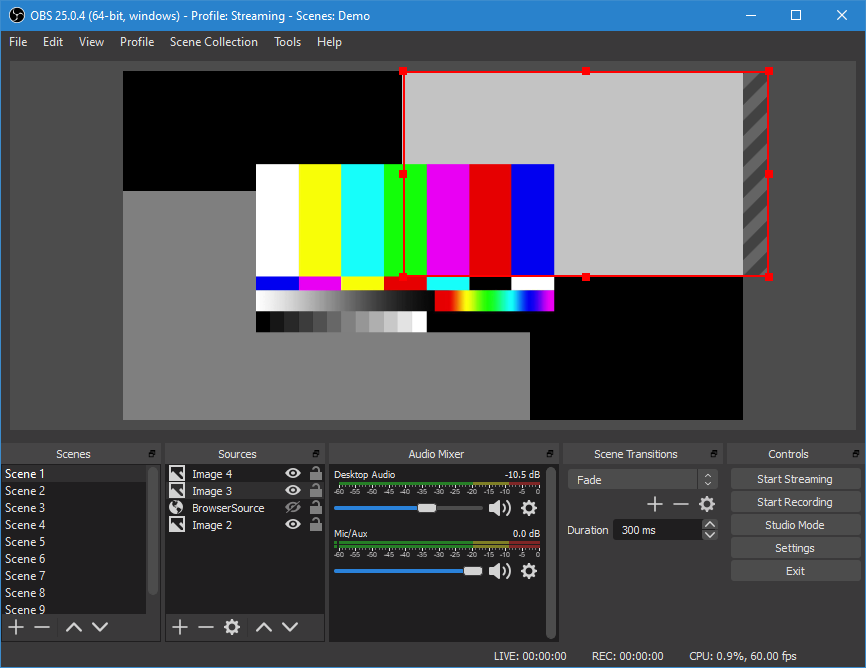 Best Streaming Software For Low End PC
Here is the best streaming software for low end PC:
OBS
SLOBS
Xsplit
Wirecast
1AVStreamer
Lightstream Mixer
Bandicam
OneStream
Twitch Studio
vMix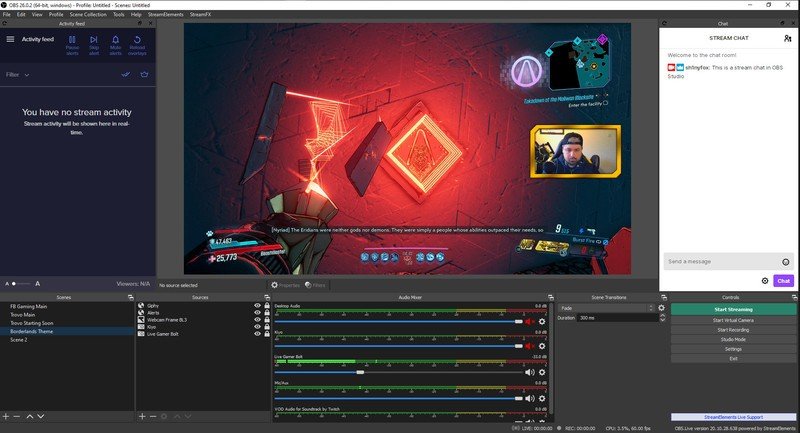 1. Open Broadcast Software (OBS)
When it comes to the best streaming software for low end PC, OBS is the community favorite for both new and advanced users. It is a free open-source solution with an active development team consistently updating it with new features and plugins. OBS is the first software to come to mind when it comes to streaming.
With a host of advanced configuration features, users will find an almost limitless amount of setting to fine-tune their stream and optimize for their streaming and PC preferences.
Though beginners may find customization and endless configuration for various stream settings in this software daunting, it is worth learning how to use this software effectively. Thankfully, the forums available for OBS have a guide that can help new users to navigate things without much stress.
With the availability of guides on the extensive OBS forum and many tutorials available on YouTube, beginners should be able to set up OBS and optimize their low-end PC to stream smoothly. OBS is free and lots of top streamers are using it, so you should also try it.
Requirements
Intel i5 2000-series processor (dual or 4-core preferable) or AMD FX or higher
4 GB of RAM
All operating systems including Mac, Windows and Linux
DirectX 10 capable graphics card.
2. Streamlabs (SLOBS)
Streamlabs started as a streaming tool within OBS but has since evolved into a standalone streaming software that specifically cater to gamers. SLOBS after separating from OBS, started by creating a new intuitive UI, incorporating lots of OBS's plugins into a single, easily managed interface.
The software comes with features such as integrated chat, sub/follower/donation notifications, thousands of free overlays, real-time game alerts, easy-to-implement (customizable) stream overlays and lots of other intuitive options, which make SLOBS a great software for streaming.
The good thing about SLOBS is that all of its features are hosed within a single, easy-to-navigate interface. It means you don't need to jump from windows to windows to adjust your stream.
If you use low-end streaming PC, SLOBS has an auto-optimization feature that automatically adjust the software setting to match your PC specs. If you are a new user, you'd want to choose SLOBS over OBS because it is easier to set up things in SLOBS than in OBS.
Unfortunately, SLOBS is always late to receive updates when OBS which it originated from gets a new update. And as it lacks many active development teams, it means users will often have to wait longer to see important updates. As software still within BETA development, you should expect a number of crashes/bugs.
If you are a Mac user, you might not be able to use SLOBS because it is only available for Windows OS.
Requirements
Windows or Mac OS
i5 – 2000 processor or any of the AMD processors in this range
4 GB of RAM
3. Xsplit
Xsplit is an advanced streaming program with a freemium service model. Though the free version of Xsplit allows for standard streaming, streams above 30fps/720p will automatically carry watermarks on the live feed. If you want to enjoy Xsplit premium features, you have to pay $5/month or a one-time fee of $200.
While Xsplit does not offer users a completely free price tag, it is one of the best streaming software for low end PC with a number of features you will not find in OBS and SLOBS.
The Xsplit premium subscription comes with a virtual camera, stream delay, local streaming, Skype video camera, source transitions and projector, simultaneous broadcasting to multiple streaming sites, priority support, editing resources and more premium features that can help your stream stand out from others.
Despite all the great features of this software, it has its own limitations. Recording formats of Xsplit include only MP4 and FLV file types. Also, it doesn't provide a preset for the most common streaming website such as Twitch and YouTube. It is only available in Windows and new users may experience some difficulties when starting out.
Requirements
OS: Windows 7 SP1 32 bit, 64 bit
RAM: 8GB
CPU: 2nd Generation Core i5 CPU or equivalent
Video Card: GeForce or Radeon Class graphics card with DirectX 10.1 or better support
4. Wirecast
Wirecast is one of the best streaming software for low end PC. It offers lots of pro features and can be used for many purposes including streaming, broadcasting and video editing. Users can also take their stream to the next level with this software.
The software has multi-camera features that let you show different points of view of your stream, and also play with different angles. You can also add a scoreboard so that you can keep track of your progress during the stream. If you have a Facebook page or Youtube channel dedicated to streaming, you can pre-record your video and add it later.
Unfortunately, This software costs $249, which most beginners may not be able to afford.
Requirements
Windows 7 OS
i5 CPU, better still i7
4 GB of RAM
Video Card: Intel HD3, DirectX 11 capable
5. 1AVStreamer
1AVStreamer is one of the best streaming software for low end PC that is perfect for beginners. The design of this program may not be the most attractive design but it is very easy to use for beginners. The good thing about it is that it won't crash on low-end computers.
It is easy to navigate 1AVStreamer's interface since there are not many features and no need to change setting since everything is predefined. It is also the only streamer with RTMP protocol. It is perfect for beginners but after sometimes, you might want to look for a streamer with more features.
Requirements
OS: Windows 7-11, OS X 32 bit, 64 bit
RAM: 256 MB of RAM
CPU: Intel 1.3Ghz
Video Card: Any
6. Lightstream Mixer
The name of the software (Lightstream Mixer) already mentions the kind of users this software is created for. The good thing about this program is that you don't have to worry about different settings and how to tweak them properly.
The software has not many options and streaming is enabled only in 720p – bummer for some streamers, but perfect for users with low-end system. The FPS is also limited, and there aren't many layouts to choose from. Also, the encoding is selected by the software itself.
The important thing about this software is that your stream will run smoothly.
Requirements
OS: Any PC and console
CPU: Intel 1.3Ghz
Video Card: Any
RAM: 256 MB of RAM
7. Bandicam
Bandicam is one of the oldest streaming software that almost all streamers are familiar with. Though it is not the most used streaming software, but it is perfect for users with low-end PC.
You can customize all of the settings based on your needs and you will get amazing video quality without any dropped frames or lags. The setting here is similar to the OBS setting. You can record only the gameplay or everything on your screen.
Bandicam also provides you with a chance to add the webcam, microphone and overlays so that your stream can be perfect. This software offers a free trial to test it out and afterward pay $39 to continue using the software.
Requirements
OS: Windows 7-11, OS X 32 bit, 64 bit
CPU: Intel 1.3Ghz
Video Card: Any
RAM: 256 MB of RAM
8. OneStream
OneStream is one of the most used streaming software and it is among the best streaming software for low end PC. It is capable of streaming and recording life and previously recorded videos and publishing them on over 40 social media platforms.
You can record and edit your stream on social media platforms up to 60 days in advance. This software can also be paired with other streaming tools. You can pre-record, edit your pre-recording and upload by selecting time and date and location to stream like Instagram, YouTube, Periscope, Twitch, Facebook and more.
This software is free and if you want more features, you need to pay starting at $10/month.
Requirements
OS: Windows 7-11, OS X 32 bit, 64 bit
Video Card: Any
RAM: 256 MB of RAM
CPU: Intel 1.3Ghz
9. Twitch Studio
Twitch Studio is a free streaming software that lets you stream live on Twitch. The streaming feature is designed to help Twitch users to stream live video games from the platform. It offers compatible settings to help you stream live even if you are using a complex setup.
You also get access to step-by-step onboarding, automatic hardware detection and recommended settings to make the stream look professional with little effort. Broadcasts can also be customized to meet your product needs as Twitch Studio allows you to customize everything including:
overcrowding
early building
support for multiple audio resources
desktop recording feature to share audio from your computer to stream
and more
It is compatible with Windows and Mac. Twitch Studio is free for Twitch users.
Requirements
OS: Windows 8.1 64-bit
CPU: 4 core Intel or AMD
RAM: 4+ GB (2GB free)
GPU: DirectX 11 compatible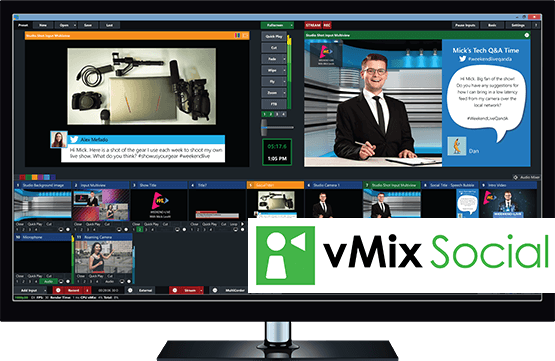 10. vMix
vMix lets you stream live videos, camera, audio and more. It uses high-quality HD video integration and streams live videos directly online. It also allows you to record, edit and stream live videos in 4k, full HD and SD. You are allowed to use many sources like DVD, camera, video files, photos, PowerPoint and more.
The software supports all formats including MP4, AVI, MOV, MPEG-2, MXF, WMV and H264. It comes with full 3D acceleration that lets you create professional HD video on any PC. The software also provides you with thirteen attractive effects such as cut, zoom, fade, fly, slide, clear, flyrotate, cubesoom, cube, crosszoom, etc.
vMix allows you to choose from over 100 built-in animated themes, stickers and other graphics. You can add up to eight remote visitors to your live show. Also, you can produce live concerts and sporting events via this software. It easily integrates Twitter, Twitch, Facebook, YouTube Live into your live streaming.
vMix is free but if you want to step things up, you need to pay $60. But you can try any plan for a 60-day free trial.
Requirements
Windows 10
2Ghz Quad-Core processor or Intel Core i7 processor 3GHz+
4GB DDR4 or 8GB DDR4
7200 RPM Hard Drive or Solid State Disk
Dedicated DirectX 10.1 Compatible Graphics Card or Dedicated Nvidia Card with 2 GB+ Memory

Best Free Streaming Software For Facebook Live / Facebook Live Streaming Software
Facebook Live is a video streaming service owned by Facebook. It allows users to broadcast live videos and share them with their audiences.
Facebook Live is a powerful tool for businesses to use in order to reach their target audience on a daily basis. This is because it allows companies to connect with their customers, create brand awareness, and generate leads.
There is a lot of software available for Facebook live streaming. However, the best free software is one that you can use without any hassle.
The best free software for Facebook Live is an easy-to-use and reliable application that allows you to stream on Facebook Live with no hassle at all.
Here are some of the best free streaming software for Facebook Live/ Facebook live streaming software:
Verdict On The Best Streaming Software For Low End PC
Choosing the best streaming software for low end PC can be tricky but the one that meets all your needs is the best. Ultimately, we have selected the best and most solid streaming software for you and you can choose based on your needs.