Behaviorsoft Review And Login
Behaviorsoft platform developer is a developer that focuses on electronic health records and compliance tracking created to support small applied behavior analysis practices.
The company offers end-to-end clinical management and practice management services. It also provides dashboards that reduce overhead in managing compliance, data collection, billing, and billing, letting clients keep track of expiring or missing certifications for contractors.
What Is Behaviorsoft?
Behaviorsoft is a secure clinical management system that automates routine tasks such as billing, human resources management, payroll, client scheduling, medical data collection and more.
It is suitable for small and medium-sized behavior therapy clinics. Behaviorsoft allows clinical staff to document daily progress, manage authorizations for each billing code, eliminate paperwork with eSign capability and notify contractors about expired certifications using smart alerts.
Behaviorsoft allows businesses to manage their HR processes like payroll reporting, pay rate assignments, credential tracking and certification tracking.
Staff can use an integrated calendar that provides automatic hour collision prevention to manage client schedules. Behaviorsoft can also help reduce the burden of patient billing by offering optional billing services that are HIPAA compliant. This includes expert medical billing professionals.
Behaviorsoft Pricing
With Behaviorsoft pricing structure and support from staff, you are sure of the best from your investment. The software costs $40 per user/ month. With this cost, you get:
Unlimited storage
Unlimited Reports
Billing reports
Payroll reports
Unlimited notifications
Electronic signatures
Scheduling and calendar verification
Daily backups
Smart STOs
This software eliminates costly inefficiencies and will make your HR department and clinical staff worker smarter.  The software also offers a free trial so that you can have a feel of how it works before subscribing.
Behaviorsoft Features
Behaviorsoft is one of the best software being used in the medical space. Just like Atlas MD, this software has a lot of cool features that make it one of the best in the industry. Here are some of the features that make this software great:
Data Collection
This feature lets you collect data effortlessly and share it between assistants and analysts. It is easy to understand and you can easily fill the form.
Scheduling
Behaviorsoft offers a powerful calendar with a collision of hours detection that automatically checks the remaining authorized time for a client. This calendar helps you take note of the time scheduled for each client and avoid the clash of schedules.
Billing
This software provides you with efficient reports and optional billing services through certified HIPAA compliant medical billing professionals. This feature makes billing easier.
Payroll
Behaviorsoft payroll feature makes payroll a breeze with easy-to-understand payroll reports, billing and profit summary per owner.
Document And ESIGN
Storage and sharing of documents are possible and secure with ESIGN and Military-grade encryption. This feature provides you with a backup for efficient, HIPAA-compliant storage and sharing of documents.
With Electronic signatures, you can eliminate mountains of paperwork using ESIGN functionality. Get electronic papers signed easily without any hassle.
Human Resources
Behaviorsoft lets you manage your staff, assign rates, track staff credentials and keep track of comments and archived documents.
Automatic Alerts
With this software, you don't need to chase your employees for expiring certifications and training. Behaviorsoft tracks everything for you and sends automatic alerts seamlessly.
Caregiver Portal
This software is also useful for caregivers as it lets them track their progress and patients' progress in a neat and intuitive interface with access control that is easy to manage.
Easy To Fill Progress Notes
The software lets you create professional and beautiful progress notes in just a few seconds. This feature will make life easier for you when it comes to creating progress notes.
Authorizations
Behaviorsoft helps track authorizations' remaining units for each billing code configured for your client type. The system will also alert you when authorizations are to expire.
Behaviorsoft Interface And Design
The intuitive and responsive design of this software is what makes it the best software. You access the software through your PC and your smartphones, as well as tablets, iPad, etc. The interface is also clean and easy to navigate.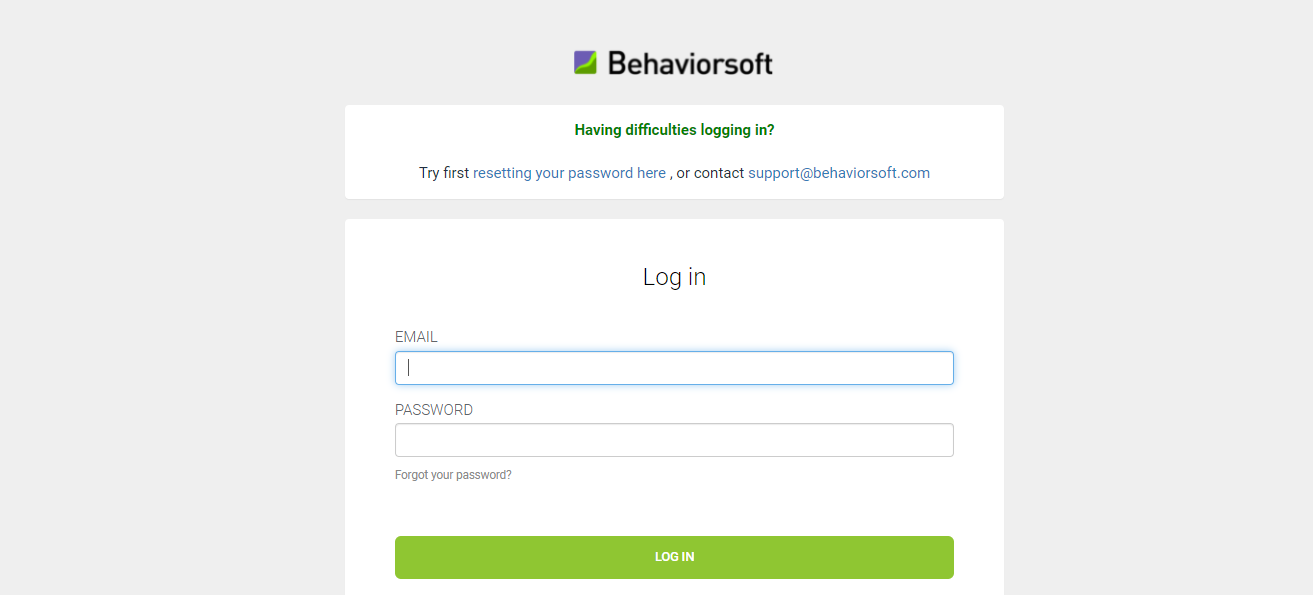 Behaviorsoft Login
Once you receive your login details from Behaviorsoft, the next thing is to login. For behaviorsoft login, input your email and password and then click on log in. Boom, you are in.
In case you forget your password, click on resetting your password here and follow the instructions to reset your password. After resetting your password, try behaviorsoft login again and everything should be okay.
Why Use Behaviorsoft?
Behaviorsoft is a utility application for Therapy Practice Management businesses. It is used to collect electronic visit verification, data and other data to be fed back into the business account of your therapy practice.
This software makes life easier for you as it can automate painful daily tasks and even streamline clinical care and practice operations. This means that your clinical team can focus on delivering amazing care possible to your clients while each office team member is painlessly and effectively doing the work of two.
The software makes scheduling, billing, payroll, data collection, human resource management, document signing, caregiving and more seamless and effortless. It is simple; if you want to make life easier for you while you also make more profit by attending to more customers, this is the right software for you.
Another reason to use this software is that it is integrated and contracted with AHCA/Medicaid to offer EVV services and even send visits to TELLUS. They also have excellent personalized customer service and all their features matched with the clinical systems better than other software in the same category.
It is available for both PC and mobile. The good thing is that it is easy to use and if you need any help using the software, the developer has staff members that are always ready to help you.
Pros And Cons
Pros
Very organized and saves time
Help improve quality of service
Demo is available
Free trial is available
Excellent customer service
Easy to use and very friendly
Cons
No known cons of this software but some users claimed that they always have to input code whenever they are logging in.
Behaviorsoft Alternatives
Vagaro
Vagaro is a cloud-based salon, spa and fitness business management solution that lets professionals book appointments and manage various facility roles. It offers an integrated solution to manage bookkeeping, payroll, client.
Marketing 360
Marketing 360 is a cloud-based marketing platform suited for entrepreneurs as well as small and midsize businesses. This solution allows organizations to run social media advertising campaigns, conduct search engine optimization.
TheraNest
TheraNest is a HIPAA-compliant web-based mental health solution used by solo practitioners, large mental health practices, and nonprofit organizations. The solution is suited for therapists, psychologists and psychiatrists.
Branch
The branch is a cloud-based employee time and productivity tracking solution designed for businesses managing multiple employee shifts. It offers the ability to track hourly work, view schedules, plan shifts, assign tasks and communicate.
ChiroFusion
ChiroFusion is a cloud-based electronic health record (EHR) solution designed for chiropractors to manage key clinical activities such as scheduling, reporting and billing. ChiroFusion offers integrated practice management.
Ambra Health
Ambra Health is a cloud-based medical imaging platform for medical practices of all sizes including hospitals, medical groups, radiology practices and contract research organizations. It offers a cloud-based PACS and VNA enabling.
eClinicalWorks
ClinicalWorks, an electronic health record (EHR) and practice management solution, provides technology for every step of the patient care delivery process. Clinicians access features including patient engagement, Telehealth, and more.
Therasoft Online
Therasoft Online offers a web-based practice management solution that was designed specifically for therapists, social workers, marriage counselors or other mental health professionals who are seeking a complete, user-friendly solution.
Humanity
ShiftPlanning is a cloud-based workforce management and employee scheduling solution that helps managers to communicate with their employees as well as manage project schedules, documentation and payroll.
Office Practicum
Office Practicum by Connexin Software was built by physicians to provide an integrated electronic health record (EHR) and practice management solution. The system offers appointment scheduling, clinical documentation management, etc.
IntakeQ
IntakeQ is an online forms intake platform designed to help healthcare professionals convert existing forms, manage client notes, send custom reminder messages and accept credit card payments. Key features include appointment scheduling, etc.
Compulink Healthcare Solutions
Compulink's Advantage SMART Practice® is an all-in-one database EHR solution for specialty practices such as optometry, ophthalmology, orthopedics, ENT, mental health, podiatry, and more. Available cloud-based or server.
MatrixCare Home Health & Hospice
Offering an entirely web-based Home Health software solution, Brightree provides accessible, mobile functionality that was designed to think like a clinician, with an intuitive workflow that ensures user accuracy and compliance.
WellnessLiving
WellnessLiving is a cloud-based business management solution for wellness studios of all sizes. The key features of the solution include online booking, payments, class scheduling and marketing management.
Greenway Health Prime Suite
Greenway Health's ambulatory platform provides healthcare organizations with clinical, financial, and administrative tools and services. Prime Suite is Greenway's electronic health record (EHR) and practice management (PM) system.
Applied Behavior Analysis Software Or ABA Therapy Software
Applied behavior analysis software (ABA) or simply ABA therapy software helps therapists, parents and teachers monitor, document and influence the changes in behaviors of individuals with autism spectrum disorders. This is done with the help of discrete trial training (DTT), a very common ABA therapy method.
ABA can help to increase language and communication skills, teach personal care and hygiene skills, self-help skills, develop play and social skills, improve focus and attention, build behavioral flexibility and reduce maladaptive behavior.
The most sophisticated applied behavior analysis software or ABA therapy software technologies are tailored to specific applications. Automated behavior recognition and analysis software process video signals in real-time, detecting and measuring movements and expressions of subjects, to record their behavior.
With ABA therapy software, teachers can use the software to monitor and quantify behavior based on various inputs, or events that cause behavior changes.
Applied behavior analysis software enables you to visualize and analyze data with a web-based interface, perform graphing and assessment of the treatment effects; generate reports in standard ABA format; perform mobile data entry and graphing, review and modify data entries.
Behaviorsoft is one of the best applied behavior analysis software / ABA therapy software and the other applied behavior analysis software / ABA therapy software include:
Mend
Kareo Clinical
CentralReach
Therabill
ABAdesk
ChartLogic EHR
ClinicSource
Rethink
Theralythics
ClinicTracker
Skills
Accel
MedEZ
Noteable
WellSky Rehabilitation
NPAWorks
AccuPoint
Catalyst
Total ABA
myEvolv
WellSky Scheduling
WebABA
Be ABA
AdvancedMD for Mental Health
Behaviorsoft FAQs
Who are the typical users of Behaviorsoft?
The typical users of this software are small businesses and freelancers in the field of therapy business.
What type of pricing plans does Behaviorsoft offer?
The software is offered for $40 per month. It is subscription-based software and a free trial is available.
Does Behaviorsoft offer an API?
No. Not presently at least.
Does Behaviorsoft support mobile devices?
Yes. Behaviorsoft supports Android, iOS, iPhone, iPad.
What level of support does Behaviorsoft offer?
Behaviorsoft offers knowledge-based support, email/help desk support, phone support and FAQ/forum support.
Verdict
While there are many software out there that serve the purpose that Behaviorsoft serves, none is as effective and as easy to use as Behaviorsoft. Behaviorsoft is easy to use, responsive and available for PC, Android, iPhone and iPad. If you want to scale your business, this is certainly the right software for you. Try it here.
We'd like to hear from you!