Duolingo Or Babbel – Which Is The Best?
Duolingo or Babbel? If you want to learn a language, there are two popular apps you can choose from, Duolingo or Babbel. While they both offer similar programs and styles, they do differ in some respects. We give you the pros and cons of each language learning app.
If you're new to language learning software (or returning after a long time away), both Duolingo and Babbel are great apps to have in your arsenal. Duolingo is an excellent place to start for beginners. The app is easy to use, and the content is available for free, so it's perfect if you are on a budget or just want to sample some lessons before committing to anything.
If you're looking to take your learning seriously though, the structure of the Babbel curriculum makes it the better choice. You get better value by paying a flat monthly rate rather than paying per unit, and the pacing is considerably better than that of Duolingo. It also offers additional features which might be useful, such as keyword recognition and interactive lessons where you can speak into your microphone to learn pronunciation skills.
Don't like to read? Watch the video
Duolingo Or Babbel
Choosing the best app for learning a language can be hard. That's why we compared Duolingo vs Babbel to make it easier for you.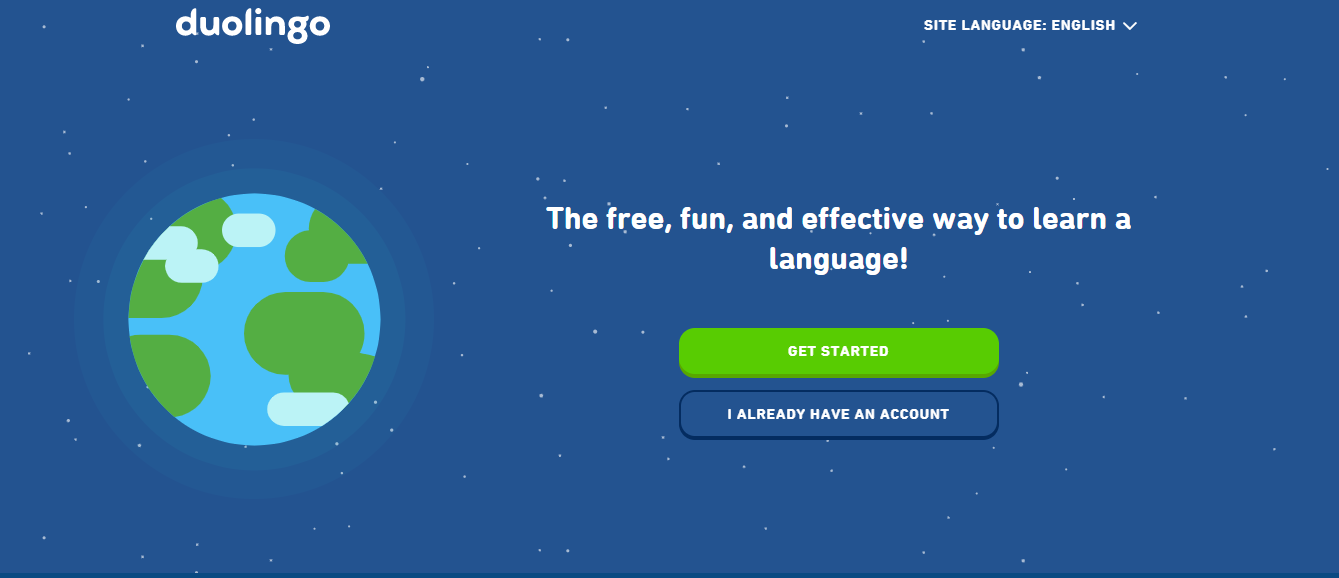 What Is Duolingo?
Duolingo helps you learn over 19 languages completely free of charge. You can get started with our language-learning app today, and learn Spanish, French, German, Japanese, and more!
Duolingo is a free app for learning languages through quick, bite-sized lessons. Practice speaking, reading, listening and writing to build your vocabulary and grammar skills. Designed by language experts and loved by hundreds of millions of learners worldwide, Duolingo helps you prepare for real conversations in Spanish, French, Chinese, Italian, German, English, and more.
When you learn with Duolingo, it's fun and addictive. Earn points for correct answers, race against the clock, and level up. Their bite-sized lessons are effective, and they really work.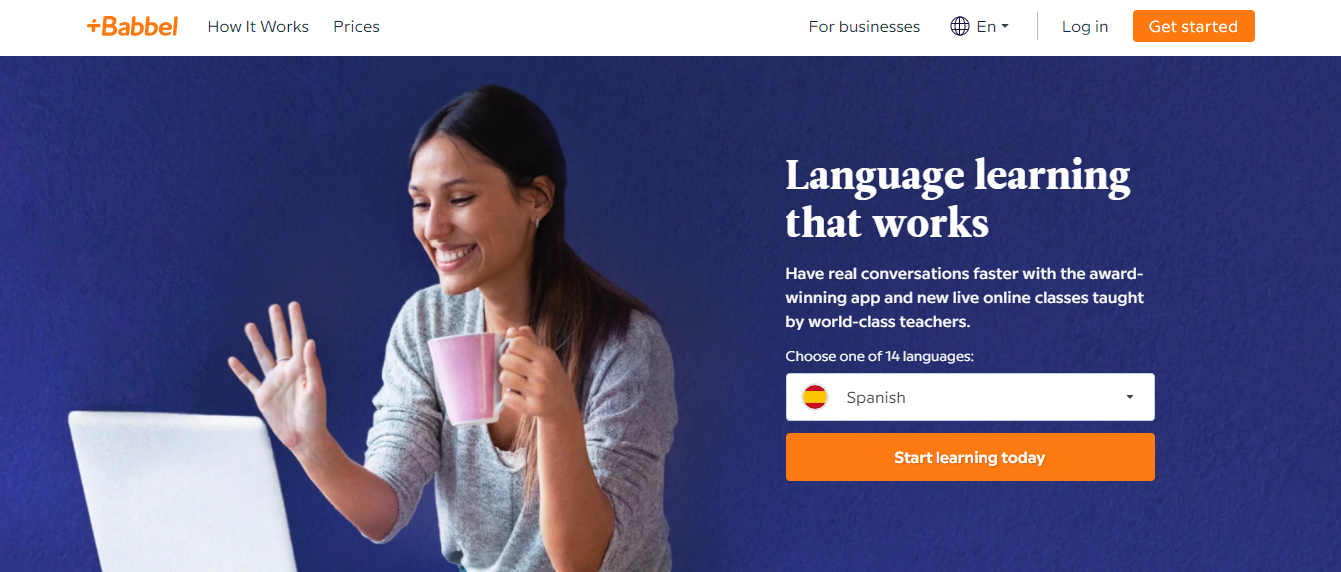 What Is Babbel?
Forget what you heard about language learning. Babbel will get you to speak a real language after a few lessons.
Babbel is the new way to learn a foreign language.
The comprehensive learning system combines effective education methods with state-of-the-art technology. Interactive online courses will improve your grammar, vocabulary and pronunciation skills in no time. You'll make fast progress and have fun doing it.
Thousands of hours of quality content cover 14 languages, including English, Spanish, French and more! Learn grammar rules and practice by playing fun games on your computer or mobile device.
With Babbel, you can learn a foreign language from the comfort of your own home. Babbel's language experts have developed an interactive system that helps you learn a new language quickly and effectively. Millions of people around the world already use Babbel to speak multiple languages.
Learn Spanish, French, Italian, German and many more languages with Babbel.com! Improve your vocabulary and grammar skills with lessons created by language experts. Train yourself to gain context from conversations using our proven immersion method in dozens of languages – including English, French, German and Spanish.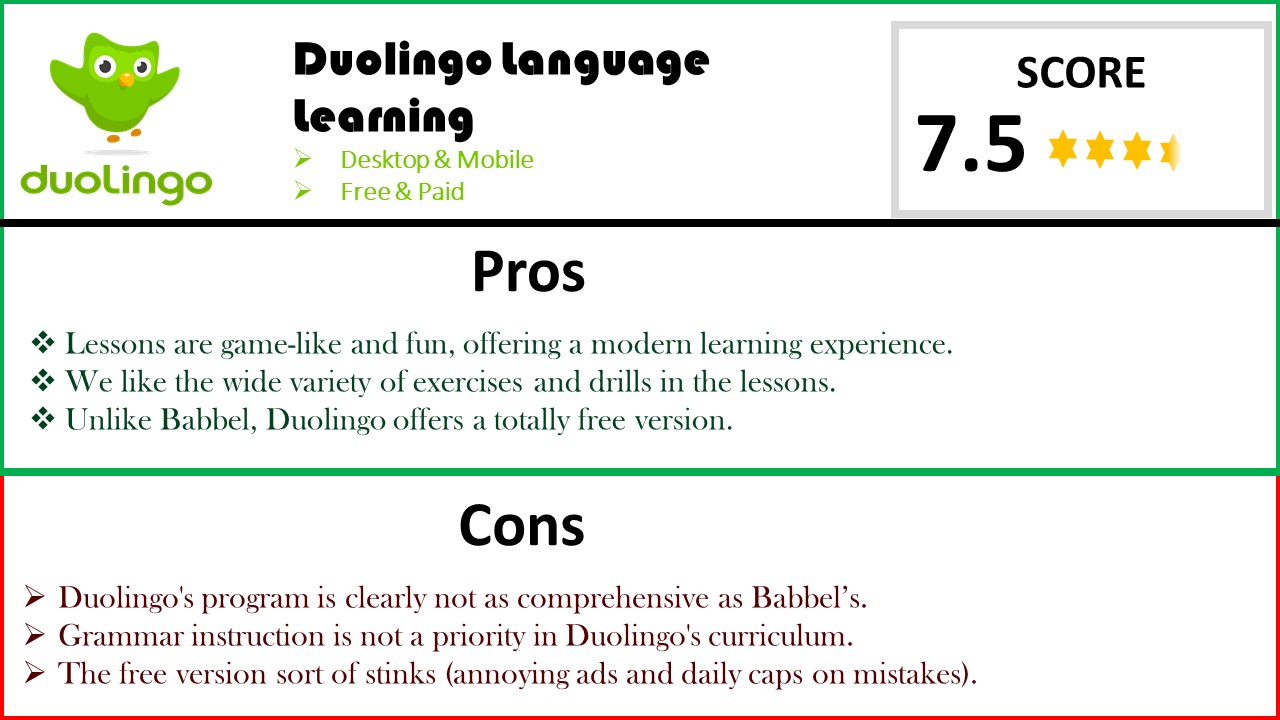 Duolingo Lessons Overview
Duolingo helps you learn even more and faster. Babbel's lessons are super short, and so are Duolingo's. In fact, Duolingo's go even more quickly, lasting only 5-10 minutes each.
Duolingo lets you get started learning new languages in six different ways—sentence translation (English to a language), word translation (English to a language), listening comprehension, spelling, speaking exercises and verbal exercises.
From flashy flashcards to video lessons, Duolingo has a comprehensive array of activities and programs to choose from.
Each lesson is short, just five to ten minutes long. And you can access them at any time and place, on your computer or phone. So there's always something you can fit into your schedule.
With the Duolingo Lessons app, you'll learn through a series of mini-lessons that help you understand and practice your vocabulary. Challenges will help test your skills. Review Sessions are also available to help pinpoint your particular trouble areas.
Learning Spanish, French, German, Italian, Portuguese and English has never been so much fun. With Duolingo, you are constantly learning in bite-sized lessons. It's an addictive way to practice your language skills.
Duolingo hasn't reinvented language learning, but it's done a great job of simplifying it. Its bite-sized lessons, bright colors, and cute characters make it feel more like a game than a chore. But the simple nature also kind of stifles your ability to dive in and really master a language — which is where Babbel steps in.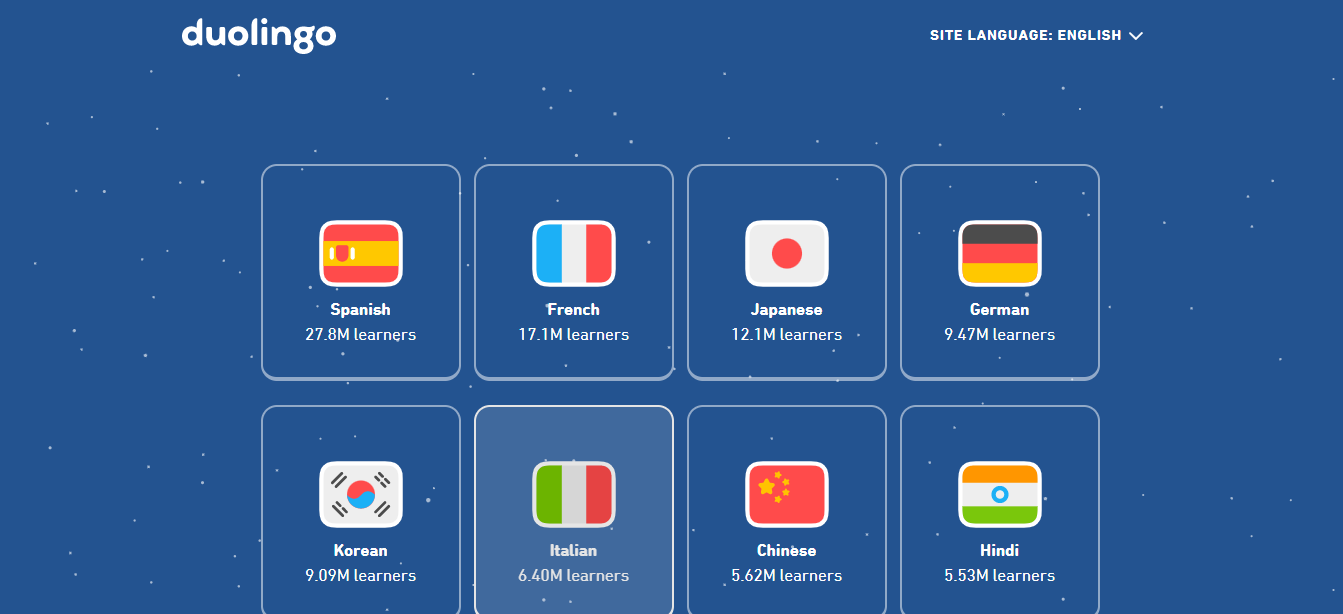 Thoughts On Duolingo And Why We Love It
Here are the reasons Duolingo is good:
1. Duolingo Offers A Free Version
Duolingo offers a free version. I think this is great and love that their language programs are accessible to everyone. However, just to set expectations here, there are some serious downsides that come along with that free price tag.
The free version of Duolingo is great and helps you learn a substantial amount. However, with the free version, you'll see ads and are limited in the number of "hearts" (misses) you get each day. If you run out of hearts for the day, you will either need to go back to the old lessons or stop learning for that day – this can be discouraging.
Also, you won't be able to access all of the lessons right away, which means the free version will take you longer to learn your new language (and you might get discouraged along the way!).
The paid subscription takes care of those problems and more. You get full access to all of the lessons and tools in Duolingo Plus, ad-free, so you can learn your new language on your own timeline without any distractions.
The free version of the platform is extremely limited. There are several restrictions, such as you only have very limited amounts of "test outs" that allow you to skip over topics and lessons you already know.
The free version is extremely limited in its usefulness; however, it is a great way to see if the website would be of value to you or not. It is really easy to sign up for free and then decide later if you want to upgrade your account.
2. Lots Of Extras
Duolingo feels a little bit like a game, but it's not. While most other online learning platforms use no gamification to motivate learners to stick with their programs, Duolingo does. Duolingo also offers tons of extras that keep your learning experience engaging and interactive.
Duolingo has always been one of the best, most affordable alternatives to learning a new language, but it took two massive steps forward in 2019. First, its stories (located on the Stories tab) are a fantastic way to sharpen your listening and reading skills all in one place.
And second, it launched forums and online events for learners to chat with each other. You also get a translational dictionary and more to make you learn languages faster and efficiently.
Duolingo is always adding new language programs, so check their site often if you don't see your language offered. Additionally, Duolingo does not offer a structured curriculum like some other courses – instead, you interact directly with bite-sized lessons and practice exercises based on more than 2,000 real-life translations.
3. Learning Is Gamified
You will love the gamified aspect of Duolingo because it can make you want to learn and earn more rewards. I'm highlighting this so that you see how it works. You can earn XP Experience) points by completing each lesson and daily goals.
You can also earn "lingots," or Duolingo currency, which you can use to buy additional features within the Duolingo store.
Duolingo's digital platform is great and intuitive. With a clean dashboard, Duolingo is easy to navigate. They provide a daily goal tracker as well as a scoreboard where you get to compete against other users and track all of your achievements.
It's almost like a sort of long-term questing game, which is very motivating. Additionally, the visuals and reminders they provide help ensure that you get in your practice time every day.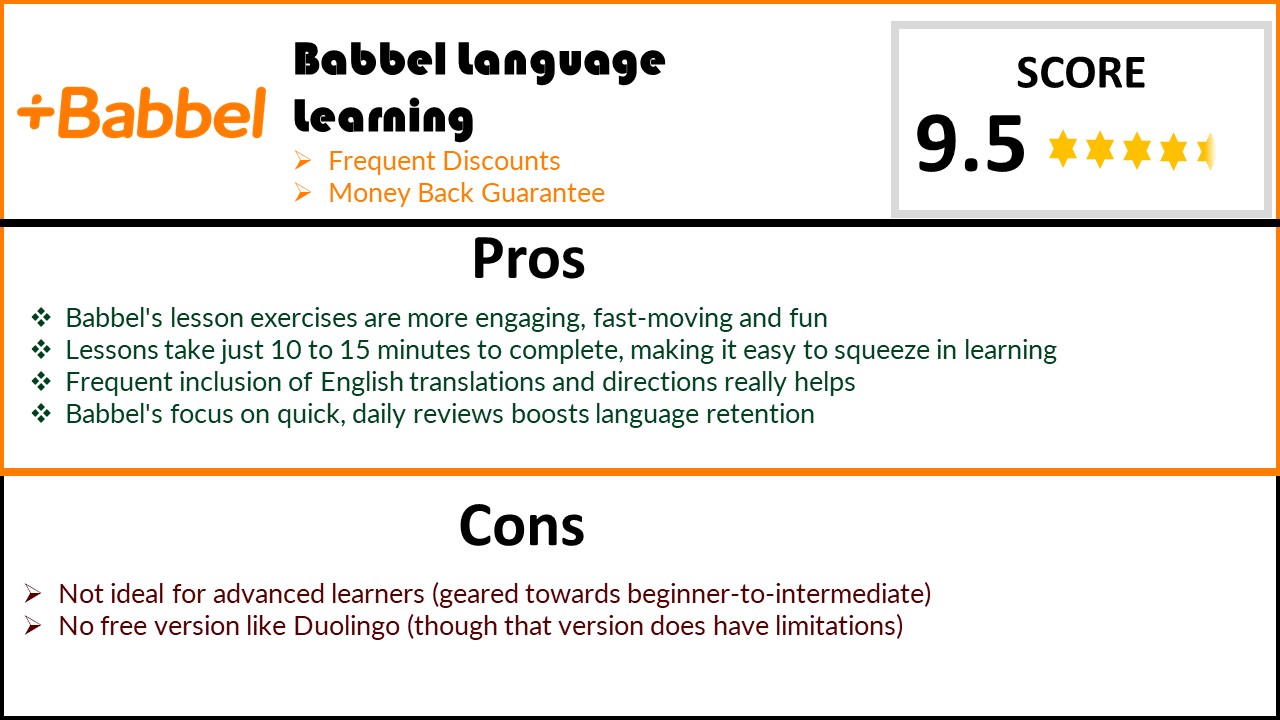 Babbel Lessons Overview
Learning with Babbel feels a lot like playing a game. Each lesson takes around 10 to 15 minutes and is made up of several interactive exercises. If you're just getting started with Babbel, you may be wondering what the lessons are like and what sort of learning materials are included.
You'll start by listening to new words before repeating them aloud and matching them with pictures or other prompts. These lessons usually involve some type of digital flashcards, along with short grammar and conjugation lessons — all wrapped up in a conversation that you can take part in.
At Babbel, you'll be taught a new language by native speakers. Just enough to have conversations. No more. You can learn a new lesson at your own pace and around your schedule in your browser or on the app: practice vocabulary, grammar, conjugation and listening comprehension in just 10 to 15 minutes a day.
Go beyond the class with pronunciation analysis and personalized review exercises — all created by linguists and educational scientists.
Whether you want to talk with the locals during summer vacation or communicate with colleagues at the office, Babbel can teach you the essential words and phrases of any of the different languages being offered — English, Spanish, French, German, Italian, Portuguese, Russian and more.
It's important to keep in mind that every lesson is different, and the lessons are designed to be done in a sequence. Yes, you could jump around from one to the next, but it would make little sense to do so, except it is what you already know.
These are not standalone language drills or games, but rather part of a larger (and contextualized) pathway towards learning a language.
Babbel's lessons are all about teaching you to think and speak, rather than rote memorization. They adopt a naturalistic approach that flips the focus from grammar to vocabulary, and conversation skills, as this is what you will need in everyday life.
There are lots of stories and role-plays to increase interaction, there's plenty of variation in tone, voice actors, native speakers and drills allowing you to get the feel for the language. This all makes Babbel a highly engaging language learning experience.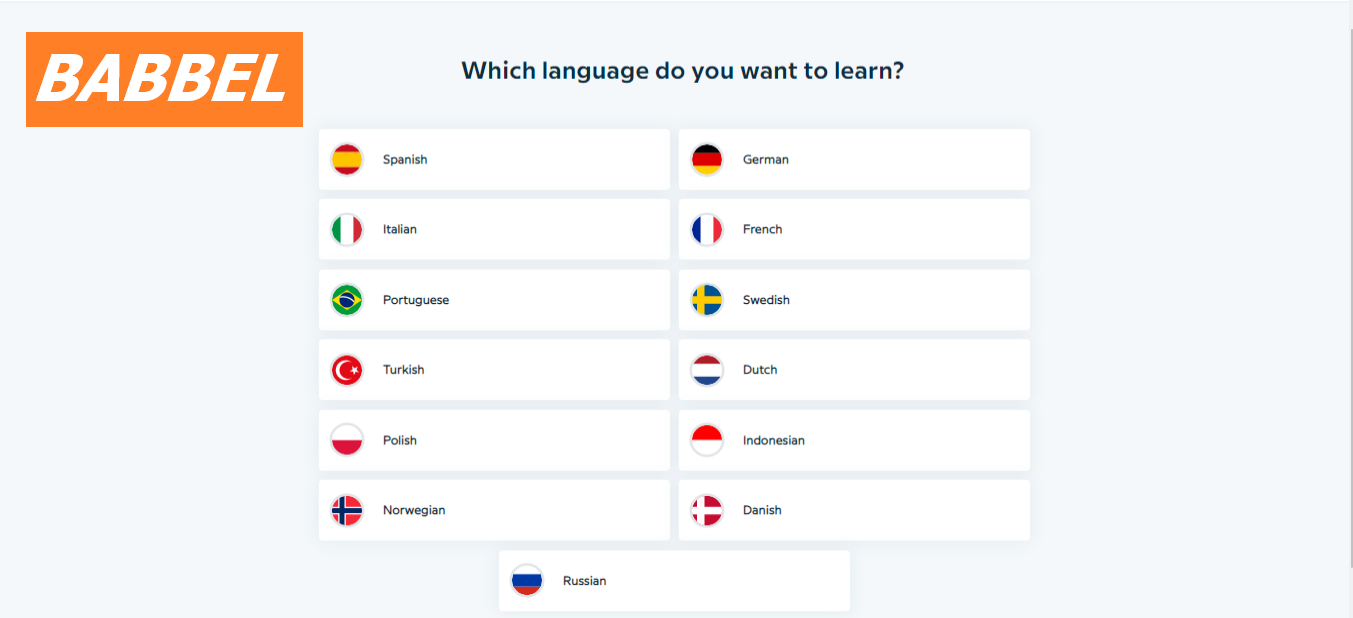 Thoughts On Babbel And Why We Love It
Here are our thoughts and reasons why Babbel is one of the best language learning platforms.
1. Babbel Is Great For Grammar
In addition to vocabulary learning. While Duolingo doesn't seem to make grammar much of a priority, Babbel integrates grammar instruction into their lessons in a very subtle and efficient way.
The good thing is that they don't bother you with assignments on grammar, making it easier for you to learn without being frustrated.
Learning with Babbel feels like having an encouraging friend in your ear. Unlike other languages apps, Babbel will show you the correct way to pronounce words, helping you learn grammar and vocabulary naturally as you practice speaking regularly.
2. Babbel's Language Usage Is More Natural
One thing of note in Babbel's programs is that Babbel uses better natural sentences and phrases. With Duolingo, users seem to complain a lot about this, but Duolingo is improving on it already.
Babbel seems to focus on quality over quantity, and it shows. As a result, their lessons are often more accurate because they use natural sentences and correct translations. This makes for a better learning experience, as you don't have to worry about learning incorrect sentences.
3. Better Speaking Exercises
Learning a new language takes a lot of hard work, dedication, and practice. Two language apps that can help with this are Babbel and Duolingo. Both of these apps feature interactive games and daily lessons, to help you learn quickly.
Babbel and Duolingo both offer speaking and pronunciation practice, but Babbel is the clear winner here because their exercises are a little more robust than Duolingo's. Furthermore, their audio recognition technology is better.
When it comes to practicing your conversational skills, we will give Babbel the edge over Duolingo. However, if we're being honest, we wouldn't consider either to be industry leaders in this respect.
The reality is that none of the language learning apps we have tested offer many opportunities for verbal practice. Duolingo, on one hand, is 100% text-based and isn't designed with speaking in mind.
Babbel's Live Tutoring feature is a step in the right direction, but we found it to be very hit or miss (some tutors are great, others are downright awful). If you value verbal practise over anything else, you may want to check out Pimsleur.
Their language program does a great job of getting you to remember and respond to native speakers in the context of actual conversations.
4. Engaging Live Classes
It is quite clear that Babbel offers more live classes than Duolingo. Let's note that reserved live classes are not included in the standard subscription pack and you need to pay extra if you want access to them.
Babbel offers hundreds of small-group live classes of up to the maximum of six students per week across all different learning levels – that's incredibly awesome! Each standard class is 60 minutes long, covering all sorts of topics.
Because these live classes are done in small groups, the teacher can teach you specific vocabulary and grammar points more easily. Imagine having a conversation with your teacher about different street types in Portugal. Or discussing real-life examples of Portuguese medical terms you should use at the doctor's office.
Or even chatting about travel destinations in Canada. As an added bonus, students never get bored because topics vary from class to class – and they are all interesting!
Excellent Flexibility
Babbel software allows flexibility through its program; customers are able to jump around from level to level as you are not forced to follow a strict progression. Another example is that within Babbel's review sessions, they give you the choice of how you want to review. So if you feel you are weak in any particular aspect, you can hammer practice exercises until you see some improvement.
Their unique review sessions put you in the driver's seat, letting you decide how to best challenge your skills and keep what you learn fresh. In any of their lessons or review sessions, choose between flashcards, listening, speaking or writing to practice the vocabulary and structures that matter most to you.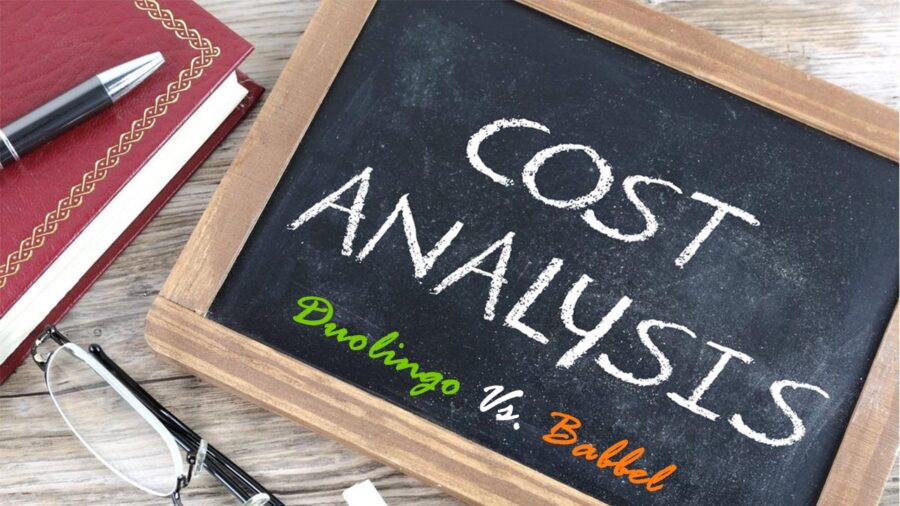 Cost Comparison (Duolingo Or Babbel)
Before you decide on which language learning platform to choose, it makes sense to compare the price.
Babbel offers four different plans, all of which provide access to one selected language (of 15 different languages to select from).
RELATED: Rosetta Stone Review – Is It Worth The Hype?
They offer a monthly plan at $14/month; the 3-month plan costs $10/month, and the 6-month plan costs around $8.50/month, while the 12-month plan with the best value costs around $7/month.
Duolingo also offers a subscription plan called Duolingo Plus, which removes ads from your experience and includes unlimited hearts and the ability to use unlimited test-out attempts. Duolingo Plus subscription plan is available for $84 per year, or $7 per month. Duolingo Plus removes ads, adds unlimited hearts and unlimited test attempts.
If you are looking to study a language on a budget, Duolingo is the cheaper of the two. However, some features may be locked down, requiring you to upgrade. Babbel has more options when it comes to language selection and there is no free version so pricing is transparent.
NONE of the available paid options are expensive at all in terms of price. I would compare them to one of those monthly Netflix or Hulu memberships (sure, you could survive without them). In fact, if you go with the pro version for just a year in both cases, it is about the same price as a single month of unlimited access to either app!
You could test both language learning apps out before committing to it. Duolingo offers a free version that you test out for as long as you want, while Babbel offers a 20-day moneyback guarantee, so you can test it out too. You can also test out the Duolingo Plus plan for 14 days.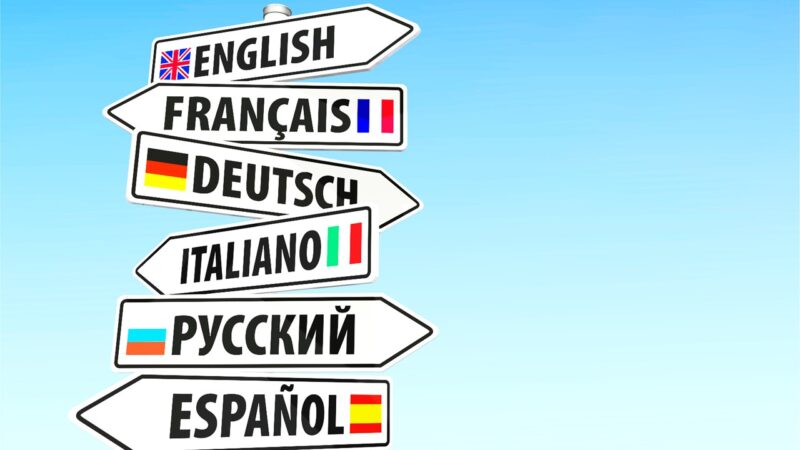 What are the Advantages Of Learning A New Language?
You do not have to learn a new language only because you are looking for international clients. Regardless of your goals for learning a new language, you can enjoy a lot of benefits for learning a new language.
Here are a few advantages of learning new languages:
Higher Scores on Standardized Testing: Research has proven that learning a new language correlates with higher test scores, particularly standardized test scores. This is because learning a new language forces your brain to learn close reading and focus on elements of language.
Sharp Decision-Making Skills: It has been proven that learning a new language forces you to focus on semantics and vocabulary.
Learning a New Language May Help Reduce The Impact Of  Aging: Studies have sown that learning a second or third language may reduce the rate of cognitive decline and dementia.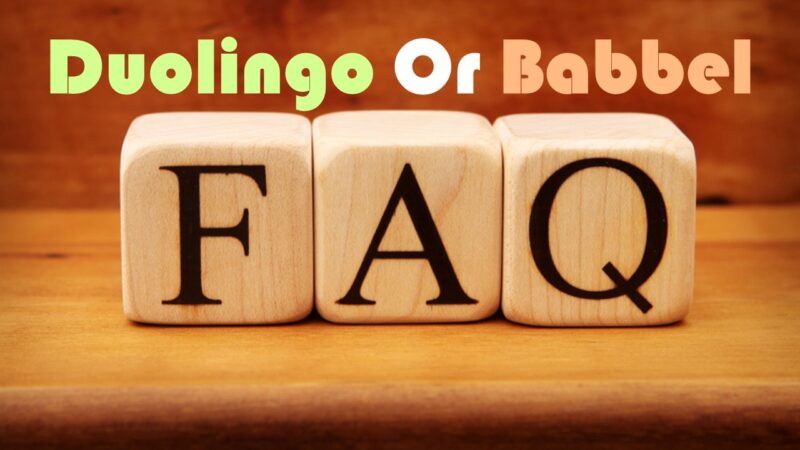 Duolingo Or Babbel FAQs
How Much Is Duolingo Plus?
The Duolingo Plus costs $6.99/month and comes with a 2-week free trial. However, Duolingo has a free version that costs nothing.
How Can Learning A New Language Help My Career?
Learning a new language can help your career in many ways. Not only does learning a new language benefit those working in fields such as international communication, but also valued as businesses continue to globalize.
Also, if you are considering or already in the teaching profession, learning a new language will benefit you in many ways, according to the National Education Center For Statistics. However, you do not have to be in the teaching profession to benefit from learning a new language. You may get better pay at your work if you speak more than one language.
What Language Should I Learn?
It all depends on your goals for learning a new language. For instance, if you are planning to travel overseas, you might want to consider the language of the place you are traveling to. If you plan to take a course on Duolingo or Babbel to improve your career prospects, you should consider what is in demand.
However, these are the languages you might want to give a shot:
Spanish
French and French Creole
Mandarin Chinese and related Chinese languages
Korean
Vietnamese
Tagalog
Italian
Russian
Arabic
German
Why Should I Take A Language Course Online?
Learning a new language online comes with two advantages: affordability and flexibility. Whether you are juggling family obligations, working, or having other schedule conflicts, you can conveniently learn a new language online.
You can learn at your pace and when you are less busy. In fact, you can learn on the go, especially via the mobile app.
Can You Learn Your Target Language With Duolingo Or Babbel?
It is good to be skeptical about the two learning apps, but the important thing is to research them and see which one is perfect for you. If you are just starting to learn a new language and on budget, you might want to choose Duolingo, but if you want something more professional, Babbel is the best.
Note that even the best app cannot be a substitute for real-world engagement. So, think of Duolingo or Babbel as tools To begin learning a new language. However, if you are looking to learn the conversation aspect of the language and start speaking in no time, you might want to check Pimsleur out.
What Is The Best Language Learning App?
We focused on two apps here, so it all depends on your budget. However, Babbel is the best if we are to compare the two.
Is Duolingo Good For Spanish?
Duolingo is perfect and the best when it comes to learning Spanish. It offers Spanish podcasts that can make learning easier, especially when on the go.
Is Babbel Better Than Duolingo?
Babbel is better in our opinion, based on experience.
How To Sign In To Duolingo?
First of all, you should create an account by using your email or Facebook or Google account to register. Click on the Get Started on Duolingo.com and follow the instructions.
If you have created an account on Duolingo before, just click on the I Already Have an Account button to sign in to Duolingo.
Conclusion
Duolingo or Babbel? I love both of these services because they make learning a new language extremely accessible.
All in all, I believe Babbel is the better app for language learning.
If you are serious about learning a new language, it is well worth the price tag. With Babbel, you get to make real-time conversations with native speakers with Babbel Live.
In terms of course quality and content, Babbel is the better option. Although Duolingo may be more fun and exciting as you acquire points and levels as you go, Babbel simply has a more organized and well-structured course that will help you learn a new language more thoroughly.