Pimsleur Review – Is It The Best Language Learning Software?
Pimsleur Review? Learning a language is one of the most rewarding things you can do for your brain, your work and your community. But, making it happen is tough. Thankfully, there is Pimsleur which is one of the best language learning software you can use to learn a new language without any hassle.
With Pimsleur, you don't have to worry about doing a million different exercises or memorizing charts. Instead, you listen and talk your way through the lessons, which are layered so that every lesson builds on the one that came before.
The method is based on research into how adults acquire language, and it's easy to see why it works so well. Not only are you learning vocabulary and grammar step-by-step, but you're also gradually training your ear to hear and pronounce the sounds of a new language with ease.
That's incredibly helpful for avoiding confusion during the conversation, whether with a native speaker or at least someone else who speaks the language you're learning.
What Is Pimsleur?
Pimsleur is an audio-based language learning program that you can access through its website or application. Pimsleur content is divided into 30-minute lessons, which encourages you to complete one lesson a day.
like Duolingo and Babbellanguage learning software, Pimsleur is a fast, convenient and effective way to learn a foreign language. Just one 30-minute Pimsleur lesson every day will expand your vocabulary and grammar skills and develop your ability to have conversations in your new language.
These conversations teach you how to combine words and phrases to express yourself naturally—the way native speakers really use the language. Moreover, Pimsleur's unique method has been shown to take one-fifth the time of traditional language classes.
The Pimsleur Method is a non-traditional, passive learning style that helps you learn a language by hearing. With more than 55 years of research backing it up, Pimsleur is the most trusted name in foreign-language learning. It's designed to give you listening fluency from the start, so you'll be ready to use your new language in real-world conversations after just 30 minutes a day for at least 6 weeks.
Pimsleur teaches a wide range of languages, from Spanish and French to Arabic, Mandarin, Chinese and more.
There is no better way to learn a language than with the Pimsleur method. You start by speaking from day one, learning and internalizing the rules of grammar by listening to and repeating after our native speakers. The process is easy and fun. Best of all, you learn at your own pace wherever you are.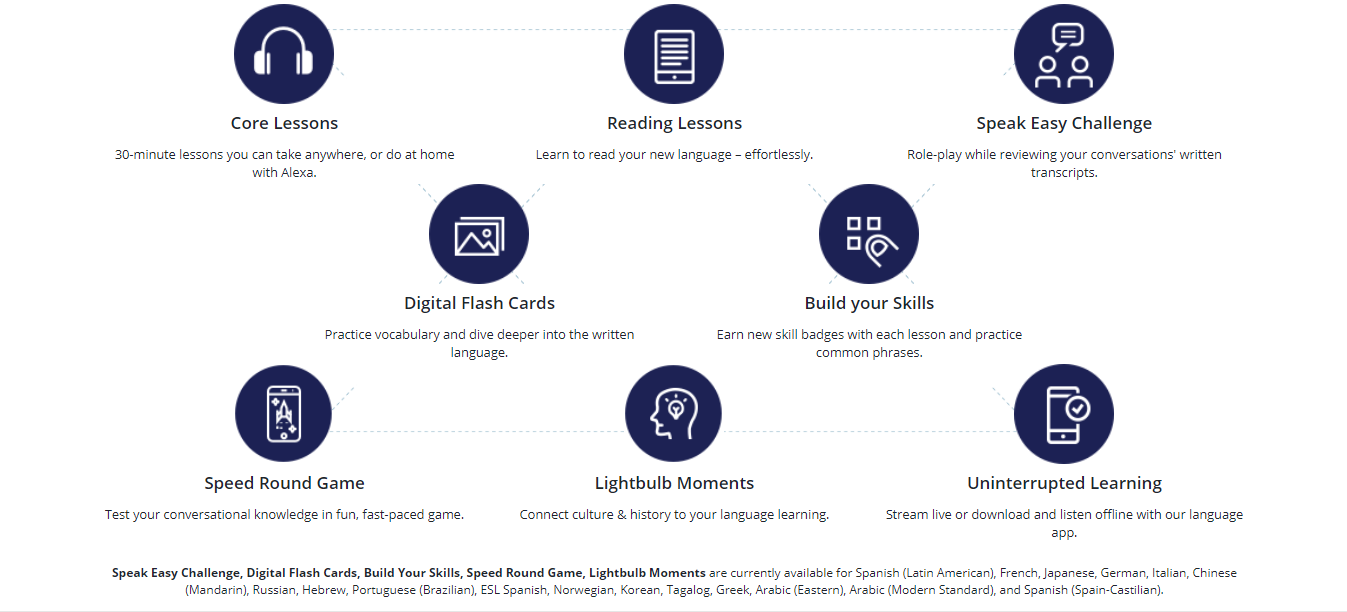 Pimsleur Main Features (Pimsleur Review)
The Pimsleur app is a great option for travelers and beginners who want an easy way to learn a new language. The lessons use the core approach that was popularized by Dr. Paul Pimsleur, so you'll quickly learn how to carry on real conversations.
Here are the main features of Pimsleur:
1. Audio Lessons
Learn your new language the way you learned your first. Pimsleur audio lessons are designed to be used a half-hour at a time, every day, on your schedule. With the Pimsleur Method, you'll listen and repeat along with native speakers, and before long you'll know what sounds natural. The software helps you gain confidence and learn core vocabulary skills, complete with an integrated reading component that gets you reading from the very first lesson!
Pimsleur courses are comprised of five core elements: reading, writing, listening, speaking, and cultural awareness.
You'll learn to speak a foreign language quickly and easily, by combining all those components. Quickly after the initial lessons, you will be able to have simple conversations, even with the barest of vocabularies; this method makes grammar and vocabulary simple. This is the best way to learn a new language: listen first, then speak.
2. Offline Learning and Driving Mode
As a student, you have the flexibility of learning anytime, anywhere. Gone are the days when you have to wait for an internet connection.
You can download lessons in advance and study offline whenever it's most convenient for you. If you're always on the go, you don't have to miss out. Pimsleur app makes learning offline and on the go easy!
Download each lesson to complete it offline, or use Driving Mode to study while you're on the road. This allows you to study listening only and doesn't require as much focus as their interactive games.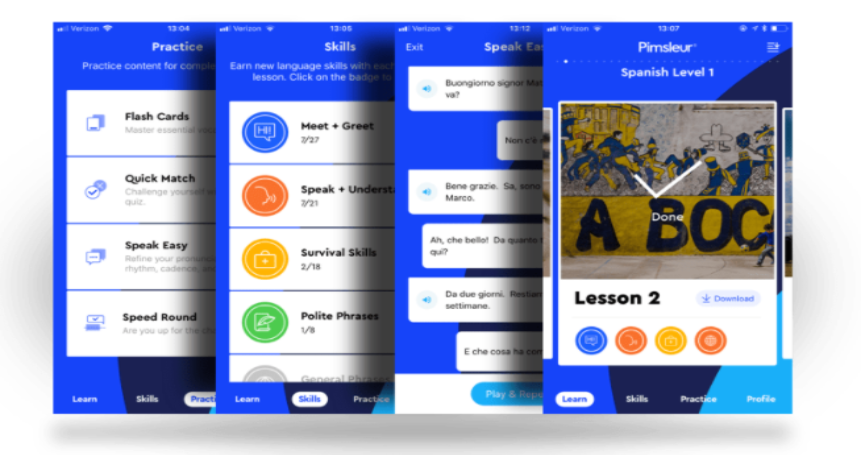 3. Digital Flashcards
Review your vocabulary with flashcards. Tap to see the meaning, listen to the pronunciation, and then try and guess it. Save difficult words to review later. You can check your progress too.
Practice your vocabulary with a deck of digital flashcards. With each card, you'll see the word or phrase and hear the native pronunciation. Swipe right if you know it, or swipe left if you don't. After you guess, the flashcard will show you what it means in your native language. At the end of the round, you can review any words that stumped you so that next time you'll know them inside and out.
4. Speed Rounds
Practice your vocabulary words in seconds with Speed Rounds. In this game, words will fall down the screen and you need to click the correct translation before they hit the bottom. The more correct answers, the higher your score! Over time, you will remember those words even faster.
Try this fun and fresh way to learn vocabulary from your chosen language, or brush up on existing skills. You'll need to answer as many correct translations, definitions or missing words as quickly as possible before time runs out. This can help you prove your progress with your language skills over time and keep track of things you're learning.
5. SpeakEasy Challenges
The Speak Easy challenges review the conversations you learned during the lessons. They're role-playing recordings where you listen to and repeat each side of a conversation. These conversations are easy to follow and cover real-world situations.
Some of the best things about these challenges is that they allow you to follow conversations in a real-life situation and really work on the shaping and intonation of your new language.
6. Lightbulb Moments
Lightbulb Moments are little nuggets of cultural trivia that jump out at you in the lessons. They're not really going to teach you anything about the language, but if you're like me, they're fun to read and can add a little extra fun to your studying.
The site's Lightbulb Moments are a great way to learn about a language and its culture. Plus, you can download the audio from this section as well, so remember to grab it.
If you're looking for some quick cultural tidbits, Lightbulbs are a really fun feature. I learned how Spanish people get their last names.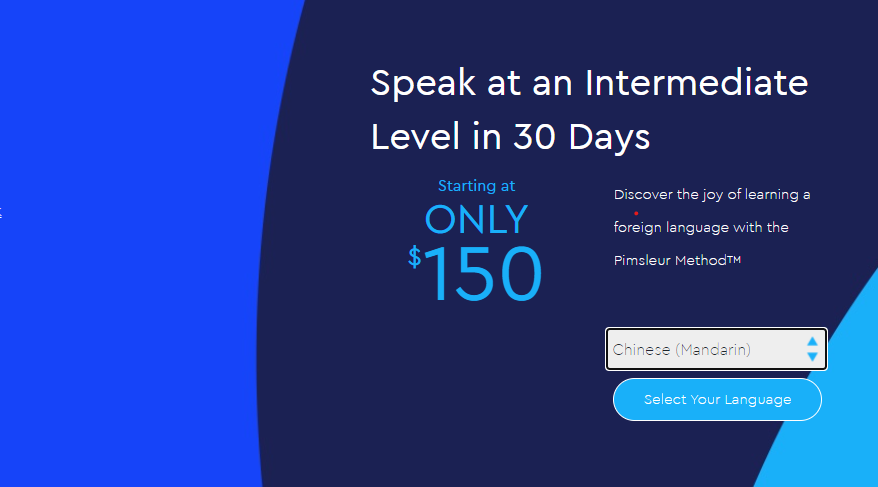 How does Pimsleur cost? (Pimsleur Review)
As a comprehensive language-learning course, Pimsleur is undoubtedly excellent. If you listen to it every day, you'll make slow but steady progress. But because the Pimsleur isn't cheap, you need to make sure that its teaching style works for you before you commit to paying hundreds of dollars for a full course.
Luckily, Pimsleur offers both a free seven-day trial and an alternative pricing scheme. Rather pay a set monthly fee? You can opt for a $14.95 subscription instead of paying the full $550 whack for all lessons upfront.
Bearing in mind that each level lasts for about five months if you complete one lesson per day, your total cost would come in at around $75—still an investment, but a more manageable one that'll enable you to try out the program first before deciding whether it's worth completing.
Some people like to buy their courses upfront and save money. Others prefer the flexibility of a subscription. When it comes to pricing, one isn't necessarily better than the other, since everyone has different learning styles, timelines, budgets, and goals.
$550 gets you a lifetime of learning, which is a pretty good deal. However, Pimsleur subscriptions are also worth considering, as they grant access to the lessons for one low monthly price. If you're serious about learning languages while saving money and time, Pimsleur Unlimited is an incredible value.
The good thing is that, before you commit to the program, you have a chance of testing it out for free for 7 days. So, you can decide what you want after 7-day of a free trial.
Pimsleur Subscription vs Purchase
"If you're trying to decide what is the best way to learn a new language, Pimsleur is sure to be near the top of the list. With over 50 languages, it's become one of the most popular apps for learning a new language on the web, iOS and Android.
For those who plan on studying for several months, a subscription to the app would be cheaper. However, if you want to take your time and want unlimited access, getting a lifetime account is definitely the better option. In the end, it all depends on your goals and budget.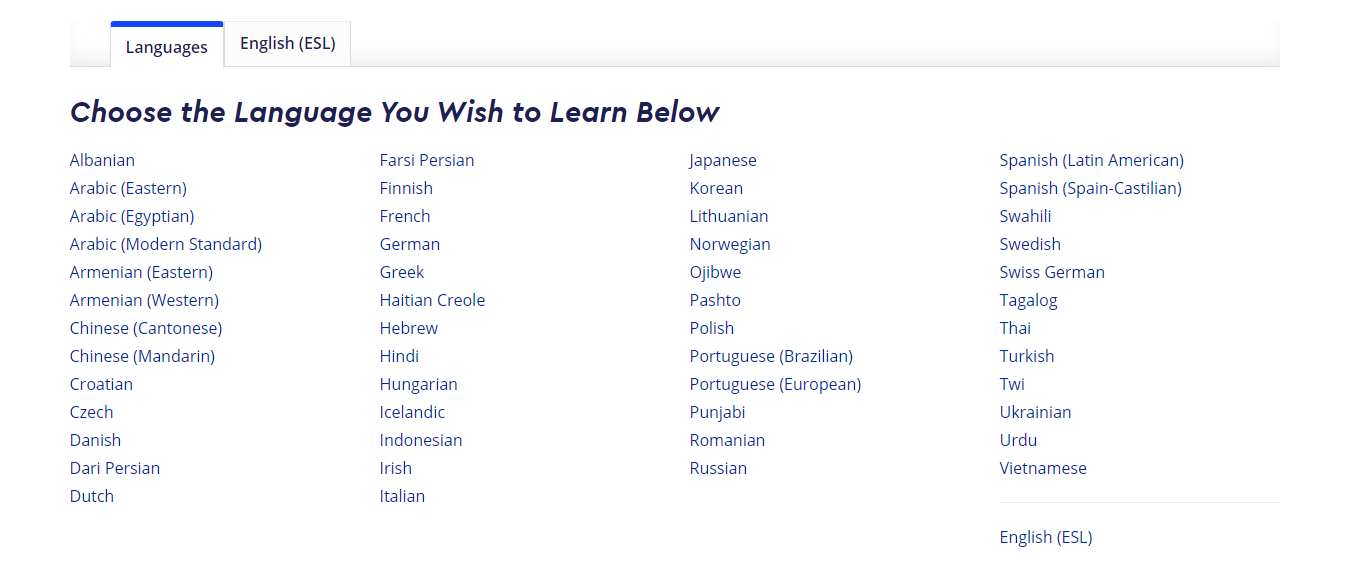 What languages does Pimsleur offer?
Pimsleur currently has over fifty language programs, covering dozens of languages and dialects. Each of their courses contains multiple "levels" that build on the vocabulary and concepts introduced in previous lessons.
The courses are designed to be short (most are 30 minutes per day), ensuring that you never get overwhelmed or lose motivation.
Pimsleur's language courses are based on a self-paced, conversational approach. The program uses an audio-focused lesson structure where you listen to native speakers, and then participate in guided conversations of your own.
With Pimsleur, you will learn vocabulary, pronunciation, phrases, and culture through real-world dialogues that focus on practical communication in your new language. The course gives equal weight to speaking and listening skills, allowing you to both understand and communicate in your target language.
You can check out all the available languages on Pimsleur here.
How does Pimsleur work? (Pimsleur Review)
If you have used or are familiar with apps such as DuoLingo or Babbel, I should let you know that Pimsleur is nothing like those two. It is more like listening to a learning tape, with very little or no digital interaction. You could complete the whole Pimsleur program without even looking at your screen.
Pimsleur fuses the two best processes of learning a new language into one experience, so you can learn at your own pace, fit it into your schedule, and have fun doing it. It's a joy to follow, and you never feel like you're performing for a teacher or being corrected. Most importantly, it works!
Before each lesson starts, the app asks you a series of questions about where you are, what you're doing, and your mood. These questions get factored into the examples of phrases you listen to throughout the lesson. At the end of each lesson, and at some points in between, you're asked to repeat phrases back to the app.
The explanation is fairly simple: Pimsleur wants you speaking in context and thinks that knowing context will help with the activation of vocabulary.
The simplified Pimsleur Approach is an audio-based language learning method that teaches you to speak and understand a new language in just 30 minutes a day. The original Pimsleur program is a research-tested method that shows you how to learn vocabulary and grammar naturally through conversation, making the process of learning a foreign language fun and easy.
Pimsleur includes all the critical components of language learning, including vocabulary, pronunciation and grammar. The courses are developed and continually reviewed by experienced native-speaking language experts.
Pimsleur features a scientifically proven method for efficiently and effectively acquiring a new language. Pimsleur helps you understand words as soon as possible through the use of our constant core vocabulary approach. Learning new vocabulary words is one thing, but learning to use them in conversation is another.
The key to truly mastering a new language is putting your knowledge into action, which is why Pimsleur goes beyond basic vocabulary words. Students are actually encouraged to speak as soon as they can, even if they make mistakes because making mistakes is one of the best ways to learn and never forget what you've learned!
Pimsleur is designed for students who want to learn the sounds of a new language in order to speak it. The audio-centric lessons are excellent for this, and they're easy to pick up on the go—an important feature, considering the program's many strengths.
Pimsleur also does a good job of staying at the right level for adult learners. Whereas your typical textbook-style language lesson will go over a lot of vocabulary that even advanced speakers find less useful, Pimsleur stays closer to beginner concepts and is, therefore, more repetitive. This might not sound exciting, but I've learned from experience that repetition is often the secret to learning tricky new words.
During your first lesson, the instructor will teach you how to speak using the Pimsleur Method by walking through exactly how the lessons work and breaking down exactly how to repeat things back. If you're anything like me, it will feel frustrating at first, but as you listen to more lessons, your brain will start to figure it out on its own.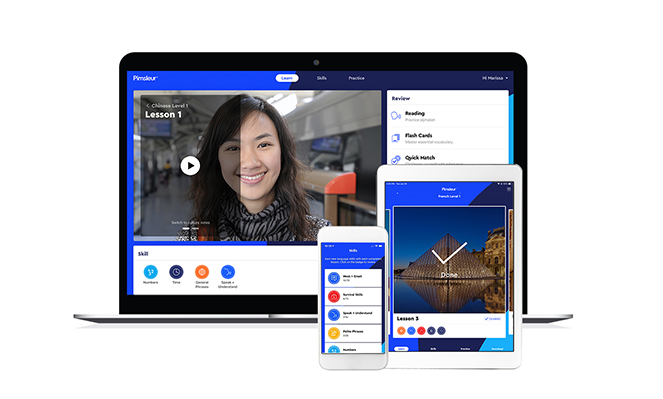 Pimsleur Review – Pros And Cons
Pros
Superb structure
Great for learning to understand spoken languages and speak them
Programs for over 50 languages and 200 courses
Cons
Audio-based and doesn't teach you to write or read
Digital version with interactive exercises covers only eight languages
Very expensive
Is Pimsleur a good way to learn a language?
Whether or not Pimsleur is a good way to learn a language depends on what you're looking for. It's great if you want to get started speaking conversational Spanish fairly quickly, and its lessons will give you a base understanding of the vocabulary and grammar that make up the core of the language.
I've been studying Spanish for about a year and Pimsleur has helped me tremendously. Unlike most other methods, you actually get to speak Spanish from Day One. The lessons are clear and easy to understand, and the materials that come with the course help you follow along as you listen. Pimsleur is worth a try if you want to be able to speak another language!
If you want to learn Spanish or other languages on your lunch break with a bit of practice throughout the day, you will get much more out of Pimsleur than if you try to listen to it for an hour as soon as you wake up—you need time to absorb the material, and be able to associate it with other parts of your life.
I was surprised how quickly I was able to understand what I was hearing on Pimsleur. For someone like myself with no previous knowledge of Korean, the research-based Speak Easy method really helped me grasp the language in a way that felt comfortable and natural.
The key difference between Pimsleur and other language learning software is that it takes you out of a classroom setting and provides you with real-life situations to study. The recordings are high-quality, and the speakers are consistently very pleasant to listen to.
Each of the audio files includes an interactive activity that uses your body language to help you better absorb the information you've heard.
In short, Pimsleur was an easy, fun way to build a basic understanding of Spanish or other languages in just a few weeks. It doesn't make you fluent instantly, but it does provide that initial push to get you started in the language. Within a week, I was able to order stuff in restaurants speaking Spanish.
Pimsleur Spanish Review (Pimsleur Review)
Spanish is one of the most popular languages to learn, and it's one of Pimsleur's best courses. With Pimsleur Spanish, you'll have access to all of the features that help you learn conversational Spanish quickly. You can choose between Latin American and Castilian Spanish (from Spain).
Latin American Spanish has 5 levels in the complete course that can take you from beginner to a high intermediate speaker. The Pimsleur Castilian Spanish course covers 3 levels that will teach you conversational Spanish to a comfortable level. Both courses also include Lightbulb Moments that teach you about each dialect's history and culture.
If you're trying to learn conversational Spanish, Pimsleur Spanish is a great place to start. With high-quality audio lessons, it's one of the best ways to get familiar with new vocabulary and pronunciation. Native speakers will appreciate that you're making an effort to learn their language, and you can use your newly acquired vocabulary as you spend time in Spain or Latin America.
Pimsleur Arabic Review (Pimsleur Review)
The Arabic language courses are broken up into three distinct dialects: Eastern, Egyptian, and Modern Standard Arabic (MSA). Start learning to speak and understand with Pimsleur's proven approach and gain the confidence to participate in everyday conversations.
Here's a quick rundown of what each course offers:
Pimsleur Eastern Arabic: 3 levels with premium features
Pimsleur Egyptian Arabic: 1 level of audio lessons
Pimsleur Modern Standard Arabic: 3 levels with premium features
Pimsleur Korean Review (Pimsleur Review)
Pimsleur Korea is designed to help you master the basics of Korean quickly in 3 levels. Because there are no written materials included with the course, it's a good choice for visual learners who want to learn more slowly.
Each lesson includes a vocal repetition activity that teaches you how native speakers actually speak, instead of providing an overly formal script. The audio lessons are high quality and easy to understand.
This is a good option for beginner and intermediate Korean learners who want to learn to speak conversationally native Korean language.
With Pimsleur, you'll learn quickly and easily – without memorization or boring drills. Just 30 minutes a day of Pimsleur Korean will give you the most important words and phrases for travel, business, and everyday conversation with confidence.
Pimsleur Brazilian Portuguese Review (Pimsleur Review)
The Pimsleur Brazilian Portuguese course will have you speaking in no time! This is one of the best apps to learn Portuguese. The Pimsleur Method provides the most effective language-learning program ever developed.
The Pimsleur Method gives you quick command of Portuguese structure without tedious drills. Learning to speak Portuguese can actually be enjoyable and rewarding.
Pimsleur Brazilian Portuguese courses use a scientifically-proven method that puts you in control of your learning in 5 levels.
Instead of mindless repetition, you'll follow along with engaging, natural-sounding conversations, which are repeated and recorded at gradually slower speeds until you've mastered the correct pronunciation. You'll be able to learn on your own time, at your own pace, and wherever life takes you.
Pimsleur Mandarin Review (Pimsleur Review)
Pimsleur is the most effective language-learning resource around with a unique method that helps you learn sentences instead of memorizing words.
The Pimsleur Mandarin Chinese course offers you 5 complete levels to learn conversational Mandarin. It also provides you with premium features to help master everything you learn in the audio lessons.
When it comes to learning Mandarin Chinese, Pimsleur is one of the most well-known language courses. The audio lessons are high quality and taught by native speakers. And with over 6 million satisfied customers, Pimsleur's 5 levels of Mandarin Chinese is a solid investment for anyone interested in learning this complex language.
However, you cannot learn to write or spell Mandarin from this course. Using an app like Drops on top of Pimsleur can help improve your writing skills while you practice listening with Pimsleur.
Learning Mandarin Chinese is a great way to expand your job potential, improve your business opportunities, and open up travel destinations in China. Pimsleur can teach you to speak fluent Mandarin while commuting to work or even while you work out. The Pimsleur course makes speaking Mandarin fast and easy by using a few simple techniques.
Pimsleur Review: Overall Learning Experience
Get a solid foundation in your target language with the Pimsleur Method. Proven to be effective, each lesson contains a complete conversation between native speakers so you will quickly be able to understand and respond in your new language.
Pimsleur offers a strong approach to learning a language. While its biggest drawback is its limited text, the Pimsleur Method can allow you to pick up a lot of basic phrases in a short time period.
In short, we consider Pimsleur to be an excellent resource for learning a new language. With the Pimsleur Method, you'll be amazed at how much you'll learn over what feels like a very short period of time.
Want to try Pimsleur? Check it out HERE.
Pimsleur Review: Pimsleur Alternatives and Competitors
Rosetta Stone, Rocket Languages, Busuu and Babbel are all cool Pimsleur alternatives and competitors. They have lots of different skills that you can learn from listening to reading, writing and speaking. While these are all high-quality apps like Pimsleur, I think Pimsleur stands out because it focuses on conversations.
But while they all have their upsides, Pimsleur takes the cake as far as getting you speaking confidently in your chosen language ASAP.
Pimsleur makes you conversational in a new language in less time than the other apps. This is because of Pimsleur's unique audio-based approach. Babbel focuses on visual learning through flashcards, while Rocket Languages helps build speaking confidence by using an audio recorder so learners can hear themselves speak.
Still not sure? Let us compare Pimsleur and its competitors.
Pimsleur vs Rosetta Stone
When comparing Pimsleur vs Rosetta Stone, you'll realize they are two completely different approaches to learning a language. While Pimsleur focuses more on building your conversational skills, Rosetta Stone focuses more on building your reading, writing and pronunciation skills.
While both apps have pros and cons, you can find the best one for you by trying the free trial for each app. Don't forget to check out their coupons to save money either way!
Pimsleur vs Babbel
Pimsleur is a language app that uses English to teach you another language. They make it easy to learn by breaking the learning process into 30-minute lessons that you can fit in on your way to work.
But Babbel offers reading, writing, and listening practice as well as their conversation-focused classes. You can try lessons from both apps for free, so test them out and find out which teaching method you prefer!
Pimsleur vs Busuu
Both Pimsleur and Busuu offer free trials, meaning you can try out their courses for a week or two to see which one is the best fit for you. Pimsleur's key point of difference is that it focuses on teaching you to communicate effectively in an efficient amount of time, while Busuu offers in-depth courses that can take longer to complete.
One key difference between the two is that Busuu has native speakers who correct your practice exercises, while Pimsleur is completely self-taught. Both Pimsleur and Busuu let you try their courses for free, so explore both to choose the ideal one for you.
Pimsleur vs Duolingo
Pimsleur vs. DuoLingo is a great question since both are among the best language apps out there. The quick answer is that while DuoLingo is good, it's not the same as Pimsleur because DuoLingo doesn't teach you how to speak so much as it teaches you to identify words and fill in blanks.
That's great for vocabulary, but not so good for real-world conversations. Overall, Pimsleur is a much better language app than Duolingo.
Rocket Languages vs Pimsleur
If you're looking for a way to learn one of over 40 languages, Rocket Languages and Pimsleur are both excellent. Rocket Languages has been making some major upgrades to its app the past few years and is great if you're learning a language with a non-Latin writing system (Arabic, Chinese, Korean, etc.).
Pimsleur is more audio-based but works well on any type of device. Sign up for a free trial of both to see which you prefer.
Pimsleur Review FAQ
What's the best way to use Pimsleur?
To learn a new language quickly and easily, we recommend listening to your audio lessons every day and using flashcards to help you retain what you've learned.
Pimsleur works because it teaches you to become conversational in your new language, so it's important to practice consistently and use what you've learned in previous lessons. If you use Pimsleur every day, you can speak a new language in just a few short weeks!
Is Pimsleur only for beginners?
The Pimsleur approach can get beginners to speak their new language with ease. But let's not underestimate the value of the more advanced courses.
While basic skills are important, it's not the only thing that matters; in fact, the ability to communicate comfortably is far more important anywhere beyond the border of your home country. So, whether you're a novice or have some experience, Pimsleur is a great choice.
Is Pimsleur worth it?
Pimsleur can teach you to speak a new language, fast. The audio-based lessons immerse you in the language and equip you with conversational skills that can be applied immediately in real life. However, if you're looking for well-rounded instruction or learning a less common language like Egyptian Arabic, Pimsleur may not be the best choice.
Is Pimsleur Premium worth it?
You want to learn a language, but you're not sure if Pimsleur is worth it. If you're learning French or Spanish, we think it is well worth the price. With premium access, you get more vocabulary and phrases. You also have access to online customization tools, so you can create custom word lists that complement your lessons.
If you're studying a more obscure language like Modern Greek or Hebrew, we don't recommend paying for a premium subscription–Pimsleur doesn't offer as many lessons in these languages as it does Spanish and French.
Can you do more than one Pimsleur lesson a day?
Why do more than one Pimsleur lesson a day? Doing two per day would be like eating six hamburgers all at once. Instead, focus on doing one Pimsleur lesson per day and then supplement with the other learning activities in the Pimsleur app. They'll help you master what you learned in your lesson and keep it fresh in your mind.
Can you become fluent with Pimsleur?
If you set out to become completely fluent in your target language by only doing Pimsleur, you're going to end up disappointing yourself. But if you're looking for a good way to learn some conversational skills quickly, then Pimsleur is a great choice. Pimsleur is an interesting course that teaches you to speak from your very first lesson.
By using Pimsleur, you can get to an intermediate speaking level in less than 30 days.
Is Pimsleur better than Rosetta Stone?
The makers of Pimsleur aim to help you learn a language the same way you learned your first. Hold your hand, help you repeat simple words and phrases, and then use your context clues to help you piece together what's going on in a conversation. Rosetta Stone, on the other hand, wants to immerse you in the language.
Conclusion
If you're looking for a fast and effective way to learn a new language from scratch, Pimsleur is a great choice. It's based on the fact that speaking is the best way to learn how to speak. It's not about having you memorize word lists or conjugations, but rather about getting you on your feet in your new language as quickly as possible.
Pimsleur is a great option for learning a new language if you are looking for a streamlined, focused solution. Pimsleur takes learning a language to the next level using well-researched theories on language acquisition coupled with memory techniques. Each lesson is designed so that you learn new concepts without being overwhelmed by too much information, and repetitive practice and challenging questions ensure retention.