The Best Online Teaching Platforms For Everyone
The online courses and e-learning market is soaring high and it is estimated to be worth $325 billion by 2025. With many online teaching platforms being created every day, it is time you tap into this market and make a lot of money selling online courses.
If you are experienced in a field and wish to share your knowledge in exchange for money, all you need is to join one of the best online teaching platforms or create your own online teaching platform.
When you join one of the best online teaching platforms, you will be able to:
Create an online course and make it available for millions of learners.
Market your course and build an online presence.
Earn a lot of money for a very long time without working your ass off all the time.
Yes, it is good to create and sell your courses online, but what are the best teaching platforms you can start with? In this review, you'll get to know only the best online teaching platforms that I have personally used.
In this review, I compared the software based on features, reliability, pricing, technical support, profit potential, marketing tools, etc.
If you are ready for it, let's get started. You might want to check out Business Software – The Best Software For Company Management
The Best Online Teaching Platforms For You
Now, from the teacher's point of the best online teaching platforms, these are the best online teaching platforms.
Academy Of Mine
WizIQ
Thinkific
Learnworlds
Kajabi
Teachable
LearnDash
Podia
Ruzuku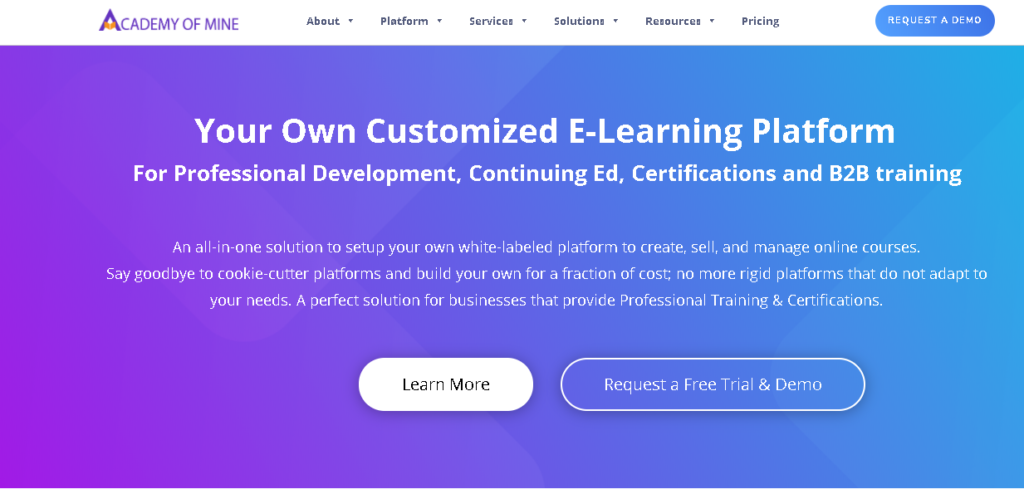 1. Academy Of Mine ($499/month)
Academy Of Mine is custom-built to business needs. It is a high-end e-learning platform that helps launch your course in a few minutes. This platform will not only set you up but also help you to launch your course. The platform also wants to help you sell your course with their marketing tools and their analytic dashboard.
Whether it is a one-off course or a course that requires continuous training, this is the right platform for you. From small to medium-sized businesses that need robust training for their staff or clients, this is the right platform for you. You can get started with a 30-day free trial.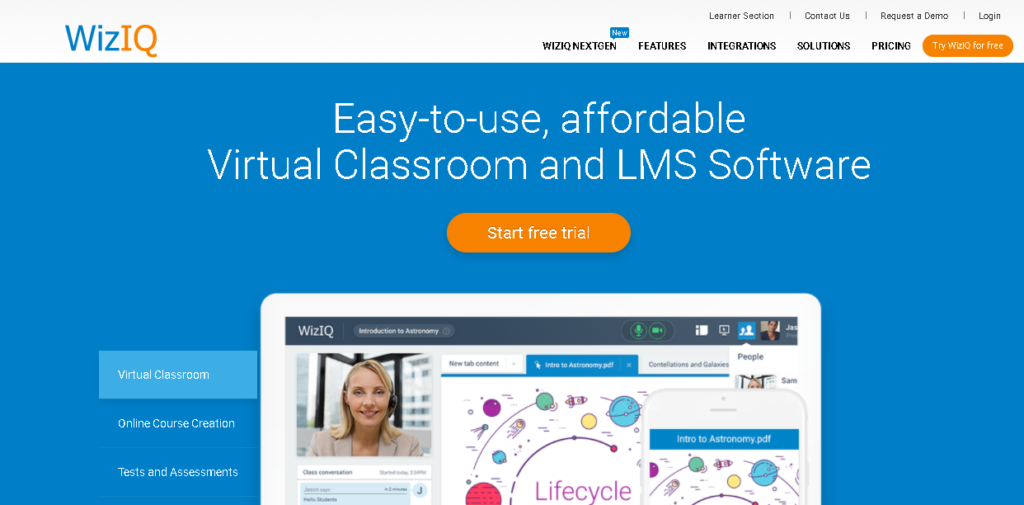 2. WizIQ ($27/month)
WizIQ provides both teachers and educators the easiest way to set up virtual classrooms for online classes that are interactive. More than 400,000 instructors have used this platform to teach more than 4 million students across 200 countries.
With WizIQ, you get the latest tools for live training such as video streaming, discussion boards, mobile options, analytics and assessments. Whether it is a corporate or an educator that wants to reach your audience live without any hassle, WizIQ offers you a 14-day free trial.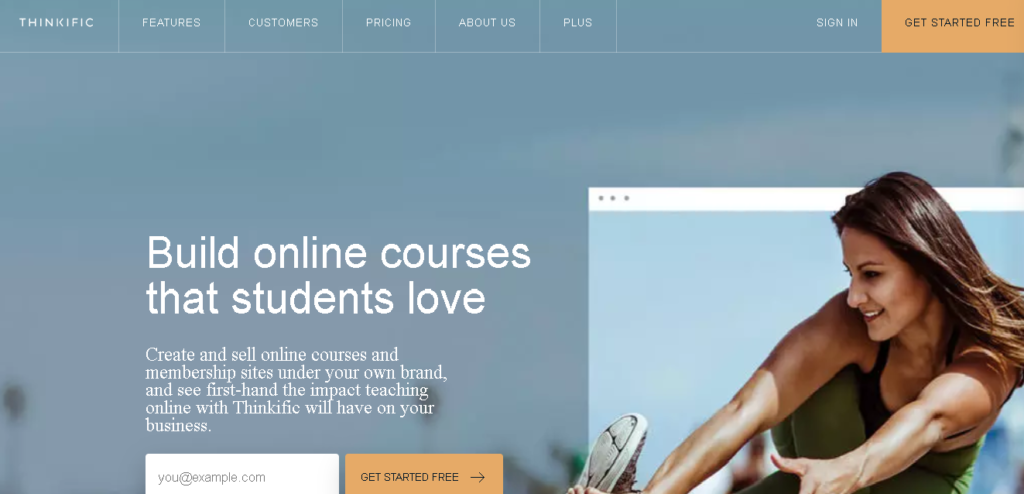 3. Thinkific ($49/month)
Thinkific is a powerful online space with a robust set of user-friendly features including membership site integration for lessons, email marketing tools and 24/7 customer support. If you are looking for the best online teaching platform to create and sell your online courses, this is the best platform for you.
You can sign up for the Pro Plan for free for one month. With the pro plan, you can create unlimited courses, the plan also features memberships and bundles, landing pages, advanced pricing options, marketing tools and certificates.
It is also easy to create your course on this platform with drag and drop editor. After adding your course content, you can go ahead and build your course site with their well-designed templates, market and sell your course using their advanced business tools.
Using Zapier, you can easily integrate Thinkific with more than 1,500 apps without using any WordPress plugin. You can also use your email provider platform to send highly targeted campaigns to the right audience.
If you are serious about creating an online course, market it and make a lot of money from it, use Thinkific platform.
4. Learnworlds ($24/month)
Learnworlds is tagged as the future of e-learning because it provides you with everything you need when it comes to creating and selling courses online, and keep your students engaged. This online software is best for course creators that are looking for an interactive course experience and great student engagement.
Though it is not free, it offers an interactive learning experience, including tests, questionnaires and engaging elements. Firstly, you have to create the look and feel of your course using Learnworld's custom sales and landing pages.
Their library of responsive templates and styles is also available for your use if you want to build your online course and even add additional information pages including contact, pricing, about, etc.
In fact, you can use their theme editor to customize your color scheme and branding of your course with minimal coding knowledge. You can also leverage their pre-made course catalog to add your content. The catalogs include advanced features such as interactive video players, interactive e-books, downloadable attachments and online tests.
Your students will also enjoy a customized approach. They can take notes, highlight points and get certificates after completing your course. You can use a full custom domain and white-label your content when you want to market your course.
For instance, Learnworlds will help you create a custom mobile app for your course and add in both discounts and coupons to market the course to your students. The platform also offers the ability to create membership sites, social media integrations, a new analytic to help you optimize your sales, 24/7 support and a strong knowledge base.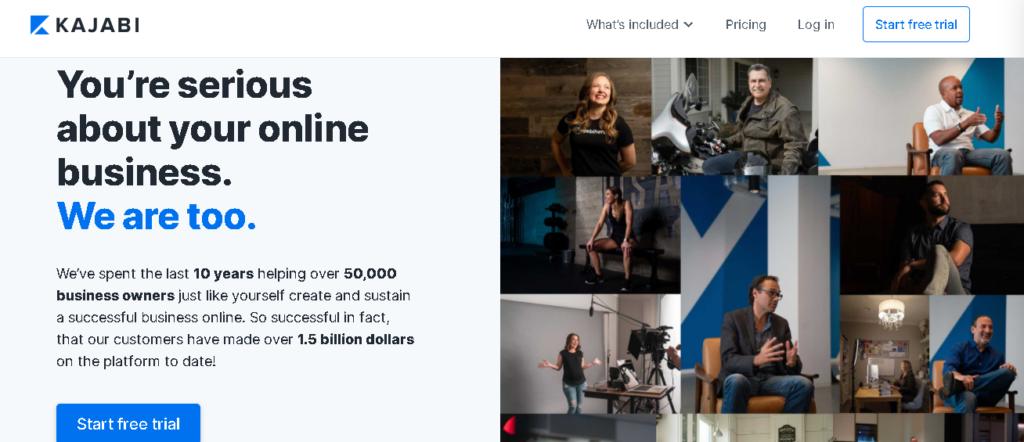 5. Kajabi ($119)
If you are looking for a powerful course builder for your in-depth courses, Kajabi is the best. It offers powerful course site themes, upsells and digital products, robust email marketing automation, blogging functionality and a customizable checkout.
Although their plans are somewhat expensive, from $119/month, they are trusted by over 16,000 businesses and processed over $675 million through this platform. With Kajabi's $119 basic plan, you get one website, three pipelines, three products, unlimited landing pages, up to 1,000 members and unlimited marketing emails and of course, 10,000 contacts.
Kajabi's marketing automation tools is its strength. You can segment users, send them emails based on advanced triggers and even send branded messages.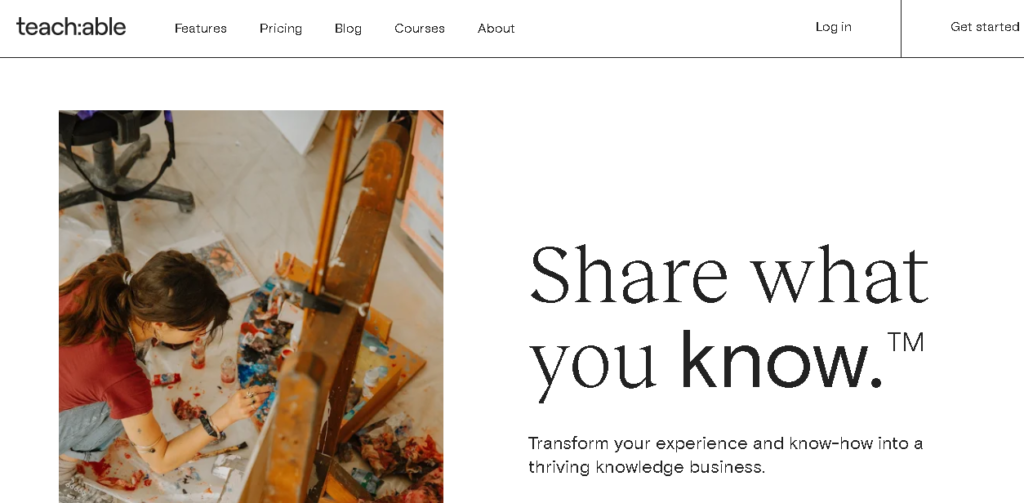 6. Teachable ($29 – $299/month)
When you register at Teachable, you join over 22,000 instructors that are creating a fantastic teaching platform for their students.
You have a chance to use the platform for free (paying $1 + $0.01 for all transactions) and you can also choose one of their 3 plans that started at $29/month up to $229/month. Uploading your content is effortless and editing the look of your online school and engaging with your students is effortless.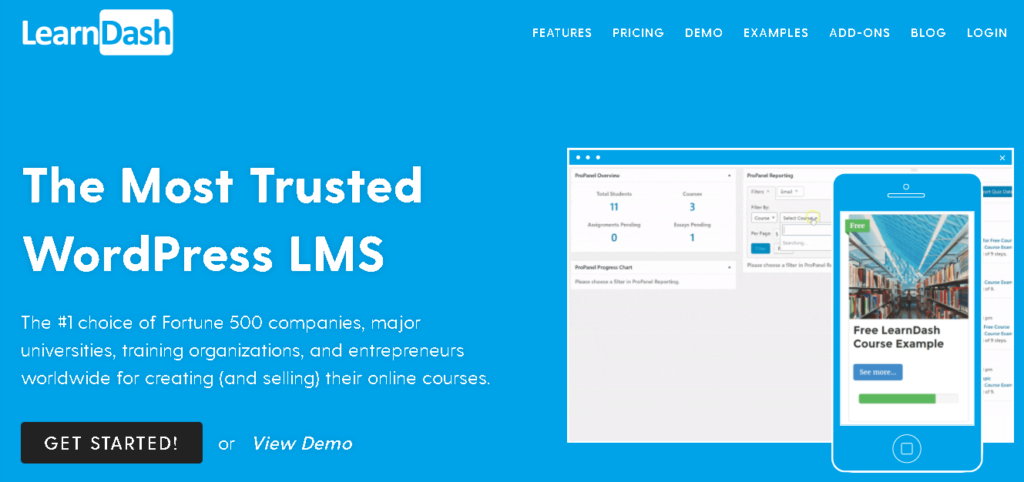 7. LearnDash ($13.25/month)
LearnDash is a great online teaching platform that integrates with WordPress. LearnDash is used by many big websites such as WP Elevation, the University of Michigan, Infusionsoft and Yoast. It has a feature called "Focus Mode" which blocks out distractions when students run through your course.
The platform is a full-featured course builder platform built with an email drip campaign. With it, you can build an excellent online course and match it with an email drip schedule. It has a built-in technology that adds grading, course points, badges and certificate for course activities.
This is the perfect platform for teachers looking for grading systems that offer the same features as college curriculums.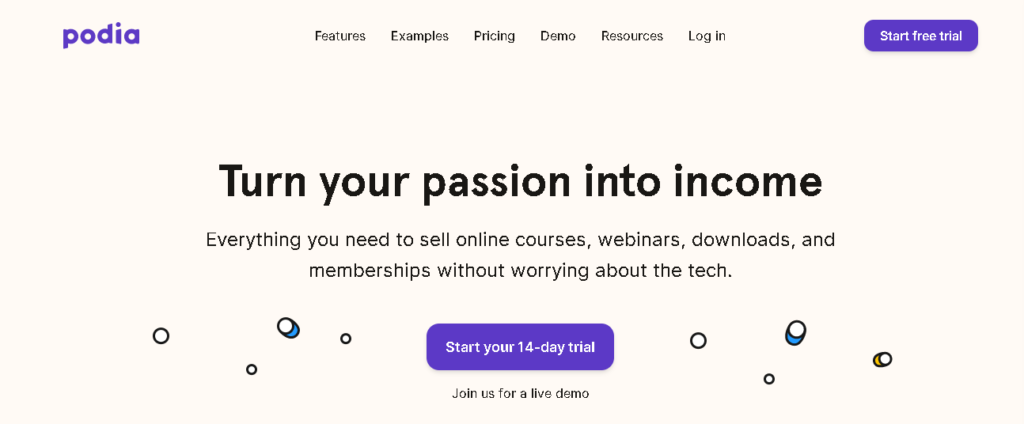 8. Podia ($39/month)
Podia offers an easy-to-use platform that allows you to create, host and sell your courses online. In three simple steps, your course will be up in no time.
Though Podia doesn't charge fees, its payment processors have transaction fees of 2.9% plus 30cent. The platform also offers features such as coupons and memberships, the ability to add sales pages, pre-launch courses and "drip" courses.
With Podia, you can also host webinars (live and on-demand). You can give the webinar for free or sell it. You can try Podia for 14-day for free.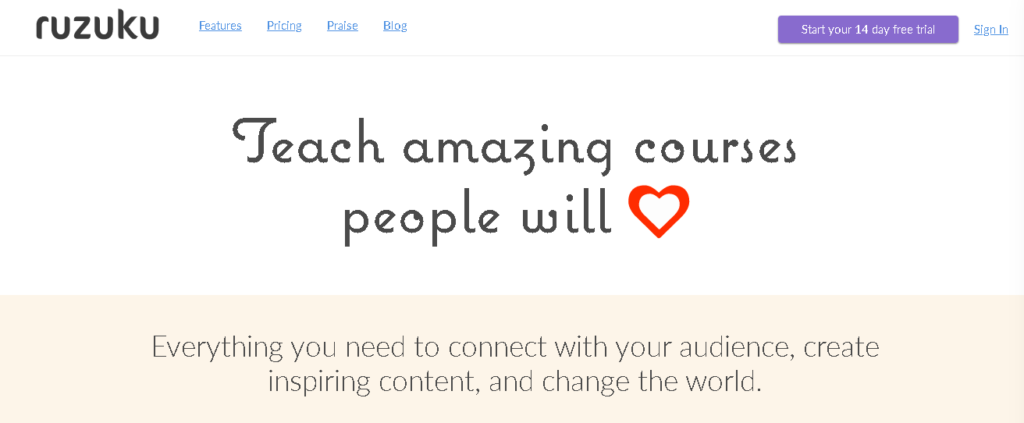 9. Ruzuku ($74.75/month)
Ruzuku provides you software that allows you to create your online course step-by-step with its learning platform, text and PDFs. With this online teaching platform, you can create course outlines, edit, launch your course and generate sales quickly.
Ruzuku also integrates with tools such as payment gateways, Infusionsoft and MailChimp. On this platform, students get unlimited courses.
What Are The Best Online Learning Platforms?
We've listed the best online teaching platforms for teachers and even students. However, there are the best online learning platforms that are great for learners. In fact, they offer courses that are great at a ridiculously low rate.
These online learning platforms are often referred to as MOOCs (massive open online courses). These platforms are a little bit different than paid platforms because you don't need to host files yourself. Courses are in the marketplace and learners can pay for them directly or subscribe to the courses.
Course creators or teachers can leverage these websites to sell their courses to a new audience, but might not earn much money per sale. Course creators will also face stiffer competition because many people are trying to sell their courses on these platforms.
So, if you ask me, I'd recommend one of the above to any course creator or teacher who is trying to make a huge profit from their courses.
As a learner looking to learn new things at an affordable rate, you might want to consider one of the following online learning platforms.
LinkedIn Learning
Skillshare
Shaw Academy
Udemy
Treehouse
coursera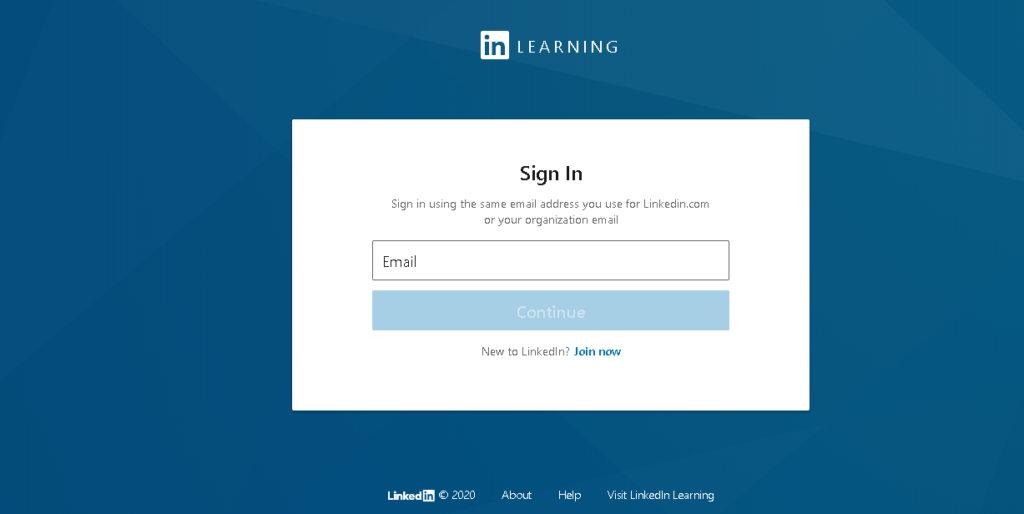 1. LinkedIn Learning
Formerly called Lynda, LinkedIn Learning is one of the best online learning platforms tailored to business professionals. With more than 1,000 courses on business on topics such as digital marketing, web development and project management, LinkedIn Learning is a great online learning platform for anyone looking to update their skills.
The platform offers certifications you can add to your LinkedIn profile to showcase your expertise and improve your online resume.
What does LinkedIn Learning Cost?
Learners can pay a monthly membership of $29.99/month or $24.00/month for the annual membership. You can try LinkedIn Learning today and enjoy a month free.
LinkedIn Learning Pros
A large amount of high-quality content
Great user management
Practical files
Certifications
Ability to ask the program author questions and get real-time answers
The connection between LinkedIn Learning and LinkedIn (standard) as many professionals already familiar with the LinkedIn interface. The interface remains similar.
LinkedIn Learning Cons
You can't upload your content to be a standard inclusion rather than "add-on" of sorts
There are too many courses but no AI to help sort the courses
After creating a learning part, editing the course and order/ placement can be difficult
There are no more industry-specific courses/content such as a focus on insurance or other industry
The platform hangs up a bit sometimes
2. Skillshare
Skillshare is a big marketplace that is focused on creative education. On this online learning platform, you will learn anything from music production and graphic design to cooking and fine art.
Skillshare also provides you with more classes on technical topics such as data science, e-commerce and analytics. Skillshare has more than 24,000 lessons and over 4 million students. The platform has paid more than $5 million to teachers.
Here, each class lasts for 20 to 60 minutes and broken down into shorter lessons, community discussion forum and projects. The community discussion forum is beneficial for students because they can share their progress and get feedback from other students.
Course creators with a premium membership can use Skillshare's studio in New York to produce their courses.
What Does Skillshare Cost?
Skillshare is free when it comes to creating a premium course experience. Instructors get $10 for paid membership referrals and monthly royalties for every minute of content watched.
Skillshare Pros
A large user base of entrepreneurs and creators
Reliable content
Skillshare Cons
Creator(s) earning is through a royalty
Support is only through email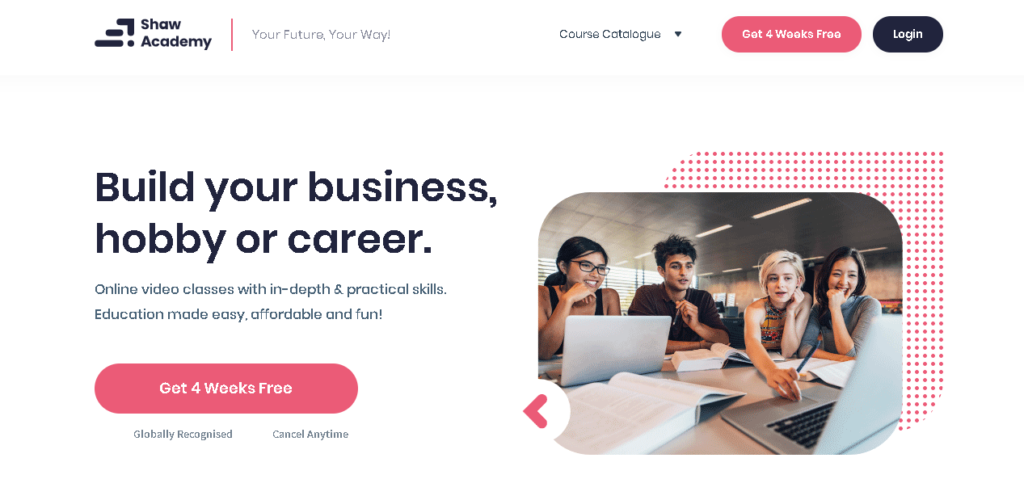 3. Shaw Academy
Shaw Academy is an online learning platform that allows learners to access professional and accredited online courses. When a student signs up for Shaw Academy, they get access to all of their courses.
Their courses are in three categories; for entrepreneurs, for professionals and for hobbyists. For instance, the offer a globally recognized Digital Marketing Course in the "For Professionals" category. This course includes 32 videos and takes at least 16 weeks to complete.
What Does Shaw Academy Cost?
Students get to enjoy their courses for free for the first four weeks and can continue learning by paying for one of their monthly plans. The cost per month ranges from $49.99 – $60.
Shaw Academy Pros
Globally-recognized in-depth courses
Certifications
Flexible courses you can complete in your own time
Courses can be downloaded to be viewed offline
Great support
Shaw Academy Cons
You may not find the course you need
The volume of hobby classes is not up to that of Skillshare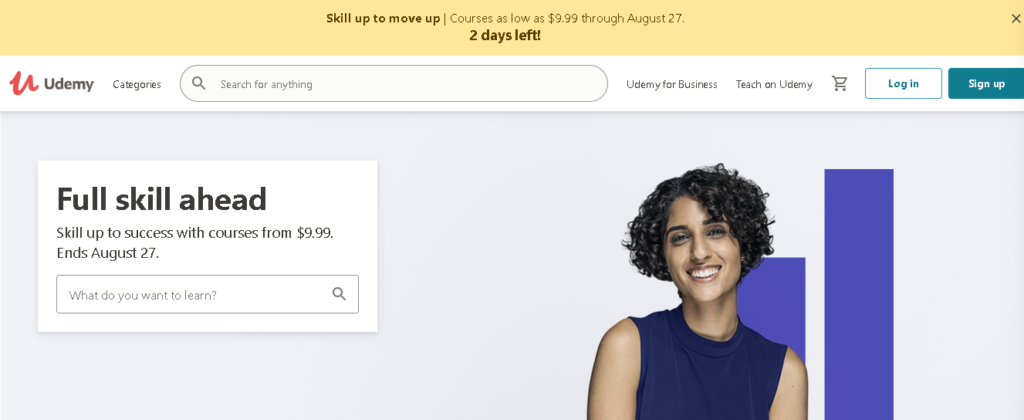 4. Udemy
Udemy is one of the biggest online learning platforms with more than 24 million students, over 35,000 instructors and more than 80,000 courses. To create a course on Udemy, you have to sign up as a premium instructor.
Once the account is approved, you can start creating your courses without any hassle. When you are creating your video content, the material has to be at least 30 minutes long segmented into five lectures.
Course creators can also promote their courses inside Udemy's platform by using their marketing features.
RELATED: 23 Best Graphic Design Software – Graphic Design For Print
What Does Udemy Cost?
Course creators can use Udemy for free. Udemy charges a 3% for sales through instructor coupons,50% for students that found your course through their organic search and 75% transaction made through paid search marketing efforts.
Udemy Pros
Access to a large user base.
They offer a substantial revenue share for tuition fees i.e. use set their course prices
You can participate in Udemy marketing promotions
They have reliable 24/7 support and technology
Udemy Cons
There is intense competition with other course creators
Stiff competition with other courses
Lenient refund policy that could cause students to complete courses and still ask for a refund in 30 days.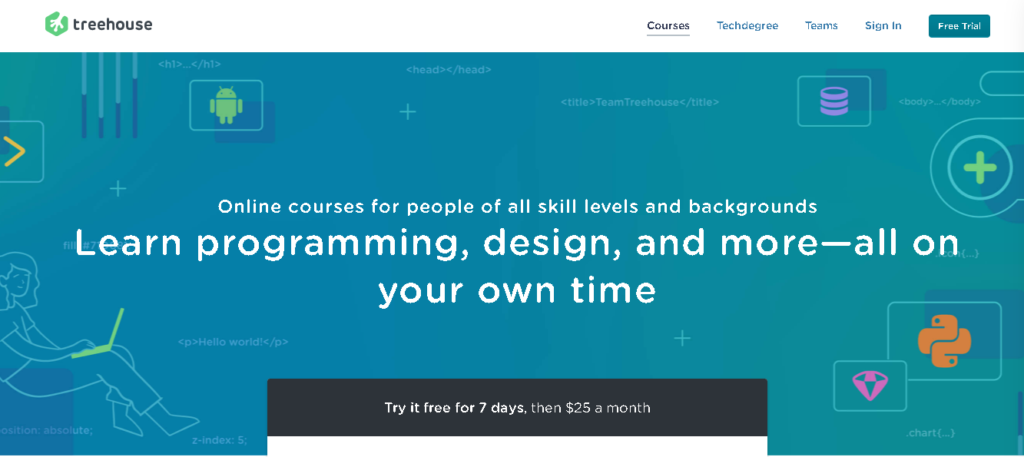 5. Treehouse
Treehouse is relatively new but it is a platform that believes in the democratization of education. This platform is committed to making education accessible to learners of all genders, races, socio-economic backgrounds and sexual orientations.
With more than 50,000 students and more than 27,545 minutes of video, this platform features over 300 technical courses on coding and development. Treehouse also partners with a lot of big brands including Amazon Alexa, Google Developer, IBM Watson and Microsoft.
What Does Treehouse Cost?
With a 7-day free trial, you can choose from Treehouse's three plans ranging from $25 – $199 per month.
The three plans include basic plan, pro plan and Techdegree plan. You can try Treehouse today.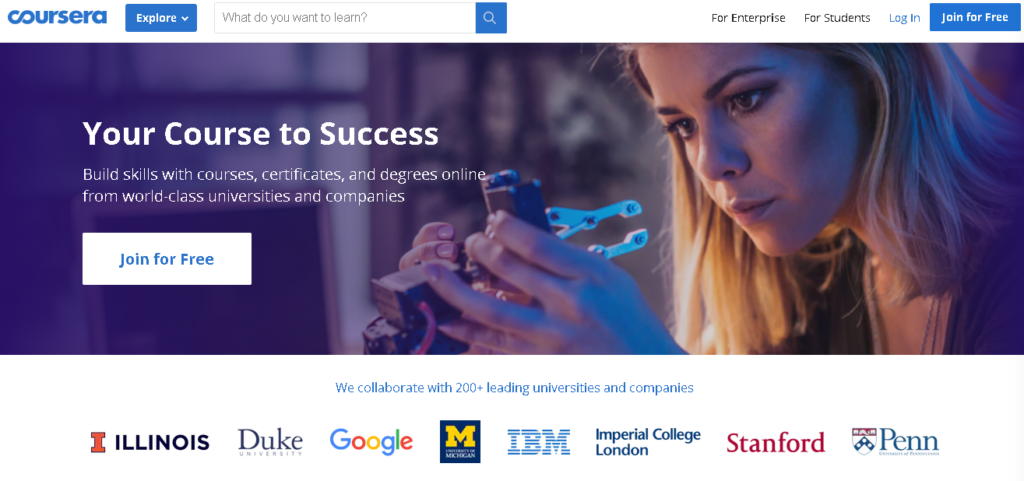 6. Coursera
Coursera provides a professional online course marketplace with virtual classes from the world's best universities like the University of Michigan, Stanford and Duke. In fact, instructors teach Coursera courses at some of the top universities in the world.
Their courses include 4-6 weeks courses that include video lectures, community discussion forums and peer-reviewed assignments.
RELATED: The Best Animation Software Free For Beginners And Professionals
What Does Coursera Cost?
It is free to join Coursera and it is necessary to login to see pricing. Coursera has three plans including:
Main courses that costs $29 – 99 / month.
Specialization courses that costs $39 – 79 / month
Online degree programs that takes 1-3 years to complete and costs $15 to $25,000
You can try Coursera today.
Conclusion
When you have a great course, you need the best online teaching platform to sell your course without having to spend too much money. Remember to do your research when choosing your online teaching platforms. Choose your platform based on what you want and the cost.