The Best Screen Recorder Software – PC, Windows, Mac & Linux
Capturing your screen becomes easier with the help of the best screen recorder software. Whether you are a Windows, Mac, or Linux user, it is now easier than ever to record your screen using the best screen recorder software.
Whether you want to live stream your screen recording or save it as a video file and share it with your employees or followers, there are great screen recorders you can use without paying a cent and there are those you can pay for if you have the budget.
If you have tried screencasting or you are an adept user but want to upgrade your experience with the best tool, we researched the best screen recorder software (free and paid) that can be used on PC and mobile to help you find the ideal screen recorder for your specific needs.
Before we roll out the list of the best screen recorder software for PC, Windows, Mac and Android, let's explain what makes a screen recording software great.
What Makes For The Best Screen Recorder Software?
The best screen recorder software simplifies your everyday tasks such as responding to support tickets, onboarding new employees, announcing product updates or creating software tutorials. Each of the screen recorders that made this list offers a unique feature and meets some of the basic criteria including:
A friendly user interface
The ability to record your whole screen, a window or a certain area
Built-in video sharing / convenient exporting tools
Simultaneous microphone and system audio recording
An option to superimpose a webcam feed over the screen capture.
When it comes to screen recording, we all know that the process doesn't end with just screen recording. The quality of your final product can make or break user engagement that is why we also consider the post-capture editing features when selecting the best screen recorder software.
The Best Screen Recorder Software – Free
Best Screen Recorder PC & Mobile
OBS Studio
FlashBack Express
ShareX
Debut Video Capture
Apwersoft Free Online Screen Recorder
Screencast-O-Matic
Free Cam
DVDVideoSOft
So, we have rounded up the screen recording software you need for daily use. Whether you are making tutorials for YouTube (How To Get 1000 Free YouTube Views – Download This Free Tool), capturing a video call or recording a Let's Play video, we have something here that will fit your project.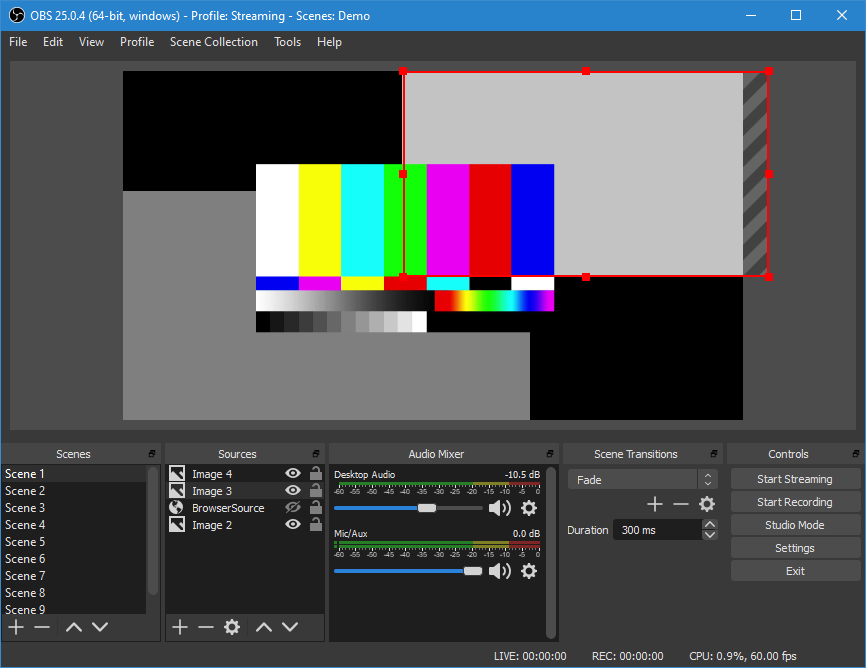 1. OBS Studio
The leader of free screen recording software for any purpose including games
If you love recording screens or you are a keen gamer, OBS Studio is simply the best screen recorder software for you. It works perfectly on Windows, macOS and Linux. Unlike the popular FRAPS that only allows you to record 30 seconds at a stretch unless you have bought a license and even applies a watermark to your 30 seconds recording, OBS Studio is open-source software that is completely free. No restrictions.
OBS Studio allows you to stream and record in high definition, without any restrictions. With it, you can stream live to YouTube or Twitch gamin, save your projects and come back to your projects later, or even encode your footage in FLV format and save locally.
This great, yet free screen recorder software can record directly from your graphics card, which is why it is able to capture games running in full-screen mode, with customizable hotkeys to control your recording. Most other screen recorders can only record a game if it is windowed.
Additionally, OBS Studio can make use of multi-core CPUs for improved performance and also record at 60FPS or higher.
Setting this software up the way you want might take a little while, but OBS Studio is simply the best and even the most powerful screen recorder for gamers and all other purposes.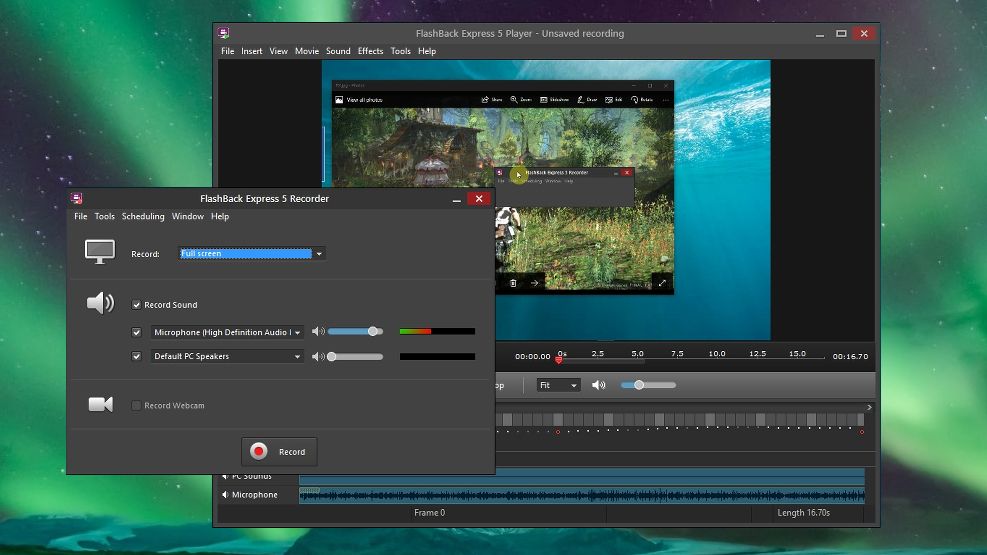 2. FlashBack Express
Perfect for capturing footage from a webcam, recording games and streaming webinars
Although OBS Studio is the best free screen recorder, FlashBack Express comes extremely close. Despite the fact that it is a free version of a paid software, FlashBack Express will never put that ugly watermarks over your recording or impose time limits on you.
This software is also loaded with features and tools that rival most of the premium programs out there. Its interface is not as intimidating as that of OBS Studio, so if you have never used a screen recorder before, FlashBack Express is a great choice for you.
It works perfectly on Windows PC and you can record from the whole screen, a selected area, a window or a webcam. Once you are through with your recording, your recording will appear in a simple editor, where you can trim and crop it to your needs, and then export it to your PC, YouTube or an FTP server.
That is all fairly standard fare for a free screen recorder, but you will be amazed if you take a few minutes to dive into this software's advanced options. You will be greeted with a thoughtfully designed setting that'll make your desktop recordings look truly professional.
The great recorder can automatically obscure passwords entered on screen, hide messy desktop icons, replace your shabby-looking wallpaper with a plain one and also highlight your mouse pointer for an easier follow. There is also a dedicated gaming mode that allows you to define the number of frames recorded per second.
With this best screen recorder PC software, there is no limit on the length of recordings you can make unless you choose to set one, which comes handy if there is a chance that you might accidentally leave your recording running. You can also break long recordings into chunks if you want.
Following a recent update to FlashBack Express, you can now export your recordings in MP4, AVI and WMV formats, eliminating the need to convert your video. You only need to install this software without the need for any license key. Just install and you are set to start your recordings.
If you are a game, the developer of this software has specifically developed FBX for games. It captures HD in-game footage, with hardware acceleration for AMD and Nvidia cards, and Intel CPUs.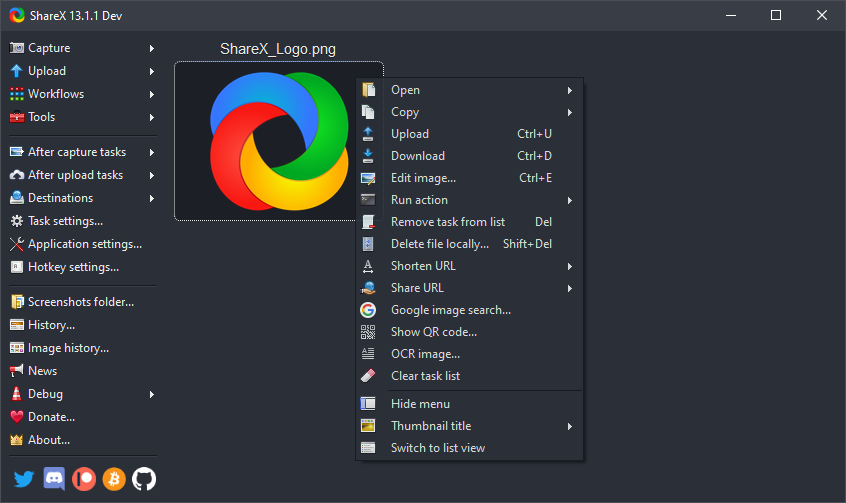 3. ShareX
An excellent choice when it comes to sharing screen recordings online
ShareX is one of the best screen recorder PC software. It is an open-source program for capturing still screen grabs and recording videos. It has no limits or watermarks because it is open-source software, but the interface is not the most intuitive so you will be best off using your keyboard shortcuts.
For instance, you can quickly tap Shift + Print Screen to start recording and Ctrl + Print Screen to stop. You can use this recorder to save your capture as a GIF if you don't want to save in video files, which can be really useful on social media and forums.
Not only is ShareX one of the best screen recorder PC software, but it can also capture an entire scrolling webpage, capture and identify text via OCR and also capture screen according to a schedule. Another great feature it offers is its ability to send your video and captured grabs straight to social media and file-sharing sites. There is a vast array of options that you can also check out.
Unfortunately, this recorder does not support screen recording or grabs from games running in full-screen mode. Other than that, it is a great screen recorder that works perfectly on Windows.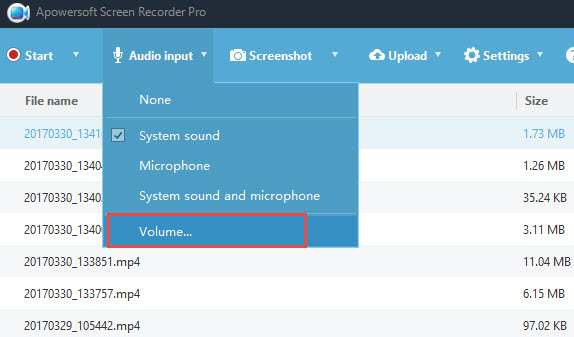 4. Apowersoft Free Online Screen Recorder
A powerful in-browsing recorder for Windows, Mac, Android and iOS
If you want to record a tutorial, software demonstration or a presentation, Apowersoft Free Online Screen Recorder can be the right screen recorder for you. It is one of the best screen recorder PC software. It is a browser-based tool that is great for screen recording but may not be suitable for games.
It works perfectly on Windows, macOS, Linux (in browser). When you are using it for the first time, it will prompt you to download a small launcher application. You will then be provided with a control bar loaded with more options than you will find in most desktop screen recording software.
With this in-browser software, you can capture footage from your webcam or desktop, and record audio from your PC, microphone, both or neither. You can record your whole screen or select an area manually or choose one of the preset resolutions. This comes handy if you are recording a clip for YouTube and you don't want to use a separate video editor to resize your project later.
Apowersoft Free Online Screen Recorder also provides you with customizable keyboard shortcuts for convenience and speed. You can choose to include cursor or not to include it in your recording and take your pick from a range of output formats such as MOV, AVI, WMV, MP4 and many more. In fact, you can add annotations during the recording.
Once you are through with your recording, you can save it as a GIF or video file, upload it directly to Vimeo or YouTube, or send it to Dropbox or Google Drive. You can also edit your clip. Choosing this option will download an additional component called Apowersoft Video Editor – which allows you to make a simple adjustment to your video before exporting it in a preferred format.
Check Apowersoft Free Online Screen Recorder.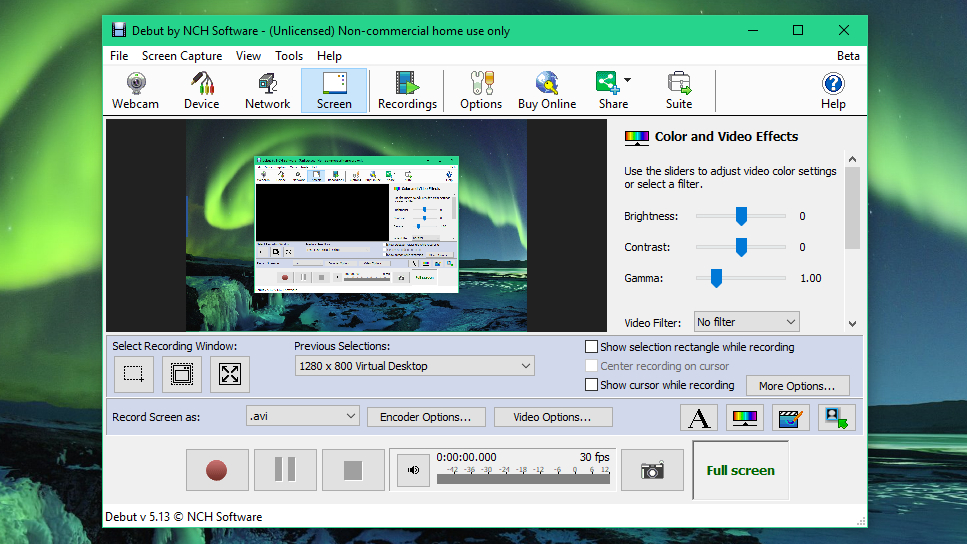 5. Debut Video Capture
Can record from IP cameras, webcams and screens
Debut Video Capture is another best screen recorder PC software. Although its slightly dated design does it a few favors, it is a really powerful program that can do much more than only capturing what is happening on your PC.
This software also has no time limits or ugly watermarks and can record footage from external devices, including security camera and webcams. It can also record on a regular schedule, meaning it can become your main hub of a home security system. Not too bad for a program that is completely free for personal use.
It offers no post-product editing tools, but you can still apply filters and ad captions and even watermarks before you start recording. You can't export videos directly to Facebook or YouTube, but can save in all the main formats such as AVI, MOV and MP4.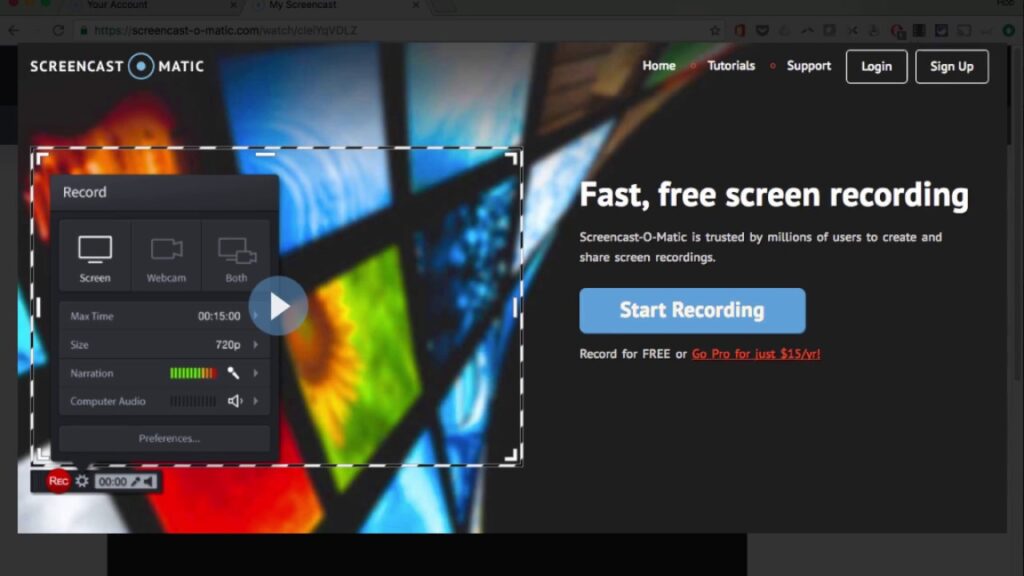 6. Screencast-O-Matic
A great but free browser-based screen recorder.
Screencast-O-Matic is a browser-based free screen recorder that works on macOS, Windows and ChromeOS. Recordings are limited to 15 minutes in length, but you can record as many clips as you want, trim your recorded clips, zoom while recording, add captions, save recordings to your desktop, YouTube or cloud, add royalty-free music tracks or share your video link.
Click "Start recording for free," followed by "Launch free recorder." You will be prompted to download and install a small web launcher, after which the screen recorder will launch. Adjust your screen to desired size of the screen recording window and hit the red button. Note that it can record the whole screen.
You can also capture audio from a microphone or your PC and record footage from screen, a webcam or both.
You can upgrade to a Deluxe account to get extra features such as scripted recordings, annotations and drawings, a video editor and the ability to generate captions automatically with text-to-speech. That is a great set of tools for just $1.65/month, but the free version also offers a lot.
Unfortunately, your recordings will be watermarked if you don't upgrade, but if that is not a problem the free recording software is worth a look.
7. Free Cam
A simple free screen recorder with a built-in video/audio editor
Free Cam is one of the best screen recorder PC software with a built-in video/audio editor. It has an attractive and intuitive interface that allows you to create screencasts without any hassle. Though it is free, it doesn't place any watermark on your video and it is ad-free.
It also has no time limits, records voice-overs and computer sounds, removes background noise and you can select wide range of audio effects. With Free Cam, you can delete unwanted video fragments and record your videos in high-quality resolution. You can either save your video as WMV or upload it directly to YouTube.
The downside of Free Cam is that it can only save projects in WMV and has no webcam recording.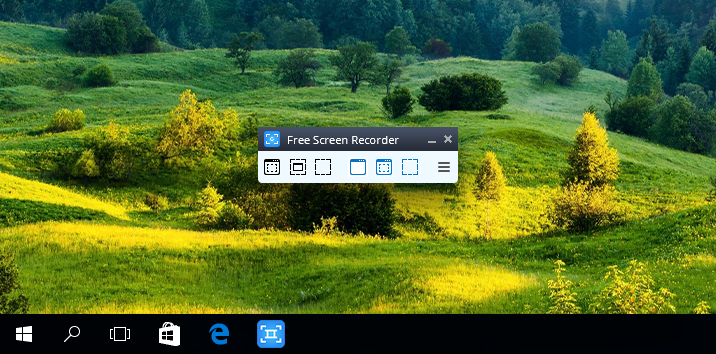 8. DVDVideoSoft's Free Screen Video Recorder
Records Skype conversations with no limits
DVDVideoSoft is a full-featured screen recorder but lightweight free screen recorder.it can record your Skype conversations with no limitations and can be useful when it comes to recording Skype interviews and online conference calls.
This software also has a basic user-friendly editor that is helpful for attaining a polished look. It is available in 10 languages and offers different modes for recording screen and video. It also offers a convenient screenshot feature and you can save your projects in MP4, JPEG, GIF, PNG, TGA and BMP.
Unfortunately, it only allows for microphone sound recording and the recordings can only be saved in AVI format. Excessive ads may also interrupt your work and you may install an unwanted software during download. It also doesn't notify you when it is disconnected and it lacks coherent interface and built-in media player.
Paid Best Screen Recorder PC Software
Just like we have the best free screen recorder software, we also have those that are paid. So if you prefer paid best screen recorder PC software, we have them for you here.
1. Camtasia
Feature-packed tool
Camtasia is a great tool for detail-oriented enthusiasts because it allows you to record audio and video simultaneously or separately and even edit your video. Camtasia is flexible when it comes to using animations and video effects, as well as adding overlays.
You can also create and add quizzes as well as interactive in video using this software.
You can record a webcam with it, your entire screen or part of the screen. You are also provided with the ability to do frame-by-frame editing, adding captions, callouts and quizzes. You can also edit video, audio and cursor track separately.
With its editing tool, you can add existing videos, photos, music and PowerPoint slides, and it also offers you a library of royalty-free music and sound effects.
Unfortunately, it is expensive, has a busy multi-track interface and reported to slow down on large and heavy projects. Sometimes, you can lose your recording even if you save it in Camtasia accepted format. We have lost a few projects that are not saved in the final video format. We mean those saved in .tscproj.
Overall, it is a great tool if you have the budget. It comes at $249 and 30-day free trial.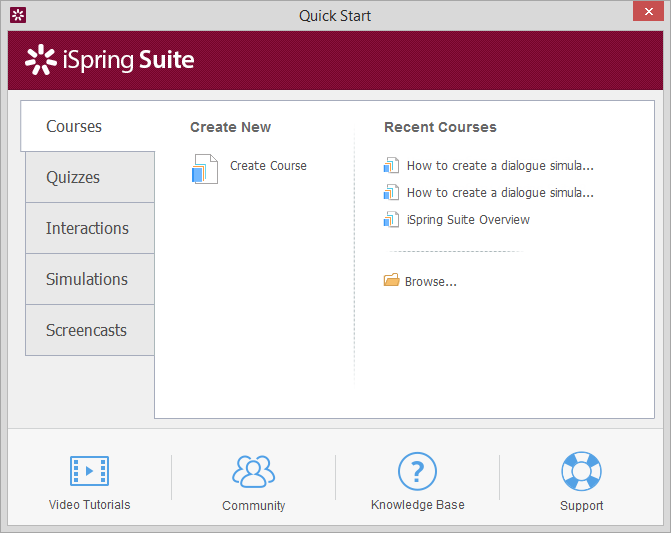 2. iSpring Suite
A fully stocked authority toolkit designed for eLearning
iSpring Suite is a premium tool designed for eLearning. It includes a professional video studio and other tools for online training. It is a quiz maker, an interaction editor, a conversation simulator and a course authoring tool. This program allows you to make screencasts with voiceovers, video tutorials with annotations, and screencasts complemented with a presenter video.
After you have finished recording, you can easily edit it, remove noise, add annotations and media objects, delete unwanted fragment, and add transition effects.
You can record a narration, two videos at the same time (a webcam video and a screencast), create smooth scene transitions, and a multi-task timeline for video editing. There is no time limit for recording.
The downside is that you can only save your video in MP4 format and it has a few interactive and animation features. It is also expensive at $970/year, but you can try it for 14 days.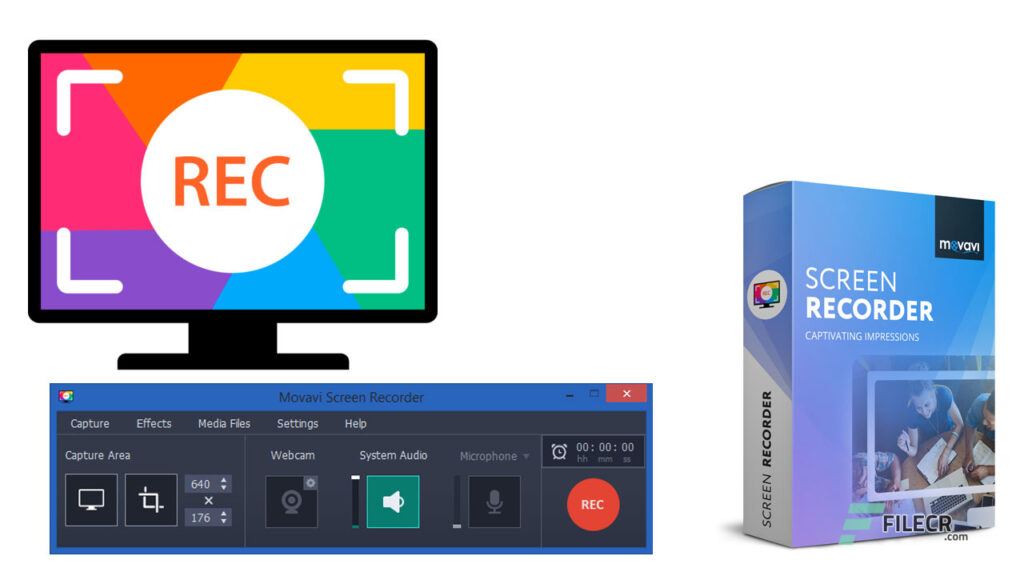 3. Movavi Screen Recorder
An easy-to-use screen recorder
Movavi Screen Recorder is premium software that is easy-to-use. The screen capture tool enables you to record screen audio and capture webcam, save recordings as GIFs and videos and take screenshots. You can upload your projects to YouTube or Google Drive and share them with your audience via social media.
It incorporates webcam, takes screenshots and edits them, can record screen and audio separately or simultaneously and allows for scheduled recording.it also offers mouse display in the recording and you can save a video in HD and it also supports multiple formats including MKV, MOV, AVI and MP4.
The downside is that it has no video editing tool, reported to have periodic crash issues and its trial version limits recording to 5 minutes.
The software costs $39.95 for 1 PC and comes with 7-day free trial.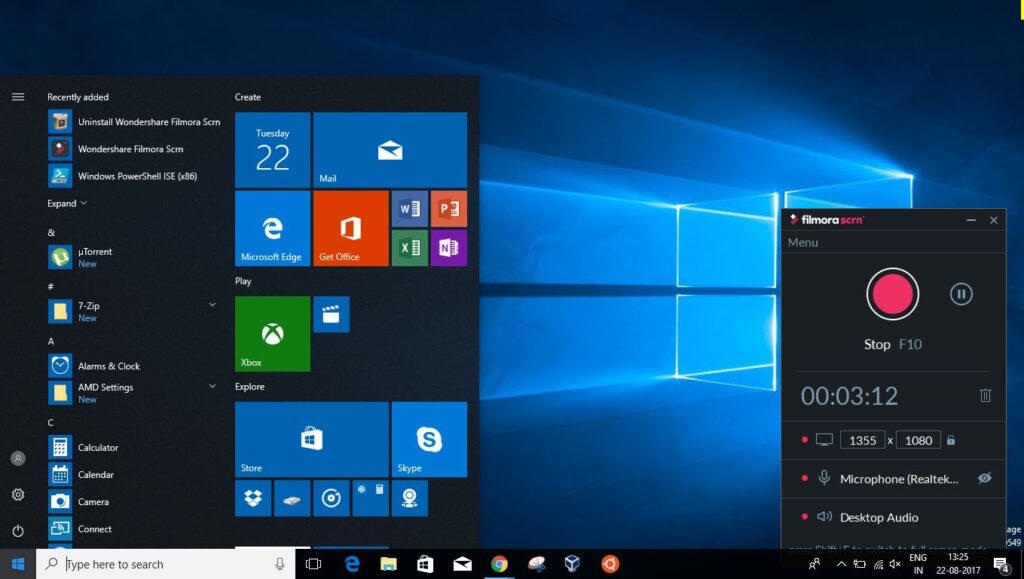 4. Filmora Scrn
Screen recording software loved by gamers
Filmora Scrn is an excellent and a trustworthy screen recorder that is specifically loved by many game players. With it, you can capture fast-paced scenes (up to 60 fps for Mac) while simultaneously recording a webcam video.
The software also provides you with basic editing options for improving your video's look and also offers tutorial features that can help direct attention to the main items on the screen. It records from your webcam and computer simultaneously and offers frame rate from 15 to 120 FPS.
The program supports HD and 4K recording and imports over 50 file formats and exports in multiple formats.
This software lacks advanced editing features and there as been reports of lag and freeze when editing. It comes at $19.99 for 1 year or $29.99 for a lifetime license. Free trial is available.
5. My Screen Recorder Pro
Feature-packed screen capturing tool
My Screen Recorder Pro is loaded with a lot of useful features that allow you to capture anything on your computer screen, including your entire desktop, video with sound, menus and cursors. It also allows you to record your webcam or mobile screen in high-definition quality simultaneously with your desktop screen.
You can save your recorded video in MP4, WMV, AVI and WebM. You can also auto-upload recordings to any FTP account and securely monitor the screen in hiding mode. It also allows for scheduled recording.
The downside is that it has limited editing options and has no transitions and animations. It costs $129.95 and offers a free feature-limited trial.
Conclusion
The world has now moved to video content and if you want to record your screen, you need the best screen recorder software (both free and paid). Whether you have money to spend or not, you will always find the best screen recorder software you can use for free.
If you have the budget for it, you can go for paid programs but if you don't have money, you can choose one of the best free screen recorder software.
If you love this article on the best screen recorder software (best screen recorder PC), please share it with your followers and friends.