The Best Free Video Editing Software Ever
Having the best free video editing software is the best way to make high-quality home movies that looks like the next Avenger, without the need to break a bank. Not many people like to read text nowadays because videos are taken over from texts because videos engage people more.
Whether you are creating a short clip for social media or you are creating a full feature film, it is important to pick the right tool that can make the difference.
With the best free video editing software, you can create the perfect video you can share to Instagram, YouTube, Twitter, Vimeo, Facebook or anywhere else, without the frustrating time limits or unsightly watermarks.
Many of the best free video editing software out there comes with not only the most basic and necessary tools but also powerful features that you need to make picture-perfect clips.
Finding the best free video editing software may seem like a difficult task, but we're here to do just that for you. We have tested a lot of video editors and have collected the best free video editing software among them.
Each of the editors on this list will allow you to perform important post-production tasks such as trimming, adjusting the playback speed and applying green screen filters. Even if you have never used a video editor before, you will find these video editing programs easy to use and accessible.
The Best Free Video Editing Software
Lightworks
Shotcut
Hitfilm Express
VSDC Video Editor
Movie Maker Online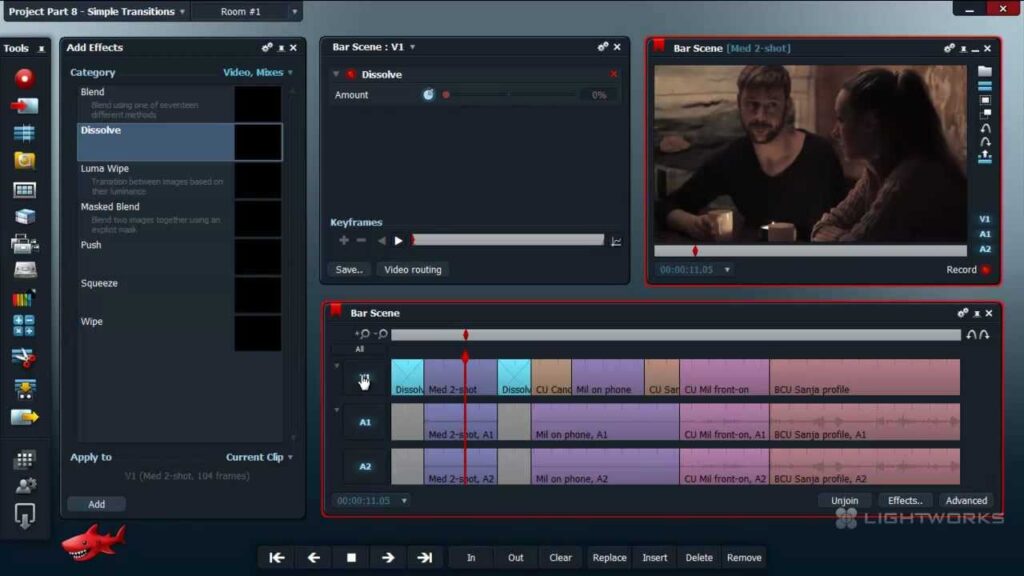 1. Lightworks
The king of the best free video editing software around today.
Powerful effects and features
Multi-track editing
Highly customizable interface
Perfect for Windows, macOS and Linus users
If you are looking for the best free video editing software to create professional-quality videos and movies without paying a penny, Lightworks is your go-to video editor. This video editor can be considered as a match for an editor such as Adobe Premiere Elements.
Lightworks supports multitrack video and is a non-linear editor, so your footage's quality won't be reduced while being processed. With this software, you will find all sorts of high-end features that are only available on expensive packages like Final Cut Pro. These features include the ability to import and render footage in the background, and to preview video effects in real-time.
This program can be downloaded on your Windows, Linux and Mac devices. You can also invest in improved experience by upgrading to Lightworks Pro. With the free version, you can only import in MPEG but upgrading to Lightworks Pro will allow you to export your projects in different formats, create 3D masterpieces and upload directly to your YouTube channel.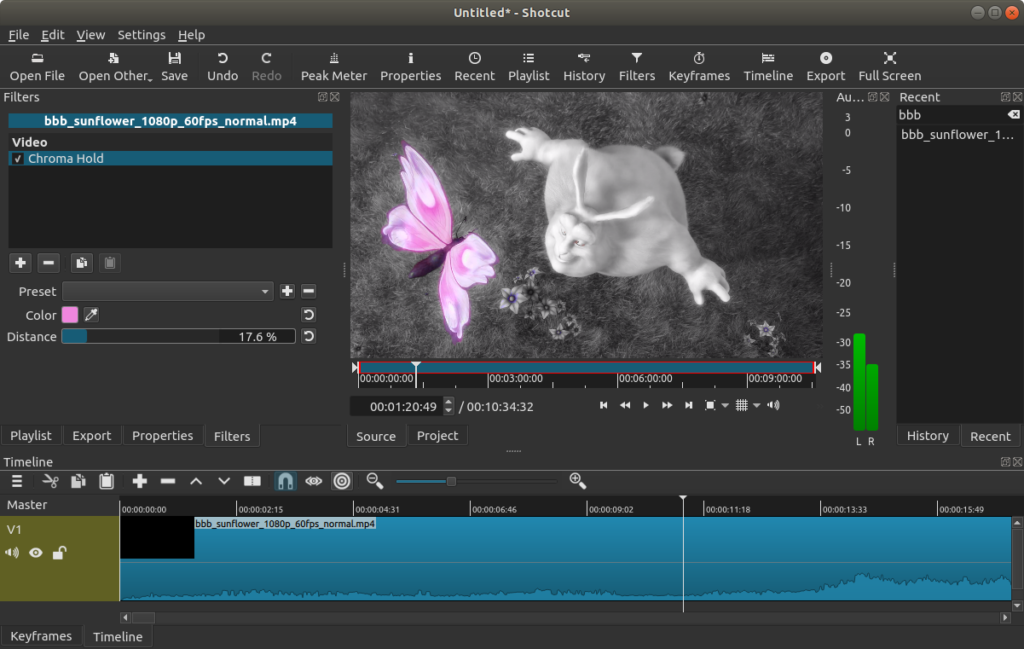 2. Shotcut
Refreshingly clean editor and one of the best free video editing software.
Supports direct streaming
Excellent selection of effects and filters
Makes it easy to import media
Perfect for Windows, macOS and Linus users
When Shotcut was first created, it was created for Linux but can now be used on Windows and Mac. The Shotcut development journey has caused its user interface to become slightly odd-looking, but it is still among the best free video editors anyone can download now.
Many of the Shotcut system's aspects including the process of dragging media files to import them into the project are intuitive and easy. Still, you need to learn to use this video editor. For example, you will need to configure your display by adding the modules you need.
But you will discover how easy it is to use this free video editor, once you get the hang on it. One of the best features of Shotcut is its large selection of filters which can be applied to video and audio content. Once added, you can easily layer and customize your filters to achieve the effect you are looking for.
The only downside to this video editor is that it can't preview filters.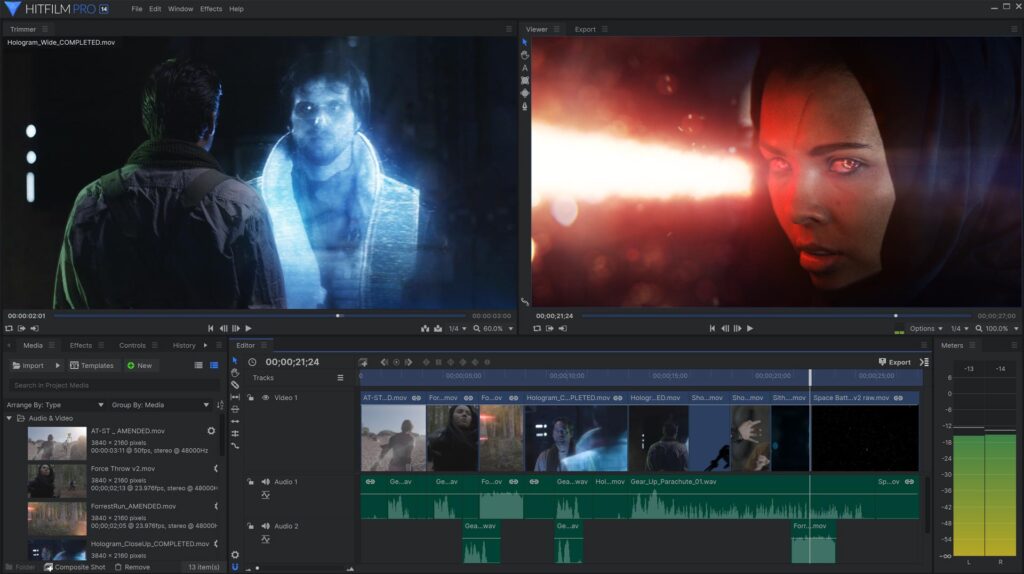 3. Hitfilm Express
A perfect free video editor for experts and amateur.
Professional-grade tools
Perfect for Windows and macOS users
Extendable (for a fee)
Excellent online tutorials
Hitfilm Express is one of the best free video editing software that aims at making a professional editing experience available to everyone. With Hitfilm Express, it is easy to trim clips, adjust color balance and export your project in different video formats.
Not just that; Hitfilm Express can also be used to create custom video masks, set green screen chroma keys and take footages to the next with a range of 3D compositional tools. As a first-time user, you may find it a bit confusing, but those who have worked with advanced video editors before will get used to its interface immediately.
The only small downside to this great video editor is that it is technically demanding and the installation process is unnecessarily complex. You need a Mac or PC with a powerful processor to run it. So, if you have a PC with a powerful processor, you can run it without any hassle.
4. VSDC Video Editor
A great video editor that offers multi-monitor support.
Multi-monitor support
Anti-shake technology
Available for only Windows PC
VSDC Video Editor is an editor with a nice-looking interface, fresh-looking dark theme and an ability to detach individual windows, perfect for editing with more than one monitor.
This software is a non-linear video editor that can compete with more expensive programs. It comes loaded with free and premium editions. It supports many useful video editing functions like animation, transition, blending, sprites, watermarking, masking and overlaying.
Another awesome feature it offers is a free video stabilization tool, which is perfect for improving the quality of shaky clips. The only downside of this software is that its free variant lacks multiple color chroma key tools and can't be used for resolutions more than 1080p.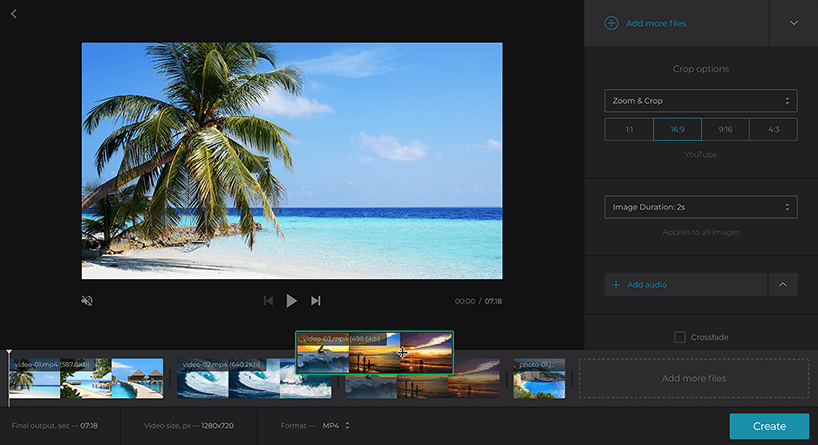 5. Movie Maker Online
The best online video editor you can use anywhere you are.
Include royalty-free content
Works on Windows, macOS, Linux and in browsers
If you are looking for a video editor that runs in your browser, Movie Maker Online is your go-to. To edit your video, you only need to upload it to the project timeline where you can crop clips and add transition effects or filters.
The good thing about this program is that you can access it from any desktop and you don't need to worry about content storage. Computer specks don't also matter much with this software and the age of your hardware is also not important when you are using this online video editor because everything happens in the cloud.
If you're looking to enhance your movie or video with still images or music, Movie Maker Online gives you access to a lot of royalty-free images you can easily insert into your project with only a click.
Other Free Options You Can Try
1. Kdenlive
Kdenlive is one of the open source software options you can choose when it comes to the best free video editing software. It is compatible with Linux, Mac and Windows. The software combines advanced video editing tools with the simplicity of entry-level video editors. It is frequently used by professionals.
It is free and offers a multi-track timeline that allows you to import various videos and audio clips onto your timeline. You can export your video in different formats including MPEG, MP4, AVI, MOV, etc.
2. Blender
Blender is another open source professional video editor that is free. It works on Windows and Mac. It might be difficult for a beginner to use it because it is designed for pro users but once you get a hang on it, you will find it easy to use.
With Blender, you can export your files in many formats including, AVI, MP4, MOV, MPEG4, FLV, MPEG-PS, WMV and WebM. It provides a lot of advanced features for professional users and a beginner needs to learn it.
3. Davinci Resolve
Davinci Resolve is another great and one of the best free video editing software you want to use. With it, you can almost do any professional video/audio editing plus color correction. It offers stunning image quality, color correction and excellent audio editing.
The only downside is that its learning curve is steep for beginners.
4. Adobe Spark
If you don't mind the watermark, you can use Adobe Spark to trim your videos easily and quickly online. Its basic version is free but comes with a watermark on your videos. If you want to remove watermark and perform more advanced editing tasks, you need to subscribe to a premium package.
5. EZGif
If you are looking to crop tour video to a specific aspect ratio, EZGif could be the tool you need. Although it is not suitable for very large files, you can set your dimensions, choose from the list of presets and position the crop area.
6. Avidemux
Avidemux is another video editor designed for simple cutting, encoding and filtering tasks on Windows devices. It supports file types such as DVD compatible MPEG files, AVI, ASF and MP4, using a variety of codes.
7. VideoPad Video Editor
VideoPad Video Editor is a cross-platform software for beginners. You can quickly get used to its interface and get a hang on it quickly as a beginner video editor. The free version limits the exporting options to only two file formats WMV and AVI.
The Best Premium Video Editing Software
Adobe Premiere Pro
If you are a professional video editor or you make a lot of videos, you want to subscribe to the best video editing software. Adobe Premiere Pro is a great editor that comes with a $20/month subscription, which is not too much for a regular video editor.
You can use it on PC and Mac and it is the industry standard when it comes to video editing. It is also easy to use and get the hang of. The software offers outstanding value for money and if you are serious about video editing, you should seriously consider Adobe Premiere Pro.
Adobe Premiere Elements
If you are looking to add more quality to your video and ready to spend a few more bucks, Adobe Premiere Elements will improve your video quality massively. It comes with more features, wizards and filters that will help you to do things that are well beyond what you can get from free options. It works on PC and Mac and comes for $99.
Apple Final Cut Pro X
Apple Final Cut Pro X is one of the most powerful and popular video editing programs for Mac users. It is not cheap because it comes at $299.99. some might want to go for Adobe Premiere Elements which offers the same features as Apple Final Cut Pro X at $99.
Should You Use The Best Free Video Editing Software?
Video is now the new rock-n-roll for businesses and individuals. Considering the number of videos being pumped on the internet every second, you want to make your video stand out. If you don't have the budget for premium video editing software, using the free option is the best thing to do.
Which Programs Do Most YouTubers Use?
Most YouTubers like to go for affordable, effective and simple apps. One of the best free video editing software they choose is Lightworks, which is available for Linux, Mac and Windows. It also integrates nicely with YouTube as you can export videos from it directly to your YouTube channel.
Other good options include DaVinci Resolve, HitFilm Pro and VSDC free video editor.
Which Programs Do Professionals Use?
It all depends on the sector or industry you are thinking of and your definition of professionals. In ad agencies, businesses that are making YouTube films and indie film studios, you are likely going to find Apple Final Cut Pro X or Adobe Premiere Pro CC, alongside apps such as motion graphics, Adobe After Effects and visual effect apps.
Should I Pay For A Premium Video Editing Software?
To set the records straight, premium editing options tend to offer more advantages that you can't find on free options. Those advantages tend to come in the form of resources to polish the videos, create help files, make the app work on the latest hardware, etc.
Unfortunately, you have to pay for all that. If you are a pro, you want to spend money because that is what you do for a living. But if you are not a pro and you only do video editing a few times a week or month, you might want to go for a free option.
Conclusion
If you are looking for the best free video editing software, we already highlighted some of the best for you – you can choose anyone you like based on your system. If you want to take your editing further, you might want to consider the premium option.
You know, some of the free options offer you everything you need to get the job done without spending a dime. So choose wisely.
If you like this article, please consider sharing it with other people.