Genbook Log In & Review – Is This The Best Appointment Scheduling App?
Looking for the best scheduling platform? Most of us who own businesses that deal with appointments know the importance of appointment scheduling apps. While there are many appointment scheduling platforms out there, some of them stand out, including Genbook. Genbook log in is also easy.
Genbook is one of the smartest and all-in-one online scheduling solution for businesses. Not only is Genbook a smart solution, but the Genbook login is also easy.
If you are looking for a better business experience, this online scheduling platform provides you with features such as appointment reminders, online booking and payment, calendar synchronization, automated scheduling and a client database.
While Acuity Scheduling is a scheduling platform that a lot of business owners love, Genbook moves a step further by helping users to collect feedback from their clients after their appointment, share such feedback and ratings on social media and link them to Google search.
The good thing about Genbook is that it works perfectly on Windows 10 and iOS. Also, Genbook allows users to collect payment or deposit in-store and online and capture credit card details for further processing.
You can also as a user send reminders to your clients via SMS texts or email. The solution also provides you with mobile applications for Android and iOS devices and supports integration with multiple websites including Instagram, Citysearch, Bing, Facebook and more.
The smart online scheduling platform connects a business to major sites, online directories, local applications and social media, making it easy for clients to find them online. It is easy to make a booking at any time of the day, so businesses can easily accommodate potential customers after office hours.
another great thing about this software is its built-in CRM and PoS, scheduling webpage, customization calendars and built-in SSL data security. The software also offers valuable insights that can help businesses to improve their services.
Genbook Log In – Genbook Benefits
Genbook provides businesses a lot of benefits including:
1. Online Scheduling
Genbook lets businesses take bookings online and reduce the number of calls from customers. It doesn't only save you and your staff time, but also makes booking convenient and effortless for clients. Since this is online software, customers can make bookings anytime, anywhere with any device.
2. Online Scheduling More Than Just Booking
This platform is not only about booking. It comes with a built-in DRM that helps businesses attract, manage and convert their clients from one place. Genbook also features a built-in POS which makes payment processing effortless. With this feature, businesses can receive payments securely and quickly.
3. Build An Online Reputation
This is a digital era where it is important for businesses to build a reputable online presence to draw customers. The software also allows you to build an online reputation effortlessly as it collects reviews and comments from customers after their appointment and then integrate them with your BookNow site, Google, Facebook and more. Not only will this feedbacks boost your online reputationbut also bring you more customers.
4. Minimize No-Shows
This software helps you to send automatic reminders to your customers about their upcoming appointments, so they won't forget. In case a client doesn't show up, Genbook tallies the number of the client's no -show and displays it both on the appointment and customer tab listing.
The no-show flagging functionality allows businesses to see the clients that might be having the habit of not showing up so that you can take necessary actions.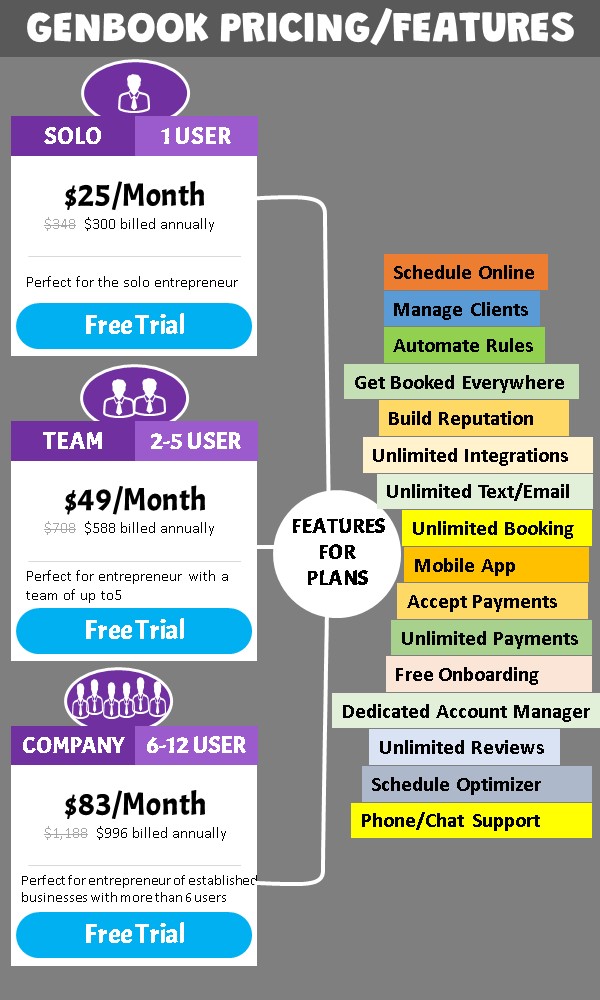 Genbook Features
Booking Buttons
Smart Calendar
Performance Dashboard
User Access and Multi-Location
Built-in Point of Sale
Built-in Customer Relationship Management System
Head-Up and Last Minute Booking
Schedule Optimizer
Marketplace Promotion
Genbook Pricing / Plans
Genbook provides businesses with simple enterprise pricing plans billed monthly or annually. Here are the plans:
Solo Plan – $29/month ($25/month annually
1 User
Unlimited Booking
Unlimited Payments
Schedule Optimizer
Unlimited Reviews
Unlimited Text & Email Communications
Free Onboarding
Unlimited Integration
Dedicated Account Manager
Unlimited Access to Genbook Learning Center's Free Resources
Local Phone and Chat Support
Team Plan – $59/month (49/month annually)
2-5 Users
All Genbook Features
Company Plan – $99/month ($83/month annually)
6-12 Users
All Genbook Features
Device Supported
Windows
Mac
iPhone/iPad
Android
Web-based
Available Customer Support
Live Support
Email
Phone
Tickets
Genbook Log In
For Genbook log in, just visit the platform, register and log in.
Verdict
While there are many platforms like Genbook, you might want to choose your scheduling platform based on your type of business. This software is great in many aspects and customer care is great, so if it is compatible with your business model, you will surely love it.
The most important thing is to check if it is perfect for your type of business.