iOS 14: How iOS 14 Works And Why It Is The Best?
Apple iOS 14 is the best and the latest iOS operating system for Apple devices. In June 2020, Apple introduced the latest version of the iOS operating system – iOS 14. On September 16, 2020, the latest iOS operating system was released.
iOS 14 is the biggest iOS update to date. It introduces Home screen design changes, updates for existing apps, major new features, improvement to Siri, and lots of other tweaks that streamline the iOS interface.
iOS 14 Overview
The redesigned Home Screen brought by iOS 14 includes support for widgets, as you can now drag widgets from the Today view onto the Home Screen and pin in different sizes.
iPhone now has a Smart Stack feature, which allows users to use on-device intelligence to surface the right widget based on location, activity and time. Each Home Screen page can display widgets customized for sports, travel, work and more. Apple has also redesigned the Today section where widgets are housed. Now, there is a widget gallery where users can choose new widgets from apps and customize them.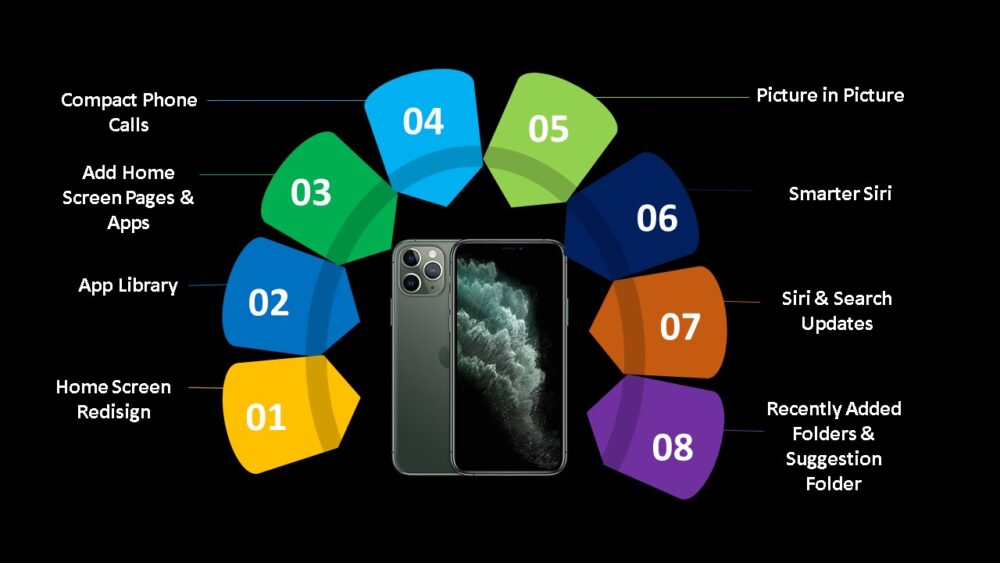 You can now open the new App Library by swiping to the end of the app pages on your iPhone, where you will be able to see everything at a glance. Apps are organized into the folder system and you also have Apple-created folders such as Suggestions and Apple Arcade that intelligently surface apps.
You can either keep your new app download in the App Library or add them to your Home Screen. With the new space-saving measure, Siri requests and incoming phone calls no longer take over the entire screen. Phone calls (VoIP/FaceTime calls) now show up in a small banner on your iPhone's display, while activating Siri shows a small animated Siri icon at the bottom of your iPhone screen.
Also, the Picture in Picture mode allows users to talk on FaceTime or watch videos while using apps at the same time. As the video or FaceTime is playing in a small window, you can resize the window and relocate it to any corner of your iPhone's screen.
With iOS 14, Siri is now smarter and can answer a far greater range of questions with information pulled from the internet. Siri can also send audio messages, keyboard diction runs on the device, adding an additional layer of privacy for dictated messages.
If you don't know yet, Apple has added App Clips to this latest iOS 14, allowing users to take advantage of some app features without having to download the complete app. App Clips can allow you to do things such as purchase a coffee, rent a scooter, fill a parking meter or make a restaurant reservation just by scanning a code, without the need to download a full app.
Apple says, "App Clips is a small part of an app experience designed to be found at the moment it is needed." App Clips work through Apple-designed App Clip codes, QR codes, or NFC tags, and can also be shared from Safari or in Messages.
Additionally, you can now pin an important conversation in the Messages app and the conversation you pinned will stay at the top of the app. You can pin messages by just swiping it to the right on any chat. Also, a new inline replies feature can be used to reply to a specific message in a conversation, which is very useful in group chats.
Apple also added the @mention feature for group conversation, so you can mute a group chat and still receive notifications when you are mentioned. Group chat photos can also be customized with an emoji or an image, and the icons for each person at the top of the conversation make it clear who was the last speaking.
Some new Memoji options have also been added. they include additional hairstyles, face covering, headwear and ages, as well as new Memoji stickers for blush, hug and fist bump. Memojis are now more expressive than ever thanks to revamped muscle and facial structure.
Paired with watchOS 7, iOS 14 allows parents to set up and manage cellular Apple Watch for their children through Family Setup, designed to allow kids to use Apple Watch without the need for an iPhone.
Apple has also added support for Sleep Tracking on Apple Watch for the Health app. You also have a Health Checklist for managing health and safety features in the Health app, which include Fall Detection, ECG, Medical ID and Emergency SOS, plus an addition to help users understand how audio level can better impact hearing health.
The Weather app also has info on severe weather events, minute-by-minute participation readings when rain is forecast and a next-hour precipitation chart, all features adopted from Apple's Dark Sky acquisition.
If you are a cycler, Apple Maps now has cycling directions for cyclers and commuters, with directions taking into account elevation, whether there are stairs along the route and how busy a street is. If you own an electric vehicle, there is an option to route with an EV charging stop customized for the current vehicle and charger type.
Digital car keys allow users to unlock or start their car with Apple Watch or iPhone, and next year, with the U1 chip, the car keys allow users to unlock cars without taking your iPhone out of your bag or pocket. Car keys can be shared through Messages and disabled via iCloud in case you lost your iPhone.
CarPlay allows users to set wallpaper and it supports new app types for electric vehicle charging, quick food ordering and parking.
A curated Guides feature lists interesting places you can visit in a city for finding attractions and new restaurants. Guides are created by trusted brands including Time Out Group, Complex, AllTrails, The Washington Post and more.
The Home app is now smarter with automation suggestions and Control Center quick access buttons, alongside an Adaptive Lighting feature that allows HomeKit lights to adjust their color temperature throughout the day. On-device Face Recognition allows cameras and video doorbells to tell users exactly who is at the door (based on people saved in photos). The HomeKit Secure Video cameras support Activity Zones for the first time.
RELATED: The Best Browser For Mac – Browse With Swag
iOS 14 also brings about a new Apple-designed Translate app that offers text and voice translations to and from 11 languages. An On-Device Mode allows languages to be downloaded for on-device translations only and the Conversation Mode speaks translations loud so that users can talk with someone that speaks a different language, and it automatically detects the language being spoken and translates correctly.
The languages supported include English, Chinese, Arabic, French, Italian, German, Portuguese, Spanish, Russian, Korean and Japanese.
Updated privacy protections require developers to get permission before they can access devices on a local network and there are also new options for limiting access to select photos or providing apps with only approximate location data. All apps are equally required to get user permission before tracking them across sites and new icons show up on the Home Screen when an app is using a microphone or camera.
Later in the year, App Store product pages will show summaries of developers' self-reported privacy practices provided in an easy-to-read format and Apple will also add a feature that allows existing accounts to be updated to sign in with Apple. In Safari, Apple offers a Privacy Report that allows you to know which site trackers are being blocked.
Apple is also adding Safari password monitoring that allows users to know if a saved password has been involved in a data breach, alongside a built-in Safari translation feature for webpages.
iOS 14 also allows AirPods to automatically and seamlessly switch between Apple devices with automatic device switching, and for AirPods Pro, there is a new spatial audio feature for surround sound, alongside dynamic head tracking. When the battery in AirPods Pro or AirPods is close to dying, iOS 14 provides notifications.
The Find My App in this iOS 14 includes support for third-party products and accessories, so item trackers such as Tile can be located easily in the Find My app. No third-party tracker uses the functionality as of yet.
With this iOS 14, there're many changes and tweaks for other apps. Apple Arcade supports cross-platform saving, so developers can now make App Store subscriptions available for families. The Camera app also has a new Exposure Compensation control, while Photos has new organizational options. Reminders have smart suggestions and quick entry. For the first time, you can set third-party email and browser apps as default.
iOS 14 is compatible with the iPhone 6s and later, meaning you can run it on all devices that run iOS 13, and iOS 14 is available for download as of September 16.
How To Download And Install iOS 14?
You can now download iOS 14 if your device is compatible. Look for it in the Software Update section of Setting app on your device. If you have any questions or problems with downloading and installing it, you can ask now.
The Latest iOS 14 Version
The latest iOS 14 version is iOS 14.1, which was released to the public on October 20th, 2020. iOS 14.1 has addressed issues that were not addressed in the initial iOS 14 launch.
Apple says iOS 14.1 introduces a number of bug fixes. It addresses a major issue that causes some emails to be sent from the wrong alias, a fix that Mail app users will love. The latest version also fixes a problem that could cause widgets and icons to show up in the wrong size and also addresses a bug with the Calculator app that could prevent zeros from appearing.
This update also seeded four betas of iOS 14.2 and iPadOs 144.2 to developers and three betas to public beta testers, introducing a new Shazam Music Recognition feature for the Control Center to make it easier to identify songs.
Apple in iPadOS and iOS 14.2 is also adding new Emoji 13 emoji characters, with options that include ninja, smiling face with a tear, anatomical heart, pinched fingers, polar bear, mammoth, black cat, tamale, bell pepper, fly, dodo, bubble tea, wand, potted plant, pinata, hut, feather, plunger and more.
RELATED: How To Uninstall Software On Mac Without Any Leftover?
You also have a new HomePod update (in beta testing), where iOS 14.2 enables an Intercom feature that lets the HomePod and other devices be used as an Intercom for communication throughout the home and there are also new wallpaper options.
iOS 14 Home Screen Redesign
iOS 14 introduces a new design for the Home Screen that allows you to carry out more customization with the incorporation of widgets. You also have options to hide entire pages of apps and the new App Library that shows you everything you have to install at a glance.
iOS 14 Home Screen Redesign – Widgets
You can access Today Center just by swiping from left to right on your iPhone. Today Center now has a new look with completely redesigned widgets. With this latest redesign, widgets provide more data than before. Apple redesigned widgets for default apps such as Weather, Stock and Calendar. There are also new widgets for Apple News and Screen Time.
All widget options can now be viewed in the Widget Gallery by long pressing on the display, choosing "Edit Home Screen" and then tapping the "+" button. With the new Widget Gallery, you get suggestions based on what users are installing the most. The third-party developers can also create new widget experience for their apps.
You can drag any widget out of the Today view to the Home Screen, where it can be positioned alongside app icons. You can organize multiple widgets in a useful way on the different Home Screen pages.
Widget Sizes
In the latest Today view and on the Home Screen, widgets come in small, medium and large sizes, each with different information density. The small version of the Apple News widget shows only one story, for instance, but the larger version shows three stories.
The information provided with each widget size varies based on the app, so it is worth experimenting with different sizes and setups to see what works best for you.
Widget Stacks
If you want to utilize space in a better way, the latest version of iOS 14 allows you to stack up to 10 widgets on top of one another, both in the Home Screen and Today view. If you stack many widgets, you can easily swap between them with just a swipe.
Widget Smart Stack
There is a separate Smart Stack feature that is different from widget stacking. Created in the Widget Gallery, the Smart Stack is a widget stack that automatically surfaces the very best widget option based on location, activity and time.
for instance, if you stack up the Maps widget, Apple News widget, and the Calendar widget, you might see Apple News when you wake up so you can catch the latest news, Calendar events as they come up during the day and Apple Maps at night.
It is basically the same as a widget stack, but your iPhone swipes for you to see the most relevant events. You can equally swipe through the Smart Stack yourself.
Siri Suggestion Widget
The Siri Suggestions widget uses on-device intelligence to surface suggested actions based on iPhone usage patterns. If you love listening to podcasts while on the train ride to your workplace, you are most likely to see the Podcast widget at the right time.
If you open up the Starbuck app at 3:30 pm to order an afternoon coffee every day, the Starbuck widget is most likely to appear when the time approaches. Tapping a suggestion in the Siri Suggestion widget performs the action without you needing to open up the app.
Customized Home Screen Icons
Alongside the widgets for Home Screen, you can now customize your Home Screen further with unique icons using the Shortcut app.
In the Shortcut app, you can create a shortcut to any app that replaces the standard app icon, and you can even use a custom image for the app icon. This allows for the possibility of unique designs.
App Library
App Library is an excellent new feature that shows all the installed apps in an organized, easy-to-navigate view that is similar to the app list view on the Apple Watch.
Just swipe from the right to the left to get to the App Library view from your Home Screen pages. The App Library is where every app you installed is automatically organized into folder categories including Education, Productivity, Creativity, Utilities, Reading and Reading, Lifestyle, Games, Health and Fitness and Social. There is also a dedicated folder for Apple Arcade.
Each folder shows the three apps in the category that you use often and you can launch one of these with a single tap. The fourth folder spot contains mini-app icons and if you tap on it, you will be able to see a view with the whole list of apps in the category.
For instance, if you have multiple games, you will be able to see the three games you play most along with a multi-app icon you can tap to open the folder with every game you've installed. Swipe gestures allow you to look through the apps and category folders.
RELATED: The Best Animation Software Free For Beginners And Professionals
Recently Added Folders And Suggestions Folder
At the top of the App Library, you have a "Suggestion" folder with 4 recommended apps shown based on factors such as activity, day and location.
There is also a "Recently Added" folder, which houses apps that you recently installed on your iPhone. It also features App Clips that allows you to find them easily.
App Library Search
You also have a search interface right at the top of the App Library where there is an alphabetical list of all installed apps. Scroll through, tap a letter at the side to go directly to that section, or you can just type the name of the app into the search bar to initiate a search.
Hide Home Screen Pages And Apps
You can hide the entire Home Screen pages in iOS 14 if you want to keep your iPhone interface clean. When you hide your Home Screen pages, you can see your apps in the App Library.
To hide your Home Screen pages, long press on your Home Screen to make the app icons wiggle and tap on the dots at the bottom that represent the different Home Screen pages you've set up. From here, you can easily uncheck the pages you wish to hide.
If it is individual apps you want to hide, drag them from the Home Screen over into the App Library to remove their icons from the Home Screen.
In the Setting app, you can also toggle on the feature that prevents newly installed apps from showing on your Home Screen, limiting them to only the App Library.
Compact Phone Calls
With the latest iOS 14 design, incoming phone calls don't take the entire screen any longer, and instead, show up as a small banner at the top of the display. Just swipe up to dismiss it or swipe down to see more phone options and answer your call. You can equally tap on the "accept" or "reject" button on the banner to accept or decline a call.
Even if your iPhone is locked, you will still see the standard phone call interface, but when unlocked, phone calls are now much less irritating. The same thing applies to third-party VoIP calls and FaceTime calls, so long as developers have implemented support for the compact call feature.
iOS 14 Picture In Picture
Before, it is only the iPad that is enjoying the Picture in Picture features, but it has now been extended to the iPhone in iOS 14. So you can now watch videos or use FaceTime while doing other stuff.
The windowed FaceTime or video call shows in the corner of your iPhone display and you can conveniently relocate it to the most convenient corner so that you can use other apps. You can also resize the Picture in Picture window by pinching the video to make it smaller or larger.
The great thing about this is that even if you drag the Picture in Picture off your screen to minimize it, you will still be able to listen to the audio.
Siri And Search Updates
Siri has been redesigned in iOS 14 and activating Siri either through voice commands or physical buttons no longer causes the Siri interface to pop up and take over the whole display with the sound wave design.
When you activate Siri, there is a small animated Siri logo at the bottom of your iPhone's display. Many of the answers provided by Siri also shown in banners at the top of your iPhone, so Siri no longer interrupts other tasks.
Siri is Smarter
Now, Siri can answer a broader range of questions ever than before. It means you can now receive answers to some complex questions that Siri might have previously directed you to the web. Siri can now send an audio message on both iPhone and when you are using CarPlay and can now share an Apple Maps ETA with a contact.
Siri can provide cycling directions for the new cycling feature in this iOS 14 updates. Apple has also increased the number of languages that Siri understands for translation purposes.
Now, you can ask Siri to translate sentences, phrases and words in over 65 language pairs. Also, Siri now has a more natural-sounding voice for French, Japanese, Spanish, German, French and English ( Australia, Ireland, UK, South Africa and India).
You have a whole lot of updates in this latest iOS can see a lot of changes on your iPhone.
iOS 14 Supported Devices
iOS 14 is compatible with all iPhones that use iOS 13, including older devices like the original iPhone SE and iPhone 6s. Here is the list of iOS 14 supported devices:
iPhone 11 Pro
iPhone SE (2020)
iPhone 11 Pro Max
iPhone 11
iPhone XS
iPhone XS Max
iPhone XR
iPhone X
iPhone 8
iPhone 8 Plus
iPhone 7
iPhone 7 Plus
iPhone 6s
iPhone 6s Plus
iPhone SE (2016)
iPod touch (7th generation)
With iOS 14 exciting features, you are sure to love it and it is the time to go update your iPhone's iOS.