What Is Patreon? Everything About Patreon App
Patreon app is a crowdfunding website aimed at a particular audience including artists and online personalities in the business of content creation. You must have seen some content creators on YouTube request a contribution to make their YouTube channels free by asking you to support them through the Patreon app. You may be asking; what is Patreon?
What is Patreon?
What is Patreon? Patreon describes itself a crowdfunding platform for creators, as the platform allows creator to draw a steady, continuous income from The Crowd. The ability of The Crowd to pay content creators on a recurring basis makes Patreon well-suited to writers, musicians, online journalists and creators of viral videos.
Patreon app and website has enjoyed a rise in its public profile over the last several years. The approach of this site to rewards-based crowdfunding is unique, setting it apart from the competitors such as Indiegogo and Kickstarter. With Patreon app, you can subscribe to a creator's content and make recurring payments on an ongoing basis in exchange for access to the content.
Services Offered By Patreon App
Patreon was founded by musician Jack Conte and developer Sam Yam. Jack Conte's oeuvre of music videos was getting a million views per month, yet he was only making a meager $50/ month ad revenue on YouTube. So he decided to start Patreon in 2013 with the intent to give artists a sorely needed means of monetizing their work.
Conte says, "I'm releasing new things on a monthly basis. I have friends releasing material weekly. They'd have to almost invent an excuse to raise money after going on Kickstarter once. We're saying, 'No, no. Don't make up a new endeavor. Keep doing what you do best and let people pay you each time you do that."
When you create an account on Patreon, you are asked to self-classify your work into one of the following categories:
Podcasts
Video & Film
Drawing & Painting
Writing
Music
Photography
Comics
Craft & DIY
Science
Comedy
Games
Education
Dance & Theater
Although Patreon will ask you to choose a category, the category you choose is not very consequential, because you can produce whatever you like. If you are an entrepreneur or you have a creative team that continuously engage in content creation, Patreon app is for you.
RELATED: 11 Best Project Management Software For Free
Patreon App Project Qualifications
Patreon is appealing to creators because its content policies are more relaxed than other crowdfunding platforms. However, some disputes arose over banning of certain campaigns for contravening the Patreon's hazy guidelines regarding hate speech and adult content. In response to it, the company has released a more definitive list of community guidelines that explains what is forbidden on the platform:
Doxing, harassment, hate speech and threats are banned
You can't promote illegal activity or self-harm stuff
Adult nudity is allowed if it's marked "Patron Only," while sexual and pornography services are banned
You can't use Patreon "as a prank or to fund non-activity"
No spam
Patreon App Terms & Fees
These are the Patreon's app terms and fees for crowdfunding campaigns:
Funding Duration: Unlimited/Continuous
Funding Method: Per month or per creation
Platform Fee: 5% – 12%
Payment Processing Fee: 2.9% + $0.30 for donations over $3
On top of the platform's fee, the payment processor (PayPal or Stripe) charge a fee for each donation made:
2.9% + $0.30 for donation over $3
5% + $0.10 for donation of $3 or less
There are other payout fees you should consider – the fees payable when you move funds from your creator balance to your PayPal or bank account. Here are the fees:
PayPal: $0.25 or 1% of the amount transferred capped at $20 per deposit for US and international creators receiving payment
Direct Deposit: $0.25 fee/deposit for US creators receiving payment
Payoneer: This may vary depending on currency and country but will typically be a $3 transfer fee per deposit for international creators receiving a global bank deposit
Once your page is live, you can add posts to it, which can be viewable by everyone or restricted to your Patrons (at reward level you choose). As for funding, you can choose to get monthly payments from patrons or "per creation" payments. You can also set up "goals" that will be reached when your funding level hits a certain amount. You can change your goals anytime though.
But why is the software's fees vary from 5% – 12%? That is because when you sign up to create a Patreon page, you have to choose one of the platform's subscription plans.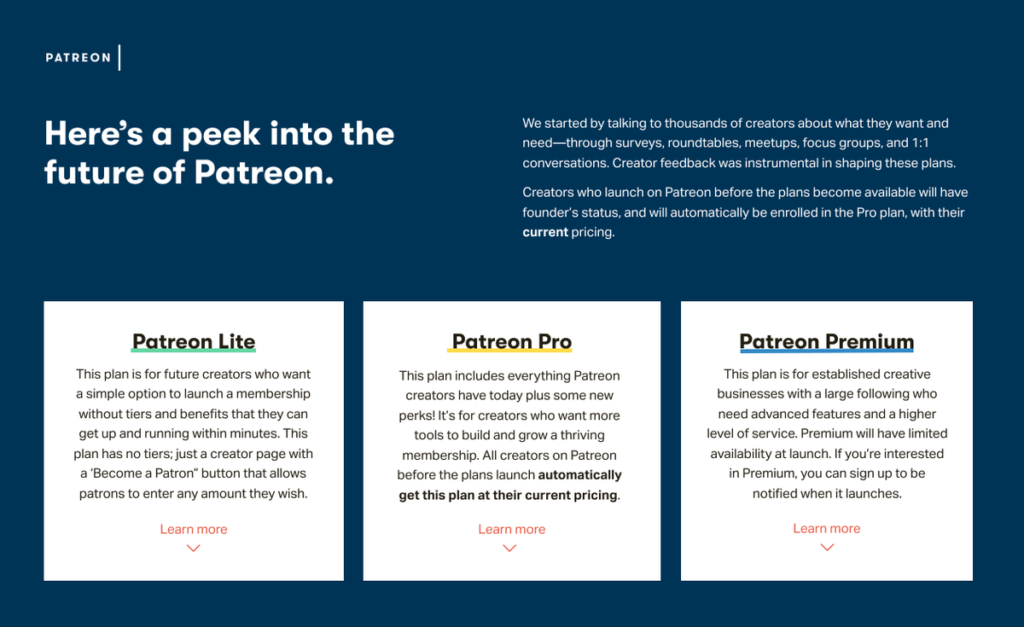 Patreon App Subscription Plan
Here are the subscription plans and what you will get with each plan:
Lite Plan
Hosted creator page
Patreon workshops
Patreon communication tools
Patreon Platform Fee: 5% + payment processing fees
Pro Plan
All the features in Lite
Analytics and insights
Membership tiers
Creator-led workshops
Special offers promo tool
Unlimited app integrations
Priority customer support
Patreon Platform Fee: 8% + payment processing fees
Premium Plan
All the features in Lite and Pro
Team accounts
Dedicated partner manager
Merch for membership
Patreon Platform Fees: 12% + payment processing fees
While other crowdfunding platforms allow you to offer different support tiers to backers for 5% platform fee. Patreon app takes 8% of your earning to have access to this common feature.
Like other reward-based crowdfunding platforms, Patreon allows you to offer rewards to your "patrons." though, unlike Kickstarter, the company doesn't require it. Patreon does recommend it, however, nothing that successful creators tend to offer more than two reward levels. The company suggests the following when considering what rewards to offer:
Photo/videos of your process
Access to your patron-only feed
MP3 downloads
a live chat with your patrons via Patreon's mobile app
Physical rewards (recommended for higher-tiered patrons only)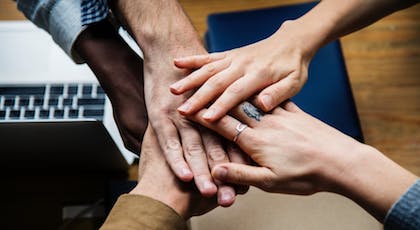 Creating A Fundraising Campaign On Free Patreon App
You can sign up for free Patreon's account using your Facebook credentials or by creating your login information from scratch. Your dashboard shows the creators that you have supported, as well as the ones that you follow. You can also invite other creators to join Patreon and you will receive referral cash prizes.
The website's right rail highlights the creators that you should fund or follow, as well the messages sent between you and other creators. You can use Patreon on the web or on Patreon app on iOS and Android.
To get started as a creator, you need to set up your profile, where your social media information gets the front row. After inserting your name, you can input your Facebook handle, YouTube URL and Twitter handle, if applicable. After that, you need to explain what you are creating, choose a category, upload your cover picture and optionally add a video from Vimeo or YouTube.
For your free Patreon account, you have two options for getting funds. You either ask your patrons (donors) to pledge a monthly fee or pledge per creation. Patrons who pledge per creation can set a monthly budget. Patreon recommend that you use monthly option if you are planning to release 4 or more creations each month.
If you choose "per creation" plan, you release content in the form of paid posts that can be in the form of audio, video, images, texts or a combination of those elements. If you like, you can set a minimum pledge for any of your paid posts. For instance, you can create exclusive paid posts for people who pledge at least $8 (or any amount that you set).
Once you have selected how you would like to be paid, you need to set up goals. They are fundraising milestones that allow you add new project features, such as special effects for video or ad removal from an app or software. You can set up multiple goals and change them at any time you wish.
Then create rewards for your patrons based on how much they donate. Patreon allows you to limit some or all rewards to a certain number of funders. After that, set up your thank you message that patrons will get after signing up. You can even create a thank you video to appreciate your patrons.
Patreon has become ubiquitous that its most successful creators use it as their only source of income. More power to you if you can pull that off. However, asking for and relying on indefinite fan subscriptions carries some inherent instability. some people may just subscribe for a month and then drop off for no reason.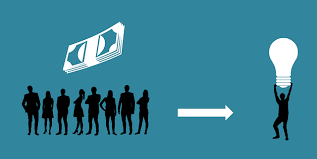 How To Track And Promote Your Campaign On Patreon App?
Once you have created your page, you can add posts to your creator page. Each post can be set as for patrons only, fully public or for patrons at different levels of reward.
You can track your pledges on your dashboard. On the left side of your screen, you have many options, including Earnings and Patronage, and Engagement. The Earning tab shows processed pledges, fee breakdowns and the total amount of money you earn each month.
The Patronage tab shows how many patrons you have for each post, depending on your account. Also, the Engagement section shows patrons' comments. There are also reports on payouts, refunds, declines (canceled pledges), pledge growth and patron exit surveys.
Patreon app now integrates with popular online services, including WordPress, Discord, itch.io and MailChimp to spread your message to potential customers. You also have access to Patreon helpful launch guide, which includes tips on how to share your campaign draft with family and friends to get feedback and on how to set up successful social media posts.
You can also namecheck Patreon in your posts for added publicity. You have recommended steps to take in the days and weeks after launching and announcing your campaign.
The Best Source For Ongoing Funding On Free Patreon App
Patreon is special in the crowdfunding industry because it allows you to solicit monthly donations rather than one-time contributions. Although it makes living off fan subscriptions riskier, but Patreon is famous enough to make that dream a reality for creators.
Patreons fees are higher than they used to be but the restrictions are now few. So it is one of the best crowdfunding software ever. If you want to raise fund as a creator, this software is one of the best in the crowdfunding industry. It is transparent regarding its services too.
Customer Service And Technical Support
For creator issues, Patreon has FAQs: one for general issues and one for patron issues. For direct support, you can submit your question via website or Twitter and you will receive a response via email within Monday and Friday, 9AM – 6PM PST. Both Pro and Premium subscribers are promised a swifter support response.
Unfortunately, Patreon offers no phone support. As a fairly young company, one hopes the customer support will get better with time.
Pros
Continuous crowdfunding for creators
fewer content restrictions than some other crowdfunding platforms
The platform facilitates reward giving
Multiple subscription plans available
No deadlines
Strong community feel
Cons
Limited help section
Some creators report problems when trying to collect funds
Monthly funding could be a hard sell
Some formerly universal features are now locked behind higher-priced tiers
Verdict
Patreon app is not the crowdfunding platform for everybody. If you are a creator, this software is for you. But if you are looking to raise funds to lunch one particular project, such as the creation of some cool tech gizmo, you may want to look into Kickstarter. Patreon helps you monetize what you love to do, so it is one of the best crowdfunding platforms.
CHECK OUT PATREON NOW