11 Best Project Management Software For Free
When it comes to running your business, you want to use the best project management software for free or pay a few bucks to get more features. The good news is that there are many great project management software out there. Unfortunately, it can be tough to find the right one for your business without getting distracted by less useful ones.
To help you choose the best project management software for your business to achieve the best possible level of productivity, we have compiled a list of the best project management software for free for you. Some of them still have premium packages you can subscribe but you can still use them without paying.
Benefits of The Best Project Management Software
If you are trying to run a successful business, it is important to have the best project management software. A great project management software will make assigning tasks effortless. You need to let your entire team know what needs to be done when it needs to be done and how it needs to be done.
Many factors are vital when it comes to running your business smoothly, which is where project management software comes in. This list of software lets you manage your team more effectively because you will always be aware of what is happening around you.
You can also check Business Software – The Best Software For Company Management
The great thing is that these tools will make your team more efficient because you will be able to give them direction on each project. The more your team knows about a project and tasks they are working on, the faster and efficiently they can get the job done.
All you need to do is use these tools to make sure you are evaluating your team's work always. Also, you need to evaluate the apps you use carefully because the wrong tools and apps could slow your team rather than improving it.
In this article, we have gone through a lot of tools and apps to find the best project management software for free just for you.
What Makes Best Free Project Management Software?
To narrow this list of the best project management software for free, we looked for tools that met the following criteria:
Free for unlimited projects. The tools we selected here will allow you to manage unlimited projects for free.
Hosted. There are many great, free, self-hosted project management software out there, but they take longer to set up and manage. This article is featuring project management tools that are hosted by companies that provide the tools.
Pure project management tools. We only consider tools that mainly focus on project management
The Best Project Management Software For Free
If you are looking for the best free project management software, look no further. Here are some of them: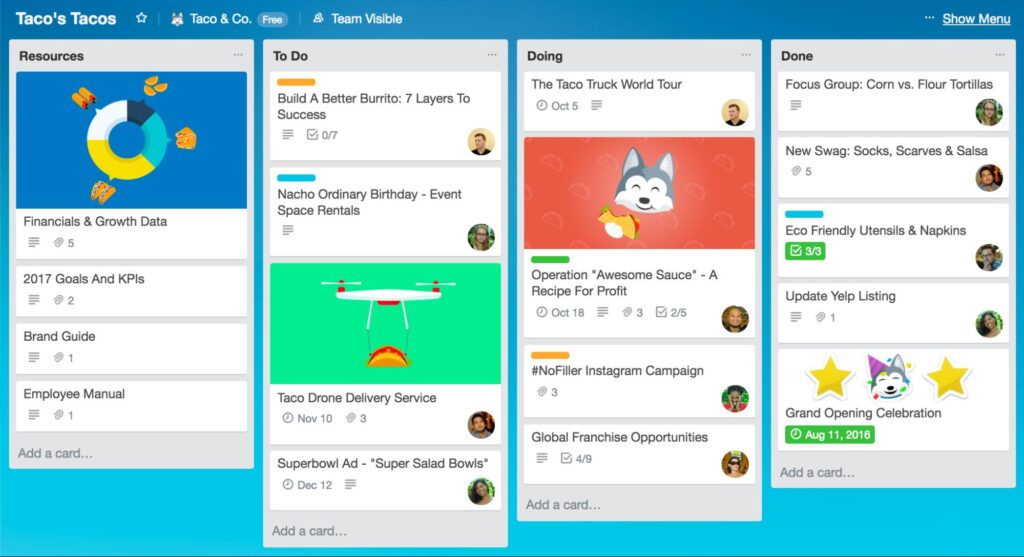 Windows, Web, macOS, Android, iOS
If you are looking to organize your project with kanban boards, Trello is a sure bet. With a free plan that allows for unlimited users and boards, Trello is perfect for anyone. Freelancers can also use it to plan their assignment on their personal board and teams can use it to build a project workflow with visibility at every stage.
You can begin by creating a new board from scratch or choose one of the templates already created across sales, team management, design, sales and more. Add lists for your tasks and customize the lists with steps in your workflow (e.g. to-do, doing and done).
After that, you can add your tasks as visual cards in each column – with members, labels, due dates, images, attachments, comments and checklists to keep everything in just one place.
As you begin to complete tasks, just drag the cards to the right list. you can easily keep track of tasks and comments that mention you – or that you are watching – from the activity menu.
If you need more features, Trello's Power-Up options, which you can get one from the free plan allow you to view tasks on a calendar, fade away old tasks automatically, add voting options on tasks and much more. In fact, you can make Trello's board for personal and work tasks alike – to get your work done the way that fits your business needs.
If you need more flexibility, you can integrate Trello with apps such as Slack and Gmail using Zapier.
Trello Pricing: Trello's free plan includes unlimited boards and users, one Power-Up per board, 10 team boards and attachments up to 10MB in size. You can upgrade for just $9.99/user/month (billed annually) to the Business Class plan which offers unlimited Power-Ups and team boards, more granular permissions controls and attachments up to 250MB in size.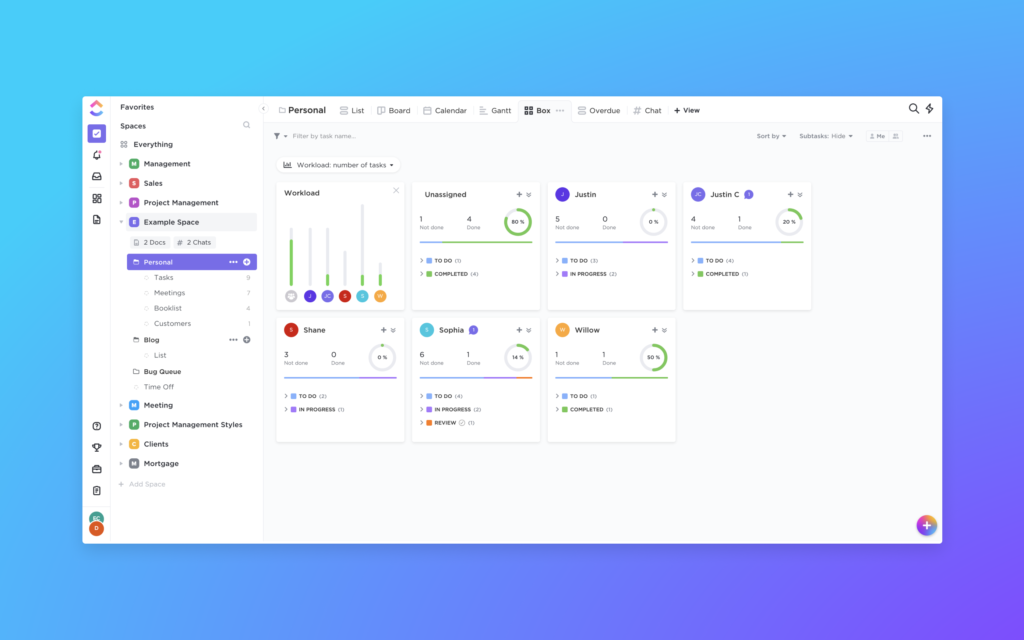 Web, Android, iOS
Many project management software allows you to choose from only a handful of task views, such as kanban view, list, or calendar. Additional views, especially Gantt charts, are usually a premium feature, but ClickUp is different.
ClickUp is one of the best project management software for free. It allows you to choose from eight different task views, including mind maps and Gantt charts. It also has three different page views: Doc (lets you create docs, knowledge bases and wikis), Chat (displays conversations alongside tasks), and Embed ( to add websites and apps next to tasks).
Its dashboards are customizable, allowing you to choose from over 20 different widgets in order to highlight the most important project information.
When you first start with ClickUp, there are lots to parse. The onboarding process is not as simple as Trello, but the extra customization is worth it when you consider the fact that it is totally free.
Using Zapier, you can connect your favorite apps to his tool.
ClickUp Pricing: ClickUp free plan offers unlimited users and tasks, up to 100MB of storage, and up to 100 uses of dashboards, timeline views, mind maps and Gantt charts. To upgrade to the Unlimited plan, you have to pay $5/user/month. The upgrade gives you an unlimited list, calendar views and board, unlimited dashboards, and guests and permissions.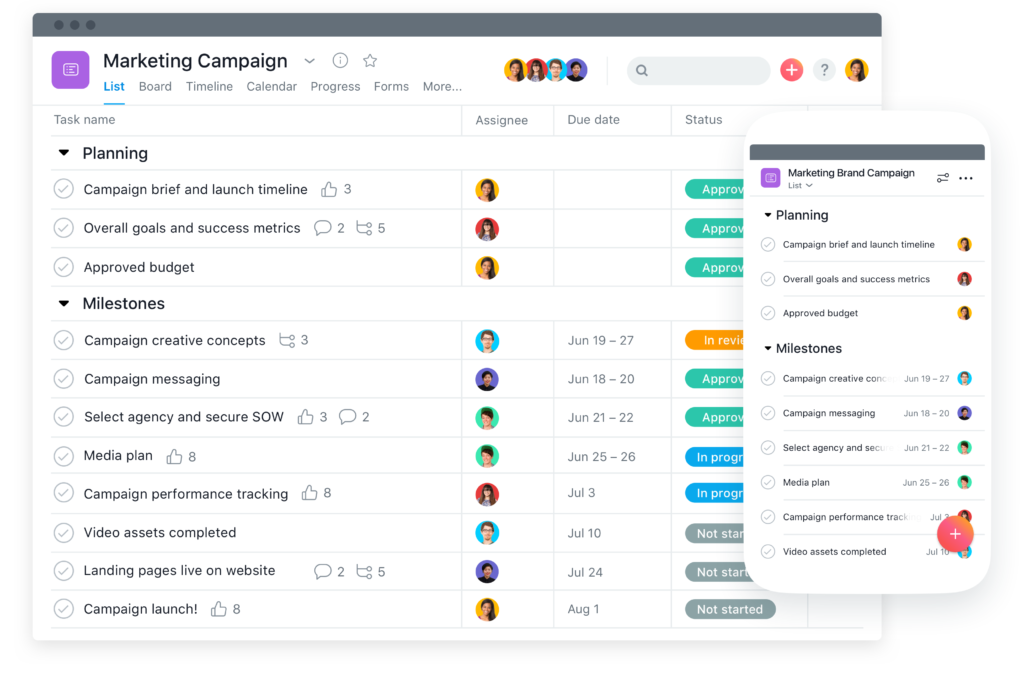 Web, Android, iOS
If you are looking for free project management software for your team, look no further. If you need more features to manage your team project, Asana provides just that. It is a project management software that allows you to break projects down into sections and sub-lists, and dashboards to see the number of projects that have been completed already.
In the same way, you could in a to-do list, you can add tasks, complete tasks and rearrange tasks, but with the organization and collaboration features, you need to work as a team. With the ability to collaborate with up to 15 users, Asana's free plan is among the most generous.
In fact, you can make an extra list in this software and share it with specific people. Your assigned tasks will show in My Task view to help you see things that you need to take care of quickly.
Asana Pricing: Asana's Free plan comes with unlimited projects, storage and tasks, up to 15 users, plus basic search features. You can upgrade to the Premium plan with $10.99/user/month (billed annually) and get project timelines, task dependencies and advanced search.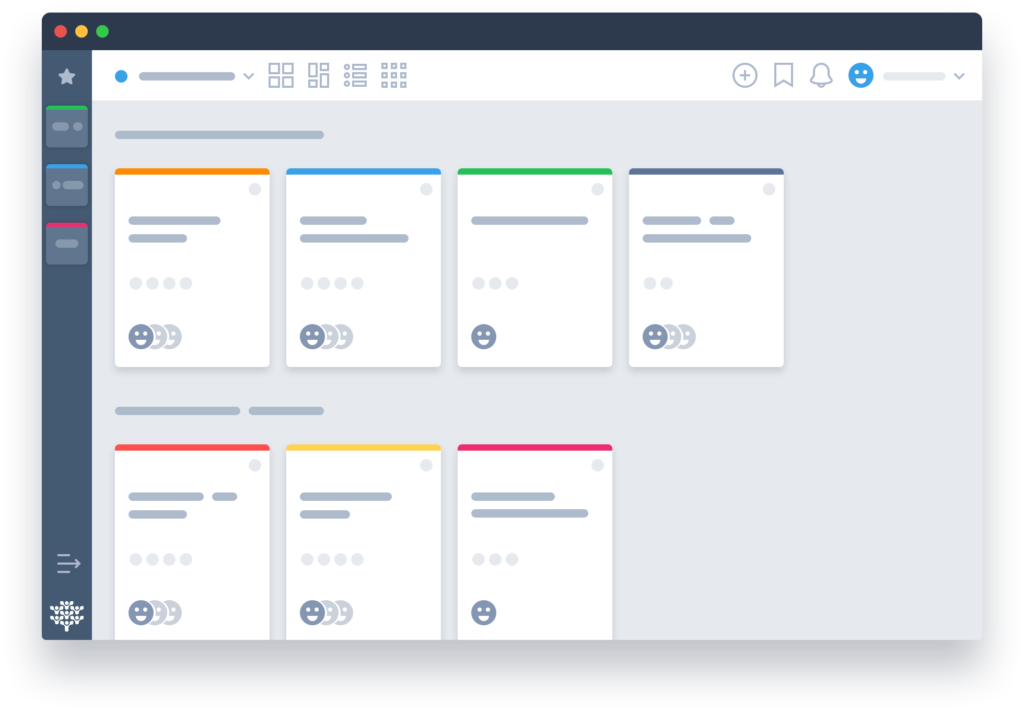 Web, Android, iOS
Freedcamp provides you a place a tool you can use to manage tasks along with calendar and milestone tools to plan the project's schedule. Here, you can organize tasks in a standard to-do list or a kanban board. You can also split the most important dates between the calendar or milestones to help you with short- and long-term planning.
This software has everything you need to get the job done, so it can easily become your project hub. With its Widget Board, you will enjoy complete flexibility over how to surface project information. The Widget Board is just like a customizable dashboard and it allows you to choose from 12 different widgets, including Milestone, My History, My Tasks and Calendar.
Also, you can drag and drop widgets on the page to organize and customize your layout, getting an at-a-glance view of all your projects at once.
Freedcamp Pricing: This software's free plan offers unlimited projects, users, projects and storage. however, you can upgrade to the Minimalist plan with just $1.49/user/month (billed annually) to get native integrations with OneDrive, Dropbox, Google Drive and support for recurring tasks.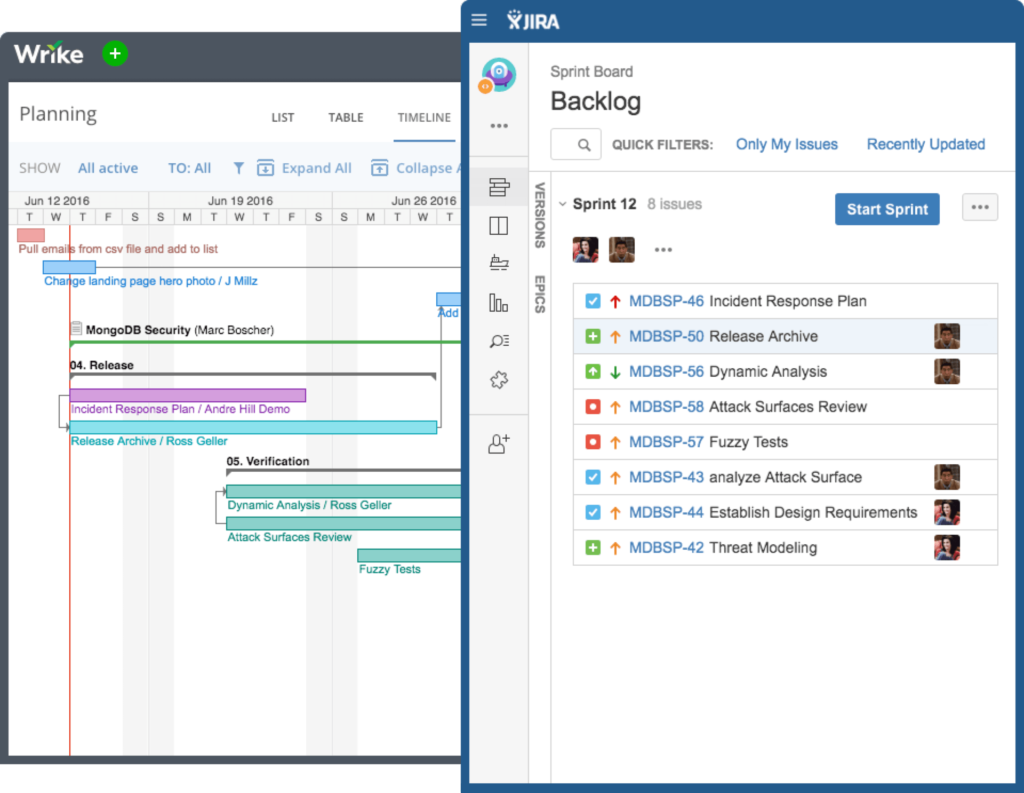 Web, Mac, Windows, Android, iOS
If you love to manage your project in a spreadsheet, Wrike might be perfect for you. It provides you with the same flexibility that a spreadsheet offers. You can track every bit of info you want with columns. This software allows your team to update tasks' status at various intervals – in-progress, completed, canceled and on hold – allowing you to track the status of each task in detail.
Also, you can set the status of your project to on hold, green, yellow, or canceled, making it easy to create weekly project status reports. This software also features time tracking, activity streams, custom dashboards and Gantt charts, which require a premium plan.
With Wrike, you can get tools that let you run a single small project and lots of concurrent large projects.
Wrike Pricing: With Wrike free plan, you get unlimited projects and tasks for up to5 users. To use Gantt charts and shareable dashboards for up to 15 users, you can subscribe to the Professional plan for $9.80/user/month (billed annually).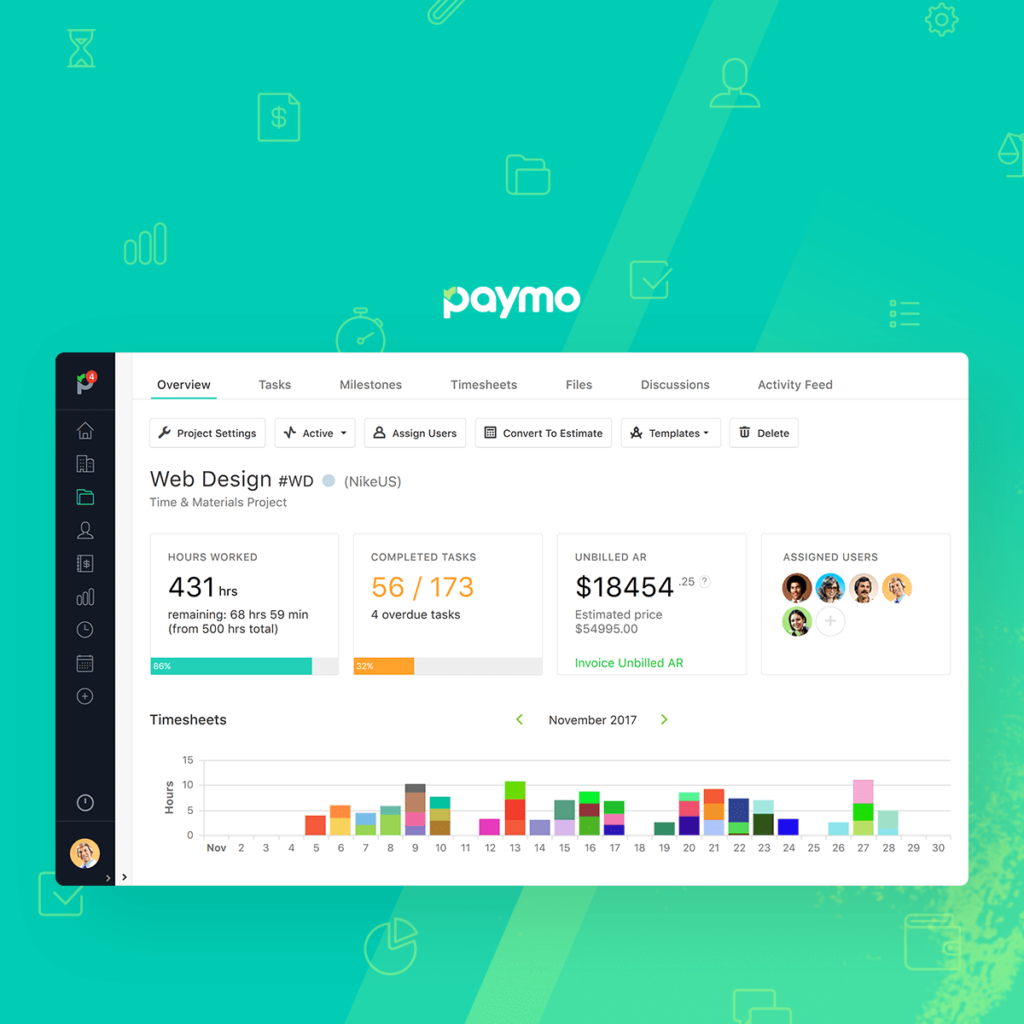 Web, Linux, Windows, macOS, Android, iOS
If you are looking for the best project management software for free that lets you manage your projects and track them, look no further. Paymo makes life easier for freelancers. It also offers a time tracker and allows you to plan, prioritize and keep track of your multiple projects and clients.
Work can be put into 3 categories: projects, clients and tasks. You can assign a due date for each task, set priorities, add descriptions and attachments. There are also 2 ways to view your tasks – as a list or in a kanban board – or use Paymo filter to sort your tasks for every client and project by priority, status, due dates and more.
Whenever you are set to begin working on a certain task, select the task in Paymo's time tracker and then click the play button to start tracking your time. Once you stop the timer, it will add the time to your timesheet and attribute it to the right project, client and task.
When you are ready to bill your clients, you can use Paymo's reports to pull the exact needed data. Export, print or share that data with your clients in a detailed list view or as a bar chart or pie graph, or take the data and use it to create a branded invoicing directly in Paymo. You can also set up invoices to allow for online payments via PayPal, Stripe and more.
Paymo Pricing: Paymo's free plan offers a platform for one user, 1GB storage, unlimited project and up to 3 invoices. To grab the Small Office plan which allows for unlimited invoices, project templates and 50GB of storage, you have to cough out $8,95/user/month.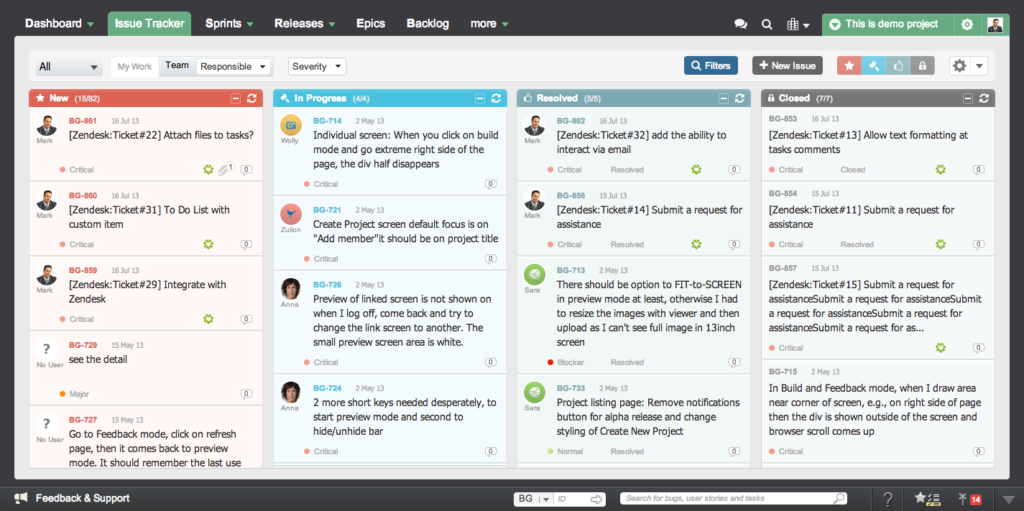 Web, Android, iOS
Surprisingly, Yodiz provides a powerful tool for free for teams that use Scrum and Agile methods. This software allows you to do everything you need to plan your projects, releases and sprints: create user stories, create sprints, nest user stories within epics and set sprint dates, add estimates in story points and hours and view sprint progress on a sprint board.
While some free project management apps claim they are for Scrum but are really just kanban boards with the ability to add estimates, Yodiz is really a Scrum tool designed mainly for the Scrum team. Yodiz is as powerful as most of the big names in Scrum software such as VersionOne and CA Agile Central.
But unlike big names in the industry, Yodiz is completely free for teams of up to three.
Yodiz Pricing: The Starter plan is free and comes with unlimited projects for up to three users. If you need more features, you can upgrade to the Issue Tracker plan for just $3/user/month.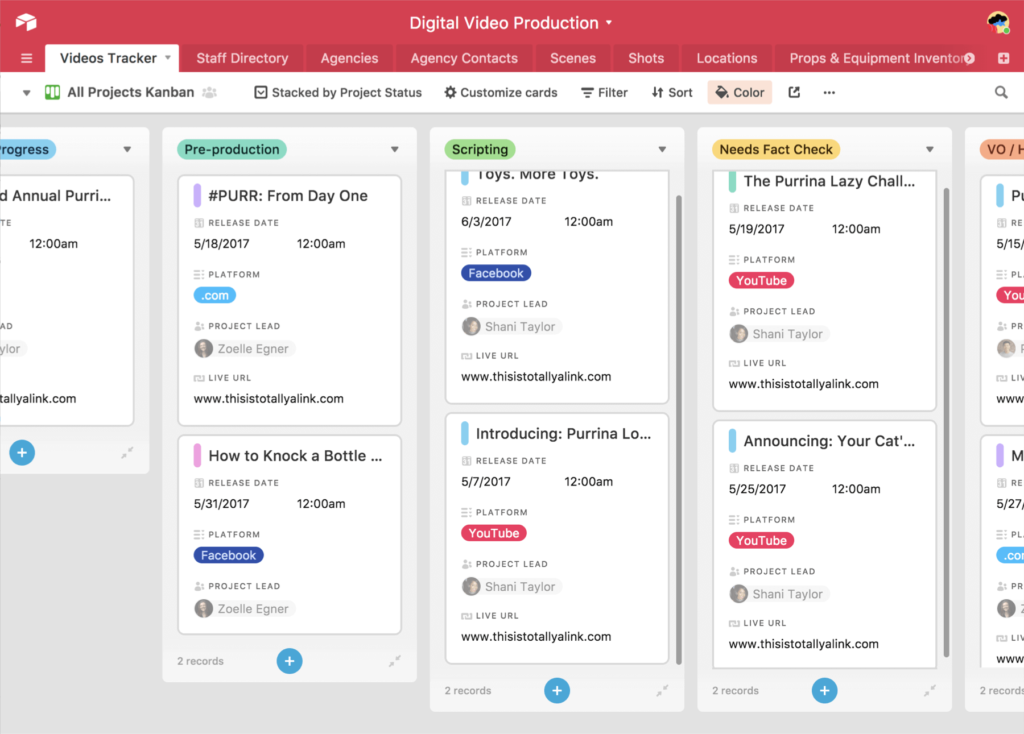 Android, iOS, Web, Mac, Windows
Airtable is a cloud-based and a collaborative work management software. Your team can view tasks on a grid (similar to a spreadsheet, gallery, Kanban board, or calendar. Its key features include collaboration, task management, time tracking and reporting/project tracking.
The central component of this software is bases, which contain all the data you need for your project. Bases are made up of a collection of tables, and each table covers a specific aspect of the project. Tables contain fields (checkboxes, file attachments, etc.) and records (relevant data points you are tracking).
Airtable pricing: Airtable free plan includes unlimited bases, 2GB attachment space per base, 1.200 records per base, and two weeks of revision and snapshot history, as well as real-time commenting and collaborating.
If you need more features, you can go for the paid plan that will give you additional records per base, longer revision history and more attachment space, as well as priority support and access to "block," modular apps that extend the functionality of bases.
It costs $12/user/month for the Plus plan and $24/user/month for the Pro plan.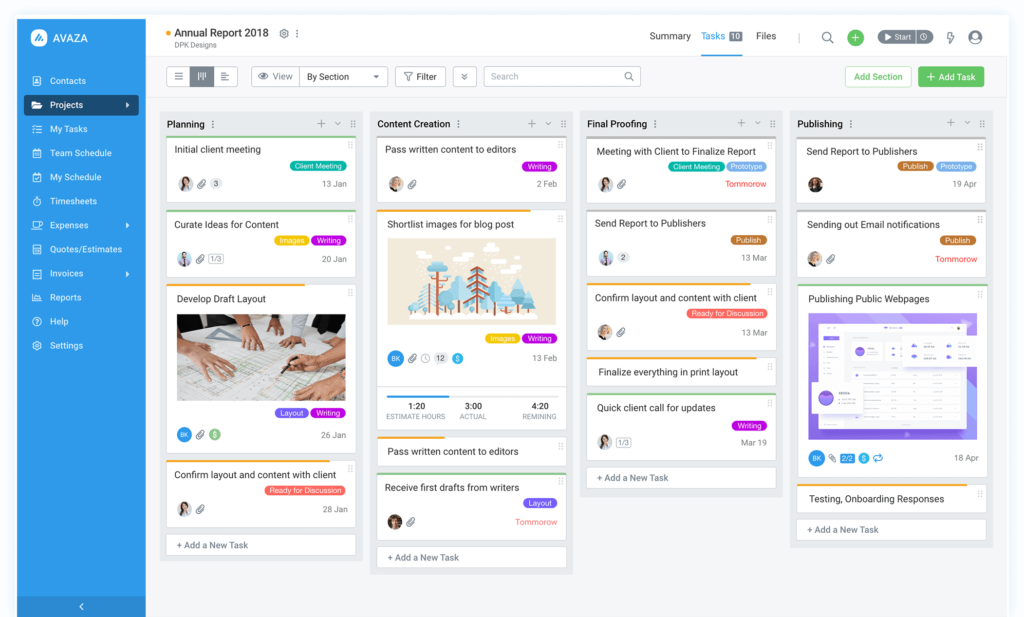 Supports all devices
Avaza is one of the best project management software for free and it is a cloud-based project management solution.
Avaza key features include project planning, task management, time tracking, resources management, project tracking and invoicing and quoting – all these functionalities are available for the free plan.
Avaza's free plan includes access for one timesheet/expense user, one scheduling user and admin/invoice user, as well as five active projects (unlimited archived projects), 100 MB storage, five invoices per month, 10 customers and regular chat and email support plus online knowledge base.
Avaza Pricing: Aside from the Avaza free plan, you can get more features including additional users/roles, unlimited customers, more storage, priority support, additional active projects and a higher volume of invoices per month.
The Startup plan costs $9.95/month, the Basic plan costs $19.95/month, while the Business plan costs $39.95/month – all billed monthly.
Windows, Mac, iOS, Android, Web
Streamtime is a cloud-based project management solution created for creative teams, freelancers and agencies that do contract work for clients. This software's key features include task management, project planning (job planning), reporting/project tracking and quoting and invoicing.
Although Streamtime claims that it has time tracking, the software does not track time using a timesheet or timer. Instead, you can set up tasks with time estimates and update it manually to reflect actual work time. as you drag the item from "to-do" to "done," the actual time is logged against the job.
Streamtime pricing: The free plan offers five active jobs, storage for 50 archive jobs and multiple support options ( one-on-one sessions, chat and online knowledge base), as well as all the above-listed functionalities.
If you need more features that give you unlimited active jobs and unlimited archived jobs, accounting integrations, purchase orders and additional team scheduling options, you can choose one of the software's paid plans.
When billed monthly, Standard plan costs $15/user/month; Standard+ plan costs $20/user/month; and Premium plan costs $30/user/month.
Web, Windows, iOS, Android, macOS
Todoist is a simple yet powerful tool that allows you to create powerful, interactive to-do lists. To-do items can be assigned priority levels, assigned to people in the team and flagged – with customizable reminders.
You can categorize actionable items into different projects, making a simple, easily understandable structure where each 'list' has a project name and a series of actions.
With this software, you get recurring due dates for regularly recurring tasks, labels, notifications and discussion feeds. You also get template lists to inspire and guide you.
Todoist Pricing: Todoist is free but if you want more features, you can upgrade to the Premium plan from just $3/user/month.