Blender Software Reviews 2020 – free Blender Download
 Pros
Blender download is free
Tons of features
Beautiful and easy to navigate interface
Video editor
Rendering of animation and sculpting
 Cons
Looking for Blender software reviews 2020? Blender is one of the best and most popular open source software examples you need for your personal use and business. I have been using Blender for more than two years now and it is amazing. The best thing about it is that blender download is completely free.
What Is Blender?
Blender is an open source 3D computer graphics software built with the combined efforts of animators, students, scientists, artists, game artists, visual effects experts and other professionals around the globe.
This software is intuitive and feature-rich open source software used to create animated films, 3D applications, video games, 3D printed models, visual effects and arts. It has a built-in path-tracer engine that lets you achieve ultra-realistic rendering.
Blender is equipped with comprehensive modeling tools that allow users to create, edit and transform models. With its top-notch object tracking features and camera, users will be able to view camera movements, import raw footage and track footage in 3D scenes.
This software also provides animation and rigging tools that are perfect for creating short films, TV series and adverts. 3D and 2D can also be combined in the viewport in Blender. It also offers a Python API, which is helpful when it comes to customizing the fonts, colors, size and layout of its interface.
Is Blender Download Free?
Blender download is completely free. That is the best part of it. Some software in the category of the blender is not available for free. Blender is even better than most of the expensive animation software out there. So if you are looking for a Blender download, it is completely free and you can download it now.
Top Blender Benefits
Blender has a lot of mouthwatering benefits. Here are some of the Blender benefits:
1. Fast Rendering Process
The cycle rendering in Blender uses a graphics card rather than the CPU, making the rendering process faster. This feature is known as GPU rendering which performs plenty of number crunching. Number crunching is the process of performing 3D calculations that are needed to develop video games and 3D-heavy applications.
2. Path-Tracer Engine For Realistic Rendering
Blender Cycle is a great ray-trace-based production rendering engine. Render engine is a set of codes which control the usage of lighting and materials, as well as the appearance of the rendered image in 3D scenes. Blender's Cycle is a path-tracer render engine that allows users to add more realistic lighting to the scene.
3. Film Animation
With Blender, you can create short films and even long films. You can edit characters or create characters in this software. You can also rig any characters and add whatever you want to add to your character with this cool software.
4. Create 3D Games
When it comes to video game development, this software allows you to create 3D games. You can code your own game logic on it and port models to a third-party game engine. Users can create prototypes and interactive visualization for their games here.
5. Excellent Effects Features
The VFX feature of Blender includes a built-in compositor that allows users to access nodes' library as they create color grading, vignettes and camera effects. Users will be able to render multiplayer OpenEXR files without any hassles.
6. Scripting
This software provides extensions that users can activate in order to obtain more functionalities. Users can also add such functionalities via a Python script. These functionalities are import and export, rendering, animation and object creation.
7. Modeling
Blender is the basis for creating the game environment, and characters. Models are designed using the combination of polygons, lines and points. With modifiers in this software, you can create beautiful models and other stuff.
8. Video Editing
With Blender, you can perform basic video editing such as actions including speeding, cutting, slowing, splicing, Lumia waveform, live preview, Audio mixing, Chroma vectorscope, Visualizing, scrubbing, adding 32 slots of an image, effects and video, adjusting layers and keyframe filters and transformations and more.
9. VFX
Blender has an impressive library of creative cam and color grading for your visual approach. Full-length compositing of videos and images can be done with multiple layer handling files with different threads.
Manual and auto motion tracking, powerful cam reconstruction and advanced trackings such as tripod solvers, planar tracking and real-time preview to 3D scans can be done in this software.
10. Pipeline
All image, video and 3D formats are supported here.
11. Simulation
Any natural simulation like cloth, fluids, rigid bodies, smoke, fire and particle bring a realistic feel to your frame.
12. Customize
You can easily customize all the settings at any point in time using the radio and On and Off buttons.
Blender Features
Fast rigging
Rendering
Masking
Animation tools
GPU rendering
Game creation
High-end production tracer
Modeling
Video editing
Python script
Simulation
Visual effects
Compositing
Integrate with pipeline tools
Customizable UI
Camera and object motion tracking
Nodes
Blender Tools (blender software reviews 2020)
Blender tool is a 3D computer graphics software with all the toolset needed to create, modify animated films, 3D printing models, arts, interactive 3D gaming models, visual effects and more for free.
Used for 3D modeling, raster graphics editing, UV Unwrapping, skinning, rigging, destruction, texturing, fluid and smoke simulation, sculpting, rendering, animation, soft body simulation, compositing, motion graphics and video editing, Blender is a complete 3D program.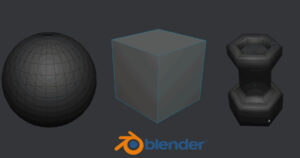 Types of Blender Tools
The Blender comes with multiple tools, and their appliances can be adjusted at any point of time left, right, top or bottom.
The information not only helps in handling files, rendering, adding new windows and properties but also in setting scenes and information about the poly count in the design.
1. Left panel
Left Panel contains 6 attributions.
1st Tools to translate, rotate, scale, mirror, edit, duplicate or delete the objects it also contains edits history list to undo or redo the edits.
 2nd Create adding new shapes like cube, rectangles, circles, cone editing and creating curves, adding different lamps point, sun, spot, area and few other attributions like adding text, speakers and cameras can also be done.
3rd Relation creating and editing groups with multiple objects in frame and properties settings can be done.
4th Animation inserting, removing keyframes for animation time frames and adding motion paths can be done.
5th Physic adding and removing the rigid body and changing its shape and calculating the mass, and applying transformations can be done.
6th Grease Pencil freehand drawing lines and polygons and erasing and converting final objects by applying rules can be done.
2. Right pane
The right pane contains an outliner of the design to check the flow of work.
3D View helps in a visual display of designs in 3D.
Time Liner is used for keying and setting animation movement for times frame.
A graphic editor is used for editing drivers and keyframe interpolation.
Drop Sheet is used to adjusting the keyframe so of timesheets.
NLA Editor combines the layer actions.
UV/Image Editor is used to view or edit images and make texture adjustments and changes in the UV map of the characters.
Video Sequence Editor is for editing videos in multiple aspects.
Movie clip Editor Motion tracking can be done using this tool.
Text Editor helps in editing scripts and inters filed documents in the process.
Node Editor editing node base shading and compositing.
Logic Editor helps games to apply and remove logic in game making.
Properties describe the active objects and relative database, which is important for animation, VFX and gaming artists.
User Preferences are used to edit the configuration settings of Blender as required by the user.
File Browser open, import and export file assets.
Python Console is an interactive programming console window option in a blender for advanced editing and scripting developments.

Blender Plugins (blender software reviews 2020)
If you are looking for the best and most useful Blender plugins for 3D artists, here are the most useful Blender plugins:
1. Amaranth
Amaranth is an excellent Blender plugin that helps you with its various add-ons shortcuts to add functions to the application. It improves the speed of your workflow and makes the entire interface become intuitive to manipulate with lots of shortcuts.
This plugin is a great addition to the Blender, especially when it comes to the long and tiring steps you need to complete a task.
2. TexTools
If you are looking for a nice plugin for texture, TexTools come in handy. The plugin provides you with a realistic and stunning structure for your 3D models. It helps you take UV mapping to the next level. With TexTools, you can easily create professional standard UV and texture results.
TexTools let you make use of 18 models and create the best-looking texture in Blender. Also, the plugin houses several other tools for aligning your UV layout perfectly and smoothing your model topology to the finest quality.
3. RetopoFlow
Made for the 3D artists who are interested in doing character modeling work, RetopoFlow lets you create assets for game, architecture or simple character design. The plugin renders great details to your designs and allows you to modify them to your full creativity.
With this plugin, you can carve out amazing structures with your 3D models. It is the best in its class.
4. Speed Sculpt
Designed for 3D artists who are interested in creating objects and characters from a digital clay mold, Speed Sculpt lets you draw on the mesh, control the topology, carve out the character and add Boolean effects.
You can also modify the areas, control the mesh and do other interesting stuff. The plugin helps you to focus on the sculpting by isolating the task away from all other technical aspects.
5. BoxCutter
If you like working on Boolean, BoxCutter is the perfect plugin for you. With it, you can create meshes and mold shapes easily. It is easy to use and with it, you can create elements directly in the viewport. You can also create complicated shapes that include bevels, for creating new boxers from the start and for manipulating the mesh.
Also, you can use various meshes as a source and add slices and dice to the design. You can also use Fluent in place of BoxCutter.
6. Edge Flow
Edge Flow firstly grazed Maya and 3DS Max applications, but it is also now on Blender. It controls edge loops through spine interpretation so that they can fit perfectly with the nearby geometry. You can use this plugin to arrange and organize topology and can combine two parts seamlessly.
Edge Flow can also add lots of other addons that are not in the Blender software. You can easily and easily use this plugin to comfortably use the context menu.
7. HardOpS
Used by many for its simplicity, this plugin combines common modeling tasks into a basic operation. When you are working on controlling modifiers or working with booleans, you need to perform modeling tasks on hard surfaces.
HardOpS also includes arrays, modeling and setting customized effects that are excellent to have while working on different projects.
8. Gaffer
Gaffer is a great plugin crafted to work on lighting. The plugin helps you improve the lighting scene in your work. When it comes to meeting your advanced lighting requirements, Blender lighting is not enough. Play around with Gaffer and you will get great light detailing.
9. MESHmachine
Effective and quick when it comes to doing serious modeling tasks, MESHmachine works on editing destructive mode bevels and makes them easily editable. The plugin is also effective when it comes to working on geometric shapes and other normals.
For instance, a curved surface or complex angle for Boolean surrounded by faces also includes a new function called plugs. letting you add interesting match details without creating any mess normally associated while functioning with Boolean operations.
10. Blam
The Balm is used to augment the 3D camera in Blender. The plugin reads the features like focal length and orientation from an image. Also, it blends the camera based on data captured from the image.
This plugin can be employed by professionals in media like VFX artists, AR/VR creators and animators. It is easy to configure and can effectively construct things like architecture models based on image reference.
Devices Supported
Windows
Mac
Linux
Web-based
Learn Blender Easily (blender software reviews 2020)
If you are looking to learn Blender software and start creating models and videos without any hassle, you can start from the video below. It is that simple.
Blender Alternatives (blender software reviews 2020
Blender is one of the best animation software for perfect 3D animation and modeling programs. It is an amazing software for anyone looking to create animation and other stuff. If you are looking for Blender alternatives, here are some of the best Blender alternatives:
1. Autodesk Maya
Maya is a popular 3D animation, rendering, modeling and visual effects program used by 3D artists. Just like Blender, it is available for Windows, Mac and Linux. Unlike Blender, Autodesk Maya is not free because it costs $50 per month.
Mainly used for 3D sculpting, texturing and keyframe animation, Autodesk Maya is a powerhouse of tools. Though the learning curve is steep, it is the best Blender alternative once learned.
2. Natron
Natron is open-source software, generally used for nodal composition requirements. As a cross-platform software, some of its features include animation using rendering, f-curve and 2D tracking system.
Although the software doesn't support scripting, it has animation tools like motion graphics and keyframes rendering. The program is open-source and available for free. It also supports video filters and has lots of features for 3D modeling and animation.
3. ZBrush
ZBrush is a powerful software that has influenced the 3D industry a lot. It is mostly used for painting purposes and digital sculpting. With lots of impressive features and toolsets, this program is one of the best alternatives to Blender.
The software also has an efficient and amazing workflow and provides you with the latest and updated set of tools. Mostly used for texturing, 3D sculpting, scripting and other programs, ZBrush has proven to be excellent in every way.
4. Rhinoceros
Rhinoceros is a commercially based 3D modeling software. Mostly used by interior designers and 3D artists, the software can be used for engineering components, jewelry designing, architecture, automotive designs and other multimedia designing.
Rhinoceros is based on NURBS Surfacing modeling, procedural modeling and parametric modeling. It is a convenient software that has shown effective results.
5. Modo
Modo is a fast-paced program that is highly dynamic in nature. With lots of amazing features including the best sculpting tool, modeling techniques and support for keyframe animation, Modo is a highly demanding program.
It offers user-friendly toolsets and workflow and focuses on creativity and ideas. It works perfectly on Windows, Mac and Linux Operating Systems.
6. Cinema 4D
Cinema 4D is a professional and commercial Blender alternative. It is a dynamic 3D software that can perform various functions including polygonal modeling, texturing, lighting, animation and rendering. Mostly used for its Body Paint 3D feature, this software is famous among Painters and 3D artists.
The workflow of Cinema 4D is user-friendly and very efficient. Though the program comes at a huge cost, it worth every penny.
7. SketchUp
SketchUp is one of the most robust programs with the easiest tools. It is mainly used for compositions and CAD drawings. The software has both a free version and paid version. With this software, artists can create films, video games, interior design, engineering projects and other CAD drawings.
The benefit of SketchUp is that it has various pre-installed 3D models that you can use or just upload your own original models.
8. Bforartist
Bforartist is a complete 3D software with all of the necessary functions and tools used to create 3D materials. The software can be used for modeling, texturing, skinning, simulations, UV Unwrapping and other 3D compositions.
The software works perfectly on Windows, Linux, Mac, MorphOS and Amiga OS Operating Systems. It is based on python scripting language and is the most lightweight 3D software ever made. As open-source software, Bforartist is available for free.
FAQ (blender software reviews 2020)
Here are a few frequently asked questions on Blender software:
1. Do You Need A License For Blender?
No. Blender is released under the GNU General Public License, making it free to use for any purpose. You are free to distribute Blender and can study how it works and change it.
2. Does Blender Own Your Work?
All your work or creation you make as an artist using Blender solely belong to you. You can use your work for any purpose for free. This also applies to the Add-ons and Python scripts you write for Blender.
3. How Do You Use Blender Software?
4. What Programming language is Blender Written In?
Blender uses the Python programming language for its scripting API. Its Python API is based on Python 3. It is integrated deeply, used for writing add-ons, generating user interface layouts and import and export of many file formats.
5. Is Blender Good For Beginners?
Though Blender is not very easy to learn, it is very good for beginners who are ready to learn. It might give you a tough time in the beginning, but it does offer some amazing tools for a variety of purposes, from 3D printing to animation. It is worth getting through the initial learning phase.
6. Will Blender Become Paid?
At the moment, they make 100k a month from donations from the people. It is a business based on open source, so the base software Blender will remain free forever.
7. How Does Blender Software Make Money?
The income is mainly generated by donations and cloud subscriptions. They also have a shop where you can buy things like shirts. The addons are also a money-making source too.
8. Does Blender Need A Graphics Card?
No, you don't need an external GPU. Not to get too technical but except for drawing and viewport amongst some other things, much of Blender's core functionality relies very little on a fully fledge GPU. But if you want to reduce rendering time on Blender, you need a much better graphics card.
9. How Do You Start A Blender For Begginers?
10. Is Blender Safe To Install?
Yes. It is official and it is safe to install Blender.If you download from https://blender.org, i should be safe, unless the site is compromised, which is unlikely.
11. Why Is Blender For Free?
Blender is free because when NaN went bankrupt during the dot com bust, the CEO of NaN/lead developer (Ton Roosendaal) of Blender negotiated with the shareholders to sell the software to the community for a sum of 100k euros wih Blender to be licensed under the GPL.
12. Can I Learn Blender On My Own?
Yes. You can start learning Blender by watching tutorials and practicing. Go to YouTube and other video platforms and you can learn it free of charge. 
13. Is Blender Worth Learning?
Learning Blender is great! Learning modelling in Blender will give you the knowledge to transfer to any other related program. Learning animation in Blender is also great.
Conclusion On blender software reviews 2020
Blender is a great 3D modeling and animation software that offers a wide range of tools and interface that makes completing tasks convenient and efficient – this Blender software reviews 2020 has sown that. Although you need to make time to learn how to use Blender, it is well worth it. Blender download is free, so you can download it and use it today.

Download Blender For Windows


download blender for macOS

I Created These With Blender (blender software reviews 2020)