QuickBooks Online vs Desktop – Which Is The Best?
QuickBooks Online vs Desktop is a debate that has been on for long, but which one is better and perfect for your business? When one company offers two excellent accounting software products, choosing the right one becomes difficult. That is why we want to settle the QuickBooks Online vs Desktop debate once and for all.
Before we help you choose the best accounting software from the best software 2020 for your business, it is only important to let you know what QuickBooks is.
What Is QuickBooks?
QuickBooks is a popular accounting software built and marketed by Intuit. The software is mainly geared toward small and medium-sized businesses and provides Quickbooks Online, which is cloud-based and Quickbooks desktop, which is desktop-based. Both versions of Quickbooks accept business payment, manage and pay bills, and offer payroll functions.
QuickBooks Online Vs Desktop
when it comes to QuickBooks online vs desktop, both versions provide you with strong accounting features, but the most important difference is that Quickbooks Online is a cloud-based software with monthly subscription while QuickBooks Desktop is locally-installed on desktop/laptop with a license pricing model.
But that is not the only difference between the two versions. Before we get into the nitty-gritty comparisons of the two products, let's quickly look at QuickBooks Online and QuickBooks Desktop overview.
QuickBooks Online
QuickBooks Online or simply QBO is a cloud-based accounting software developed by Intuit. It was launched in 2004 and has received a lot of updates since launch. The latest QuickBooks Online is designed for both small businesses and large businesses. The software provides a robust set of features, online payroll, strong accounting, 500+ integrations, attractive invoice and a unique lending feature.
It is quite easy to learn QuickBooks Online than QuickBooks Desktop. Since QBO software is cloud-based, it works anywhere as long as you have an internet connection and you can even use the mobile app to manage our business on the go.
pros
Cloud-based
Monthly pricing
Easy to use
500+ integrations
Built-in lending
Cons
Fewer features than desktop version
customer support
no sales orders
more expensive than other SMB products
QickBooks Desktop
QuickBooks Desktop was launched in 1992 and it is one of the oldest accounting software. This software is one of the first choices for accountants around the world. QuickBooks Desktop is often called QuickBooks Desktop Pro, but there are three QuickBooks Desktop products including, QuickBooks Desktop Pro, QuickBooks Desktop Premier and QuickBooks Desktop Enterprise.
The difference between the three products is that Pro is developed for small businesses, Premier is designed for medium business, while Enterprise is designed for large businesses. therefore, each version progresses in terms of valuable users and features.
Each of the QuickBooks Desktop versions provides mouthwatering tools and features, including expense tracking, job costing and budgeting, 200 integrations and positive customer reviews.
Pros
Great features
potentially more secure
traditional accounting
200+ integrations
Cons
Expensive license structure
Customer support
Fewer automation than QuickBooks Online
No remote access or mobile app
QuikBooks Online Vs. Desktop Features
Features
Invoicing
Lead Management
Contact Management
Inventory
Expenses Tracking
Time Tracking
Project Management
Reports
Tax Support
Sales Orders
Lending
QuickBook Online
Yes
No
Yes
Yes
Yes
Yes
Yes
80
Yes
No
Yes
QuickBook Desktop
Yes
Yes
Yes
Yes
Yes
Yes
Yes
130
Yes
Yes
No
QuickBooks Online and QuickBooks Desktop provide you with lots of juicy features. While both of them share a lot of features, QuickBooks Desktop features are often more developed, except for the invoicing feature. It is true that QuickBooks Desktop has a lot of features, but QuickBooks Online has some key features that are not in QuickBooks Desktop.
Some of the features you can only find on QBO are international invoicing, mobile apps and lending. So it all depends on the features you are looking for.
QuickBooks Online Vs Desktop – How They Compare?
Invoicing
QBO comes on top when it comes to invoicing. QBO makes it easy to create attractive customer invoices because its designs are modern and clean. That is why it is easy to create an invoice that customers understand. On the other hand, QuickBooks Desktop invoices are outdated, cluttered and pretty difficult to understand.
Additionally, QuickBooks Online also has better automations such as:
Recuring invoices
Ability to auto-schedule invoice
ability to send invoice reminder to late-paying customer
invoice tracking to easily if a client has received, viewed or paid the invoice
a client portal where customer cam make payments online
ability to translate invoices into 6 different languages for international customers
Though you can set recurring invoices and track them in QuickBooks Desktop, you will miss out on a lot of modern, cloud-based automation that QuickBooks Online offers.
Accounting
Both QuickBooks Online and QuickBooks Desktop operate on double-entry accounting principles and have accrual and cash-basis accounting. Each of them provides you with a detailed chart of accounts, bank reconciliation, journal entries and the basic report you need to run your company. However, you will get better reporting and more complex accounting with QuickBooks Desktop.
Reporting
While QBO provides you with 80 reports based on the plan you choose, QuickBooks Desktop Pro offers you 130 reports. If you opt for QuickBooks Desktop Premier or QuickBooks Desktop Enterprise, you will have more reports (especially if you choose an industry-specific version of these programs).
Contact Management
Although both packages provide you with contact management, only QuickBooks Desktop provides you with manage and track lead features as well as contacts.
Financing
Recently, QuickBooks added new lending services known as QuickBooks Capital. QuickBooks Capital provides financing for small business owners that are looking for capital to manage cash flow properly. You can only get QuickBooks Capital in QuickBooks Online.
Sales Orders
QuickBooks Desktop provides you with Sales Orders if you need it. Though Intuit says it is planning to add Sales Orders to QuickBook Online, the feature is only available in QuickBooks Desktop.
Mobile Apps
QuickBooks Pro does not provide you with mobile apps because it is locally installed but QBO offers iOS and Android apps.
Industry-Specific Features
A great feature you will find on QuickBooks Desktop Enterprise and QuickBooks Desktop Premier is that you can choose an industry-specific version rather than the standard version. The Industry-specific versions include:
Nonprofit
Professional services
General contractor
Accountant
Manufacturing & wholesale
Retail
These industry-specific versions provide business owners with more features and reports geared towards their industry.
Pricing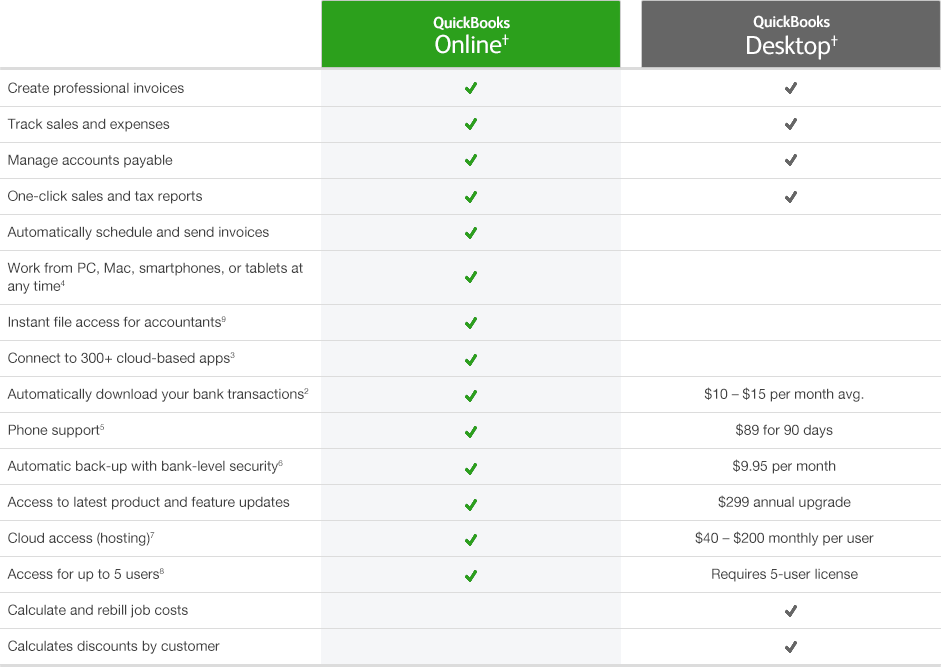 Both QuickBooks Online and QuickBooks Pro have two different pricing structures. You can check the pricing out.
Ease Of Use
It is easier to use the online version of QuickBooks. QuickBooks Desktop has a learning curve, but not as difficult to learn as some people have complained.
Customer Service And Support
With both versions of QuickBooks software, there is no strong customer support. There is no email support at all but the company is working on providing good customer service.
Number Of Users Allowed
Depending on the pricing, QuickBooks Online allows up to 25 users. QuickBooks Desktop Pro allows up to 3 users, QuickBooks Desktop Premiere allows 5 users, while QuickBooks Desktop Enterprise allows 30 users.
QuickBooks Online Vs Desktop Final Verdict
Both QuickBooks Online and QuickBooks Desktop are good software with great accounting features and each of them has their highs and lows. Choosing the right one depends on what you need. Make sure you choose based on what your business needs.
If you enjoy this QuickBooks Online Vs Desktop review, share with other people.