Rosetta Stone Review – Is It Worth The Hype?
Rosetta Stone review? Rosetta Stone is one of the best language learning software that can help you learn different languages, from Spanish to Arabic and beyond. It offers bite-sized lessons, comprehensive review tools and speech recognition technology that helps check your pronunciation.
Rosetta Stone arrived on the scene in 1992 and has become one of the most widely recognized language-learning programs in the world. You see it advertised everywhere, from airport bookstores to infomercials to TV commercials.
It has a polished, modern interface and easily understandable lessons that will help you build your language vocabulary and grammatical knowledge across several languages.
You could immediately start learning with Rosetta Stone. Pick a language and you'll dive in head-first to learning it, using the app's audio, images, speech recognition and more.
Rosetta Stone's lessons focus on total immersion, which means that you hear, read, speak and write in the language you're learning. This method is effective.
Whether you want to learn Spanish, Italian, German, Chinese or more, Rosetta Stone's award-winning mobile app helps you build a foundation of fundamental vocabulary and essential language structure.
What Is Rosetta Stone (Rosetta Stone Review)
At its core, Rosetta Stone is a computer-assisted language-learning tool, designed to help you learn pronunciation and vocabulary through a variety of helpful exercises. Depending on what kind of program you choose, the lessons are delivered either online or via software you download directly to your computer or mobile phone.
It's a software program that trains you to be fluent in a new language by using interactive multimedia and speech recognition technology, not translation. Rosetta Stone uses native speakers, images and sound to teach you the sounds and vocabulary of a new language.
With 24 languages, including popular languages such as Spanish, Italian, and French, subscribe to this software or buy it outrightly with a flat fee.
Rosetta Stone Review: Main Features
As one of the biggest language learning apps out there, Rosetta Stone takes you through a comprehensive language course. But it also has other features that add value to its core courses. To make it easier to figure out if Rosetta Stone is right for you, we put these features together covering all the details you should know before signing up.
1. Rosetta Stone Courses
With a Rosetta Stone course, you'll learn words and phrases that are relevant to your life, expand your worldview through authentic cultural content, and understand the language instead of merely memorizing it.
Rosetta Stone helps you to learn a new language naturally. The software's method immerses you in the language experience and helps you to understand the meaning behind the words. You'll learn through real conversations with native-speaking tutors and with engaging stories in Rosetta Stone's new TruAccent feature.
Your subscription includes 24/7 access to our branded mobile app, web app, and audio companion for the duration of your purchase. You'll have access to the same content no matter where you're learning. All you need is a cell phone, tablet, or computer and an internet connection.
2. Embedded Translations
Many people find the immersion aspect of the Rosetta Stone courses to be a bit too challenging and frustrating, so Rosetta Stone added embedded translations to make each lesson more accessible for everyone.
We all learn differently and maybe the complete immersion approach to learning with Rosetta Stone isn't for you. No worries, if you get stuck on a word or phrase and really want to know its meaning right away, you can press and hold the image to reveal its translation. This is definitely an improvement, especially for beginners.
3. Seek & Speak
In Seek & Speak exercises, you create fun conversations about items around your house, practicing new vocabulary and grammar skills all at once.
Seek & Speak exercises are a fun way to practice your target language outside of the main course. In Seek & Speak, you take pictures of items in your house, and then Rosetta Stone uses those pictures to help you create a conversation about the items. You'll practice speaking and listening with the speech-recognition technology too.
4. Phrasebook
The Phrasebook feature is a tool in the Rosetta Stone program that allows you to review commonly used words and phrases, listen to a native speaker pronounce the foreign word or phrase, and practice answering. Using this common language tool will help you learn how to speak a language like a native.
The Phrasebook is simple, straightforward and can be used throughout your learning journey as an additional review tool or when you have quick questions about language.
5. Stories
Use Stories to hear and read authentic stories in your new language that are tailored to you. Honestly, this feature alone is a good reason to try Rosetta Stone. The stories are short and easy to digest, so you're never overwhelmed. And they take you along a path of increasing complexity.
You'll progress through the storyline chapter by chapter, starting at the right level once you finish one story, it automatically unlocks the next story in line (no guessing which one to do next).
Stories are the best way to learn and practice a language, and Rosetta Stone has made it even better by combining Story Central with award-winning language learning. The result is inspiring, immersive stories learners love, along with the tools to build their vocabulary, practice grammar, improve pronunciation and develop an accurate accent.
6. Rosetta Stone Live
Live tutoring sessions and group coaching sessions are a recent addition to the Rosetta Stone curriculum. Free lessons every week are designed to build on your knowledge of the conversation, grammar, and pronunciation by pairing you with real language coaches.
Group classes or one-to-one sessions with experienced native speakers let students jump right in and provide instant feedback, so you're prepared for real-world conversations.
Rosetta Stone Review: What Languages Does Rosetta Stone Teach?
As the world's first language-learning program, Rosetta Stone has evolved to provide a rich language-learning experience.
The immersive environment and bite-sized lessons help you build confidence quickly and effectively while making real-world connections through discussion and role-play. You will also have 24/7 access to our mobile applications, so you can practice on your own time, on the go.
The Rosetta Stone language library has grown to 24 languages, including Arabic, Chinese (Mandarin), English (American), Dutch, English (British) (Tagalog), French, German, Filipino, Greek, Hebrew, Irish, Italian, Hindi, Japanese, Korean, Persian (Farsi), Latin, Polish, Portuguese (Brazilian), Spanish (Latin American and European), Russian, Swedish, Turkish or Vietnamese.
With Rosetta Stone's new subscriptions, you get all the languages in the catalog with one purchase. Previously, you had to choose one language per purchase.
With Rosetta Stone, you can learn the language of your choice, from the comfort of home. And with the convenience of your smartphone after you download the app. You'll love the freedom that comes with learning a new language on your time and at your own pace.
Since Rosetta Stone only offers 24 languages, you might want to check out languages that are not available there on Duolingo, Pimsleur or Babbel that covers more than 30 languages.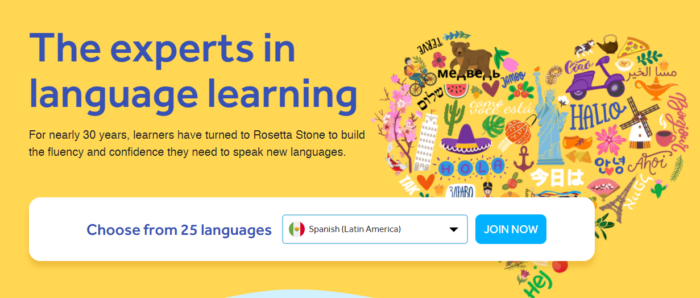 Rosetta Stone Pricing and Plans
There are a variety of subscription plans available for Rosetta Stone, though you can almost always get a discount from the original price. Individual subscribers can choose from a three-month subscription for $35.97, one-year for $170, two years for $249, or a lifetime for $299.
Discounts of up to 50% off are usually available on all, giving you access to all of Rosetta Stone's language programs at closer to $120/year or $170 for two years. Discounts are not always offered but Rosetta Stone updates coupons and deals pages whenever they are available.
With a Rosetta Stone subscription, you have access to the lessons on any device and download the lessons on your phone. You also have the option to add some real-time online tutoring sessions for an extra fee.
With two lessons of the 25-minute live group session, you are charged $14 or $19. If you are in for private sessions of two lessons, you have to pay $19 or $29. The sessions take place via a webinar with a live instructor.
Rosetta Stone's Design and Interface
Rosetta Stone's design and interface is intuitive. Few instructions are needed, and you can work through lessons orderly or jump those you already know.
I had no trouble setting up my microphone and sound checks, and I like that the program works even if your external microphone fails. The interface is simple to navigate; you can easily move backward and forwards in lessons, jump ahead if they seem too easy for you, or go over things again for more practice.
Rosetta Stone has come a long way from the bulky CD-ROMs that you probably remember from early language learning in your school, but it still retains many of the same features. The mobile app is a worthwhile companion to the web app, meaning that you can pick up where you left off no matter where you are.
It's not always convenient to carry a laptop everywhere, and sometimes you'll want to re-listen to pronunciation while you're on public transit.
Rosetta Stone's Design and Interface Rosetta Stone is available on mobile and web, and the approach is largely identical. File-folder tabs take you to your Home page, where you can select a program; the Discovery Page; your Profile page; and your Resource Center.
Rosetta Stone Spanish Review
The Rosetta Stone Spanish is one of the software's most comprehensive courses. Build a strong foundation in the language by learning the basics in core lessons, and then excel by learning phrases, idioms, and colloquial expressions in additional features like Seek & Speak, Stories, Phrasebook and Audio Companion.
Rosetta Stone's Spanish language course is designed to quickly and efficiently teach you the basics of how to communicate in Spanish. It also teaches you how to actively use it, so that you can communicate with confidence.
Most students get started speaking even before they finish the lessons, because of the highly-engaging format. Once you complete the full course, you'll be able to use the language confidently and effortlessly.
Rosetta Stone French Review
Rosetta Stone French is one of the best apps to learn a foreign language. The app has plenty of features to help you reach your goal, including speech recognition technology and study guides. The lesson plans cover basic vocabulary, phrases and grammar.
The speech recognition tools and Stories feature help you practice your speaking and listening skills in a simulated everyday situation.
Rosetta Stone teaches you how to navigate everyday situations in French. You'll have the confidence to make a reservation, ask for directions or have a conversation with friends.
Learn how to speak French on the go! The Rosetta Stone app takes you through a personalized learning journey. Advanced speech recognition technology helps ensure that you're learning correctly – and the Siri shortcuts get you going quickly.
Rosetta Stone Japanese Review
If you're looking for an app to learn conversational Japanese, then Rosetta Stone is a good choice. Rosetta Stone Japanese can help you speak and understand more of the language. You also get access to the Audio Companion feature and Seek & Speak, which are both helpful tools for learning.
Despite the few shortcomings, Rosetta Stone is a good foundation for anyone looking to learn conversational Japanese.
Rosetta Stone Arabic Review
Rosetta Stone is well-designed, but the app's effectiveness doesn't live up to its reputation. The course will help teach you some basic vocabulary and grammar, but the modern standard Arabic that it teaches isn't really useful for talking to native speakers. There's also no reading or writing in Rosetta Stone.
Overall, it is good for learning some basics of spoken Arabic though.
Rosetta Stone Mandarin Review
The Rosetta Stone Mandarin offers 20 units course that can help you build a decent foundation in the language. You'll improve your speaking and listening skills with Rosetta Stone, but you won't learn to read or write Mandarin.
All of the Mandarin courses use Pinyin, which uses the Latin alphabet to show you how to pronounce each word. This is the drawback that comes with the Rosetta Stone Mandarin course. If you are looking to learn basic Mandarin Chinese though, Rosetta Stone could be a good start.
Rosetta Stone Unlimited Languages Review
If you love Rosetta Stone's teaching method but have a hard time deciding which language to choose, the unlimited languages subscription is definitely a nice choice. This option gives you access to all of Rosetta Stone's languages for one price. Casual language learners should consider this subscription if they want to learn the basics of multiple languages and become familiar with each culture.
Overall Learning Experience Of Rosetta Stone
The immersion method is probably what most people want to know about when they read a Rosetta Stone review. As you've probably seen or heard before, the immersion method takes the opposite approach of traditional language learning apps. You learn what a new word means entirely by context.
It forces you to figure out what news words mean by looking at pictures. This means that you are constantly engaged within the learning process and begin to internalize things more. This makes it so much easier to recall information later on, which is far better than just repeating a bunch of words over and over until you get bored.
Rosetta Stone is a great place to start learning a language. The learning method is easy and intuitive, and the lessons are made for complete beginners. However, you will still have to supplement your learning elsewhere because Rosetta Stone remains a great tool but isn't likely to help you reach fluency on its own.
Rosetta Stone Free vs Paid
There is no free version of Rosetta Stone, but a 3-day trial gives you access to the first lesson of all languages. These trials let you try out all the features and see if you like the way it teaches.
If you're happy with what you see, you can purchase a paid Rosetta Stone Subscription for $11.99 per month. You'll have full access to unlimited lessons and can even send your answers to native speakers for correction.
Rosetta Stone Coupons
Scoring deals on Rosetta Stone is a little tricky. They usually only run sales around big shopping days like Black Friday, Cyber Monday, and Amazon Prime Day.
One thing I love about Rosetta Stone is that they make it very easy to get discounts on their products. They periodically offer sales and deals. (Not always, but often enough.) Look forward to these promos, because this is when you can really save a lot of money on a subscription.
Rosetta Stone Pros And Cons
Pros
Highly intuitive
Excellent user experience
Optional online tutoring sessions
Polished interface on mobile and desktop
Great bonus content
Cons
Repetitive at times
No free version
No placement test
TRY ROSETTA STONE HERE.
Rosetta Stone Alternatives and Competitors
The language learning industry is booming and as more people learn languages, so do the number of Rosetta Stone alternatives. If you're looking for an alternative to Rosetta Stone, we have gathered the best ones that you should definitely consider using.
The top 4 choices include Babbel, Mondly, Pimsleur, and Memrise – all better than Rosetta Stone in their own unique ways.
Rosetta Stone vs Babbel
Rosetta Stone and Babbel are two popular language-learning apps available, with combined millions of subscribers. Both programs offer the same languages and follow similar core principles in how they teach—but there are a few key differences.
In general, Rosetta Stone is better for beginners while Babbel offers more advanced material, but both programs are suitable for any skill level.
Pimsleur vs Rosetta Stone
Pimsleur and Rosetta Stone are two of our most popular language-learning apps. Both of these apps focus on developing your listening and speaking skills. Pimsleur teaches you to have conversations starting in your first lesson though, and its main goal is to help you become conversational quickly.
Rosetta Stone has a slower pace and teaches basic phrases in a more formal context. Between the two, we suggest Pimsleur for people who like having conversations in their new language and Rosetta Stone for people who want to learn the basics first. They're both great apps – it just depends on what kind of learning experience you prefer.
Mondly vs Rosetta Stone
Mondly and Rosetta Stone are both excellent language-learning software to start learning a language from scratch. Each app uses a different structure and features to help people learn a new language.
If you prefer to learn through speaking, Mondly is the best app for beginners, but if you prefer visual learning and have time to complete lessons in order, Rosetta Stone is the better option.
Mondly also provides you with chatbot conversations, grammar explanations and even virtual reality (VR) and augmented reality (AR). Mondly subscription is also cost-effective than Rosetta Stone. But you can try both since they both have a trial version to see which one suits your goals.
Memrise vs Rosetta Stone
If you're looking for a way to achieve fluency in under a year then it's a good idea to look at Memrise vs Rosetta Stone.
Unfortunately, both software are not at par with other giants in the industry and if you are looking to achieve fluency in any laguage in a very short time, you will have to look away from these two. But These two apps are good if you are looking to learn basics.
Rosetta Stone Review FAQ
Here are the most important Rosetta Stone Review FAQs:
Is Rosetta Stone really worth it?
Rosetta Stone is a great option for those who want to begin learning a language from scratch. Rosetta Stone's lessons teach you grammar and vocabulary through images, audio, and text. It also helps you actively practice the language by putting you in the role of speaker, listener and reader.
While Rosetta Stone isn't right for everyone, it can be an effective way to learn to speak a language if you're just starting out.
Can you become fluent with Rosetta Stone?
If you're expecting Rosetta Stone to make you fluent, it's likely you'll be disappointed. However, it can help you learn practical conversational skills and has a variety of learning tools to help you pick up the basics of a language.
What's the best way to use Rosetta Stone?
Daily practice helps you learn new vocabulary and become more comfortable speaking. By following the lessons in order, as intended, you can learn new language skills as they build upon each other.
Enabling your microphone is also important because it allows you to use speech recognition technology and receive feedback on your pronunciation accuracy. Completing additional practice activities, like Stories and Seek & Speak, can also help you reinforce what you've learned in the lessons.
Is Babbel better than Rosetta Stone?
If you're learning a language, your goals may vary based on what you plan to use your new skills for. For conversation-based goals, Babbel can take you to a higher level than Rosetta Stone.
Rosetta Stone offers a wide range of languages and more advanced features, but Babbel is often the better option if you have specific proficiency goals to meet.
Is Duolingo as good as Rosetta Stone?
Rosetta Stone's approach is more of a proven, scientific way of teaching. The lessons are built on real pronunciation and the way people actually speak their native languages. The speech recognition technology can help you improve your pronunciation over time.
In contrast, Duolingo's approach is more like a game, where you get different points for each lesson.
Conclusion
Rosetta Stone is, without a doubt, one of the best available software for learning a new language. It's great for beginners, and it's got a ton of awesome features for more advanced students as well.
This is the program that you'll want to reach for if you're looking for a simple way to build your vocabulary and understanding of a foreign language, with limited hassle or technical issues.
However, This Rosetta stone review revealed that you won't be able to write languages with this software. You will only be able to speak basic foreign language without hassle.