Atlas MD Review, Pricing, Login
As a medical practitioner, attending to all your patients satisfactorily is not easy, but because the world has gone digital with Atlas MD and software alike, you can do it effortlessly. Atlas MD is an EMR (Electronic Medical Records) solution that helps medical practitioners store their patient records, schedule appointments, manage their prescriptions and do even more.
What Is An EMR System?
EMR (Electronic Medical Records) is software that automates patient documentation, storage and record retrieval. It improves access to information for doctors, patients and nurses. In short. EMR is software that records digital data that can be used to track and monitor patient health over a long period.
What Is Atlas MD
Atlas md is a cloud-based solution for medical practitioners to store patient records, manage prescriptions, schedule appointments and more. The software helps medical practitioners streamline clinical processes using appointment scheduling, prescription management, charting regulatory compliance and much more.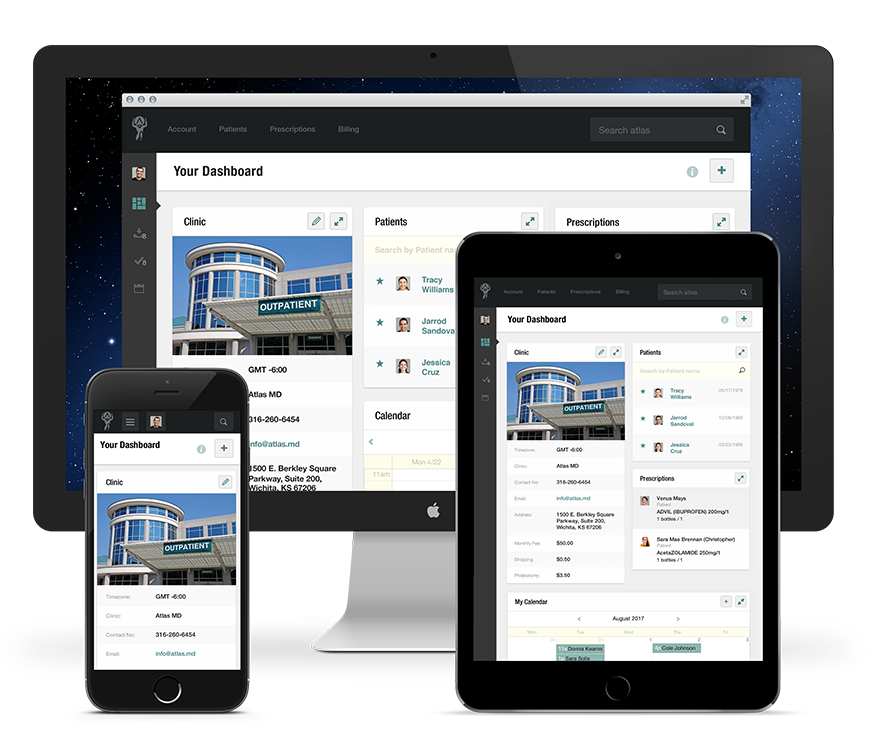 Atlas md Features
Atlas md is a great software for medical practitioners. It comes with lots of cool features including:
EMR
This software is groundbreaking EMR software. It can be used to meet HIPAA compliance regulations. It helps you spend more time with your patients, reduce your practice overhead, provide more exceptional care and integrates current social media and fitness applications. This feature makes Atlas MD a powerful software.
Cross-Platform Compatibility
This software features a responsive design that lets you use it on desktop, mobile phone and tablet. Because Atlas md is a web-based software, it will work on almost all kinds of devices you can think of. You don't need to install terminals or servers or anything physical. Just open it on your web browser and start using it.
Charting
The software provides you with access to comprehensive patient records including current prescriptions, recent tests, allergies, critical notes and much more. Atlas md provides you a complete picture of your patient in just a few clicks.
Scheduling
Atlas md is a very powerful management tool that lets you reduce staffing and overhead, and maximize your ability to be self-sufficient. this means it can help you increase revenue and allow you to spend quality time with your patients.
If you want to plan your day, set recurring visits, book appointments and schedule follow-ups without any hassle, Atlas md lets you do just that effortlessly by integrating the calendar. It means you can access your patient information and set reminders based on each patient from any device you are comfortable with.
Rx. eRx
Sometimes, EMRs can be confusing that they let you write prescriptions the old fashion method – on paper. With Atlas md integration with Rcopia and DrFirst, the process is simplified, guides you and helps in documenting every step along the way.
Just find the pharmacy closest to your patient and make a prescription and state the quantity. After doing that, leave the rest to Atlas.md to take care of it, including sending a verification email to your patient. You can even choose to dispense the medication yourself if you like.
With this software, inventory management, print labeling, pharmacy favorites and automated refills are easy. Any action and prescription you make via Rcopia will automatically reflect in Atlas.dm. You can also track the dispensing of controlled substances. Once you have registered with DrFirst and your state Prescription Drug Management Program, you can easily access your PDMP.
Billing
The good news is that Atlas md allows you to be in charge of your revenue stream. The software is built for doctors that are practicing subscription model of care with additional costs. Your subscribers will be billed on monthly basis and the software will send an e-monthly statement indicating any additional charges.
Also, this software tracks email, text and phone correspondence by patients, so that everyone knows the amount of time you allocate to their care. It lets your patients pay online, making their lives more convenient while also making your revenue more stable.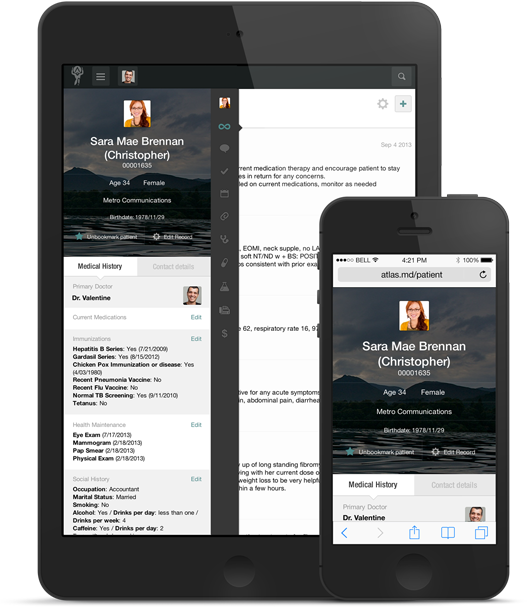 Outbound Video Calls
With this software, you can communicate with your patients anytime you want, and how they want. Outbound video calls make it possible to see your patients clearer. With the software, you can choose the way you want to communicate, including via email, Twitter, phone, SMS, fitness app and video call.
Easy Transition
If you are switching from another EMR or a traditional practice and have lots of patient charts to bring with you, you have no problem with Atlas.md.The software lets you import all your existing patient information in just a few clicks.
iOS Patient Access
Atlas md makes it easier for your patients to connect to you via iOS app, making communication easier using iPhone, iPad or iPod Touch. This is a great way to put your patients first. With the iOS app, your patient can contact you easily via their iOS devices.
Lab Integration
This software allows you to use your favorite lab provider. It integrates with hundreds of regional labs as well as Quest and LabCorp.
Atlas md Design And Interface
Atlas.md design is intuitive and very responsive. That means you can use the software on any device without any issue. The fact that it is a web-based software that is responsive makes it easier for anyone to use it.
The interface is also easy to navigate as the menus are nicely arranged and you don't need any steep learning curve to get used to the interface. All the menus are clearly stated and you can just click and get the job done without any problem.
Why Use Atlas md?
Direct care is fast becoming popular, making EMR tools like Atlas md essential for medical practitioners. Independent physicians can now provide their patients who pay directly without depending on insurance companies with more engaging and satisfying care.
Here are the reasons Atlas md is important:
Available on Multiple Platforms – Atlas.md has a responsive design, which makes it easier to use it on desktop, mobile or tablet. It is browser-based, so it works on almost any device as long as you have the Internet. No need to install servers or spend money on IT equipment
Features Robust Documentation – The software comes with an excellent charting feature that makes it easier for you to enjoy access to patient records without any hassle. With it, you have all the details of your patients at your fingertip.
Comes With Improved Patient Communication Tools – Patients always appreciate text messages or calls from their physicians. This software lets you send messages to your patient or even video call them.
Enhanced Lab Interface – Atlas.md integrates with Quest Diagnostic, making it easier for you to order tests for your patients, make payment and do a mailing of samples from the comfort of your office. You can use the test to make a precise diagnosis.
Atlas.md Pricing
Atlas md pricing starts at $300/month as a flat rate. They don't have a free version of the software but they do offer a free trial. So you can take advantage of their free trial to figure if the software is good for you or not.
Atlas md Alternatives
Atlas.MD is a great software but if you are looking for Atlas md alternatives, here are some of the best alternatives:
Experity
Experity is a great software that is best for urgent care centers. You can check it out.
TenEleven
Another great Atlas md alternative is TenEleven. It offers a complete end-to-end EHR software for Inpatient, Residential, Outpatient and mobile programs that are focused on behavioral health, mental health and substance abuse. You can check it out.
CareCloud
CareCloud is software for medical practices of all sizes looking to improve productivity, patient care and profitability. It is one of the best alternatives when it comes to EMR with class.
Intergy
The software specializes in ambulatory market solutions. It partners with over 10,000 organizations and 75,000 providers across over 40 specialties.
RXNT
RXTN offers integrated, cloud-based software for healthcare specialties of all sizes across the US. From large physician practices to medical billing professionals, this software is great.
Kareo Clinical
This software is famous with physician practices with 1 to 10 providers and medical billing companies with 1 to 100 providers.
CureMD
This software is best suited to small, medium and large practices covering all ACO networks, specialties, County Health Departments and Federal Qualified Health Centers.
Novo Clinical
This software has a great package for any specialty of doctors.
ChartLogic EHR
The software is best for private physician practices nationwide. It caters to surgical and other complex specialties in addition to primary care.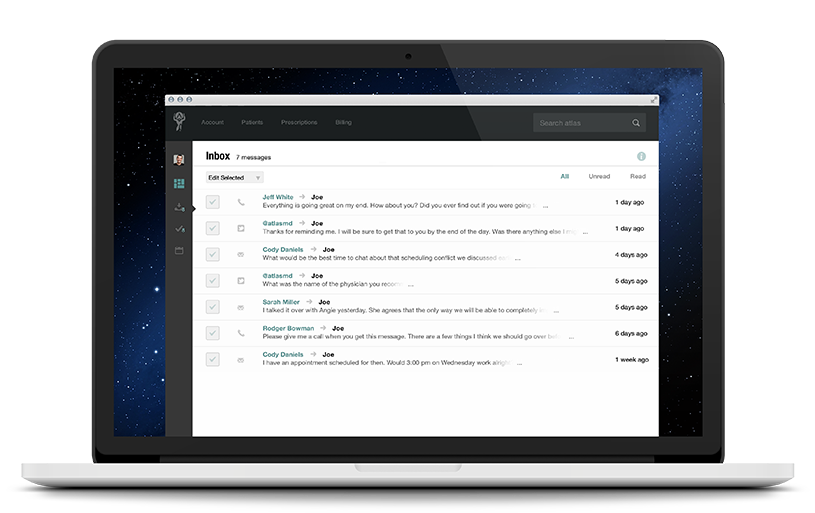 Atlas MD FAQ
What is Atlas MD?
Atlas MD is Wichita's first direct care practice. It offers a pattern of family healthcare that is comprehensive, thorough, immediate, affordable, specific and very personal.
What is DPC?
DPC or Direct Primary Care is a model of healthcare that puts patients first by getting rid of the red tape by which most other traditional practices are restricted.
Will I Benefit From Atlas MDIf I Don't Require Frequent Medical Attention?
Of course. Everyone will benefit from this program because it is tailored to patients. The Atlas.md practice is devoted to the maintenance of your good health.
Does Atlas MD Accept Health Insurance?
No
Is Concierge Medicine The Same As Direct Primary Care?
The two terms are often used interchangeably and essentially refer to the same principles.
Verdict
As a medical practitioner, you are not trained to fill out paperwork. If you want to connect with your patients and take care of them whenever they need it, you need Atlas MD software. The software helps you attend to all your patients at the right time and even increase your income. It is hassle-free software that makes life easier for you and your patients.
You can try its trial version here.