Ecommerce Software – The Best And Why They Are The Best
Ecommerce software has become so popular because of its usefulness to both small and big businesses. With the way the world is going, having your business set up to sell online has become more important.
The good thing is that you don't have to spend a fortune to sell online. With the right eCommerce software, you will be able to list your products quickly, take payments and handle shipping without leaving your office.
Unfortunately, there are so many eCommerce platforms out there and choosing the right platform for your business can really be difficult. Thankfully, we have been able to check all the available eCommerce software and choose the best eCommerce software for you. So you can start selling online today.
What Makes A Great Ecommerce Software For Businesses?
For any business whether small or big business to start selling online, here are the essential features to look for in an eCommerce platform:
Anyone should be able to easily build a good-looking, modern store that works on all devices with the themes and tools offered. There should also be enough customization options to make the online store fit the business's existing brand reasonably well. Any eCommerce software that requires you to have some coding knowledge or only provides a limited selection of themes with no way to make changes is not good.
An eCommerce platform should allow you to sell whatever you wanted, how you wanted and where you wanted. It should provide a way to handle the various national and international sales taxes.
The eCommerce software should allow you to manage orders, ship goods, track inventory and handle the back-end of running the store without the need to resort to spreadsheets or other apps.
The eCommerce software should provide ways to integrate with other services, apps, marketplaces, either through a healthy extension and plug-in marketplace or built-in features. Businesses should be able to run everything in one single software suite. It means apps should let you do things such as selling through social media or adding new customers to your mailing list automatically.
All the above features should come at a reasonable price.
The Best eCommerce Platforms
Shopify
Square
Ecwid
BigCommerce
WooCommerce
Wix
Magento
Prestashop
Volusion
OpenChart
The Best eCommerce Software For Getting Up And Running Quickly
There are many eCommerce software out there, so choosing the right one can be very difficult. But we have helped you choose only the best with the reason why they are the best. Let's get to it right away.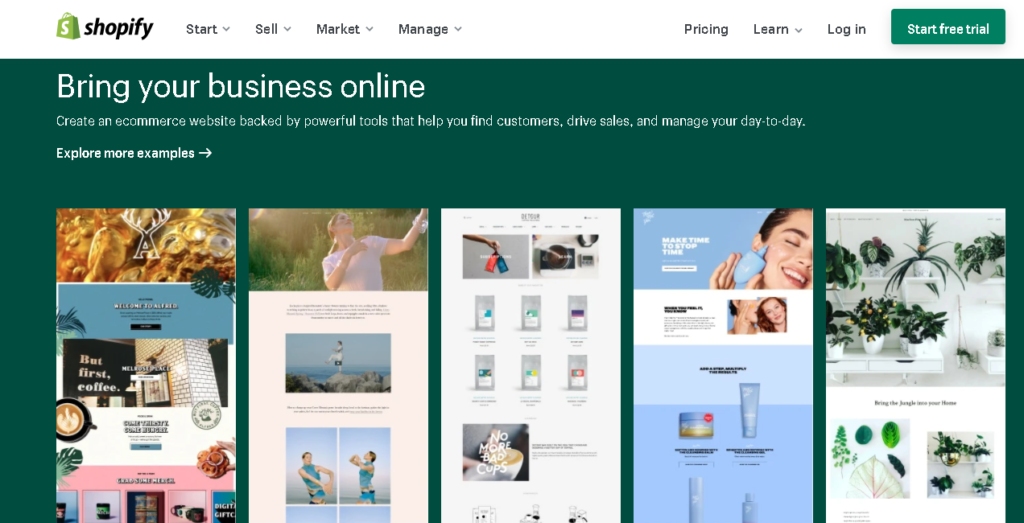 Shopify (Web, Android, iOS)
Shopify is probably the most popular and the best eCommerce software. It has been around for about 15 years and has more than a million stores built on it. With its seamlessness, it is difficult to find a platform better than Shopify for most small businesses looking to set up an online store and start running it immediately.
You can sign up for a credit-free 14-day trial, and you can build your store in a few minutes. The onboarding wizard walks you through how to add your products, customize your store's look, connect your own domain and set up payments.
The good thing about Shopify is that even if you have never built a website before or don't know how to code, you are unlikely to miss your steps in Shopify's intuitive web app.
For instance, you can add a new product by just clicking the product in the sidebar and then the Add Products button. Fill in the name of the product, price, quantity available and other relevant details, and change its status to Active. Viola, your online store is ready and you can start selling.
While Shopify tick most boxes, its extensibility and app store are its most powerful features. For example, Shopify offers more than 10 free themes and over 50 paid themes starting from $140. Go to Themes to browse them and under Theme Library, click Visit Theme Store to see the themes and choose the right one for your store.
You can also find over 1200 themes on ThemeForest for your store or get a professional designer who has experience with the platform to make a custom theme for you.
The same thing applies to almost all features you could ever want. If you can't find it in Shopify, you can find the plug-in, extension, or service that does it in the app store. Go to apps.shopify.com and look for the app you need and then click Add App. Then head back to your Shopify dashboard and click Apps in the sidebar to manage every app you've installed.
Shopify also integrates with other third-party apps, so you can automatically add new customers to your email list or track your orders with a project management tool easily.
Shopify Pricing: It is free for 14 days and then you will pay from $29/month and 2.9% plus $0.30 per transaction for Basic Shopify Plan with unlimited products.
Pros
lightning-fast load time
Very easy to set up
1-click selling
Lots of certified partners to help you
Allows multiple channel and social selling
Cons
Rated poorly in SEO in consecutive studies
Apps can add up and become costly
Unable to customize the checkout process
Need a developer for advanced features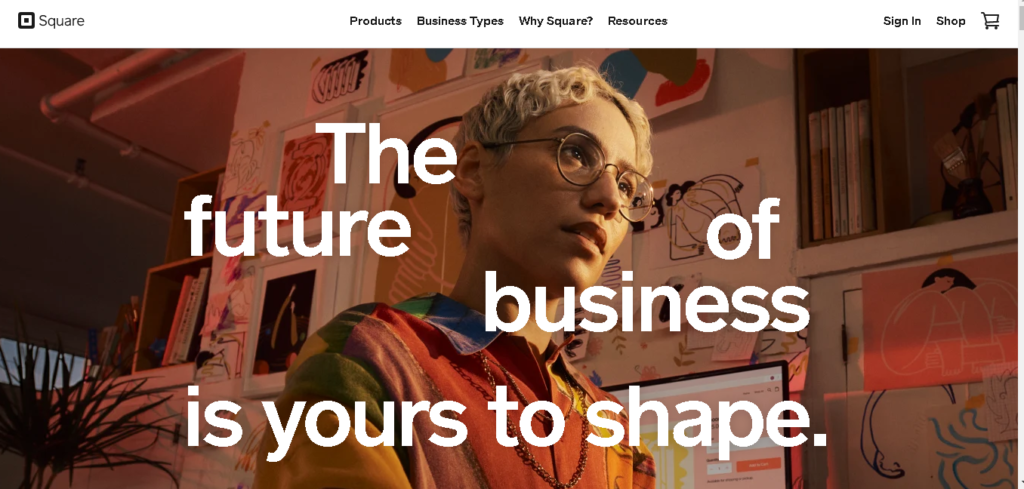 Square (Web, Android, iOS) – Selling In-Person & Online
If you are looking to sell your products in person, such as at a farmer's market or craft fair and through your online store, Square is the real deal. Both your offline and online orders are all organized under a single dashboard, so you don't need to jump between apps or track down customer details using random spreadsheets.
In 2018, Square bought the website builder app Weebly, so if you occasionally see a URL direct to weebly.com, you don't need to worry about anything. This eCommerce software is one of the best onboarding around. After signing up, you should fill in a quick questionnaire about your business and its needs.
There is the option to set up a full online store, a single booking page or simple checkout links, depending on what you need. You can also tweak the default theme to match your business category. When it comes to customization of the storefront, Square is a bit more limited than some of the other options.
Instead of selecting a theme of your choice, you have to make your own design in Square using the site builder or you can hire a designer to do it for you from $99 and above.
From your dashboard, click Edit Website to get started. in your sidebar on the left, you can choose the different page elements or click on them directly. Click on the 3 little dots for more options. you can change the layout, fonts and colors of everything individually and upload your profile image.
You can create 'Items,' which Square calls products or services for sale through the regular Square Dashboard and the Online Dashboard, and they will sync to a common Item Library. It means that you can sell the same products online and offline, or have some things you list in one location. Go to Item Library and click on Create an Item.
Whenever you want to make an in-person sale, go to the menu and click on Virtual Terminal, which acts as a digital cash register. If you have a Square credit card reader which is available for free, you can swipe your customers' cards for a fee of 2.6% plus $0.10 from Square, and their details will be automatically uploaded to your account.
You can also type in your customers' credit card details for a 3.5% plus $0.15 fee per charge. The same thing is applicable to Square's online charges. On the free plan, you will be charged 2.9% plus $0.30 per transaction.
Just like Shopify, Square integrates with third-party apps, so you can do things such as posting your in-person transactions to a Slack channel for the rest of the team to see or record the details using Airtable.
Square Pricing: It is free with 2.9% plus $0.30 per transaction for unlimited products. A Square branded site starts from $12/month with 2.9% plus $0.30 per transaction to use a custom domain and remove ads.
Pros
Reasonable price
Easy to use dashboard
Keeps track of product sales, customer journeys and abandoned cart recovery
Inbuilt marketing features support everything from paid adverts to email marketing
Cons
Limited scope for customization
Small learning curve when you first start with the platform
You will need to use the Square payment gateway to avoid larger transaction fees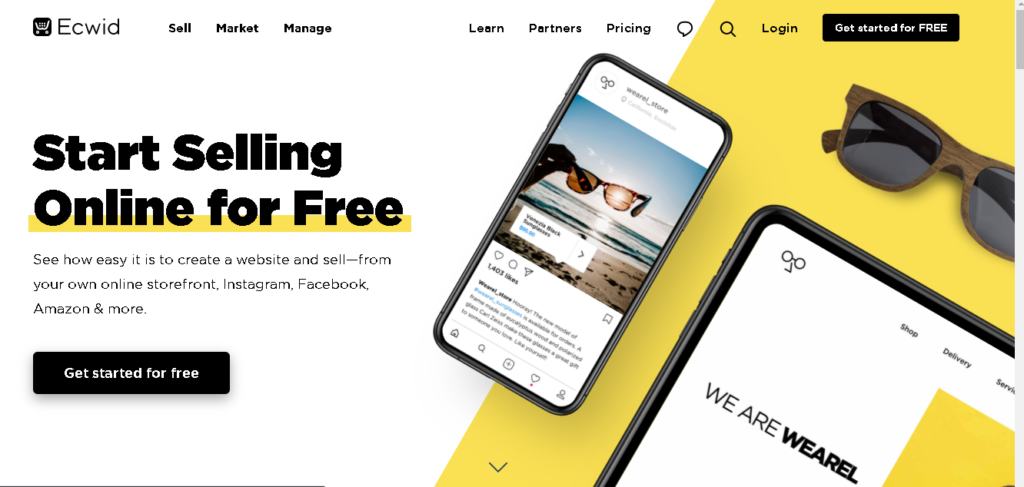 Ecwid (Web, Android, iOS) – Best eCommerce Software For Getting Started For Free
If you want to launch an online store but looking to minimize your initial outlay, Ecwid is your best bet. It offers a great, free plan that starts selling your first 10 physical products. It also offers affordable upgrade tiers that start at $15/month. You also have additional transaction fees on top of your payment gateway charges, so the platform is not hiding fees.
When you sign up, you will be allowed to integrate your store with your existing website – it supports platforms such as WordPress, Drupal, Weebly, etc. – or set up your store with a company.site domain name, which you can change to a custom domain any time you upgrade to the Venture plan.
At your dashboard, you have a big, bold to-do list that will walk you through how to set up your website, add your first product, localize your store and select how you want to deliver your goods – and get paid for the goods. You will spend less than 15 minutes going through the full list.
Customizability is the Ecwid strong point. In the sidebar, just click Website followed by Edit Site to open the site builder. Click Themes to change the theme and choose from the many options available. Whatever you want to sell, there is a decent theme for it. You can also dive deeper into the intuitive builder to customize each section, photo and text block.
Although Ecwid is an excellent free eCommerce software, it doesn't skimp on features with paid plans. The software integrates with social channels such as Instagram and Facebook so you can sell directly to your followers. You can list your products on eBay or Amazon, or take payment in person.
Ecwid automatically calculates tax, offers discounts and tracks your inventory. Once you set up your free store on this eCommerce platform, you don't need to worry about moving to a new platform if things take off.
The platform integrates with third-party apps, so you can do things such as receiving texts when a person places an order or track sales with Google Sheets.
Ecwid Pricing: Standard features plan is free but Venture Plan with professional features starts at $25/month. The transaction fees are based on the payment gateway.
Pros
A completely free Ecwid plan is available and fairly generous in terms of features
Cheap compare to other solutions
Represents a really simple way to add eCommerce to any existing website
Point of sale functionality is available
Multi-currency selling is easy to implement
Supports multi-language version of your store
Tax rates are applied automatically
Plugins/apps are available
Real-time carrier quote
Cons
You can't change product URLs, which is not ideal for SEO
The free version doesn't allow you to access SEO features
You can't create AMP versions of product pages using Ecwid
No blogging tools
A limited number of apps/integrations
Phone support is available for only expensive plans
The multi-currency functionality doesn't display the local currency at the final stage of the checkout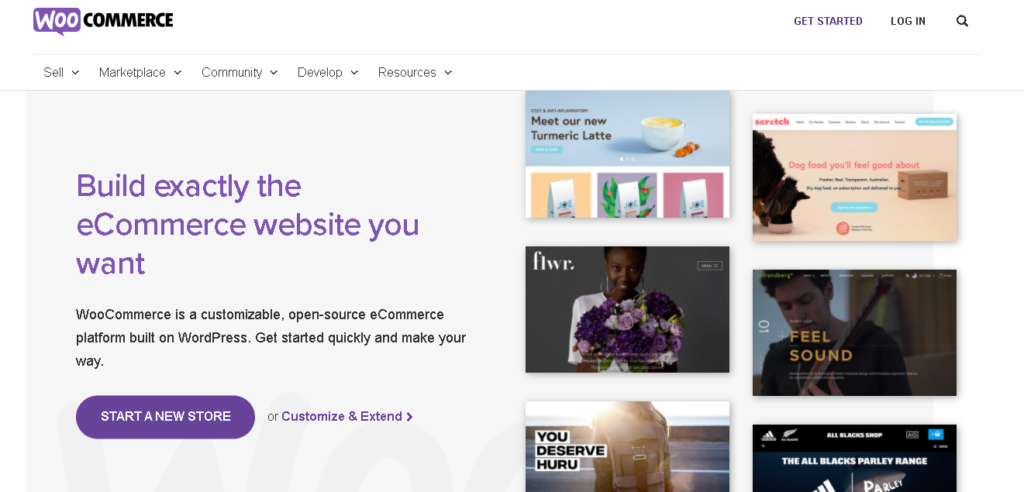 WooCommerce (Web, Android, iOS) – Best eCommerce Platform For Adding A Shop Cart To Existing WordPress Website
If you are using WordPress to build your store and you need a convenient eCommerce software to do it, WooCommerce is your best bet. This WordPress plugin integrates seamlessly into your WordPress website for easy selling!
It is quite easy to install WooCommerce on your website. Sign up on the WooCommerce site and when you reach the final step of the onboarding process, choose Auto-install WooCommerce on an existing WordPress website. You will be prompted to log in and set up the plugin. If you are rocking WordPress already, it couldn't be handier.
Also, WooCommerce slots easily into your existing backend. From your WordPress dashboard, you can easily manage your orders, view sales reports and create coupons. Adding a new product is as easy as creating a typical post – WooCommerce has the same interface as WordPress since it is a WordPress plugin, which means you don't need to spend time learning a new platform.
What is different between adding a new post and adding a new product is that you will have to add specific information about your product like categories, description, image and tags. If you can't find some features you need on WooCommerce, you can check the extension marketplace to add one.
You can get both free and paid extensions on WooCommerce to enhance your store. Real-time shipping rates is available with USPS extension, and you can integrate various payment gateways or add WooCommerce Subscriptions to allow your customers to subscribe to your products or services.
WooCommerce can be connected with thousands of other apps, to get things like adding new customers to email marketing tools or saving orders to spreadsheets done.
WooCommerce Pricing: You can use WooCommerce for free for standard features and you can get additional extensions for $29. Transaction fees depend on the payment gateway. WooCommerce is already included in the $45/month billed annually eCommerce plan from WordPress.
Pros
WordPress is the best platform for SEO
Highly customizable
Lots of WordPress experts available
1 click selling app available
Many marketing options and plenty of other integrations
Cons
Good hosting can be pricey
Virtually zero support
Have to deal with blame game for troubleshooting
You need extensions for simple stuff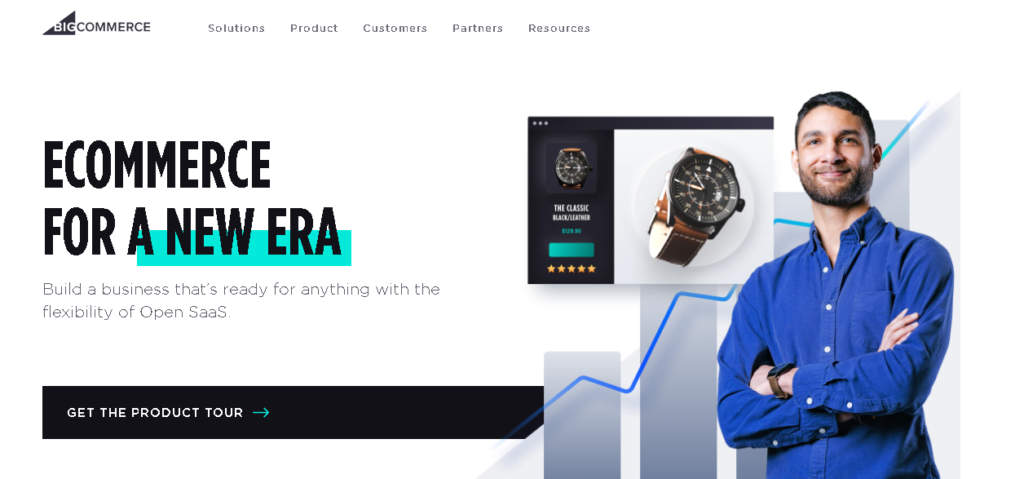 BigCommerce (Web, Android, iOS) – The Best eCommerce Software For Large Volume Sellers
BigCommerce is known as an enterprise eCommerce solution used by multinational companies such as Ben and Jerry's. Not only for multinational companies but also has BigCommerce Essentials for small businesses trying to sell online, at more affordable rates.
Having said that, BigCommerce Essentials still aims at businesses that are already selling a lot. Unlike most other platforms, BigCommerce prompts you to set up sales taxes and automated shipping. If you only sell 10 products a month, you will not be on the hook for a multi-thousand dollar tax liability.
BigCommerce integrates with online payment processors such as Amazon, Braintree, PayPal and Stripe, but you can also configure your store to accept payments by bank transfer, money order, or check.
It is also easy to list products on other marketplaces such as Facebook, Amazon, and eBay, so customers don't have to purchase products directly from your store. Go to Channel Manager in your sidebar and connect any option you want. When you do, BigCommerce will automatically import any product you have got set up and keep any change you make across all channels up to date.
BigCommerce offers 12 free themes built-in and you can get more themes from the theme marketplace for between $150 and $300. From your sidebar, click Storefront and then select Theme Marketplace to choose a theme. The themes look great and offer a drag-and-drop feature that allows you to customize your theme as you want.
The BigCommerce $29.95 per month Standard tier is capped at $50,000 per year in sales, while the $79.95 per month Plus tier is capped at $180,000per year. It is not necessary to be shifting that level of inventory for this eCommerce platform to be the perfect choice for you, but it doesn't hurt.
This platform also integrates with third-party apps, so you can easily automate tasks such as sending all your customers to your CRM.
BigCommerce Pricing: It is free for 15 days and the Standard plan for unlimited products costs $29.95 per month. Transaction fees are based on the payment gateway.
Pros
Scalable and flexible
Strong SEO performance
Excels with multi-channel selling
Comprehensive abandoned cart feature
Fantastic Theme Designs
Cons
Gets expensive for high volume stores
Inconsistent speeds in consecutive studies
No 1-click selling/upsells
Cart abandonment isn't on the entry plan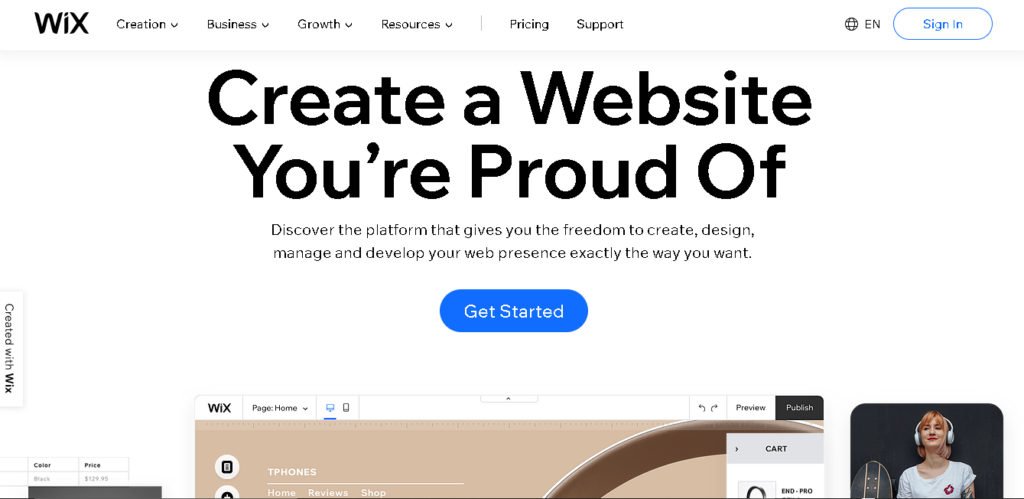 Wix (Web, Android, iOS) – The Best eCommerce Software For Simultaneously Creating A Store & Business Website
Wix is one of the best eCommerce platforms you can key into. While most of the eCommerce software allows you to create a contact page, about page and a basic blog to your site, Wix allows you to build a full website where an online store is a part of it.
Wix is a powerful site builder but doesn't skimp on the eCommerce features such as automated sales tax, order tracking and abandoned cart recovery.
When you visit Wix and sign up, you will fill in a kind of questionnaire that Wix automatically uses to set things up. Towards the end of the questionnaire, you will be allowed to choose from one of over 500 templates to make your website. You can also answer a few more questions to allow Wix's "Artificial Design Intelligence" (ADI) to do it for you.
That ADI option is very quick and effective. To begin, click Start Now, and after answering some questions about the kind of look you want, what you plan to sell, the features you need and pages you want to add to your website, and adding your details, you will have your site set up in a very short moment.
In fact, you can import content from an existing website or Google place. You can also customize things further once Wix's ADI is done designing your website.
Wix's onboarding to-do list is long and comprehensive. You can add things like your shop's opening hour (if you have a brick-and-mortar shop) and shipping rates. You are guided through setting up a professional email address, build an email list, advertising on Facebook and Google, payment gateway set up, and much more.
Wix has been around for a few years and it is popular among the eCommerce software, so it also has a healthy third-party app and extension marketplace. you can integrate your store with accounting services such as QuickBook or shipping coordinators such as Shippo, using a simple one-click install app. You can also connect Wix to thousands of other apps such as Google Tasks and Trello.
Wix Pricing: It is free for 14 days but you can upgrade to the Business Basic Plan for $28/month. Transaction fees are based on your payment gateway with Wix Payments charging 2.9% plus $0.30.
Pros
Tons of free amazing themes
On-page support for numerous needs
Really simple to use and set up
72 free themes
Cons
Many sites were not secured
Trying hard to fight a bad SEO reputation. Made improvements, but tested very poorly
Hard to fully customize template
Lacks upselling features and advanced automation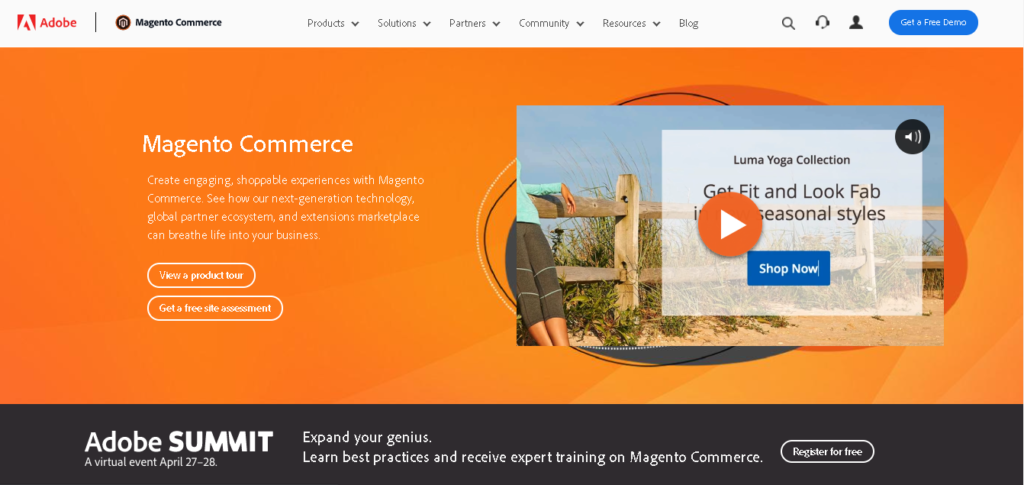 Magento (Web, Android, iOS)
Magento is a popular eCommerce platform trusted by big brands like Cisco, Procter & Gamble, and Nike. Coding is an integral part of this platform. So if you have a developer or the budget for one – and something powerful and customizable, Magento is a solid platform. You can tweak and tweak until you get the feature-rich store you want.
Like Shopify, Magento offers a drag-and-drop design page builder and allows your customers to use previously stored payment and shipping information for faster checkout. It also offers a product suggestion feature, so you can set automated rules to determine the product that will be recommended to certain customers. You can also adjust content on the front-end visually, but you will need to code the backend.
Community is a special part of Magento. The community is full of developers who are willing to work on your store for free or answer some of your questions for free. There is also a marketplace where you can get themes and extensions you need to make your store look awesome and increase the functionality of your store.
Magento is free but there is a paid level for solutions for large eCommerce businesses. Its licensing fees start at around $1,988/month and don't include your domain name, hosting, or website development cost, which could run to hundreds of thousands of dollars depending on what you need.
Whichever plan you choose, you will enjoy the long list of features that can extend. Features such as the ability to grind SEO, recurring payments, discounts, membership subscriptions, adjust content per user, unlimited products and much more.
It also integrates with other apps easily.
Magento Pricing: Magento is free but you can get more features if you purchase a license which starts at around $1,988/month.
Pros
Strong SEO
Robust and feature-rich
1-Click selling
Scalable and highly customizable
Lots of users and community
Flexible to choose where you want to host the software
Cons
Pricey themes
Requires Development Skills
Easily slowed down
Virtually no support
Requires ample memory and space to perform well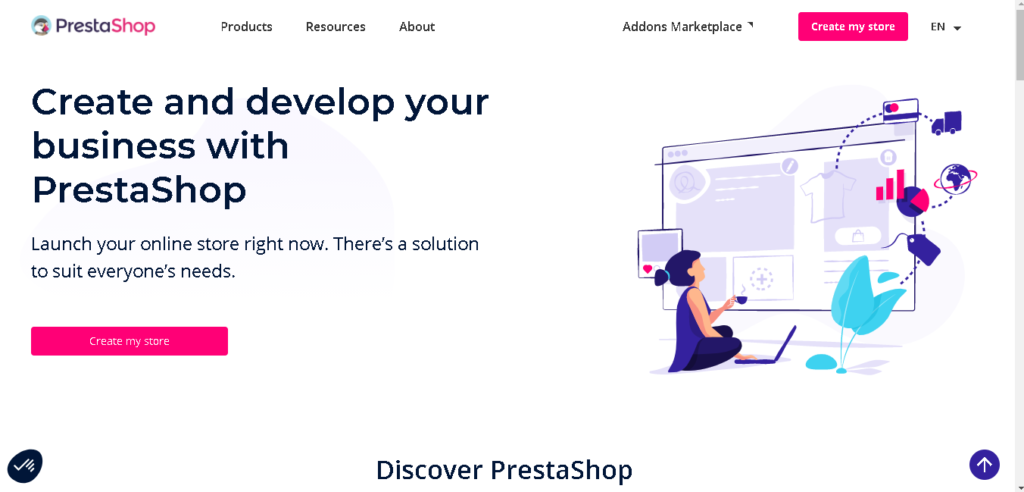 Prestashop (Web, Android, iOS)
Prestashop was founded in 2007 and it is an open-source and cloud-hosted e-commerce software that provides you with the best overall value. Prestashop is free, but the other costs you will accrue with the free version might make the software look like a costly option especially if you have no technical skills.
If you choose the free downloadable version, you will have to pay for web hosting, SSL certificate, and other modules to set up your store. If you also don't have the technical skill in PHP, CSS or HTML, you will have to pay a developer to get the job done. Nevertheless, the open-code allows for extensive integration with couriers, accounting, payment gateways, ERP, warehouses and more.
You can try this software for 16 days for free or pay straight away. It comes with an SSL certificate. Ten free themes are also available in the admin but you might need a little knowledge of CSS and HTML because the theme customizer does not have a drag-and-drop functionality.
The dashboard is simple and straightforward. There is an onboarding video, which is not as comprehensive as that of Shopify. However, you can achieve most needs through modules that you enable with one click. The modules allow for better SEO, cross-selling, Ads and social analytics.
Prestashop Pricing: Prestashop is free to download. But hosting from third-party can be around $3 – $60/month while themes and modules can be around $50 – $500/month
Pros
Strong SEO
Tons of apps/integrations available
Open source very flexible
Large and ready-to-help community
Cons
Add-ons can add up
Slower than other platforms
Limited third-party marketing integrations
No multichannel functionalities on the hosted version
Developer skill needed to tweak
Volusion (Web, Android, iOS)
Volusion was founded in 1999 but launched in 2002 as an eCommerce software. If you sell physical products, Volusion is a great option for you because for now automatic digital downloads after payment is not allowed.
Volusion offers an easy-to-use website builder with drag-and-drop and in-page editing. It also provides you with 11 free themes and lots of premium themes. Those themes cost about $180, and you will have to buy an SSL certificate. That is a huge extra cost that some other eCommerce software provides for free.
Unfortunately, Volusion does not come with blogging capabilities which is not good enough for building SEO through blogs. To get that, you need to use a third party such as WordPress and a plugin or other ways of connecting the blog to your store.
The Volusion dashboard is beautifully structured with all main action areas packed in the top navigation menu. From your dashboard, you can manage inventory and work your marketing. The marketing options include SEO, sell on Google, Amazon, eBay, social selling, coupons and rewards.
Volusion plans have a limitation in terms of the number of product you can sell. The first 2 plans that cost $29 and $79/month have restrictions of 100 and 5000 products respectively. They may change that at some point because their bandwidth used to have limitation, which is no more. Their constant improvements give us hope.
As a new user, you are provided with tons of learning materials from your dashboard on how to build your store step by step, start and grow your online store.
It is a solid platform for subscription ecommerce business. Dropshipping is also good but not print on demand.
Volusion Pricing: Volusion has four plans including Personal plan at $29/month, Pro plan at $79/month, Business plan at $299/month and Prime plan price is based on online sales
Pros
Excellent onboarding and help center
SMB friendly
Built-in subscription/recurring payments
Great flexibility with Sitemaps
Clear inventory and marketing system
Well laid dashboard
Cons
Lack up/cross-selling features
One of the slower SaaS platforms
Many sites had poor URL structure
No built-in blogging functionality
Many of the sites I checked look very dated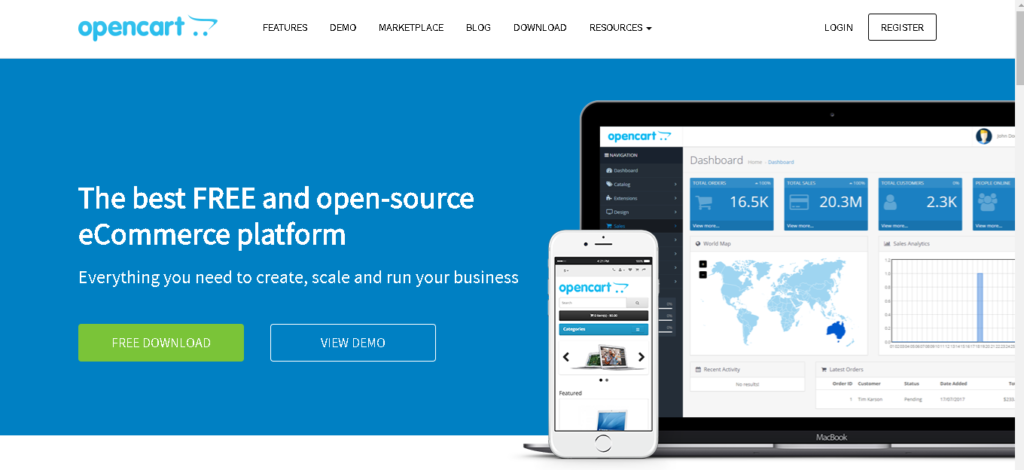 OpenCart (Web, Android, iOS) – The Easiest to Use Self-Hosted Software
OpenCart is a powerful open-source eCommerce software. Like Magento and WooCommerce, it promises everything you need to build, scale and run your business online. However, you will need technical skills to set it up and get the most out of it.
If you don't have coding experience and not ready to pay a developer to get the job done, this might not be the right solution for you. But if you have a bit of coding experience or you plan to hire a developer, OpenCart is worth considering.
It is one of the easiest-to-use self-hosted eCommerce platforms. Its interface is fairly accessible, and you don't have to be a Havard-educated programmer to change your store's theme or add products. With OpenCart, you can choose from over 20 different payment methods, which is a great variety for your future customers.
Unlike some eCommerce platforms, you can sell both physical and digital products on OpenCart. The platform also allows customer reviews and ratings and provides you with unlimited product categories. It also supports multiple currencies.
OpenCart is free to download, but there are charges for installing new features. These charges can be as much as $300, which means, scaling your online store can get expensive quickly.
Your hosting is also not included with self-hosted software, so you will have to pay at least $5 per month to host your store.
OpenCart Pricing: OpenCart is free but you can accrue cost quickly for adding more features.
Pros
Free to download
Easier to use than other self-hosted platforms
Multi-languages
Plenty of extensions and third-party modules
Highly customizable
Used by thousands of stores worldwide
Cons
Still requires coding and technical knowledge
Extra costs make it less scalable than other solutions
Sometimes difficult to customize
Limited marketing features
Lack SEO functionalities