Basecamp Review – Easy-to-Use System to Organize Your Business Better
Basecamp is one of the most popular project management online platforms in the world. It is programmed to help companies, businesses and teams which rely on it to gain higher productivity levels through better organization and communication.
It is a real-time communication platform that helps your team stay on the same page. The software provides a way for teams to keep track of priorities and actionable items. With features such as file-sharing, resource planning and much more, it is no doubt one of the Business Software – The Best Software For Company Management.
Since 2004, Basecamp has focused on developing a simple interface in which users can create projects, manage tasks and track document progress. It is a web-based tool that allows users to sign in wherever they are, any time, either through apps or a web browser.
Basecamp is not specific to one industry because it can be deployed by any organization that needs to manage a team, including client service firms, startups and nonprofit organizations and even freelancers. Basecamp subscriptions are scalable, with tiers for numbers of users and varying amounts of storage.
Basecamp has a sandbox-style which gives you a place to make announcements, chat and view the upcoming assignments as well as events on a calendar. Unfortunately, you won't find Gantt charts and resource management tools on it. It is a good app that is also affordable for large teams and if you are looking for a freeform environment where people can collaborate, Basecamp is the real deal.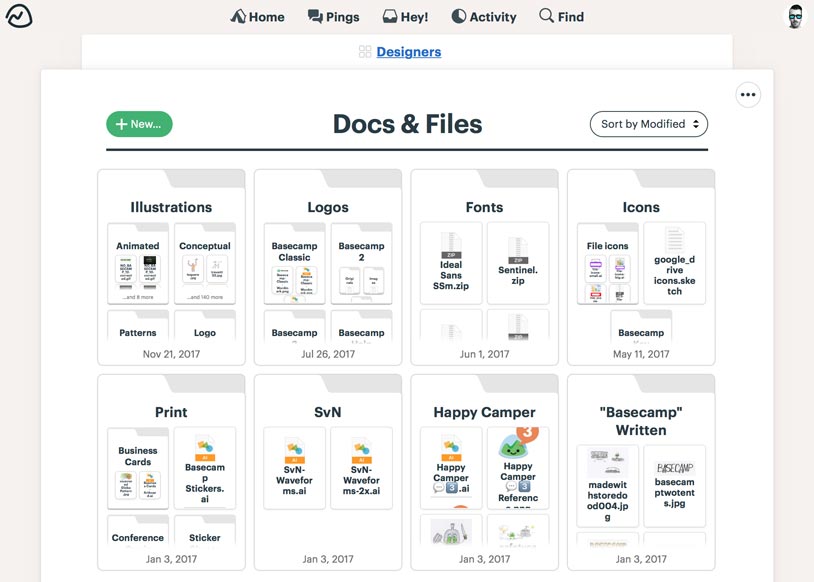 Basecamp Review – Basecamp Plans and Pricing
Compared to other project management tools out there, Basecamp provides you with a pleasing and simple scheme. It has only two versions. Basecamp Personal is the first one and it is free to use. The second one is Basecamp Business, which costs $99/month or $82.50/month with an annual subscription.
Basecamp might look a little pricey, but with a Basecamp Business subscription, you can add a lot of users. While Basecamp Business subscription allows you ta add unlimited users, competing management apps charge per user as well as per month.
Basecamp Personal
Basecamp Personal is completely free, but it is only appropriate for small projects. It is good for student group assignments or organizations for social events. That is because it only comes with 1GB storage space and room for only three projects at a time.
Basecamp Business
Basecamp Business gives you 500GB of storage space for project files and the ability to create an unlimited number of user accounts and projects. Also, important Basecamp management features such as project templates and centralized company management account are only available in the Basecamp Business tier.
If you love Basecamp Business features, but don't want to pay yet, you can use it for 30 days for free because the software offers a 30-day free trial. In fact, you won't be asked for payment details when you start your 30-day free trials. so you will never be charged by mistake.
If your organization is a non-profit, Basecamp can give you a discount on a Basecamp Business subscription. Just contact the Basecamp team to know if you are eligible 10 percent discount. Students and teachers can use Basecamp for free but they must email the Basecamp support team to request one of these special offers.
If your team is a small team of three or fewer people, Basecamp provides you with an account at half price and half storage ($49/month and 250GB).
Basecamp Vlassic vs. Basecamp 3
Basecamp has been around since 2004 and the current version is completely different from what you may have used before 2012. The earlier version is called Basecamp Classic, while the current version is called Basecamp 3. So, this Basecamp review is on Basecamp 3.
If you have not checked the new Basecamp 3, it is completely different from the old version. The legacy version is still available to original members who have been grandfathered forward with their free accounts. If you were not grandfathered into the Classic version, your only option is to pay for Basecamp 3.
Basecamp Features
Basecamp is intended to be an all-in-one project management software that provides you with access to the same features you would normally have to sign up for multiple services to get. This tool comes with real-time chat, document editing, file storage and advanced to-do-list features to replace those offered by standalone software such as Asana, Slack and Google Drive.
One of the central Basecamp features is a team member chatroom called Campfire. Users involved in a certain project can send messages to one another, attaching files or emojis.
The worst thing about working with different platforms that are not talking to each other is that it is easy to get overwhelmed by a huge number of unrelated notifications that drag away attention from the task at hand. Basecamp handles project notifications and Campfire notifications much better because you can easily switch off all notifications at set times.
Also, Basecamp provides the ability to preserve certain conversations for your whole team to see. That will make everyone to know what the client is looking for, or what their boss thought about the team's last piece of work. It means that it helps to keep everyone on the same page for efficiency and prevents avoidable disputes.
If you have a Basecamp Business subscription, you will be allowed to create limited client accounts to share approved documents directly with your customers without leaving the comfort of the Basecamp system.
Basecamp also provides you with automatic project progress check-ins to ensure your team stays on task. This means that users will regularly be asked to charge their personal to-do list for the day and say how they are prioritizing different tasks. In fact, if your employees work remotely, Basecamp will save you from the dull chore of messaging daily to ask each worker what they are doing.

Basecamp Interface and Use
Everything in Basecamp divides into different projects. Each project has its own screen with all work-related materials including tasks, schedules and discussions. Sometimes, this approach can seem a bit cluttered but once you are familiar with the system, you can easily work on any project you wish to work on without any hassle.
When users load up the Basecamp system, they will be taken to the dashboard where all their projects are displayed as well as a central company "HQ." In the HQ area, you will find important announcements and notices for you.
The good thing about Basecamp is that it allows users to focus on the projects they are involved in while keeping up-to-date with news at the company level.
Basecamp ping can be accessed through a shortcut right at the top of any Basecamp screen as well as other important things such as recent user activities, schedules, bookmarks and individual tasks.
Basecamp is available on Windows and OS X as a desktop app. But if any of your team members want to stay connected on the go, they can access the Basecamp system through Android and iOS applications. These applications offer almost the same capabilities as the desktop, allowing you to view project schedules, notifications, or Campfire messages from your phone.
Basecamp Support
In case you run into problems with your Basecamp installation, you can check tutorial videos and guides in the Basecamp support center to get help. But if you can find help through tutorials and guides, you can send a request to the Basecamp support team.
Their technical staff is available during CT working hours and they typically respond within 20 minutes. But if you are a Basecamp Business subscriber, you will be provided with priority assistance, which Personal users might not get.
Getting Started With Basecamp
Basecamp takes a few minutes to set up. Video tutorials will walk you through the process of getting started without any hassle. You will see sample dummy team projects and groups to help orient you. Some of it may be overkill, but will surely make it easy for you to get started. If you don't like certain dummy content, you can archive or delete it.
In the process of setting the system up, Basecamp will suggest that you add some elements to your accounts, such as documents, upcoming projects or events and tasks associated with them. Those suggestions are really helpful for teams who are not sure of how they'll use a collaboration platform.
At some point, you will have to invite other team members to join you. You can easily invite anyone via email address. When you create an invitation, Basecamp will show you a preview of the email so there are no surprises in what you send.
What Do You Do in Basecamp?
On your homepage, you have 2 distinct sections (3 if you are an admin(. They are Teams, Projects and Companies (seen by only admins). Within each section, you will find cards indicating all the teams and projects you have joined.

For instance, you might be part of the Managers team or Marketing team. You might be part of the Website Redesign project and Holiday Party project. Each card is a portal to a new space where you can collaborate with other team members or project.
Once you enter any of these portals, you will land in a space with multiple collaboration tools:
To-dos
Campfire (group chat)
Schedule (calendar)
Message Board
Docs & Files
Automatic Check-ins
Email Forwarding
You can turn off any of these tools when you are customizing the page. Most of these sections are self-explanatory, so you shouldn't find it difficult. Message Board and Campfire are similar, but the latter is meant for real-time conversations while the former is supposed to be more for progress updates, announcements and less communication.
Note that every team and project has its own siloed Message Board and Campfire. You can't flip between one team Campfire and another easily, the way you can in other messaging apps, such as Slack.
The section called to-do is where you can manage your tasks. You can create lists of tasks and for each one assign a person who is responsible, the people who you want to notify when the task is complete, a due date or date range when the task will occur, and notes about the assignment.
The calendar is the schedule and it is straightforward. Any task with a deadline appears on the calendar and in the list below it. If you want to sync the Basecamp calendar with your personal calendar on Outlook, iCloud or Google, it is easy.
The Basecamp Automatic Check-ins are a little unusual. It is a place where everyone on your team or project is prompted to answer a question when it is posted or on a recurring basis. The idea here is to ask for some status updates ("Are you blocked on anything this week?" "How is the project going for you?") or a few random questions to foster informal communication ("Have you read any good books recently?").
Although the Check-ins are friendly and helpful, I feel it is better to be separated into its own space.
Docs and Files is the place you can upload files to share and discuss with team members. Basecamp also provides you with tools for creating rich text documents right inside the platform. Anyone, you share the file with can comment on it, download it, see the history of activity on it and upload a new version.
But you can't annotate or draw on image files and PDFs, which I feel is too bad. There is no rating system either, which is helpful when posting different versions of the same document and asking people for feedback.
There is also an email section that allows you to forward emails into Basecamp in order to share them with your team.
Working With Clients, Reports
If your team is working for a client and has just completed the job, Basecamp allows you to invite the client to join appropriate teams and projects. Clients have limited interactivity and visibility as they can only see what you want them to see.
Once you add a client, Basecamp will start giving you reminders about what the client can see and what is private to you and your team members. By default, everything is private, but you can enable what you want your client to see.
Reporting tools are available in Basecamp, though they are fairly basic. You can generate reports that show tasks that are assigned to a particular person or that are overdue, but you don't get anything more in-depth than that.
The Competition
If you stack up Basecamp against alternative project management tools, such as Zoho Projects, Basecamp is clearly more focused on improving your productivity through seamless communication rather than advanced project tracking features.

For instance, Gantt charts come standard with other project management tools but can be added to Basecamp through third-party integration.
Pros
Usable free version
Flexible, sandbox-style software
Keep all your projects in one place
No "per user" pricing
Fully-featured mobile application
Supports integration with a wide variety of services and apps
Cons
Lacks some advanced features
The interface can be confusing
Limited reports
The Verdict
Basecamp is a great online hub for team collaboration. It is reasonably priced, flexible and integrates with a wide variety of other services.
If your team members are complaining about having to work in different platforms that don't talk to one another or you are looking for a convenient way to organize your business, track individual or team tasks, and communicate with clients, Basecamp is the right project management program for you.
Another thing is that you can add as many as you want user to Basecamp because it allows unlimited users. That is a bargain when it comes to comparing its pricing with alternative apps.