Infoplus Commerce WMS – Review, Why Everyone Loves It?
Infoplus commerce WMS? What does it mean and what is it? Infoplus commerce WMS is warehousing online web software that is used for online shopping, booking, selling, buying, and tracking your eCommerce business.
It is an affordable eCommerce solution that is easy to operate. Infoplus commerce WMS is used to facilitate the complete process of online shopping. It can be used to promote your online business via the internet, mobile, or computer platforms.
If you own a small online business, then Infoplus Commerce is probably the best fit for your company. As an online eCommerce company, you can also make your website mobile-friendly or mobile-optimized.
As a mobile-friendly online business, visitors to your site can browse your products or services while they are on their phones and tablet devices. Infoplus Commerce is an easy-to-install online software that only takes up a few minutes to setup.
There is a large number of benefits offered by Infoplus commerce WMS.
What Is Infoplus Commerce WMS?
Infoplus commerce WMS is a cloud-based software that lets you manage your inventory, orders, and shipping processes in one place.
With Infoplus WMS, you can integrate systems and applications to improve your fulfillment operations and even consolidate shopping carts, calculate the shipping costs from carriers at a go.
You can also use this software to transfer financial information to your accounting software and do more in just a few clicks. As Infoplus handles all the integration by itself, you do not have to do anything extra or write lengthy scripts to get the desired results.
Infoplus lets your customers pay and allow you to deliver your customer's orders in a good time. This is important for the growth of your business because on-time delivery and low shipping cost remains the best way to keep your customers
As a leading order fulfillment operation, you are looking to improve your warehouse process. Infoplus aids you in making your warehouse more efficient starting with order route optimization. This reduces the number of touches and increases your overall productivity.
Aside from that, Infoplus helps you decide when to get additional hands, especially during peak seasons to make sure your customers receive their orders within the set timeframe.
Shopify Review: Should You Use The Ecommerce Platform?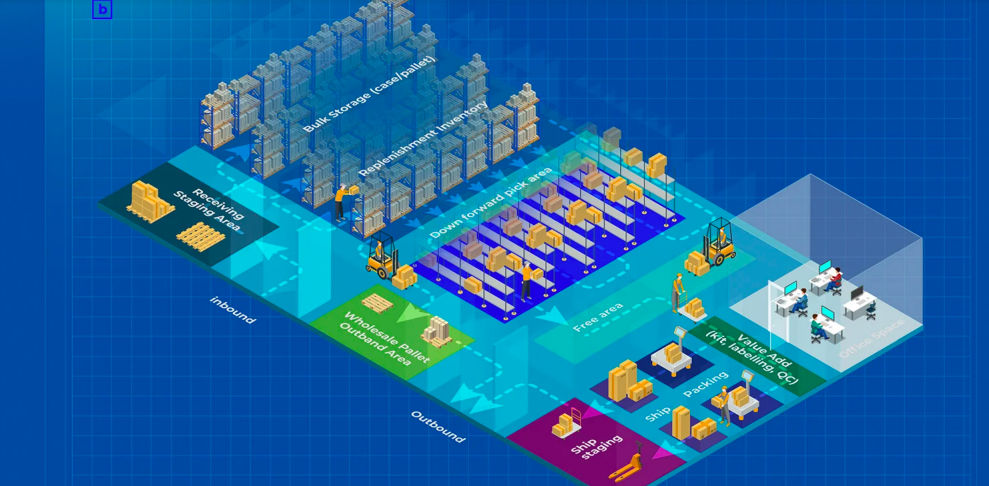 Infoplus Commerce WMS Features
Order Management: Infoplus commerce WMS automates and manages all your order processing and fulfillment, with fast turnaround time, boosting your efficiency and productivity
Inventory Management: This platform offers you total inventory visibility and control. With real-time stock-level alerts, inventory adjustment and lot control, you can track and manage your inventories and stock movements anywhere at any time.
Warehouse Management: This eCommerce solution helps you manage your end-to-end warehouse operations with amazing features such as packing, shipping, automation, picking and inbound receiving.
3PL Management: Infolus Commerce WMS provides you with full control and effortless management of 3PL customers with permission-based roles and data access.
Integrations: This software offers pre-built integrations with shipping partners, eCommerce carts, EDI, financial tools and channel partners. It also offers a completely open API that lets you integrate with its partners.
24/7 Support: Infoplus provides users 24/7 web-based ticket support, in addition to a community forum and documentation. The good thing is that, depending on the severity and priority level, the support team responds to tickets within 24 hours.
Training: Infoplus commerce WMS provides three different types of training to users. These include user guides, video-based tutorials and a knowledge base.
More Infoplus features are:

Infoplus Pricing Plans
Infoplus offers three pricing plans. Unfortunately, they offer no trial period. Here are the Infoplus pricing plans:
1. Infoplus Startup
Infoplus Startup plan comes at $395/1 user/month. Here is what you get when you subscribe to this plan:
Inbound and purchasing
Full cutting-edge WMS
Building blocks
Inventory control
Outbound and shipping
Customer reporting
Management by exception
Dashboard
Customer portal
Low stock and stock control
Kitting and light manufacturing
Hardware (printers, scales, scanners)
Real-time order and shipment tracking
And much more
2. Infoplus Warehouse WMS
Infoplus Warehouse WMS comes at $695/1 user/month. Here is what you get with this plan:
Inbound and purchasing
Full cutting-edge WMS
Building blocks
Inventory control
Outbound and shipping
Customer reporting
Management by exception
Dashboard
Customer portal
Low stock and stock control
Kitting and light manufacturing
Hardware (printers, scales, scanners)
Real-time order and shipment tracking
And much more
3. Infoplus 3PL WMS
Inbound and purchasing
Full cutting-edge WMS
Building blocks
Inventory control
Outbound and shipping
Customer reporting
Management by exception
Dashboard
Customer portal
Low stock and stock control
Kitting and light manufacturing
Hardware (printers, scales, scanners)
Real-time order and shipment tracking
And much more
Why Use Infoplus Commerce WMS? – Infoplus Benefits
Increased Efficiency and Productivity: With the Infoplus automated processes, pick-and-pack support, optimized routes and real-time updates, you are sure to increase your productivity and reduce labor and enjoy good time management.
Customizable Workflows: Infoplus users enjoy custom workflow and rule-based automation. In fact, everything you need to scale your business is packed in just one place.
Reduced Shipping Costs: With pre-built integrations of shipping carriers, users can choose the best shipping partner based on the volume of orders and costs.
Mobile Accessibility: With Infoplus native mobile application, iOS app and Android app, you can manage your business and track everything from anywhere at any time.
Unfailing Customer Service: Infoplus offers 24/7 support and if you submit a ticket, you are sure to get a fix within 24 hours.
Merch Titans Automation Review
Infoplus Technical Details
Language
Customer Types
Small businesses
Medium businesses
Large Enterprises
Device Supported
Windows
Mac
Web-based
Android
iOS
Pricing Model
Deployment
Infoplus Commerce WMS Pros
Great dashboard
Easy to use
Native mobile application
Easy fulfillment
Lots of flexibility
Notable features from UI to system integration
Infoplus Commerce WMS Cons
Backup documentation for invoices needs improvement
More security features needed
Infoplus Login
Once you are added as an Infoplus user, a welcome email will be sent to you. The first time you log into your Infoplus account will be from the Set my password link in a welcome email sent to you.
Once you change your password which can be a combination of letters, numbers and/or special characters, you can login. Type your username (email address) and input your password. Then click on login.
Types Of Warehouse Management Systems
Warehouse management functions include a variety of tasks such as order management, order routing, warehouse operations, inventory management, distribution, transportation, and logistics.
Warehouse management systems (WMS) are computer-based systems for managing warehouses and warehouse workers, in order to support these functions.
There are four types of warehouse management systems for 3PL businesses:
Standalone warehouse management

Integrated ERP systems

Supply chain execution modules.

Cloud-based WMS
WMS Software Companies
With the advancement of technology, it is now easier than ever to buy items online. There are now websites such as Amazon, eBay and many more that sell almost anything. The next step would be to use a WMS software company to take care of the transaction.
WMS software companies are companies that manage large-scale transactions and data, including the steps in the process. These are companies that package, ship and manage the transactions for you if you have e-commerce websites.
With the advancement of technology, most companies that have a brick-and-mortar location have turned their business online. If a customer wants to buy something, they go online and order it.
If they don't like what they got, they can send it back to the company. A WMS software company makes sure that the transaction goes smoothly and that the customer gets what they are promised.
Here are the  best and most popular WMS Software Companies:
NetSuite WMS
Softeon
3PL Warehouse Manager
Fishbowl Inventory
Info SCM
TECSYS WMS
Manhattan Associates
HighJump
Latitude WMS
Astro WMS
Warehouse Management System Examples
Warehouse management systems (WMS) are a vital part of managing and optimizing the flow of items in and out of a warehouse and can be used to better manage inventory, automate the picking process, and track shipments.
WMS solutions are designed to be modular and scalable, which allows companies to tailor solutions to better fit their needs and often integrate with other systems in a warehouse. Here are some of the main warehouse management system components to consider before planning to implement your first WMS.
Infoplus
NetSuite
SphereWMS
mobe3 WMS
IRMS360
SKuVault
Odoo
Manhattan
Blue Link ERP
Highjump
Warehouse Management System PDF
Warehouse management systems are used in production enterprises to track their activities. A warehouse management system is software that collects the data on the warehouse and uses it to analyze the current status of the warehouse and make adjustments.
A warehouse management system is a step-by-step management system for warehouses and production enterprises. A warehouse management system does not only help enterprises to control the production process, but also helps enterprises to be successful in their operation.
A warehouse management system is also used to gain information on the production process. This makes use of a warehouse management system to make production enterprises more efficient and profitable.
To be able to gain information on the warehouse management system, it is important to understand the warehouse management system. This is because if you are to use a warehouse management system, it is necessary to know its structure.
In order to understand the structure of a warehouse management system, it is important to understand the different components of a warehouse management system. Here is a Warehouse Management system PDF:
Blue Yonder WMS
Blue Yonder WMS is a software that offers a comprehensive, real-time view of warehouse activities. This software offers a comprehensive view of warehouse activities like picking and packing, as well as real-time data on inventory.
It also provides real-time performance metrics and metrics on the status of stockouts. The software is easy to use, with a user-friendly interface and offers a robust set of features. It is a fully integrated software that includes a back office, inventory management software, and dispatching software.
It can be used by any size warehouse and can be customized to meet the needs of the user. The software is highly customizable and can be tailored to the needs of any warehouse.
Warehouse Stock Management System
Warehouse management systems are used for different purposes. They are made to help with inventory and supply tracking, efficiency, and accuracy.
Warehouse management systems help employees be more productive with their time. Warehouse management systems also help with the process of receiving, picking, and putting away products. Warehouse management systems can be used in any type of warehouse, such as a warehouse in a distribution center.
Best WMS For Small Business
The warehouse management software (WMS) is the backbone of businesses. It is a warehouse management software that helps in managing inventories and fulfillment of orders. It helps in making the process of importing and exporting goods by tracking and managing the location of items.
It is important for small businesses to have warehouse management software because it helps in streamlining the process of business. It helps in planning for future inventory and reducing stock. It helps in meeting customer needs and also helps in planning for future needs.
WMS is important for small businesses because it helps in helping the business to grow. It helps in reducing the time, cost and effort spent in the process of the business.
Here are the best WMS for small businesses:
Veego
Fishbowl Warehouse
Cin7
QuickBooks Commerce
Zoho Inventory
Infoplus
What Is A Good WMS?
A good WMS should be capable of handling the core WMS tasks required of a warehouse, including receiving, order picking, and shipping. However, that is not the end of the story, as WMS solutions are increasingly being marketed as "comprehensive solution" providers.
A good WMS should also be able to handle complex solutions like manifesting, paperless picking across multiple zones, exotic lot number control, truck route/stop management and more.
These are the qualities you should look for:
Maximum Functionality
Ease of use
Complete transaction management
Flexibility
Useful, easy-to-read metrics
Seamless ERP integration
Proven track record
Value for ROI
Commitment to warehousing and logistics
Who Uses WMS?
Warehouse Management Systems (WMS) are used by both private and 3PL warehouses. They are a tool that uses technology to make warehouse operations more efficient.
Warehouse Management Systems also help to make sure that inventory is not overstocked or understocked. Warehouse Management Systems help to automate and digitize warehouse operations. They can help to reduce labor costs and improve the accuracy of inventory monitoring.
Warehouse Management Systems can also help to reduce the risk of theft, which is a constant concern for any warehouse. Warehouse Management Systems can help to increase the productivity and efficiency of warehouse operations.
They also help to reduce costs, by automating the process of receiving and managing inventory. Warehouse Management Systems are a great tool that both private and 3PL warehouses can use to increase efficiency and productivity.
Do I Need WMS?
Do I need WMS or not? This is the question a lot of people ask when they are trying to decide what is the best way to track inventory in their warehouse.
The simple answer is everyone with inventory that is moving through a warehouse, whether it is palletized or not, needs WMS to effectively track where inventory is and be sure information is up to date and accurate at all times.
A WMS can be a great tool to help a company manage its inventory more efficiently, but it is not a magic pill. It is a tool that helps companies be more effective, but it is up to the company to use it to create a better business.
Free WMS Software
The delivery of exceptional customer service is so important because it is the foundation of any company. Whether you are a world-class retailer, an independent business owner, or a franchise, you need to really seek to achieve a balance between the demand and supply.
Unfortunately, this is impossible without a well-managed and integrated warehouse system. So, if you are a business owner or a sales manager, it is important to consider ways to use warehouse software to improve your business.
It is also important to consider your company's needs before you decide which warehouse software is best for your business. So, if you are looking for free WMS software, here are some of them:
Infoplus Alternatives
Infoplus is a powerful eCommerce solution, but if it does not seem to have all the tools you are looking for, our experts suggest you examine other Infoplus alternatives. Below you will find products that have been selected by our experts as the closest competitors of Infoplus and at this point, we highly recommend you evaluate each one of the solutions listed below.
1. Flowtrac
Flowtrac is a solution that is best for warehousing, WIP, manufacturing, inventory management and asset tracking
2. Skubana
If you are an e-commerce brand that sells on multiple channels and needs powerful inventory features, Skubana is the best.
3. ShipStation
ShipStation is an e-commerce solution designed for multi-channel merchants. If you sell on multiple platforms such as Amazon, eBay, etc., this software saves time and money.
4. Zentail
Zentail is best for fortune 500 retailers, top 1000 Amazon sellers and other fast-growing brands. Their average users make over $1million in annual sales.
5. Unleashed
If you are a company looking to streamline your processes, gain visibility and manage costs over manufacturing, supply and sales process, Unleashed is for you.
6. ZenHub
ZenHub is the best solution for e-commerce retailers in any industry.
Infoplus Commerce WMS FAQs
What Is 3PL Warehouse Management System
3PL warehouse management system (WMS) is a software specially designed and customized by the 3PL companies to allow their warehouses to receive goods from their customers and to deliver goods to their final customers.
The companies provide these WMS and their software solution-based services, which can fulfill the following functions simultaneously:
Pick and pack the order by different types of carriers (i.e., truck, ship, rail)
Unload and stack on storage racks
Order picking and packing of pallets
Packaging order and shipment
Labeling and data entry
Fulfillment in warehousing, shipping, receiving and delivery of mail
This software is used by the 3PL companies for the fulfillment of their logistics business or as a platform for their logistics company to manage their logistics operation. It is a web-based web solution to manage and streamline logistics operations or warehouses.
Best 3PL Solutions
The best 3PL solutions are:
eFulfillment Service
ShipBob
ShipMonk
com
Floship
Rakuten Super Logistics
Red Stag Fulfilment
Who Are The Typical Users Of Infoplus?
Small businesses, mid-size businesses and large enterprises are the typical users of Infoplus.
Does Infoplus Offer An API?
Yes. Infoplus has an API.
What Level Of Support Does Infoplus Offer?
They offer free training, 24/7 support, email, phone and knowledge base.
Conclusion
If you are looking for a warehousing solution that delivers the best in terms of everything you need for your business, Infoplus Commerce WMS is the best. With amazing features and the fact that it reduces costs, you are sure to love it.
However, if you feel that this e-commerce solution does not offer enough features for your business, you can try one of the Infoplus alternatives.