Norton 360 Reviews – Norton 360 Deluxe Review & Norton 360 Premium Review?
Pros
Excellent malware protection
Password manager
Backup software, webcam protection, online storage
Unlimited VPN service
Light background performance
Optional LifeLock Identity for US users
Smart firewall
Accurate blocking of malicious URLs
Cons
No file encryption or a file shredder
No trial version
Some file lost during ransomware test
Fixed 1-computer, 1-year license
Gets expensive quickly
Heavy slowdown during full scans
If you are looking for Norton 360 reviews, you have come to the right place. Decades ago, if you were looking for the best antivirus to armor your PC, brands like Norton and Symantec were the obvious choice. To a certain degree, that's still true today.
Today, Norton Antivirus is synonymous with cybersecurity and if you are looking for protection for your PC, Norton 365 antivirus is still the best.
Many years ago, Norton antivirus software had a few problems including annoying notifications, sluggish performance and complicated interface. But all that has changed now. The software is now exceptional, guaranteeing 100% protection from spyware, malware, digital surveillance, identity theft and phishing threats.
Not only is Norton 360 antivirus defend your PC against malware, it streamlines cybersecurity management with integrated features such as cloud backup, VPN and password manager. In fact, it comes with the best parental control feature.
Norton 360 Reviews – Features & Pricing

Share this Image On Your Site
Norton 360 is available via an annual subscription and comes in three tiers including Norton 360 Standard, Norton 360 Deluxe and Norton 360 Premium.
Norton 360 Standard provides security for just one device, a password manager, 10GB of cloud storage, a smart firewall, online threat protection and access to Norton's "Virus Protection Promise" customer support. It also provides you with VPN access and SafeCam for PC webcam protection.
Norton 360 Standard costs $34.99/year and you get 10GB storage size with this package. If you are looking to use this antivirus software on one device, it is the way to go.
Norton 360 Deluxe offers everything that Norton 360 Standard has and also adds parental controls plus security for 3 devices, 50GB of cloud storage and VPN access for 3 devices. Norton 360 Deluxe starts at $44.99/year for 3 devices plus 25GB storage and you could also choose $49.99 Deluxe package that can be used on 5 devices and comes with 50GB.
Norton 360 Premium encompasses everything offered by Deluxe package and up to 250GB cloud storage. Pricing starts at $74.99.
Though the premium package is cool but the only reason to probably choose it is the increased storage but you can choose to check other low-priced cloud storages that offer better package.
RELATED: CCleaner Review: Should You Install It On Your PC?
Norton 360 Reviews – User Experience
Norton 360 is not just about antivirus but also about storage, VPN, parental controls, password management, webcam protection and more. Most of the features Norton offers are self-explanatory, so you can understand them without needing anybody to explain anything to you.
Regardless of whether you are getting Norton 360 for the antivirus or to consolidate your password manager experience, you will be able to find what you are looking for via the new My Norton app.
As a gamer, I found that the overall setup is not different to setup you will find in most top antivirus software. I did find that there is frequent notification pop-up from Norton's Smart Firewall that lets me know its take on any software I was running. That is a little annoying though.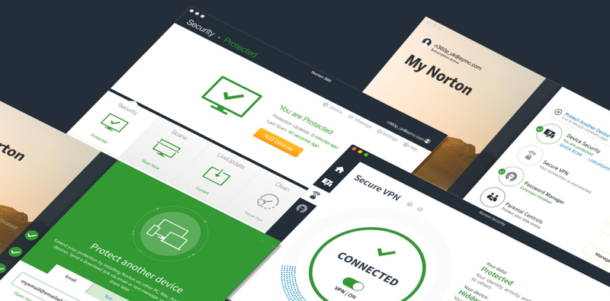 Norton 360 Reviews: Antivirus Performance
Norton's malware software is one of the best when it comes to protecting your PC. It detects every instance of known malware and of previously unseen malware in every monthly evaluation carried out by German lab AV-Test from January 2017 to March 2020.
According to AV-Test, Norton's software winning streak after a long test was reported in April 2020 to be a 99.5% detection rate of zero-day malware. Only Kaspersky matched those numbers.
Norton 360 Review: Security And Privacy Features
All Norton's products include a two-way firewall, a file backup program and an unlimited password manager. They also include the company's Safe Web browser extensions that work with Firefox, Chrome, Edge and Internet Explorer. Safe Web's Isolation Mode renders the content of known dangerous websites as read-only.
Whenever you connect to a banking website, Norton runs the browser session in a virtual machine. You also have Norton's Secure VPN which comes with all packages. Norton doesn't lie like most other companies; you get unlimited VPN data from the get-go.
With Norton's VPN, you can hide your location and visit any website you like or stream localized sports and movies as if you were in the country.
Norton also comes with a great parental control feature, from Deluxe package and above. With this feature, you can block age-inappropriate material, see location of individual child and schedule screen time.
LifeLock identity-protection services also come with Norton top 3 plans. However, none of the Norton's plans has a file encryption tool, a file shredder, a true hardened browser or a file roll-back in case of ransomware infection. Kaspersky and Bitdefender offer all these.
RELATED: The Best PC Cleaner Free – Speed Up Your PC With A Few Clicks
Conclusion
Norton proved to be lightweight and has a lot of functionality to explore. It is a great anti-ransomware with a lot of features to explore, but we have seen better anti-ransomware performance elsewhere.
Still, if you are looking to eliminate ransomware attack and enjoy convenient unlimited VPN, password management, cloud storage and more, Norton 360 is perfect