Monday.com Reviews – A Winning Combination of Clever Tools
Monday.com reviews are here! Monday.com is a cloud-based project management platform that simplifies the way your team communicates and manages workloads.
The software features color boards that make it easier for users to check which projects are in progress, where team members are stuck and which tasks are finished. The solution is designed to provide you the much-needed flexibility and transparent way to organize your work.
With the platform's highly customizable workflows and visual scheduling interface, Monday.com adapts to the unique way your team members approach their projects. But how well does the software works?
As you will find out in this monday.com reviews, the software is in front when it comes to ease of use and security but may be lacking in advanced functionality. Is it also one of the best software? You will discover everything you need to know about this software in this Monday.com reviews.
Users can choose to view the boards based on Date, Timeline, Person, Text, or Status. This allows managers to quickly find team members who are under/overworked and balance out workloads. To help remove confusion, all team communication takes place on each boamonday.com reviews.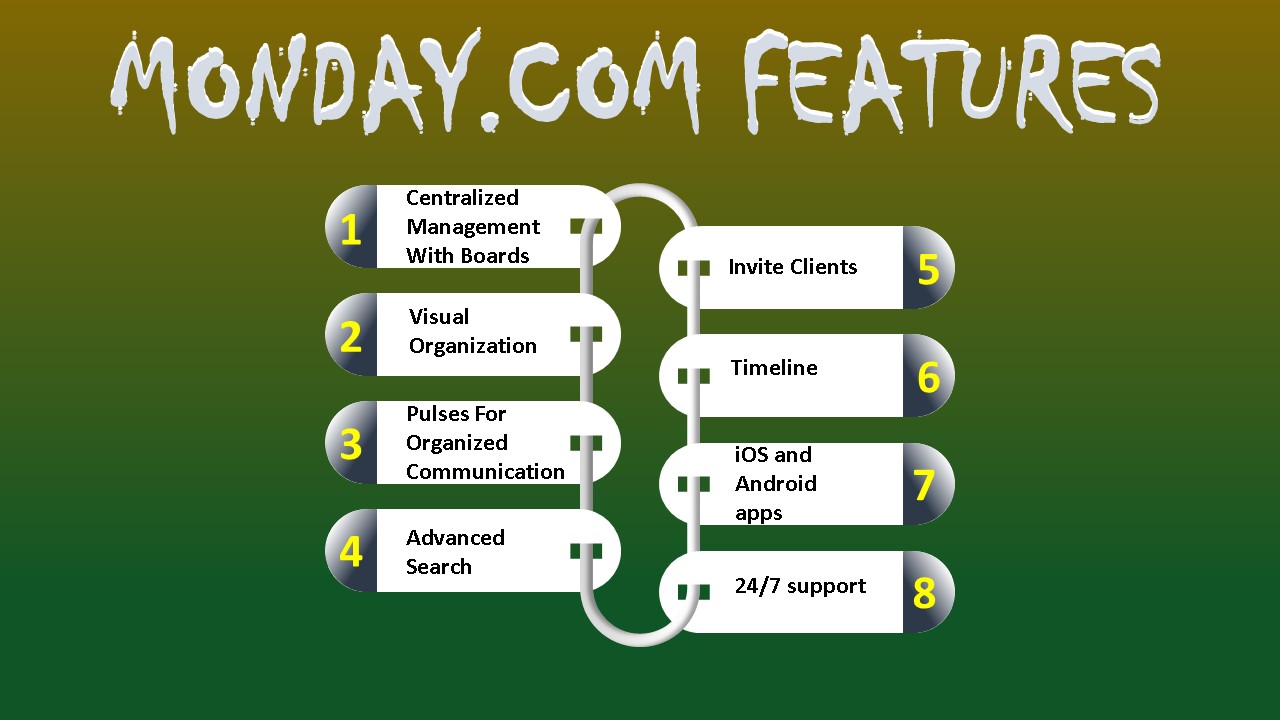 Monday.com Reviews – Pricing
Monday.com offers four levels of membership including Basic, Standard, Pro and Enterprise. Prices vary based on the number of users accounts your company requires, with the cheapest membership allowing you to only add two users while top-end options support over 200 users.
Whichever user capacity and membership tier you choose, you will pay for Monday.com through either monthly or annual payment. However, choosing annual billing will save you 18% in the membership fee.
Basic Membership
The Monday.com Basic membership plan costs $49/month/10users. With the Basic subscription, you will be able to organize your team using Kanban boards, which are the simplest ways to visualize the workflows of your team. Each Monday.com Basic system comes with 5GB of storage space, so you will probably want to upgrade if your team is large.
Another Monday.com Basic membership plan shortcoming is that the software's system can store user activities for only one week. If you want to keep business-vital files on your Monday.com system, this could be a big issue because you won't be able to see who modified them. The Basic membership features are:
5 GB of storage
One-week activity log
Over 20 column types
iOS and Android apps
Unlimited free viewers
Unlimited boards
One board per dashboard
Two-factor authentication
Self-service knowledge base
24/7 support
Standard Membership
Standard membership is a step up from the Basic plan. The Standard plan costs $79/month/10 person team. Most people feel that an upgrade to this plan is worth it because of the more comprehensive features that come with it.
For instance, look at the visual workflow management. With a standard account, you can display project tasks on a highly-visual timeline, which is just like the Gantt chart. The plan also provides users with 50GB of file storage space and unlimited user activity tracking. The Standard membership features are:
Everything from the Basic plan
50 GB of storage
Unlimited activity logs
Advanced search
Map/Calendar/Timeline view
Forms customization
External integrations
Share boards with four guests
Three boards per dashboard
250 automated actions per month
Pro Membership
Pro membership comes at $119/month/10 user accounts. This plan allows you to connect your Monday.com dashboard with other platforms. In fact, it supports up to 25,000 integration actions per month.
With the Pro membership, you get unlimited space, which is great for those who work with lots of large multimedia files. The plan also unlocks a lot of useful project tools, including time tracking, chart views and private task boards. The Pro plan features are:
Everything from the Standard plan
Unlimited storage
Unlimited guests
Time tracking
Chart view
Formula column
Custom tags
Private boards
10 boards per dashboard
25,000 automated actions per month
Google authentication
Enterprise Membership
The enterprise plan is Monday.com's flagship package which has no public pricing information. For this membership package, installations are customized based on the needs of each customer. The membership comes with a 99.9% SLA uptime guarantee, meaning you can rely on them for mission-vital tasks and storing vital files. Enterprise plan can also be used to create audit logs and individual account permissions.
The Enterprise membership features are:
Everything in the Pro plan
25 boards per dashboard
100,000 automated actions per month
Single sign-on
Audit logs
Session management
HIPAA compliance
Advanced account permissions
Tailored onboarding
Monday.com Reviews – Top Monday.com Features
Centralized Management With Boards
On Monday.com's platform, everything is managed with boards. The boards are visually organized and color-coded to help you see who is working on a task, mission, project and to-do, and where they are in the process. For instance, team members can put a "Working on it," "stuck," or "Done" status on each task.
Visual Organization
With board placement and meaningful colors, managers can glance to know how each project and team member is fairing. This helps to ensure that all the deadlines will be met and that new tasks are properly assigned/delegated.
Pulses for Organized Communication
All communications on this platform take place within the context of a board. Rows, which are called "pulses" in this software are added to the relevant board and can include file attachments and comments. Users can send messages to the entire team or specific people. Whether you are on the mobile or desktop, notifications for pulses take place in real-time.
Advanced Search
You can search through images, assignments, projects and updates with no date limit.
Invite Clients
You can invite clients as guests to view a certain board so that they can see the progress of their project at any time.
Timeline
Monday.com's version of Gantt charts is the timeline. With it, you can track projects or tasks that span over many days or for teams with multiple workloads. If there is a delay with a task or project, the user can easily drag and drop timeline bars to extend the due dates. Users can also view multiple timelines on a single timeline board.
Interface and In Use
With colorful designs and big buttons, the Monday.com system looks awesome. These features make it easy to navigate between screens. Features such as your weekly tasks, message inbox and shared project boards can be quickly accessed via a panel on the left-hand side of the interface.
Just like things on the desktop, things are also straightforward on the mobile version of the platform, which can be accessed through iOS and Android applications. With Monday.com, it is super easy to work on your mobile when you are on the go.
Monday.com Target Market
Monday.com serves a wide range of industries and company sizes. Here is the list of ten notable customers:
Uber
Fiverr
Adidas
Wix
Samsung
Yuka
WeWork
Composite Approach
Yuka
Rendered
Discovery Channel
Support
Wherever you are in the Monday.com system, you will be able to access support through a little "help" icon at the bottom right of the screen. You can access support via tickets, messenger and pre-arranged webinars.
How Do Monday.com Prices Compare
When it comes to comparing Monday.com prices with other apps, comparable apps cost around $12 – $13.50/month for their first-tier paid plans. Monday.com prices seem to be close to this range if your team size is exactly the same as the number you pay for. Otherwise, the price per person is inflated.
For instance, if you have exactly 20 people on your team and you are paying for 20, the per-person price is in line with the market's average. But if you have 16 people on your team and you are paying for 20, the per-person rate goes up.
There is no question about the fact that Monday.com lacks some of the advanced features available in alternative project management platforms such as Microsoft Project. But the Monday.com system design is more user-friendly, making it a better choice if you don't want to spend hours training your team to use it.
Implementation/Integration
Monday.com is a cloud-based software. You need to enter your work email to start using it. From there, you start your 14-day free trial without needing to enter credit card information until the end of the trial. You can also cancel or downgrade your account at any time.
Before you set up your first board in Monday.com, be sure to go to your profile page, open the notification section and the kind of updates you want to receive via email. If you don't, Monday.com will sign you up for everything by default and your inbox will be bombarded with lots of unnecessary emails.
Part of the signup process involves inviting your team members to join you. Once you have done that, you can focus on board creation. To create boards, you can choose from Monday.com templates or make your boards from scratch. You can choose a template and also customize it the way you want. But it makes sense to explore all the templates and pick the one that is perfect for your business.
Pros
Modern UI
Offers in-app automation
Highly customizable
Attractive interface
Encourages transparency and accountability
Supports integrations with other platforms
Useful project visualization tools
Cons
14-day trial insufficient to learn the app
Expensive if you have a large team
Lack of advanced task tracking features
Unnecessarily confusing pricing
Final Verdict
In this Monday.com reviews, we have shown you that it is an ideal project management tool for anyone that is looking for an accessible system that their team can use and enjoy. Unfortunately, some vital features such as calendar views, are only available with its more expensive plans. But Monday.com stands out when it comes to ease of use, slick design and adaptable third-party integrations.
You can check Monday.com out.