Halo Recognition Review – How Important Is It?
Halo Recognition software is a leading provider of recognition, incentive and reward programs covering all touchpoints and milestones in the employee experience. We all need something that will motivate us to perform even better! If you want your employee to always perform at their maximum capacity, this might be the right software for you.
The software helps users connect their customers and employees to organizational culture and break through barriers for more engagement, brand association and satisfaction.
Halo Recognition provides you with a comprehensive range of recognition programs and incentives designed to drive meaningful employee engagement, loyalty and productivity. Its scalable programs rely on an online SaaS (Software-as-a-Service) platform that awards points for online peer recognition, nominations and other initiatives.
Employees can easily redeem Halo Recognition points for millions of items such as merchandise, experiential rewards and gift cards. Businesses can participate in unlimited initiatives and objectives, as well as segment their programs based on individual departments.
The program provides a platform that is perfect for all businesses and gives HR full control over the engagement method.
RELATED: Basecamp Review – Easy-to-Use System to Organize Your Business Better
Why Use Halo Recognition?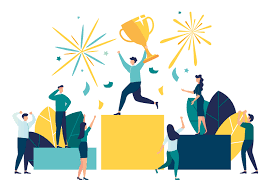 We are currently living in a progressive era as the massive adoption of technology has molded our socio-economic system, making it more competitive. And in order to keep up with our competitive environment, businesses and organizations are leaving no stone unturned. This is where software like Halo Recognition comes in.
Employee recognition/reward system businesses and organizations acknowledge their employees' achievements by praising them using non-monetary and monetary rewards. With this type of system, you can reward your employees in different ways just to motivate them to give their very best performance.
A well-managed reward system can help reduce problems such as absenteeism and employee turnover, as well as an opportunity for employers to attract the best talents. However, choosing the right reward/recognition system is not easy. Here is a few reasons why you may want to choose Halo Recognition:
The flexibility of choosing rewards
Customizable approval process
Point-based rewarding
Peer recognition and rewarding support
Cloud-based
Mobile accessibility
Easy to implement
Halo Recognition Features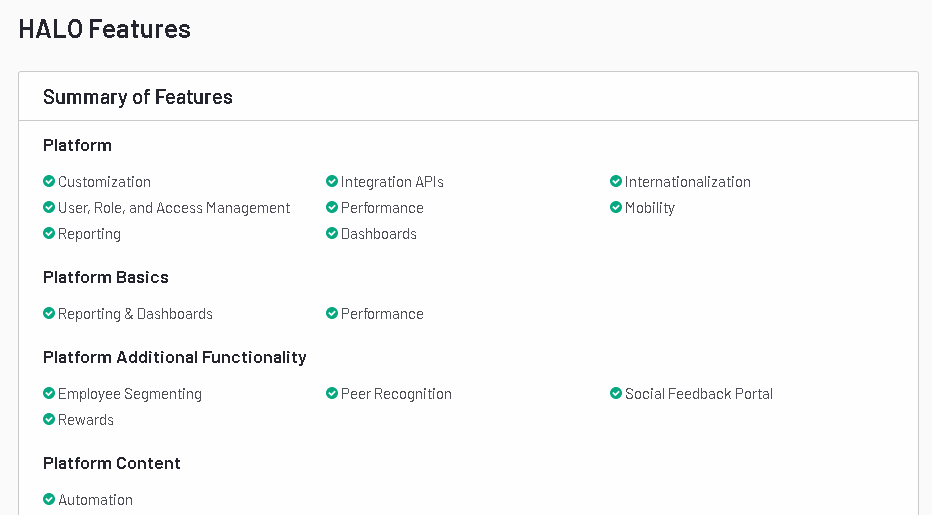 RELATED: Monday.com Reviews – A Winning Combination of Clever Tools
Halo Recognition offers a lot of mouthwatering features and here is a few of them:
Customization
Halo Recognition lets administrators customize in order to accommodate their unique processes. Management structure varies from one company to the other but with this software, you can create custom objects, calculations, rules, views and fields.
In some companies, the employee reward system is based on the nomination and approval process. The good thing is that the nomination and approval process is easy to set up in Halo Recognition. So you can set everything up the way you want.
API Integration
When you are choosing software for a certain purpose, one of the features you consider is the software's ability to integrate APIs. Halo Recognition integrates with other software easily. APIs typically enable the integration of data, objects, logic, etc. with other software applications.
The APIs let you automate the processes and enhance sharing and embedding of data between various applications and systems. So if you choose this Halo Recognition, you are sure of seamless integration.
Performance
The uptime is great because this software is always available. That is the hallmark of good software. The software lets users complete tasks reliably
Mobile Accessibility
Whether you are on a desktop (PC) or on mobile, you can access Halo Recognition easily. The software works perfectly on mobile devices so even if you are on the go, you can use the software anywhere you are.
User, Role And Access Management
As the administrator, you can grant access to selected features. objects, data, etc to your staff. This could be based on the user, user role, group, etc. You can easily do this and even automate it – the software allows you to do just that.
Reporting and Analytics
This software allows for reporting. With its analytics tools that reveal important business metrics and even track progress. This tool is a great tool that is needed by all businesses.
Dashboard
Halo Recognition has a centralized dashboard for users to interact with. With the seamless dashboard, you can easily organize things the way you like.
Internationalization
This software lets users view and transacts business with the same content in multiple currencies and languages. This is one of the cool features of Halo Recognition that makes people love it. Just one content in many languages.
Employee Segmenting
You can easily segment employees according to factors such as position, demographic and location. Distribute survey and filter survey results according to employee segment. This is a cool and amazing feature.
Platform Additional Functionality
here are some of the platform additional functionality:
Budgeting: Set up spending limits and budgets for each team or user.
CRM: You can integrate with CRM software to allow for automated swag shipments.
Proof Portal: This feature provides a portal to review promotional product proof before you finalize an order
Real-time Customer Advocacy integration: Halo Recognition integrates with customer Advocacy platforms to allow for real-time reward/swag fulfillment.
Other Integrations: Other cool integrations include marketing automation software, e-commerce platforms, email marketing software and other marketing technology platforms.
Goal And Challenge Creation
Easily set personal and professional goals with customizable due dates and milestones within Halo Recognition system. Share the goals with other users and track and measure performance using inbuilt tools.
Peer Recognition
With this software, you can send and receive recognition in form of digital awards, badges or even messages to colleagues, managers and employees. Such recognition will be displayed in real-time on the platform on a live activity feed.
Employee Engagement
The software offers employee survey and feedback features. This is a great feature that can help you improve your service and your employee's delivery.
Social Feedback Portal
Halo Recognition lets you communicate with managers and team members through the built-in customizable web portal. Users are allowed to communicate one-on-one with each other and can share frustrations, make suggestions and ask questions with varying degrees of anonymity.
Easy Reward Options
It provides easy-to-manage and flexible employee reward options.
Halo Recognition Gifts For Employees
There are few things as important as recognizing employees for their hard work. Halo Recognition is an expert in implementing employee recognition and incentive solutions that help you build your culture from within while helping your employees thrive.
In an industry where experience and expertise matter, only Halo offers comprehensive employee recognition, reward and incentive solutions that maximize your budget and minimize your risk. The programs are designed to engage, inspire, and motivate your workforce.
Your culture is shaped from the inside out. Streamlined incentive programs that are as unique as your organization are only built from the ground up. Halo Recognition's recognition, reward and incentive solutions encompass branded items, travel rewards, and experiences that help align your employees to your brand and drive business results.
With benefits that improve retention and boost employee engagement, Halo's customized programs make it easy to recognize your team in ways that are meaningful. Designed to fit your unique culture, Halo scalable programs seamlessly support company-wide recognition efforts and sales incentives.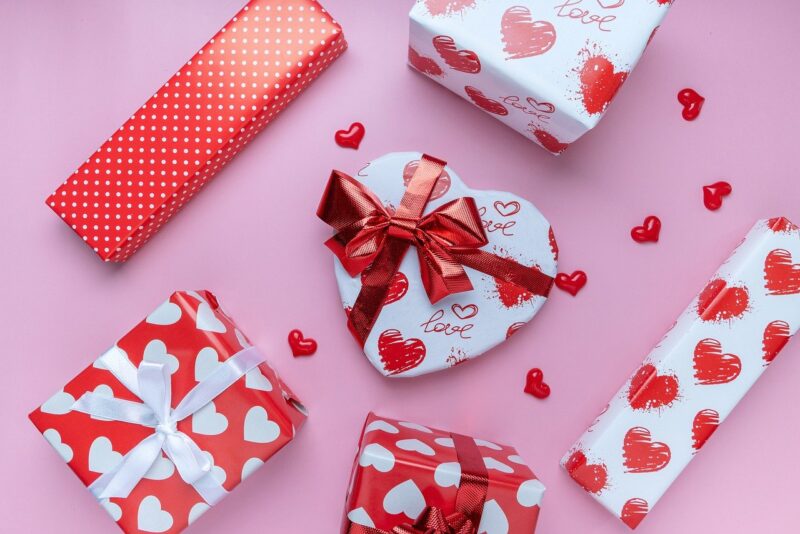 Employee Anniversary Gifts Catalog
Talk of employee anniversary gift catalog? Service anniversaries matter to you, and to your employees. They're an opportunity to recognize your team's dedication and provide an incentive for continued service with the company.
Halo recognition's employee anniversary gifts provide a tangible way for employers and managers to show staff that their continued effort is appreciated.
Employee Appreciation Gifts for Service & Anniversary Celebrate all the important milestones in your employees' careers with Halo recognition's powerful suite of date-driven recognition technology and tools.
Halo recognition solutions are designed to fit the way you work, and they focus on the entire employee life cycle, from hire to retire. That's what makes Halo recognition different! Their technology-enabled solutions make it easy for HR professionals, managers and leaders to recognize employee anniversaries.
Halo Gift Catalog
HALO gift catalog Branded Solutions is a nationwide leader in promotional products, offering you industry-leading selection, prices and customer service. The shop is packed with top-quality branded products waiting to be customized to make your business soar!
Here is what you get from Halo gift catalog:
Halo essentials
Branded for you by Halo product catalog
Fall/winter trends lookbook
And much more.
Halo Recognition pricing
Unfortunately, Halo Recognition pricing is not made public. You have to contact the software vendor for pricing. The software provider also offers no free trials or free versions. What they offer is a demo. To request a demo, you will have to fill out a simple form that requires no input of a credit card. Just fill out the form and you will be sent the demo of how the software works and how it can benefit your company.
The pricing is provided based on the features you want to be included. So, if you are adding a lot of features, you might need to pay more. Just be sure that you ask for the features that are only important to your business.
Halo Recognition Design And Interface
Based on reviews from the users, the Halo Recognition interface and design is engaging and easy to use. The fact that you will also have a representative setting things up for you makes everything simple. Even if you have any issues grasping how to use the software, you will always have a representative from Halo Recognition to put you through.
Pros
User friendly
A variety of gift rewards including a great gift card selection
Great working relationship with Halo Recognition representatives
Excellent marketing team to help launch the program and keep things up-to-date
Choice of different items
Easy to use administrative website
Cons
Halo Recognition Alternatives
Compare Halo Recognition alternatives for your organization or business. Here are the best Halo Recognition alternatives:
1. Motivosity
Motivosity lets you create an energetic and positive workplace environment. With this software, employees can give each other $1 for doing great things. This can promote collaboration, trust and appreciation in the workplace. Motivosity comes with features like insights and analytics, open-currency open-reward systems, award programs, dynamic organization charts, milestones, etc.
2. Tremendous
If you are looking for the simplest way to distribute rewards and incentives globally, look no further than Tremendous. You can use this platform to instantly reward your recipient with cash, prepaid Visa cards, gift cards, etc. You can easily manage and track incentives at scale.
3. Qarrot
Qarrot is a great recognition software for both small and mid-sized businesses. Whether you are looking to strengthen your business's or organization's culture, improve employee morale, drive higher performance or just say "thank you," this software can help you get the job done without any hassle.
4. Nectar
Nectar is the most cost-effective and flexible software for the modern workforce to foster appreciation and connection across all teams. It helps companies maintain the culture, promote core values and boost morale without the hassle of managing your own internal program.
5. Buscketlist Rewards
Bucketlist Reward software makes it easy and fun for managers and employees to recognize and reward one another for achievements, milestones and a job well done. It is so easy to use and it integrates with the programs you already use every day.
Unlike most recognition software out there, this software allows companies to reward employees exactly the way they want. This one feature has earned the platform 97% product satisfaction. With it, you've got thousands of rewards to choose and you can add custom rewards to suit what your company wants.
Halo Recognition FAQ
1. How much does HALO Recognition cost?
HALO Recognition doesn't have an actual pricing structure posted on their website. This type of setup usually requires potential users to contact their sales representatives. For you to avail of HALO Recognition's employee recognition services, make sure to get in touch with the application's sales team and let them know the best solution for your business.
2. Does HALO Recognition offer recognition solutions for remote work setup?
Yes! HALO Recognition offers its Work-From-Home Care Package for employees working remotely. This package comprises excellent recognition solutions that let every remote workforce feel appreciated and connected, including Brand Connection, Budget Conscious, Unbox Your Culture, and Specialized Assortment.
3. What industries does HALO Recognition cater to?
As long as there are companies that need comprehensive and effective employee recognition management, HALO Recognition is ready to provide its superb solutions. Whether it is for retail, healthcare, finance, or manufacturing, HALO Recognition can reinforce the best employee recognition programs.
Verdict
One of the best ways to make your employees work more effectively is to recognize their job and reward them no matter how little. This is where Halo Recognition comes in. This software is one of the best in its class and the fact that it integrates with some of the software you already use makes it great.
You can give it a try here.
RELATED: Bitrix24 Review And Bitrix24 Pricing – Is It Truly Free?