Iolo System Mechanic Review – Is Iolo System Mechanic Free?
Iolo System Mechanic Review? If your PC is no longer loading apps or booting at the speed that it did when you first unboxed it, then you need to get this Iolo System Mechanic free or paid. Iolo System Mechanic free does a great job of optimizing PC's performance while also protecting you from viruses.
This software is easy to use and the features packed by this software is too good to overlook. This program handles just about any need to boost your computer's performance. Aside from the typical malware and virus protection, the program also offers performance scans, Registry and memory clean-ups and other essential boosts needed to keep your computer running smoothly and error-free.
In this Iolo System Mechanic review, You will discover the System Mechanic features, know how to improve your computer performance with it by defragging the hard drive, tweak CPU, delete junk files and know RAM usage in real-time, and discover how to execute other computer-enhancing tasks.
The good thing about this program is that the latest version improves several longtime features, while also adding a revamped and attractive interface.
What Is Iolo System Mechanic? (Iolo System Mechanic Review)
Iolo System Mechanic free is one of the best PC cleaners and it is a complete package of system optimization tools to enhance computer performance. Its strength lies in its deep scanning and real-time performance boosting tools, which work perfectly to attain peak performance. Although this program is a little pricier than competitors, it's one of the top favorites of users, thanks to its intuitive interface and knack to stay up-to-date with constant upgrades.
How Does Iolo System Mechanic Work?
This is a computer tune-up utility tool that can be used to boost your system's performance by fixing the problems plaguing it. The program engages in functions such as tweaking CPU, defragging of the hard drive and RAM usage in real-time , deleting junk files and much more – all to realize the goal of enhancing your PC's performance.

Features (Iolo system mechanic review)
When you first open your Iolo System Mechanic, you are welcomed by a big Repair All button which makes you think that the program is a simple one-click tool with no surprise, but there are many menus hiding lots of mouthwatering features for the power users.
This program's primary tool cleans internet junk files and Windows temporary files while also checking for security problems in your Windows installation. The program's advanced uninstaller can be used to remove installed programs. It also has a range of tools to help you speed up your PC: Memory Mechanic, Startup Optimizer, Program Accelerator, Disk Defragmenter and NetBooster. The ActiveCare feature ensures all these features run automatically on a schedule.
Iolo System Mechanic has a set of tools that aim to optimize your RAM, CPU and hard drives in real-time. These tools are designed to improve the responsiveness of your system by giving priority to the applications you use the most.
The program's Privacy Guardian eliminates tracking cookies and web browser fingerprinting, making it harder for you to be identified online. You can use this option to disable Windows features including personal data collection, location tracking and Windows feedback services.
ByePass is the systems password manager that can be used with Firefox or Chrome. Instead of your credit card details and passwords being stored in the web browser, they are securely kept in encrypted files on your computer.
Iolo System Mechanic's Malware Killer is a tool that removes any malware found on your system. While many antivirus software only block malware before it's installed on your PC, Malware Killer can also help you to get rid of any malware that has already infected your computer.
Here is the rundown of Iolo Mechanic System features:
Quick scan and deep scan
Registry backup and fixer
Cleans more than 50 types of hidden junk files
LiveBoost
Startup manager
Bloatware blocking
real-time performance boosters
Commonly redundant or unnecessary decelerators and destabilizers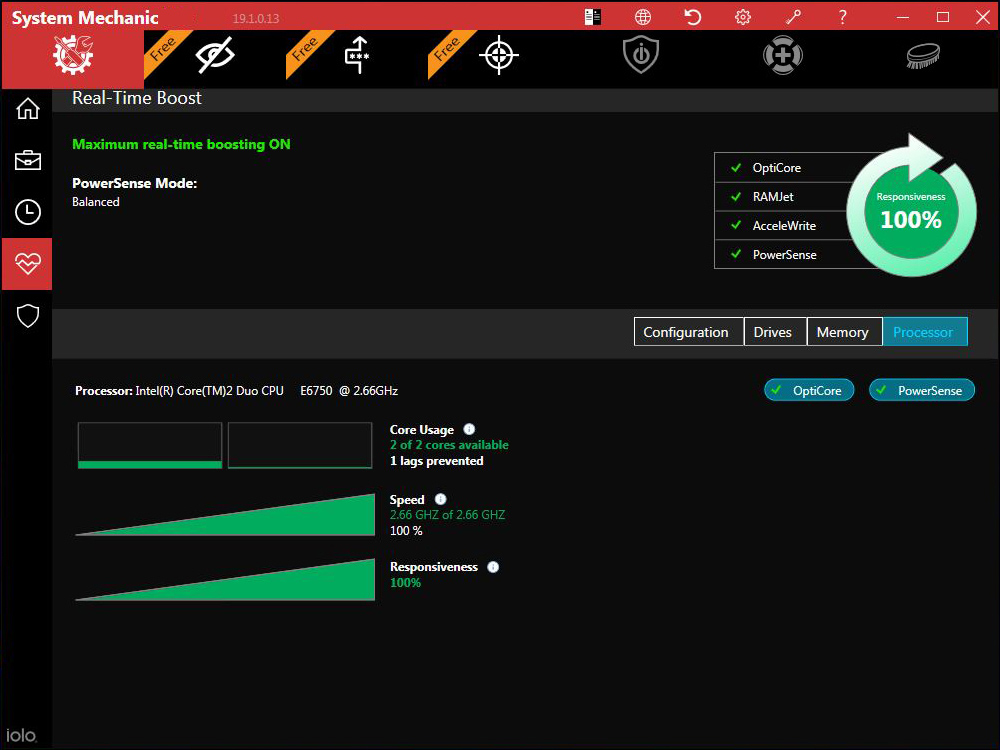 Plans And Pricing
Iolo System Mechanic program is available in three versions including System Mechanic, System Mechanic Pro and System Mechanic Ultimate Defense.
1. System Mechanic
System Mecahnic is the basic plan and it costs $4.95/month for three computers. Annual payment gets you an equivalent of $1.99/month. There is also a $99.95 lifetime payment option under this plan. But the basic System Mechanic includes only the PC optimization tool, which is just a small part of the full product.
This system Mechanic Plan has Iolo System Mechanic free version and you can give it a trial.

2. Iolo System Mechanic Pro
System Mechanic Pro is the second plan and it costs $55.96/year for three computers. It adds malware blocking and a few disk management tools to the basic package.
Iolo System Mechanic Pro is a powerful cleanup and optimization tool that lets you get your computer running like new and boost its privacy setting. The latest version of Iolo System Mechanic Pro has a fresh design that is easy to navigate, with a choice of light or dark color schemes.
This version provides you with quick and deep scan. The quick scan only look for Windows and internet junk files in just a few seconds. Deep scan will not only look for Windows and internet junk files but also look for broken or missing registry entries, programs that reduce the system's startup unnecessarily, hard drive defragmentation and other performance problems.
Whichever type of scan you choose, once Iolo System Mechanic Pro completes the scan, it will give your system a score and offer to rectify problems it found. To fix the problems it identifies, just click on the large Repair All button. Note that you can check the problems it identified and choose those you want to delete first before clicking on the Repair All button.
Here are some of the features of Iolo System Mechanic Pro:
Safeguard your PC with real-time antivirus protection
Speeds up and declutters with the tools in the program
Detects the newest malware threats with advanced artificial intelligence
Safely recycles old computers with military-grade drive wiping technology
Recovers irreplaceable videos, photos and more across many device types
Removes system-hogging bloatware that slows your PC
Unleases internet speed
cleans out clutter
Protects privacy and security
Automatic PC care
Speed boost
This plan has Iolo System Mechanic free version but it is just for trial purpose.
3. Iolo System Mechanic Ultimate Defense
System Mechanic Ultimate Defense is the full-featured plan and costs $63.96/year. This plan adds online privacy protection, malware removal and password management. This System Mechanic Ultimate Defense makes Iolo System Mechanic solution one of the most expensive PC optimization tools around.
In addition to System Mechanic Ultimate Defense tools, this software also includes antivirus, driver wiper and removal and a file recovery tool.
Here are the features that make System Mechanic Ultimate Defense the best on the market:
Speeds up processor, memory, broadband, and hard drives
Helps you find and recover lost or deleted files
Removes clutter and junk files that slow you down
Blocks and removes the latest types of malware
Shields browsing habits and thwarts personal data collection
Secures passwords and credit cards online
Boosts PC's speed
Removes bloatware
Repairs your PC in just one click
Protects privacy and security by wiping sensitive browsing history and patches Windows security vulnerability that can harm your PC
Boosts internet speed
Clean out clutter easily
Automatic fixer
If you are looking to improve the speed and protection of your PC, Iolo System Mechanic Ultimate Defense is a great choice.
NOTE: Iolo has received a change recently and it is worth notifying you. Iolo checkout process has changed and now automatically subscribe you to a $19.99/month support package when you purchase a product. Be sure to double-check before entering your payment details.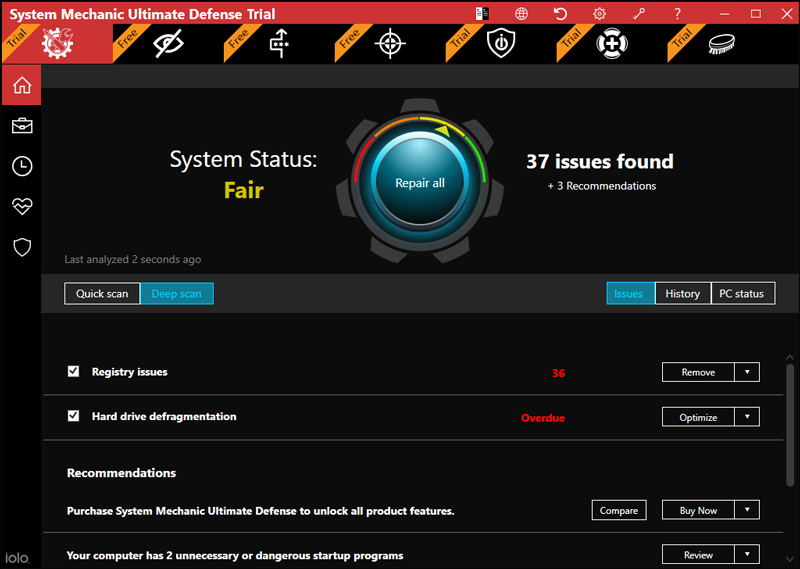 Interface And In Use (Iolo System Mechanic Review)
Iolo System Mechanic interface design has received a boost in the recent release. Its interface is one of the most intuitive interfaces in the software industry. Also, the program now offers a black and white color scheme that you can choose from.
Having said that, this program is one of the most comprehensive system utilities you can find on the market today. Its registry cleaner found problems other programs missed in our computer. The Security Optimizer detected a few Windows security issues to fix and the Program Uninstaller, while it was also able to remove stubborn programs that Windows refused to uninstall.
The password manager, malware blocker and privacy shield features in this progam makes it a complete security suite.
Technical Specification
Before you install Iolo System Mechanic, make sure your computer meets the following requirements:
Windows Administrator user account
Minimum 512 RAM (optional 2GB)
Compatible Windows 7, 8, 8, 10 (32-bit or 64-bit)
30MB free hard drive space
Strong Internet connection
Internet Explorer 9 or later
Installation Process Of Iolo System Mechanic (Iolo System Mechanic Review)
Installing and setting up this program on your computer can be accomplished in three simple steps:
Be sure to have a strong Internet connection and make sure that no firewall is blocking the installation process.
Step 1 – Go to Iolo System Mechanic website and choose your prefer plan. Once you have done that, click on the Get Now button and choose the destination folder to save the file.
Step 2 – Once the file has been downloaded, launch it, following the on-screen instructions through the wizard to complete the installation process. Choose your desired language to operate the program.
Step3 – At this point, you might be asked your Activation Key. Enter the key and then click Finish button and the program will be ready to boost the performance of your PC.
Pros And Cons Of Iolo System Mechanic
Pros
Easy to use and good interface
Incredibly real-time performance-boosting tools
Iolo Labs for Live Research-Based Updates
Unlimited licenses
Good customer support
A detailed explanation of PC problems
Cons
Expensive
Some of the best features are only available for the premium users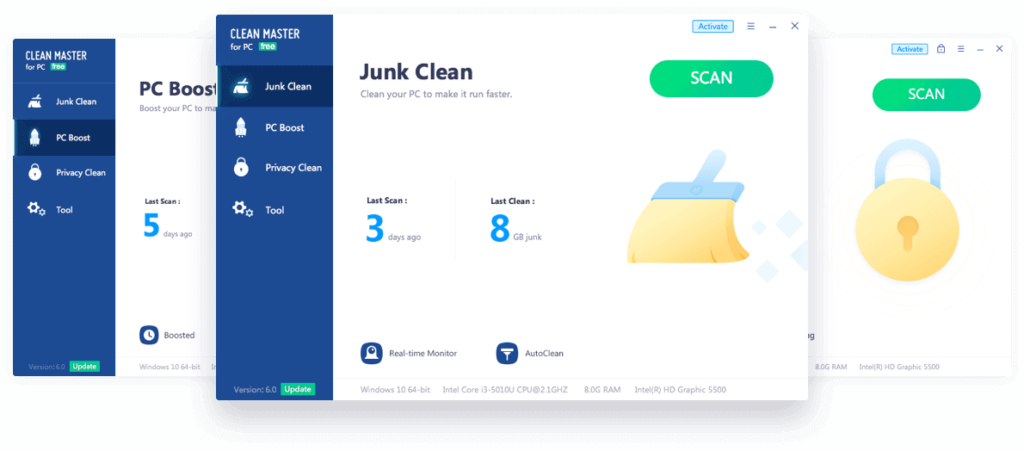 Iolo System Mechanic Support (Iolo System Mechanic Review)
Iolo System Mechanic support is great. There is a good online manual for this program, available by clicking on the Help in the software. Iolo System Mechanic provides you a free support via phone and live chat. We've already found out that their customer agents were always available and knowledgeable about the software.
The Iolo System Mechanic support also offers premium technical support. For a one-time payment of $99.95, Iolo will help you troubleshoot on your computer, while you will enjoy 24/7 support and troubleshooting for $199.95/year.
Iolo System Mechanic Free (Iolo System Mechanic Review)
If you are looking for Iolo System Mechanic free, you might want to consider Glary Utilities, which optimizes your computer free. It has a clean interface and truly improves your PC's performance. Of course, it also has a paid version but if you are satisfied with its free version which offers Check for updates when program starts and Check for software updates automatically for free, you are good to go. If you want to automate system maintenance and turn on deep clean and fix, you have to pay just $19.97.
Many of its built-in features such as registry cleaner, startup manager, spiware remover, memory optimizer and temporary file cleaner, mirror System Mechanic's features. It is a great choice if you are looking for Iolo System Mechanic free alternative.
FAQ (Frequently Asked Questions)
1. What Are The Basic Requirements For System Mechanic?
To run a System Mechanic software smoothly in your system, you need the following:
Hard disk space of 100 MB
Operating system Windows 7, 8, 8.1, to and higher
512 MB RAM (minimum)
Latest Windows updates, fully installed
2. How Does System Mechanic Help Boost Your System?
The latest version of System Mechanic comes with an On-Demand Boost feature that lets you turn off multiple background services with just one click. This gets you optimal performance when you are playing games, streaming and much more.
3. How Can You Perform A Quick Scan Of Your System With System Mechanic?
You can quickly run an analysis of your system by doing these:
Click the Analyze Now option on the dashboard overview pane
The tool will begin analyzing your Computer and provide you with a snapshot of the current condition of your PC as it detects the problems, if any.
4. How do I install System Mechanic?
Ensure that your internet connection is on and that no firewall or security programs are blocking outgoing access.

Go to https://sm.iolo.com. Choose a destination folder and click Save.

Open the installation file from either your browser download tray or the folder in which you saved it. If the User Account Control window appears, click Yes.

When the installer wizard opens, follow the steps onscreen to complete the installation of System Mechanic.

During installation, you will be asked to enter the Activation Key provided in your order fulfillment email. Completely type all letters and numbers, exactly as shown. (Any hyphens will be automatically entered.)

On the last screen of the installation wizard, click Finish. You may be prompted to restart your computer to complete the installation.
5. Why won't my Activation Key work?
If you have any difficulties with the licensing or installation of System Mechanic:
Ensure that your computer is connected to the internet and that no firewall, security, or parental control programs are blocking outgoing access.

Double-check the values you entered for the Activation Key, making sure that no spaces are entered and that all letters and numbers are entered exactly as shown.

Some characters in the Activation Key (such as the number 0 and the letter O) can look very similar. Try double-checking the following: the letters O, l (lower-case L), I (capital i); and the numbers 0 (zero) and 1 (one).

Under the terms of Iolo's Whole Home License®, you may install System Mechanic on every PC in a single-family household for personal, non-commercial use only. For full terms and conditions, please see Iolo's End User Licensing Agreement.
6. How do I scan my PC for problems?
To run an analysis of your system:
From the System Mechanic Dashboard's Overview pane, click Analyze Now.
Once the analysis completes, you will see a snapshot of your PC's condition and see if any problems are detected.
To quickly make repairs, simply click Repair selected.
7. What is On-Demand Boost?
On-Demand Boost is the perfect complement to LiveBoost's real-time performance boosting, by allowing you with one click to safely turn off multiple background services that drain precious system resources. Together, Real-Time Boost and On-Demand Boost deliver maximum speed, especially for specialized tasks like gaming, streaming, and more.
8. How do I access the Product Help?
On the red menu bar, click the ? icon. From the drop-down menu, click Get Help Online.
9. Why does the Product Help contain info about products other than System Mechanic?
The new, single iolo Product Help now contains useful guidance through all iolo products: System Mechanic, System Shield, Malware Killer, Privacy Guardian, ByePass, DriveScrubber, and Search and Recover. Regardless of which set of products you have licensed and are entitled to, you can find everything you need in this single Help resource.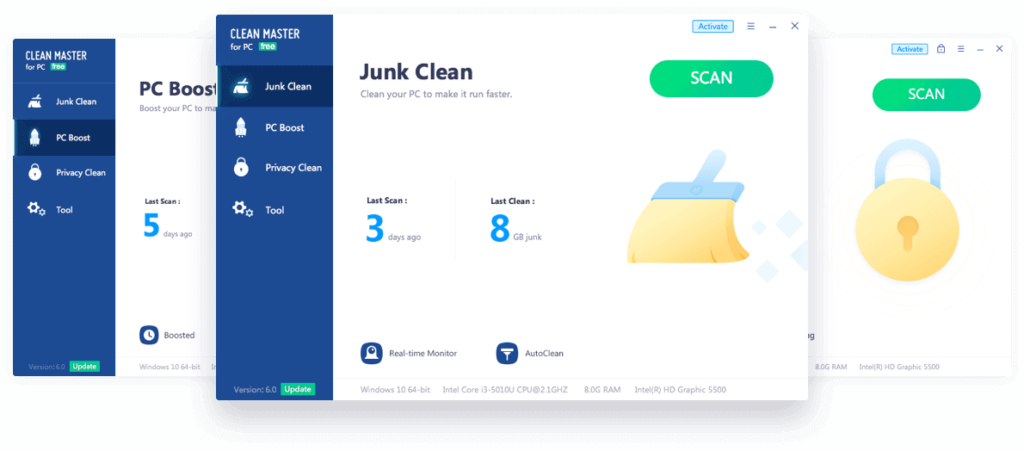 Iolo System Mechanic Alternatives
When it comes to the best PC cleaner software, people always suggest Iolo System Mechanics, but here we will list the best Iolo System Mechanic alternatives. The reason you might be looking for Iolo System Mechanic alternatives is that System Mechanic has its shortcomings, which includes:
It is not beginner-friendly
The firewall is not included
In-built software uninstaller is not as efficient as you'd expect
The reports that shows are not informative enough
Iolo System Mechanic free version misses out on too many crucial features
So if you are looking for the best Iolo System Mechanic alternatives that are truly great, here are some of them:
1. Glary Utilities
Glarysoft's Glary Utilities is a truly great Iolo System Mechanic alternative because it mirrors almost all the features that System Mechanic offers. It comes with a bunch of tools to clean your system's registry, protect the privacy and perform various other computer optimization tasks.
It is free and if you want to enjoy its pro version, you only need to pay $19.97/year – absolute bargain. Here are a few of the highlight features that makes Glarysoft Glary Utilities the best Iolo System Mechanic alternative:
Hosts over 20 tools to improve the performance of your computer
Fixes irksome PC errors, freezes and crashes
Comes with a highly efficient tool to detect and eliminate PC issues
Boasts a spyware monitor add-on to protect your privacy
Download from Amazon or Download on the official site
2. AVG PC TuneUp
When it comes to the best Iolo System Mechanic alternatives, you can't skip AVG PC TuneUp. This software comes with a bunch of options such as the software uninstaller to remove unnecessary programs hogging up your device's space.
Here are some of the features that makes AVG PC TuneUp one of the greatest Iolo System Mechanic alternatives:
Hosts an in-built utility to identify and update all outdated software
Boasts a battery life conservator for your laptop
Encompasses tools for remotely managing your device
Its junk cleaning too effectively removes space-hogging elements
It puts unnecessary running startup application to sleep
Download AVG PC TuneUp on the official website now
3. Ashampoo WinOptimizer
Ashampoo WinOptimizer can't be overlooked when it comes to the best Iolo System Mechanic alternatives. It is a great PC cleaning and optimizing software of millennials. The PC cleaner thoroughly scrapes junks from even tough to reach sectors.
Here are some of the features that makes this software one of the best alternatives:
Hosts an internet connection tuneup
It doubles up as a benchmarking tool
Boosts an in-built startup manager to boost the computer's speed
Before making any change, it allows you to create a registry backup and restore it whenever needed
Allows you to customize PC settings to safeguard your privacy
Encompasses an ADS scanner to detect and scan the hidden data streams
Lets yo encrypt vital files and create hard disk backups.
4. Auslogics BoostSpeed
This PC cleaner cleans, optimizes and speeds up your computer. Auslogics is a popular name in the software industry when it comes to developing smart tools that can cater to almost all your PC's need. Auslogics BoostSpeed is one of the popular software from this company and it performs optimally.
Here are some of the features that makes it one of the best Iolo System Mechanic alternatives:
Removes junk after a thorough computer system scan
Deletes sensitive information such as password from your hard drive so that no one can misuse it
Scrapes away the unrequired and corrupt registry entries to make the system performance smooth
Deletes useless elements such as browsing cache, temporary files, remnants of Windows update files and more
Lets your computer allocate maximum tools to applications that are active
5. Norton Utilities
Norton is one of the famous names in the antivirus industry. The company also provides an amazing optimization and cleaning solutions. Norton Utilities is another great Iolo System Mechanic alternatives. It offers a PC cleaner that takes care of almost everything from data privacy to duplicate file removal and more.
Here are the reason it is a great System Mechanic alternative:
Boasts a great junk cleaning tool that scrape away stubborn files
Has a file shredder to securely delete files
Works even when your PC is idle so that the computer always remains tuned up
Encompasses preset profiles with all the required settings to boost your computer's performance
It comes with a removal tool for duplicate pictures and files
Hosts a utility to recover any mistakenly deleted applications and files
6. Win Magician
Win Magician creat real magic on your PC's performance. It easily removes junk from every nook and cranny of your device, speeds up the computer and makes its performance better. Here are the reasons it is one of the best System Mechanic alternatives:
It comes with a built-in blocker of malicious websites and advertisements
Hosts an efficient junk cleaner that helps you scrape away the app remnants and other useless data
Scans the computer thoroughly and shields it from malware attacks
Boasts a registry cleaner to remove invalid entries and speed up the PC
Win Magician is Checkmark certified
UI of this program is one of the most user-friendly interface in the PC cleaner industry
It encompasses all the essential tools required for computer care, maintenance and optimization
7. Wise Care 365
Wise Care is another excellent alternative to System Mechanic. It monitors your computer in real-time to keep it clean, protected and optimized at all time. Here is a few reasons it is a great alternative to Iolo System Mechanic:
Doubles up as a disk defragmenter
It doesn't allow any program to change your browser's homepage
Will never allow any app to make unnecessary change to your browser once installed
Prevents unrequired applications from becoming a startup application
Encompasses disk shredder so that the deleted files can be recovered if you still need them
Hosts cleaner for the browsing history, cookies, cache, temporary files, registry, files with some particular extensions and other useless data.
Allows you to delete the entire disk so that no third party can access your data.
Iolo System Mechanic Review Verdict
In this Iolo System Mechanic review, we have analyzed everything you need to know about the software. With Iolo giving its PC performance and security suite a total overhaul, the software is now result-oriented. Each component is effective and easy to use and they combine to create a PC cleaner solution that is more than what you can ever expect.
From working as a computer tune-up to the best PC optimizer, this software is a powerhouse. If your PC is slow and crashes anyhow, this software helps to boost your PC and protect you from virus and trackers. With just a click, you can make your PC perform at the best speed.